Learn How To Trade Binary Options Successfully and Profitably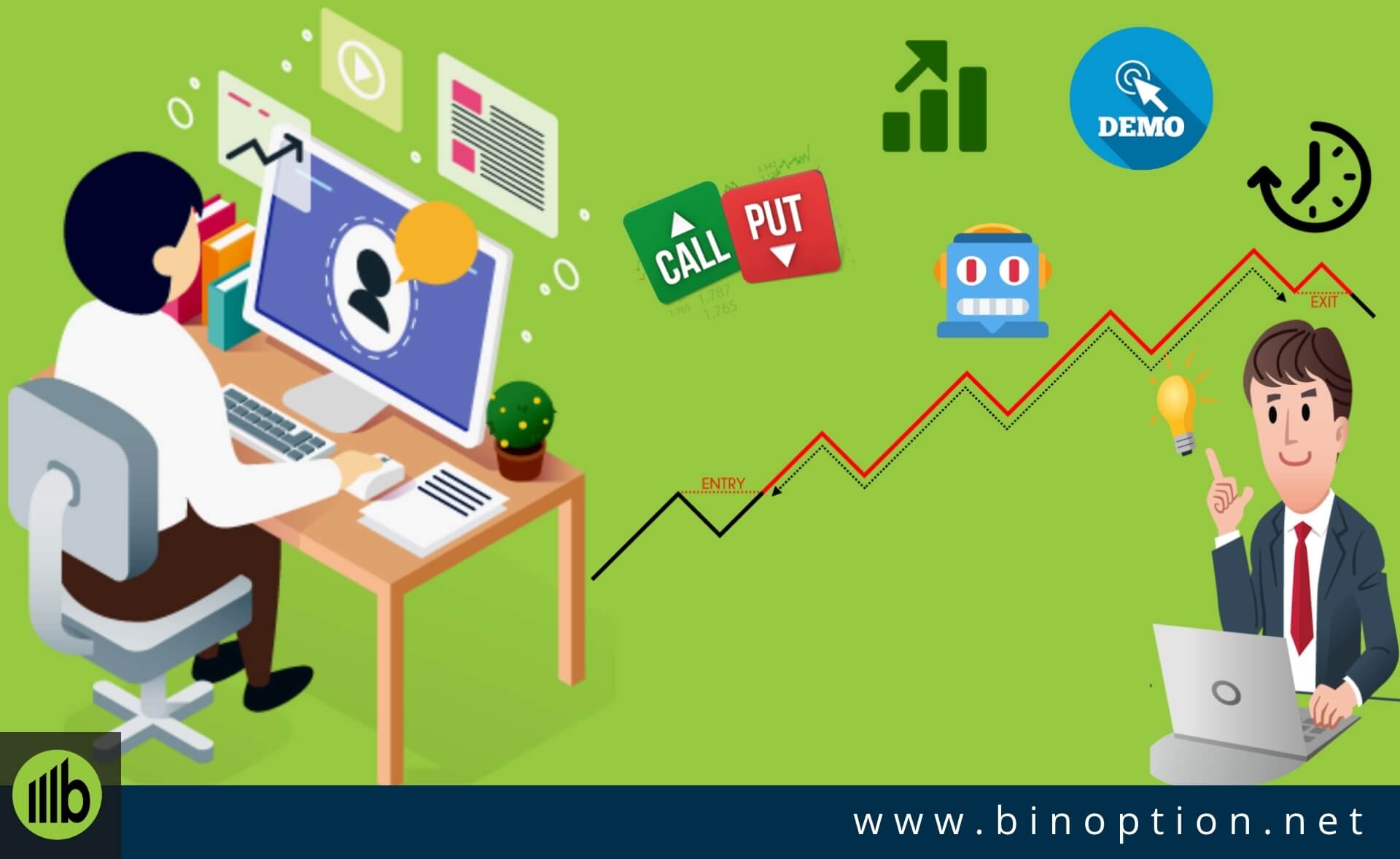 Binary Options are known for their simple and fast nature of trading.
Despite its simplistic nature, many traders lose on their binary trades far more often than you think.
This boils down to reasons such as lack of trading knowledge, experience, or choosing the wrong broker.
Whatever the reason may be, there must be a clear plan ahead of trading so you don't face ill-consequences in your trading result.
This is why we are writing this guide on how to trade binary options for beginners. First, we will define what binary options are.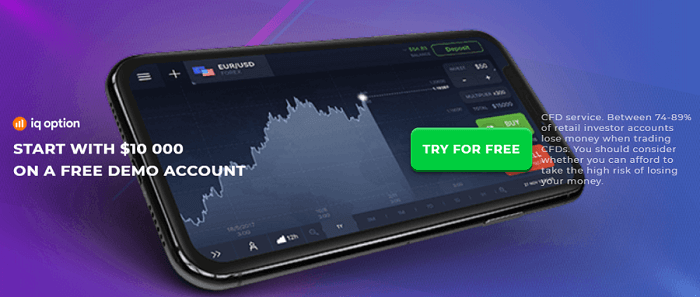 What are Binary Options?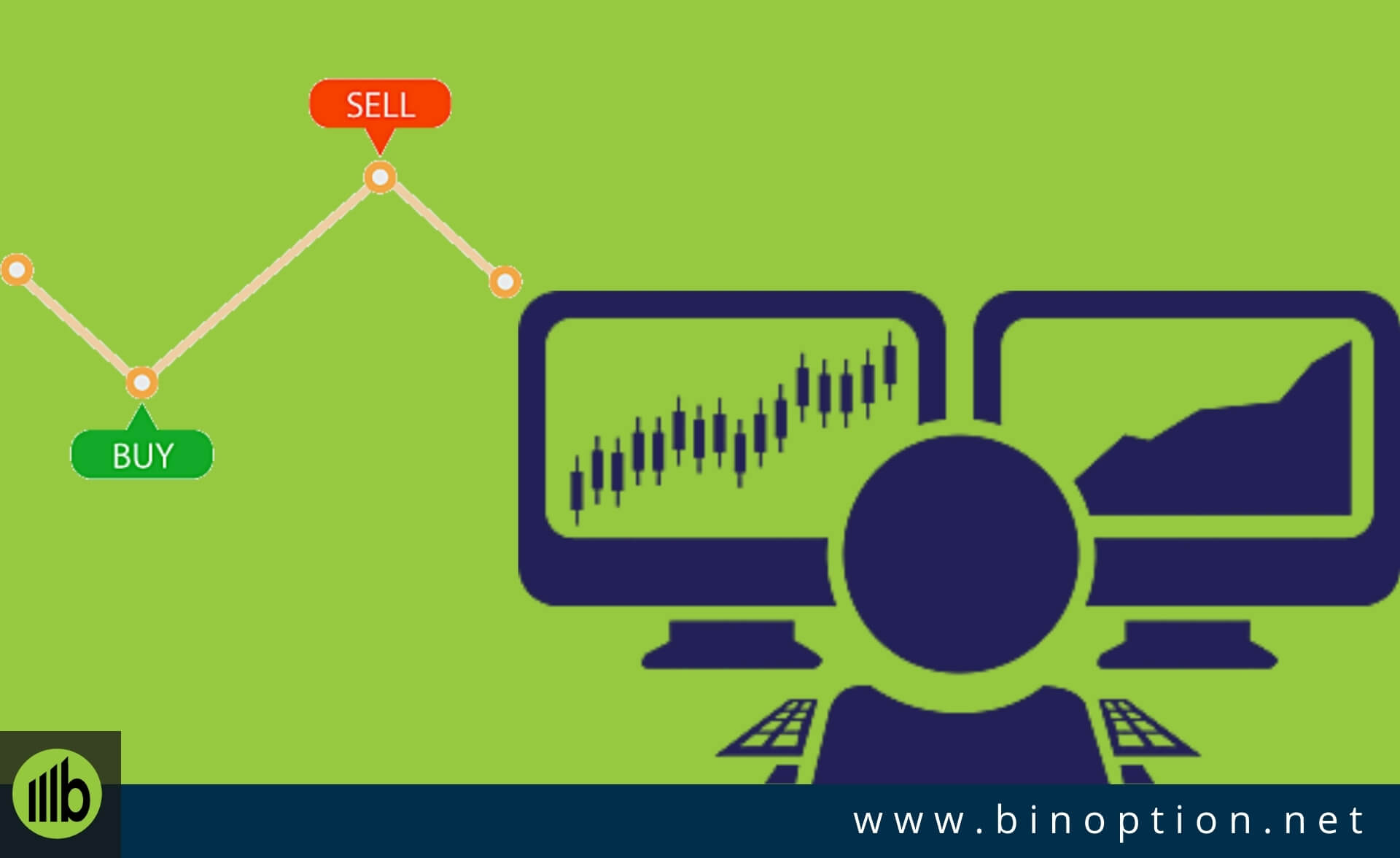 We are going to explain a basic concept on binary options in here but if you want details knowledge then read the what are binary options article to know about binary options in detail.
Binary Option is a type of option where you have two outcomes – all or nothing.
You have to accurately predict the outcome to make a profit.
If you guess wrong, then you lose your initial investment and gain nothing.
This is why they are referred to as binary options trading.
Binary means 0 or 1. In this case, it means all (payout) or nothing.
There is nothing in between. It's either a win or a loss.
Binary Options Trading have a fixed expiration; i.e. a fixed time and date.
You can trade binary options in 2 ways; either manually or by auto-trading.
In manual trading, you do all the hard-work and place the trades yourself using your own trading strategy.
In auto-trading, binary options robot does the trading for you using its own trading strategy.
Which method you use for trading depends entirely on your preference.
If you are a new trader, you might take the help of a trading robot in exchange for a price or you can learn the basics of trading and do it yourself.



How to Trade Binary Options for Beginners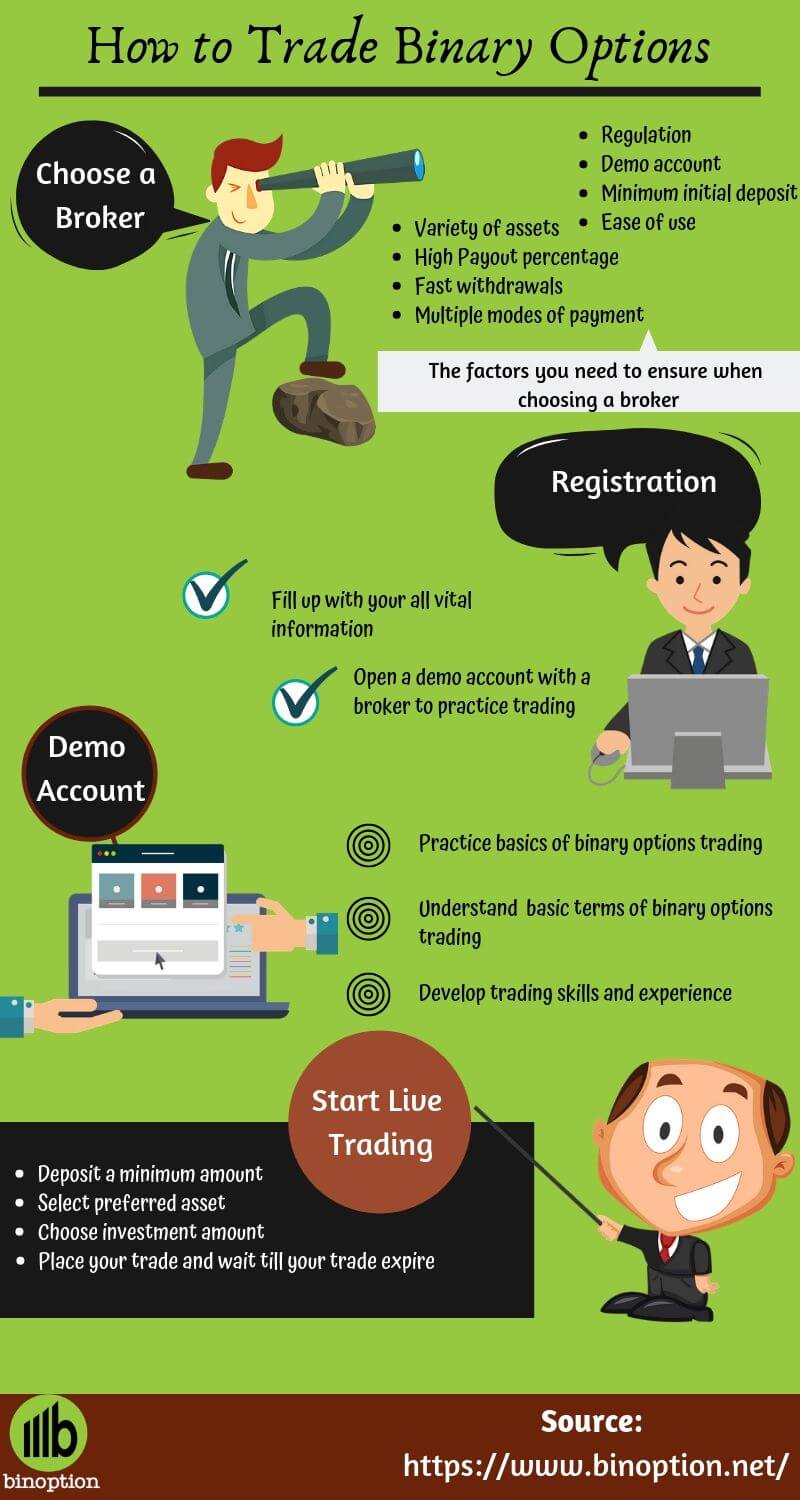 This section will focus on how to trade binary options for beginners. To learn how to trade in binary options, read this guide to get started.
Choose a broker: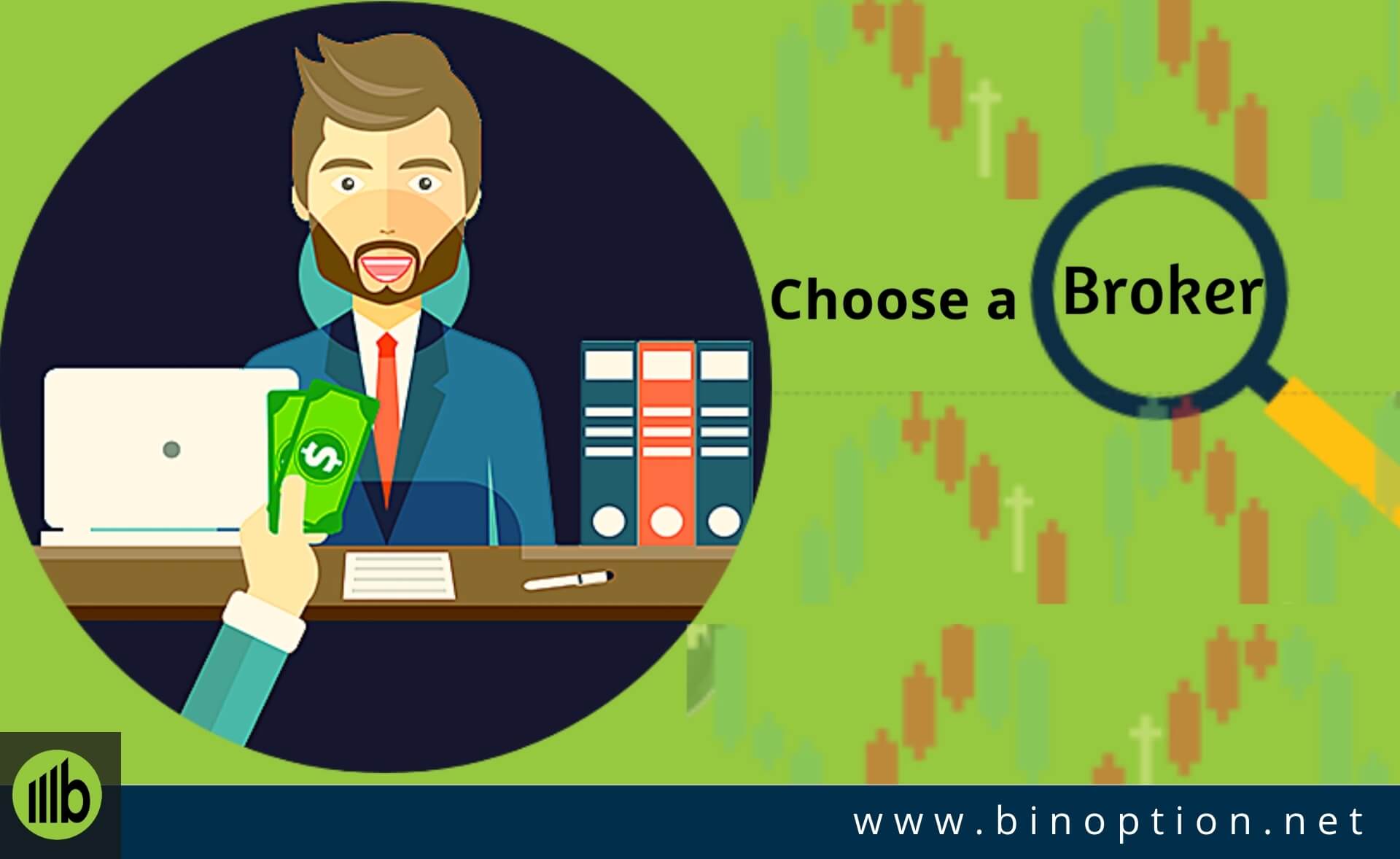 The factors you need to ensure when choosing a broker to invest with are:
Regulation
Demo account
Minimum initial deposit
Ease of use
Variety of assets
High Payout percentage
Fast withdrawals
Multiple modes of payment
These factors will be discussed in detail later in the article.
In addition to that, you refer to our list of binary options brokers
It's not necessary that you have to stick to one broker.
No broker is perfect and one broker may not suit all your needs. Don't hesitate to trade with multiple brokers.
Register an account with your broker: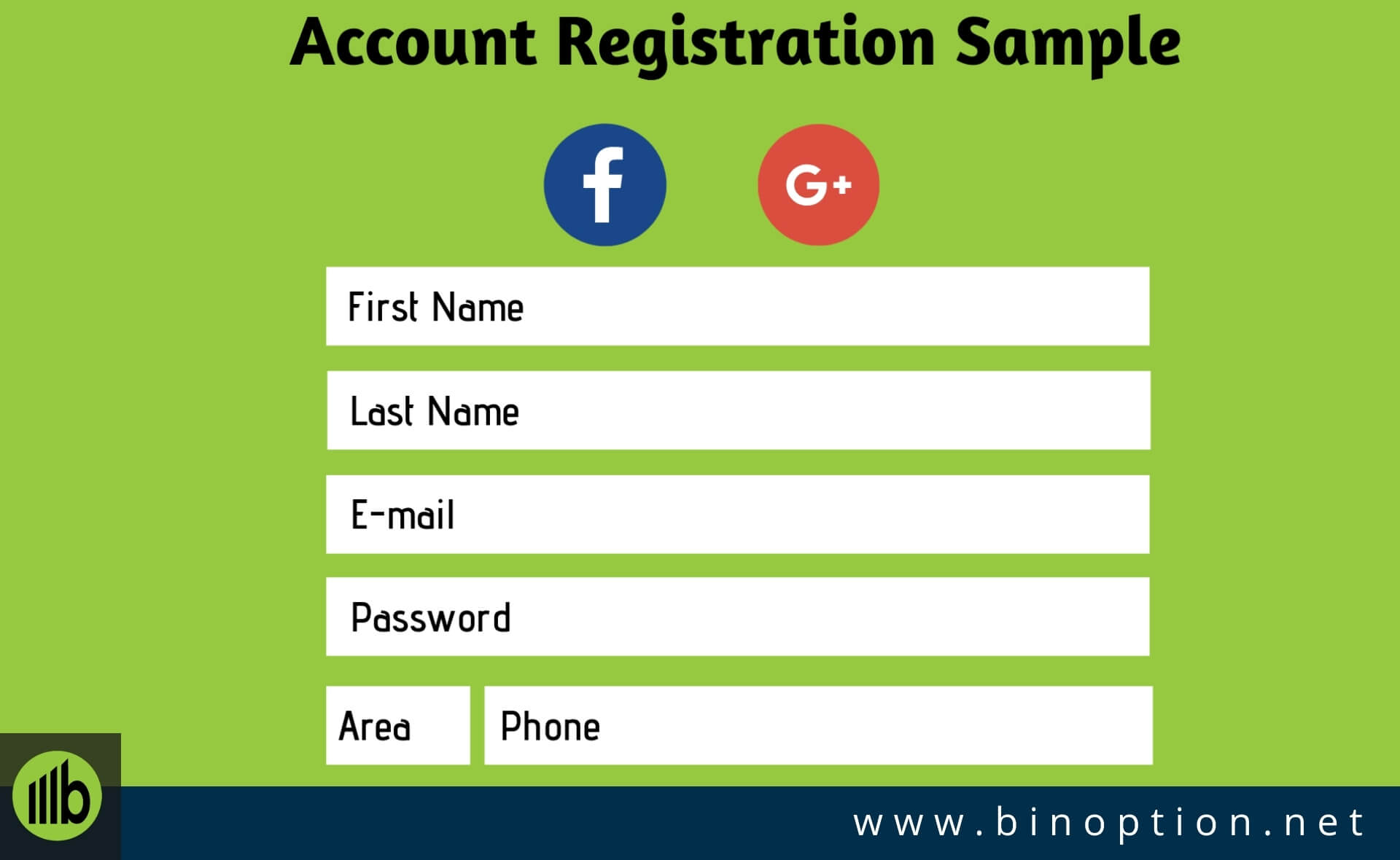 Register an account with the broker you have chosen.
Registering an account is free of charge with most brokers.
All it takes is your vital information such as an email address, your first and last name.
Once you have created an account, you need to practice trading which brings us to our next point.
Practice on a demo account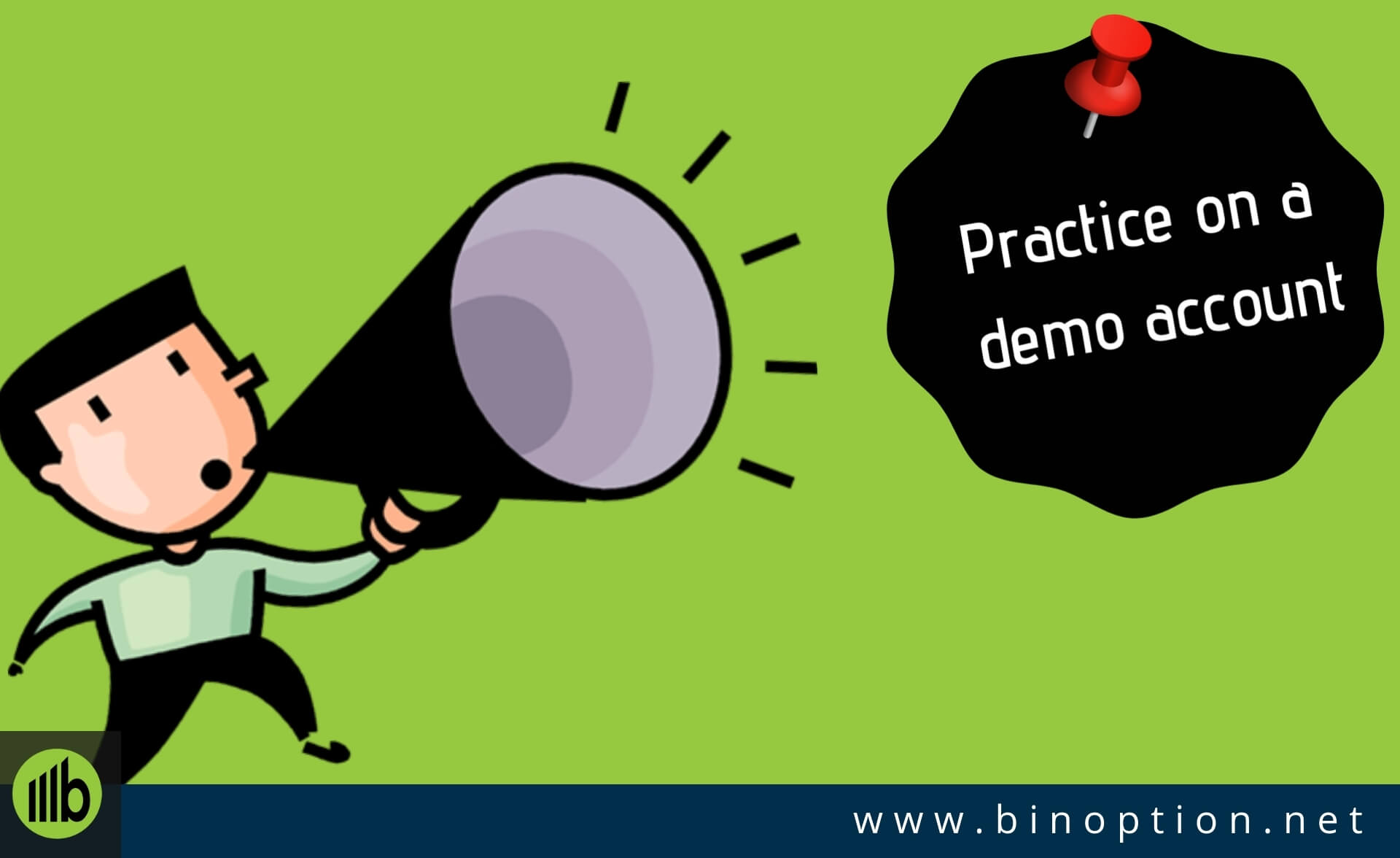 Don't jump straight into live trading.
You need to practice trading on a demo account until you are comfortable with the basics of binary options trading.
Educate yourself on the basic concepts of binary trading.
Understand what strike price, call and put option, expiry terms are.
Familiarize yourself with the different ways you can trade binary options.
Just because the funds and the outcome in demo accounts don't hold any real meaning, it doesn't mean you should trade recklessly.
Trade on the demo account exactly how you would live trade.
This practice will develop your trading skills and build valuable experience.
There is no fixed duration on how long you have to practice on a demo account.
Take as long as you need. Finally, when you feel confident enough, you can step up to real trading.
Make an initial deposit and start live trading: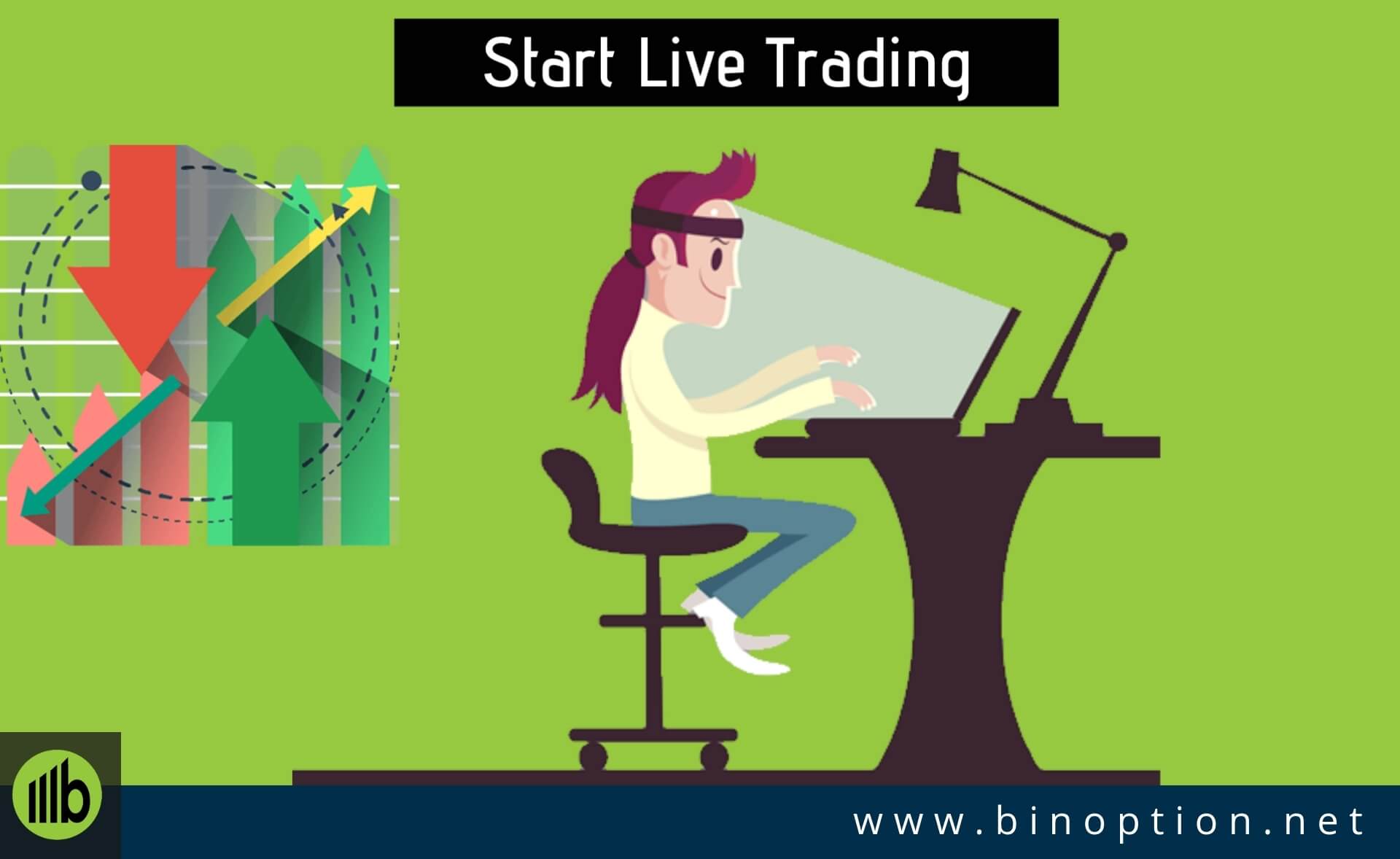 You need to deposit on your trading account in order to carry out live trading.
You can start trading on a real account once you are familiar with the ins and out of binary trading.
Select your preferred asset and choose your investment amount.
Depending on your prediction, buy a call or put option.
Place your trade and wait till your trade expires to know the outcome of the trade.
In the next section, we have listed some tips and techniques on binary trading to make your trading successful and profitable.
"RISK WARNING: YOUR CAPITAL MIGHT BE AT RISK"
How To Trade Binary Options Successfully And Profitably – Best Way To Trade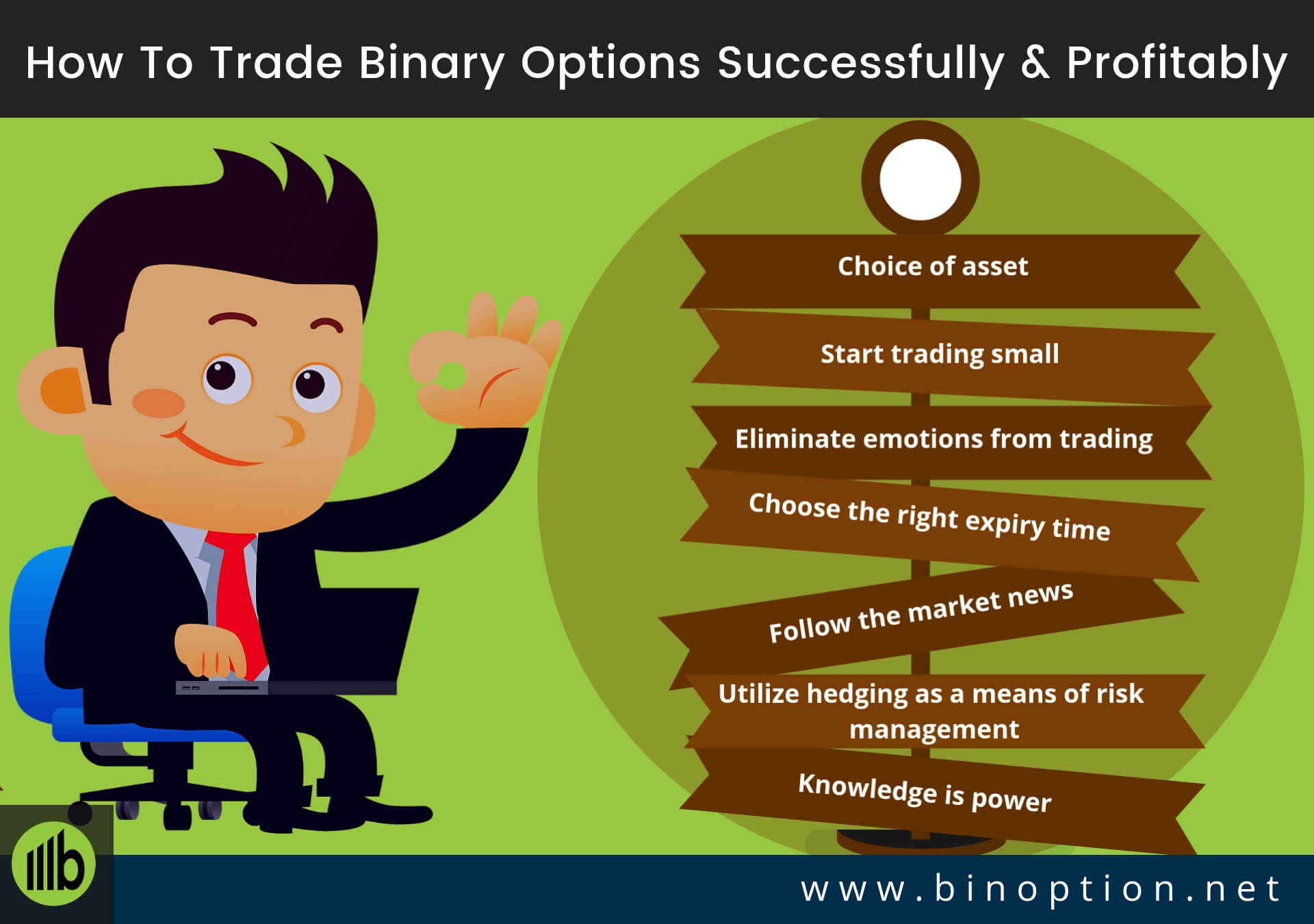 You need to turn your binary options trading into a successful profit machine.
Not sure how? We got you covered.
Follow these below tips to ensure you don't lose money while trading binary options.
Choice of asset:
Trade those assets that you are most familiar with.
No need to take unnecessary risks by trading in markets that you cannot predict.
Success in binary options completely depends on how well you can predict the market.
Follow the market news for the asset that you are trading in.
Diversification of your portfolio is one way of reducing your overall risk but it doesn't mean you should diversify to assets that may not be profitable to you.
Start trading small: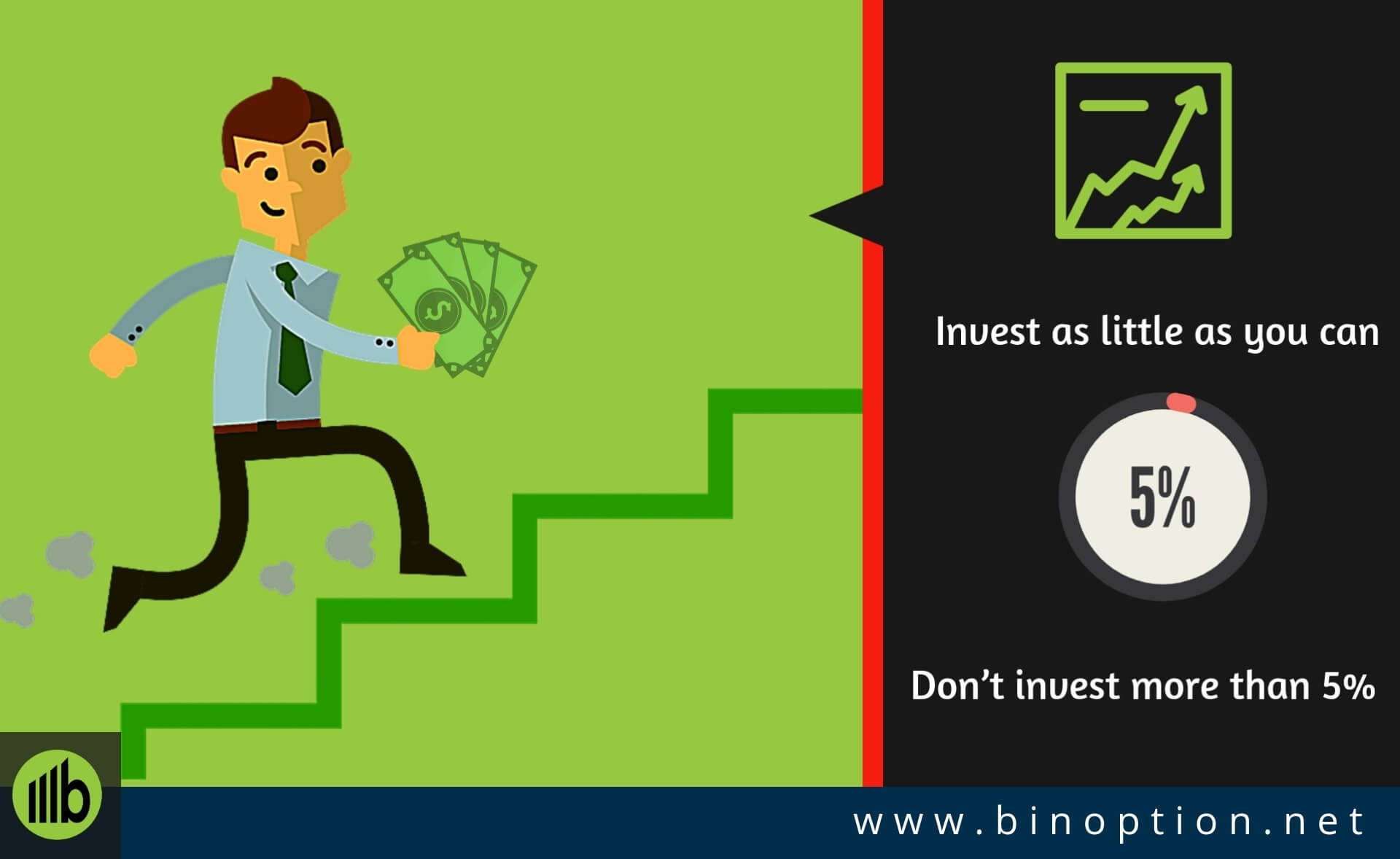 Invest as little as $5. Get the hang of trading and then you can start increasing your trade size.
The point is to minimize your losses while gaining valuable experience.
As a general rule of thumb, don't invest more than 5% of your total budget on a single trade .
No matter how much you practice on a demo account, trading on a live account is a totally different scenario.
There is real emotion involved which brings us to our next point.
Eliminate emotions from trading: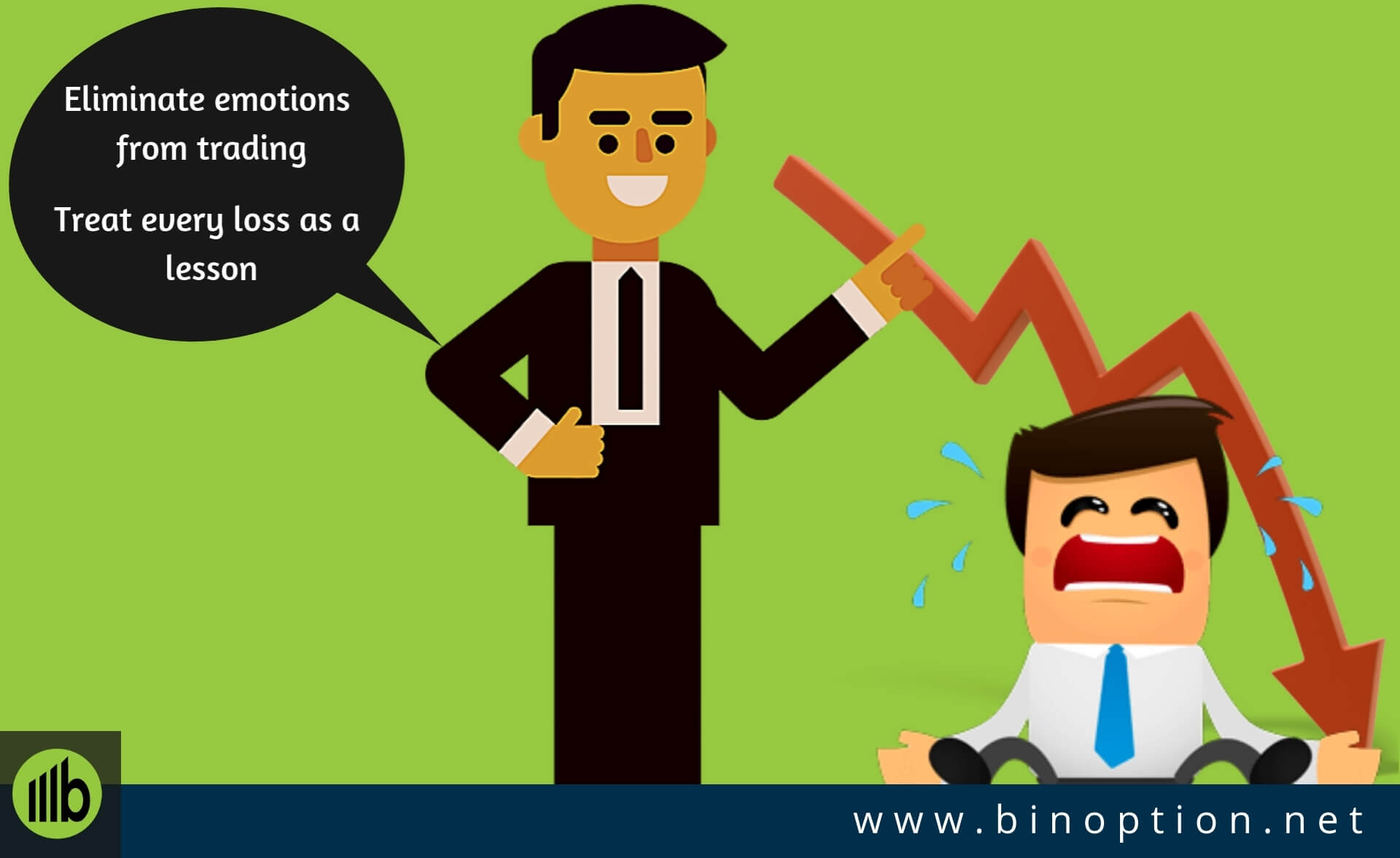 Binary options are fast-paced and short-term.
This makes them exciting to trade. You may experience a rush of emotions while trading and that may hamper your results.
It can result in making the wrong decisions and ultimately losing your hard earned investment.
Due to their all-or-nothing nature, trading binary options can be a burden on your mind.
Take breaks when you face a losing streak. Treat every loss as a lesson and avoid making the same mistakes in the future.
Choose the right expiry time: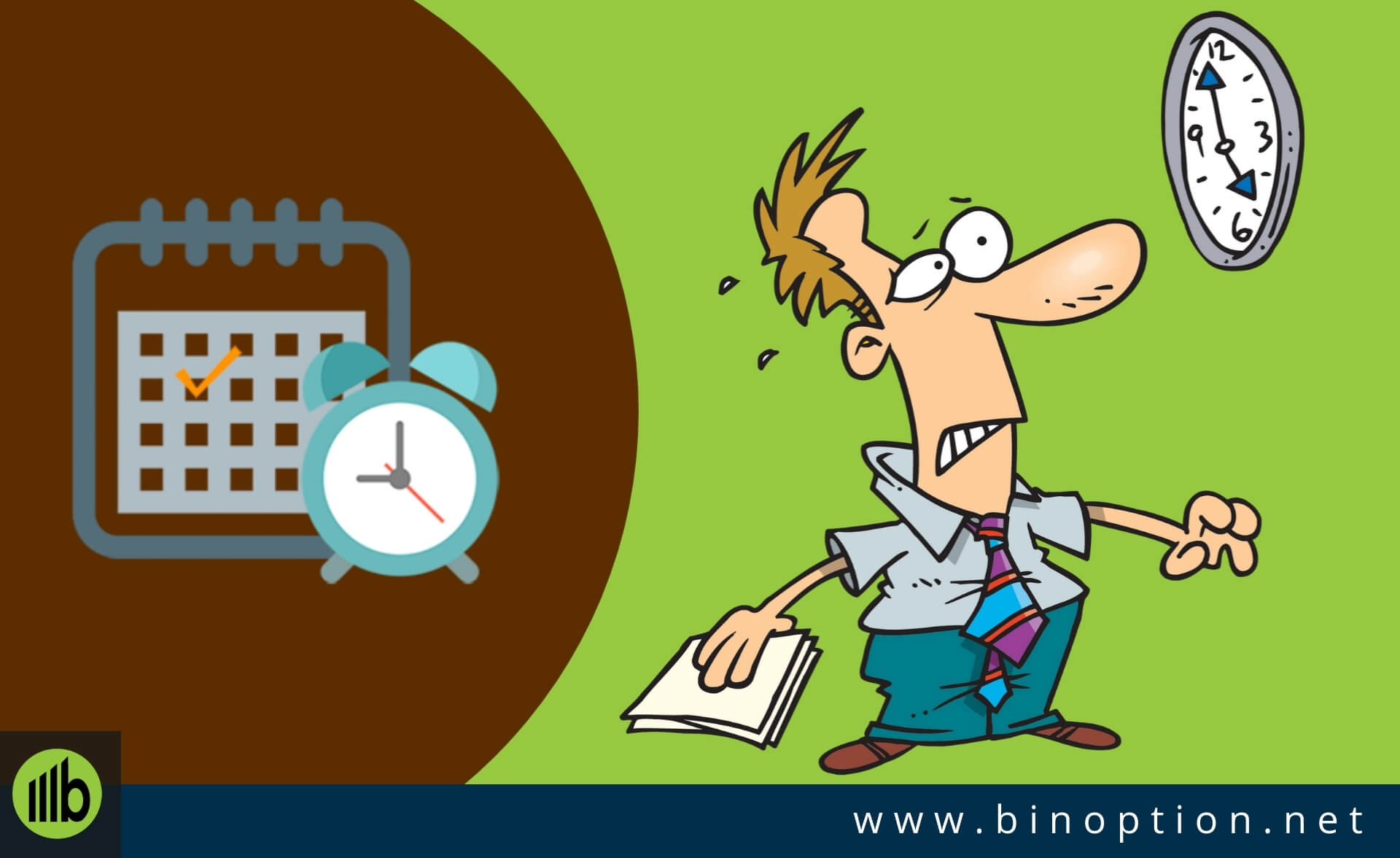 This may seem like a matter of preference or a trivial issue but even expiry time is a crucial factor when it comes to binary options trading.
It is often the expiry time that can be the difference between winning and losing a trade.
For example, a trend was supposed to reverse within an hour.
But if you placed a trade with 2-hour expiry, the trend would have reversed by then and you'd lose the trade.
Follow the market news: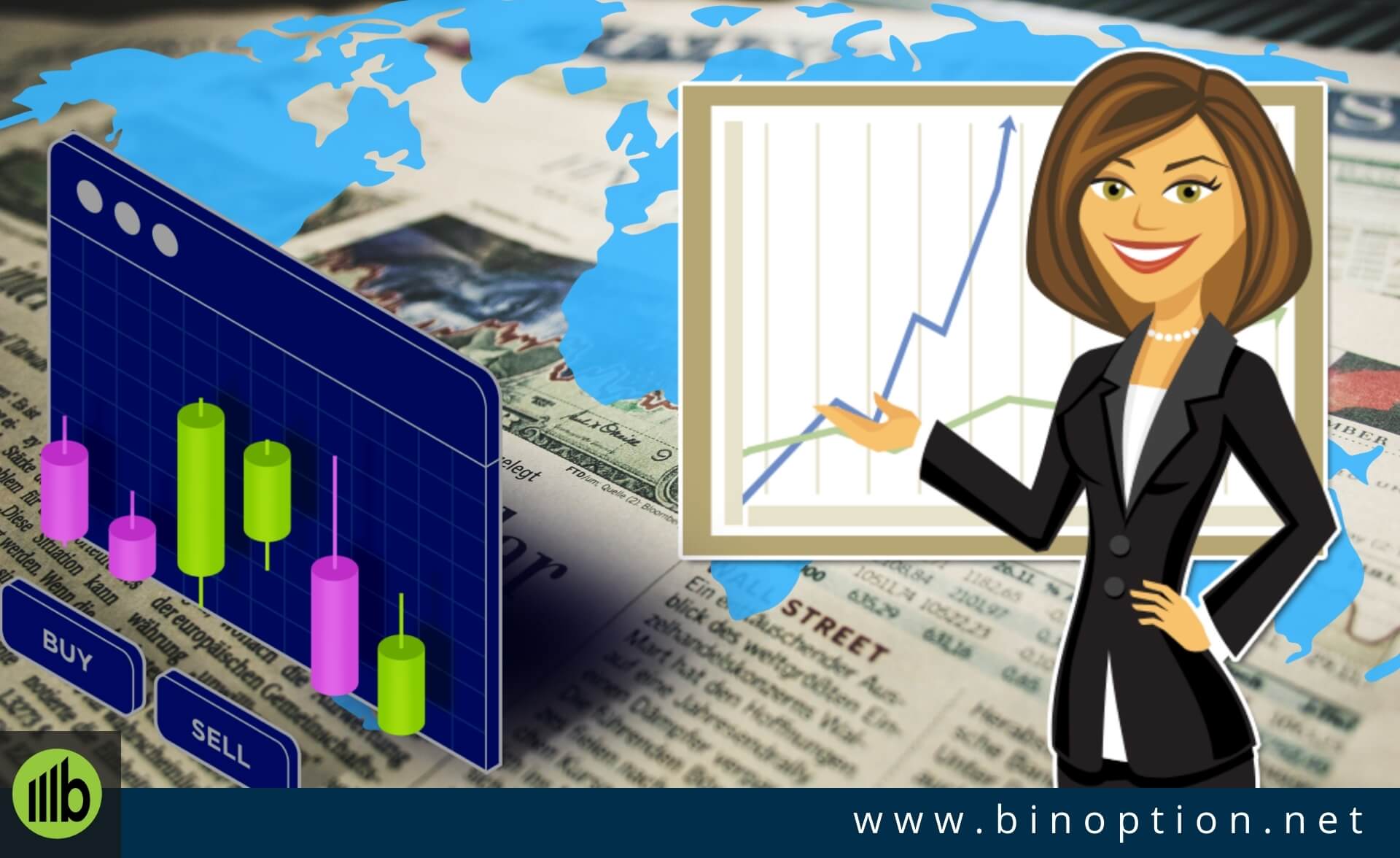 Whatever underlying asset you may trade, you need to be informed on the latest global events and news associated to that asset.
Many traders form their market strategy depending on the market news.
So don't skip on that and act accordingly.
For example, if there is negative news regarding the gold and a price drop is imminent, log in to your binary options trading platform and open a put position on gold.
Reacting appropriately to market news can bring in more trading success than you think.
Utilize hedging as a means of risk management: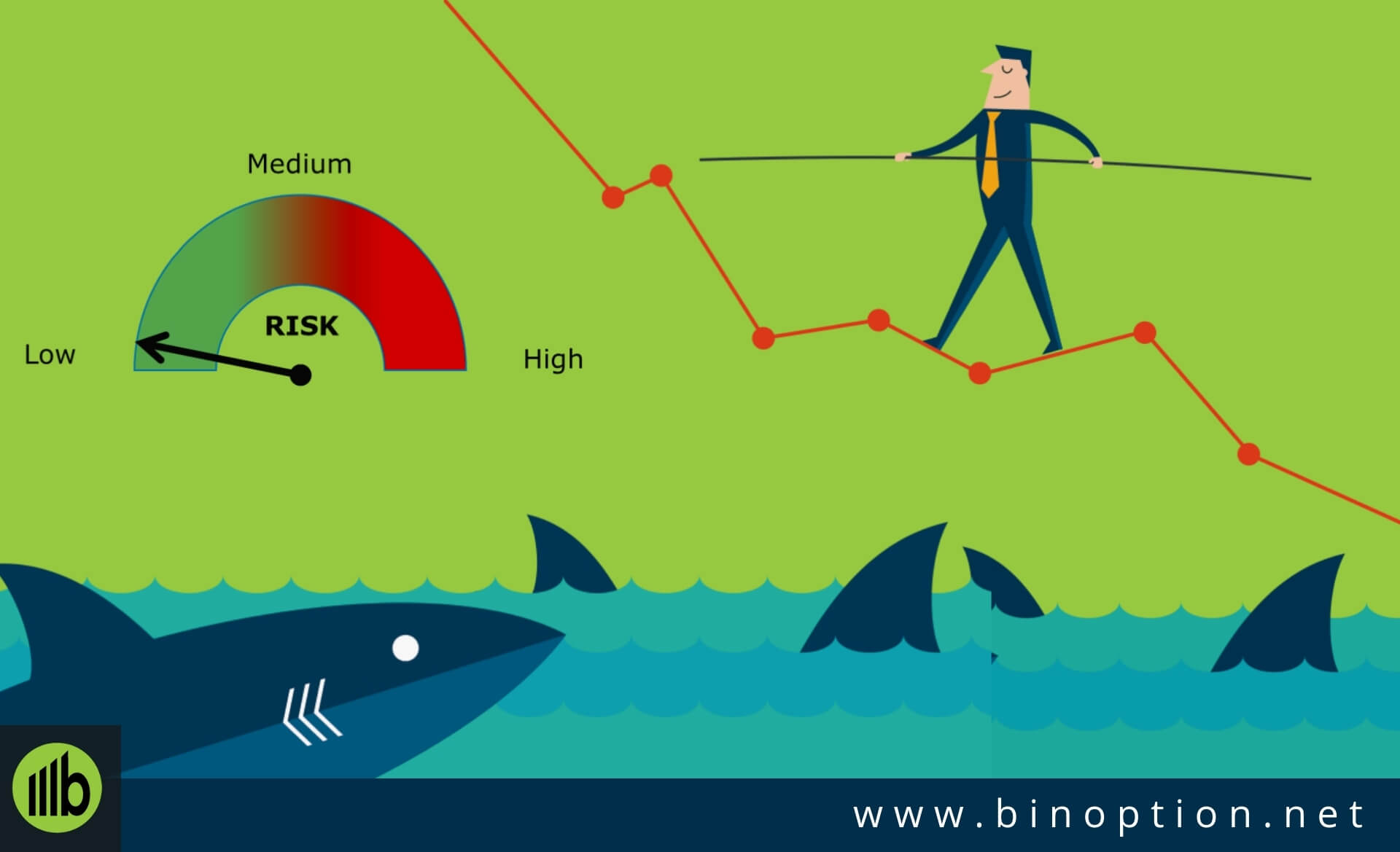 Unless you are a pure gambler looking for absolute results i.e. either maximum profit or nothing at all, you should make use of hedging.
Hedging is a money management strategy used to protect your profits.
When you buy a call option as you predict the price of the underlying asset will increase, you also open a put option in case your prediction goes wrong.
In this way, if you are wrong on your prediction, you lose money from your call option, but you regain that back from the put option.
This act of protecting your investment by buying a binary option contract opposite to your initial contract is hedging.
Hedging may reduce your overall profit potential, but it also protects your capital.
If you quite confident about your prediction but still want to hedge, invest the lesser amount in the hedge position compared to your main position.
Knowledge is power: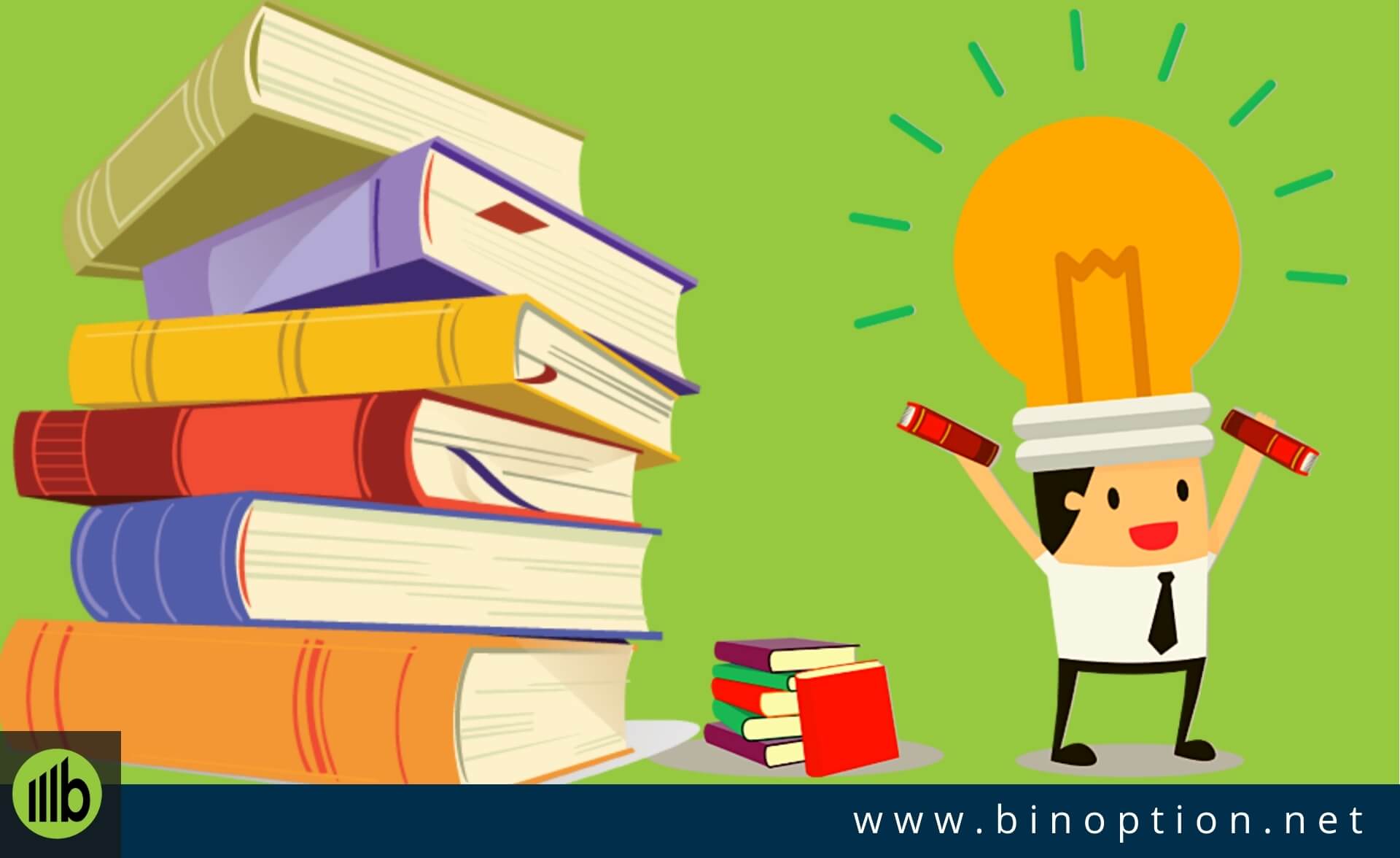 This cannot be stressed enough. You need to constantly educate yourself with trading knowledge.
Even though binary options looks easy and simple on the surface, there is a lot that goes into constantly turning your trades into profitable ones.
One of the big factors that play a role in the success of your trading is trading education.
Watch videos, read guides, attend seminars related to binary options trading.
You are less likely to commit mistakes and perform better trading analysis when you are equipped with trading knowledge.
"RISK WARNING: YOUR CAPITAL MIGHT BE AT RISK"
How To Trade Binary Options With Cryptocurrency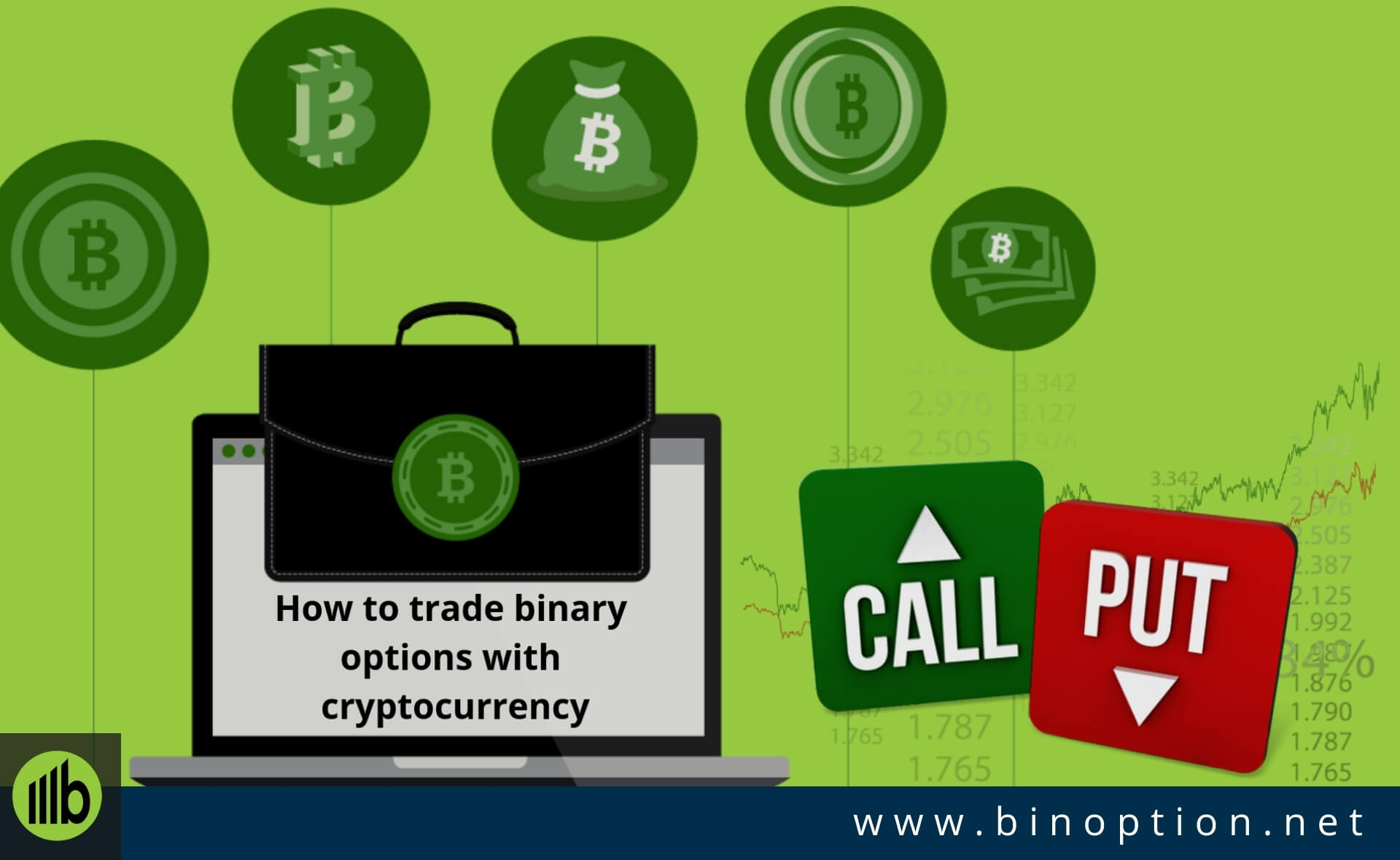 Cryptocurrencies are the newest digital asset that has been garnering a lot of attention due to their rapid price movement and volatility.
If you are not interested in owning cryptos, many brokers offer crypto trading in the form of options.
In these cases, the cryptocurrency is usually quoted with a fiat currency, such as the US dollar.
Everything else remains the same as binary trading.
When you speculate a price rise, you go long and go short when you expect the price to drop.
Let's explain this with an example. You want to trade binary options with bitcoin. Here, you betting on the price movement of Bitcoin against the USD.
Currently, the value of Bitcoin is at $3900. If you think it's price will increase, you will buy a call option, i.e. go long on BTC/USD.
After the expiration period, depending on whether your prediction turns out to be accurate or wrong, you win a payout or gain nothing respectively.
With bitcoins and other altcoins, it is extremely important to start with a small investment and carry out your trading analysis and research.
The crypto market can be both rewarding and risky at the same time.
Make sure you utilize the trading tips on binary options listed in the later section of the article.
"RISK WARNING: YOUR CAPITAL MIGHT BE AT RISK"
Factors To Look While Choosing the Best Binary Options Broker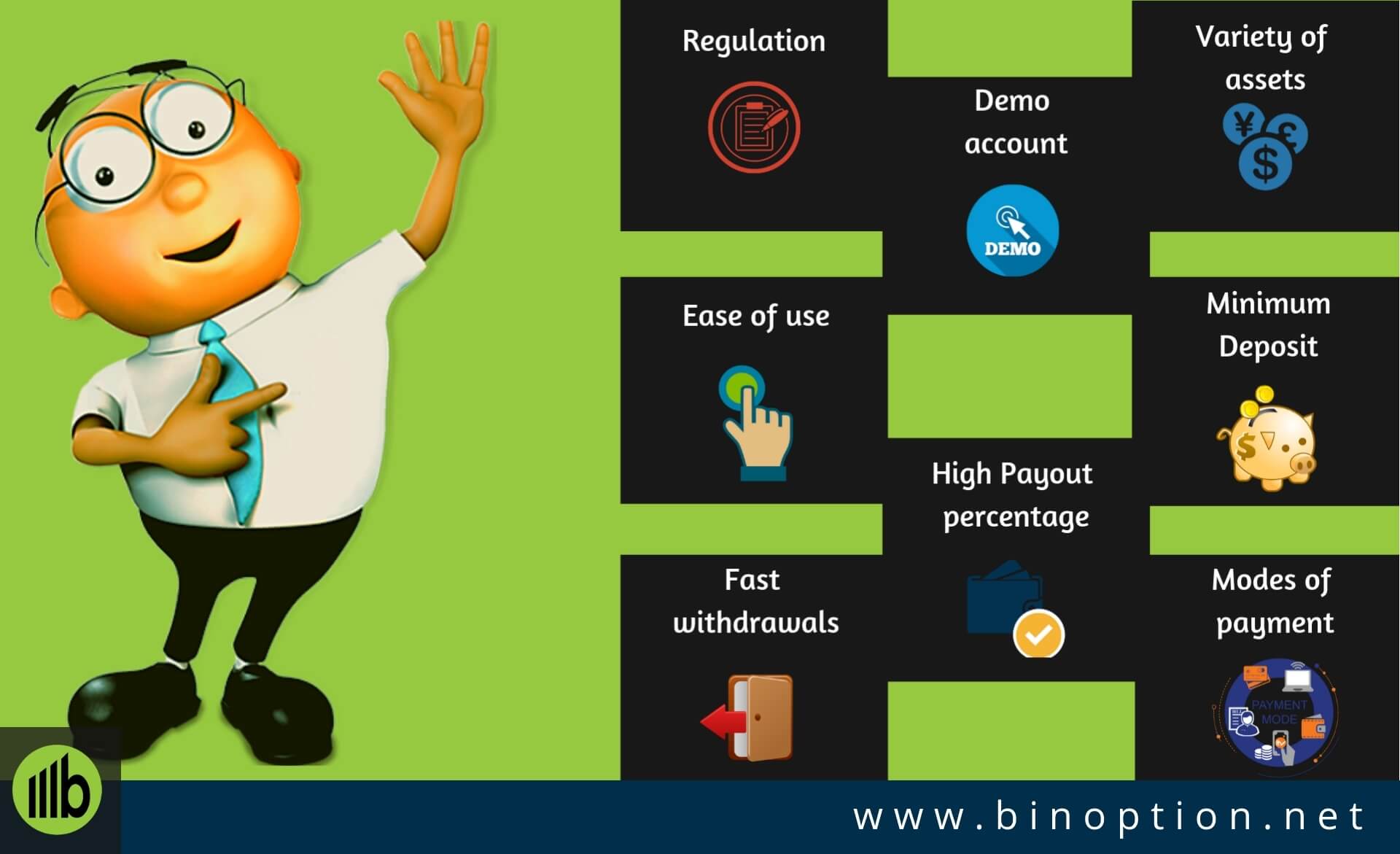 There are certain factors that we listed in the previous section when choosing a broker.
In this section, we have explained these factors in detail.
They will help you in determining the best binary options brokers.
1.Regulation:
This is the first factor that you have to look for when choosing a binary options broker.
If a broker is regulated, it means that there is oversight and monitoring from a government body.
This means if you lose your money, legal action will be taken against that broker.
2.Minimum initial deposit:
Make sure the broker you choose doesn't charge a fortune as a deposit fee.
The lesser you have to invest as a deposit fee, the lesser your exposure is.
This reduces your risk and allows traders with small capital to trade.
3.Ease of use:
The trading platform provided by the broker must be easy and fast to use.
The features and the tools must be intuitive and user-friendly to traders.
4.Variety of assets:
The binary broker you choose must offer a variety of trading assets under their portfolio.
They must cater to all kinds of traders. Some traders prefer to diversify their portfolio by investing in multiple assets.
Top brokers offer 100's of trading instruments to their traders.
5.Demo account:

This is another crucial factor that comes into play when choosing a binary options broker.
A binary options demo account allows new traders to learn to trade without losing real money.
For experienced traders, a demo account allows traders to practice multiple trading strategies and see what works best for them.
6.High Payout percentage:
The broker should provide a high payout percentage. A payout of at least 85% is preferred by traders.
Traders will most often choose the broker that offers the highest payout ratio.
7.Fast withdrawals:
Withdrawals are a pretty big deal to traders.
After winning trades, traders desire to withdraw their funds quickly and without any hassle.
The verification process and the withdrawal process should be quick.
8.Multiple modes of payment:
Brokers should offer traders multiple modes of transactions.
Credit cards, bank wire transfers, e-money transfer service, or even using cryptos.
Our Recommended Brokers
Taking all the above factors into consideration, we have prepared our list of recommended brokers that you can trade with.
These brokers meet all the requirements such as regulation, offering a demo account, huge asset index, high payouts, fast withdrawals, easy-to-use trading platform, and much more.
Here is the list of brokers that we think will offer you the best binary options trading experience:
How To Trade Binary Options – Manual vs. Automated Trading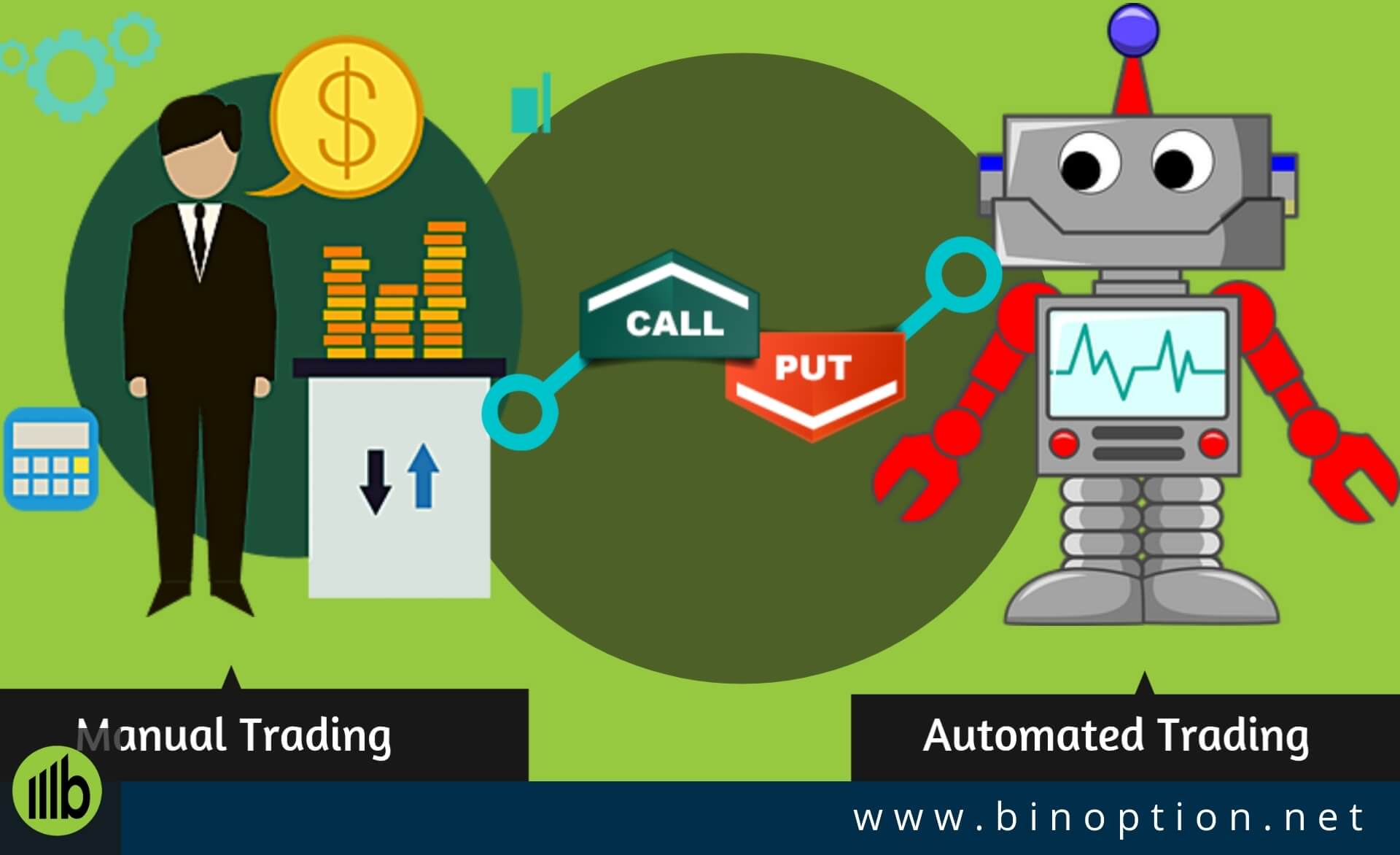 You can either manually trade binary options or you can utilize an auto trading software which will do the trading for you.
When you trade manually, you choose the asset, the expiry time, and most importantly, the decision to call or put.
Everything depends on you alone. You have to set a strategy using indicators and trend lines to make a decision.
In the case of automated binary options trading, a binary option robot does all the work for you.
It is a programmed software that makes decisions based on certain algorithms.
Most binary option robots allow you to customize settings such as investment per trade, risk level, indicators, and choice of assets.
However, if you want to completely leave your fate at the hands of the trading robot, you may do so.
We would recommend a mix of both auto and manual trading for the best results.
We have compiled and reviewed the best binary option trading robots which you can refer.

Features Of Binary Options Trading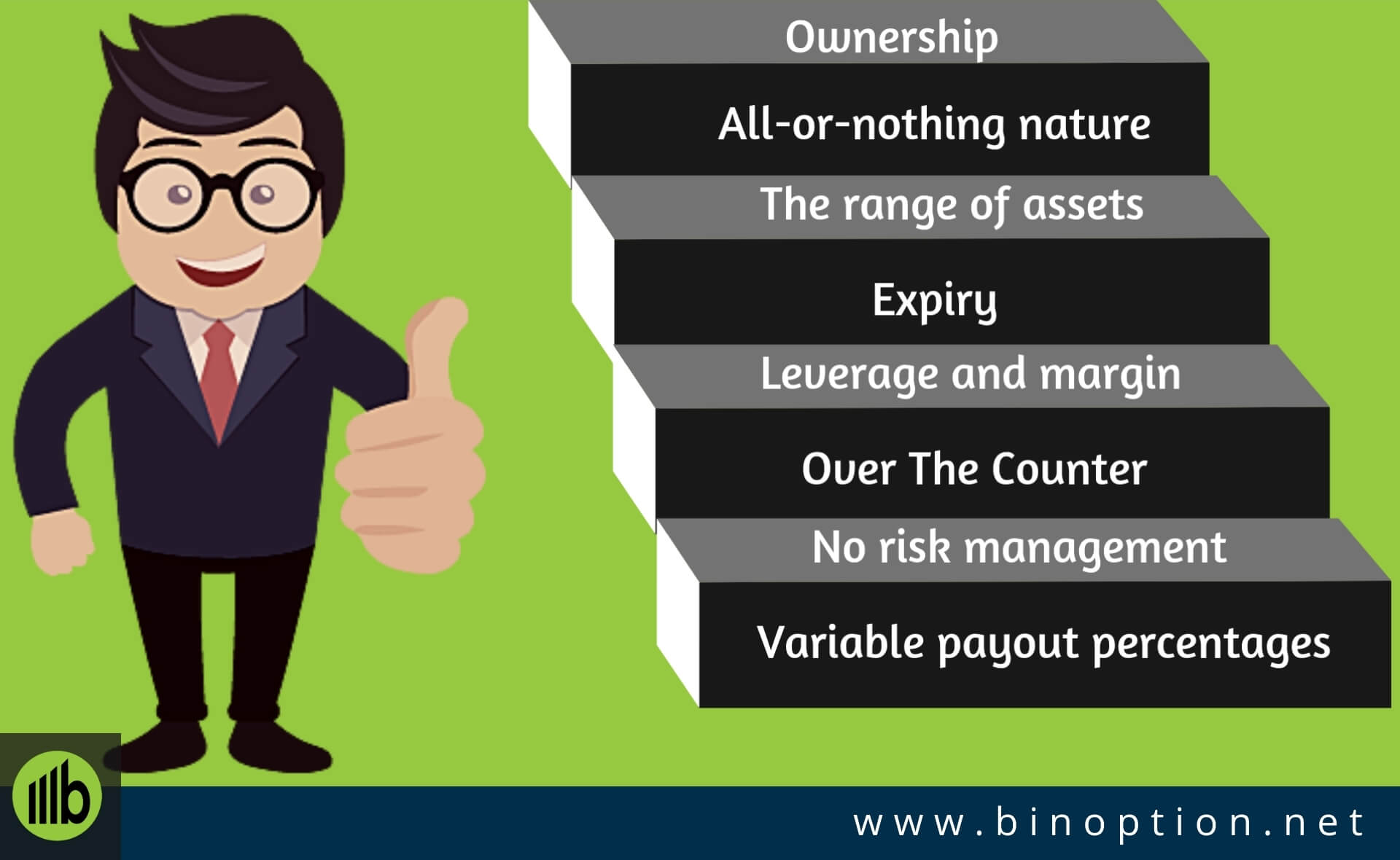 Here are the features of binary options trading:
1.Ownership:
You don't own assets in binary options. You only speculate on their price movement.
Binary options are derivatives based on the underlying asset which you don't own.
This can be seen as both advantageous and disadvantageous to many.
When you own an underlying asset of a company, you also own a share of that company.
You get ownership benefits such as taking part in company decisions.
2.All-or-nothing nature:
You win a payout for accurately guessing or you don't win anything at all. This makes it a unique form of trading.
3.The range of assets: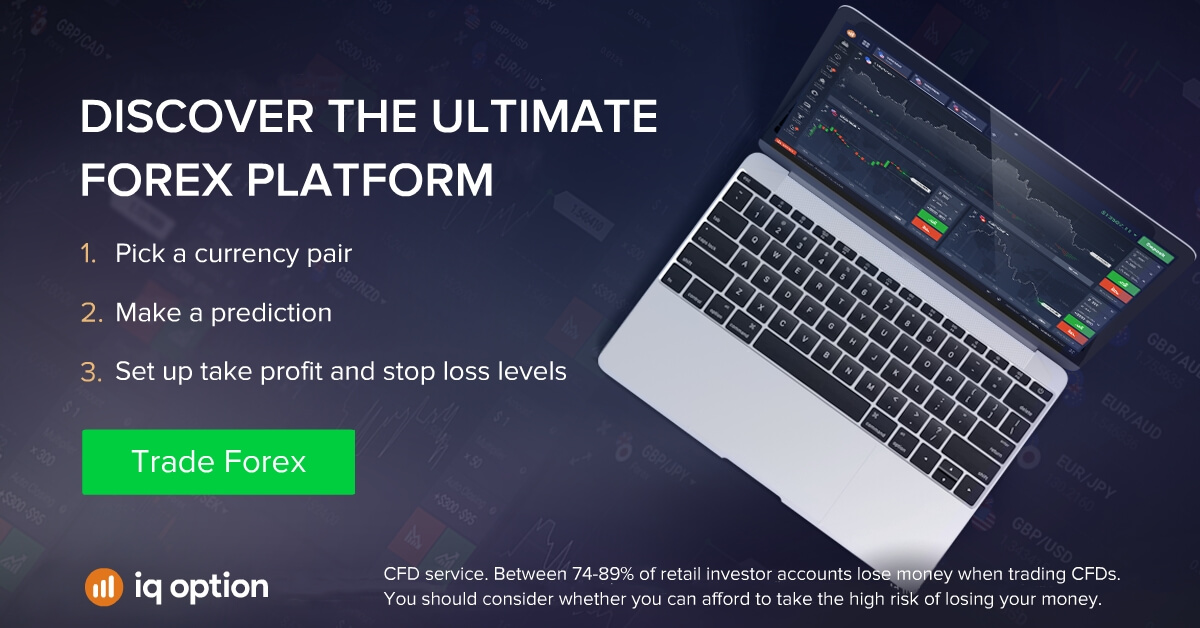 With binary options, you are not limited to a single asset type.
You can trade assets from different markets such as forex, stocks, commodities, crypto, and indices.
4.Expiry:
Certain types of trading such as CFDs have no fixed expiry on them.
You can continue your position as long as you prefer.
In the case of binary options, there is a fixed expiration period.
The expiry period ranges from 30 seconds to all the way up to a year.
There is a lot of flexibility offered to traders in terms of expiry period.
The minimum expiry period depends on the underlying asset and the broker that you are trading with.
5.Leverage and margin:
In the case of binary options, there is a lack of leverage and margin.
This means you cannot open a position larger than your available funds, nor can you lose more than you invested.
Some traders enjoy the benefits of leverage while some avoid it to prevent additional losses.
6.Risk management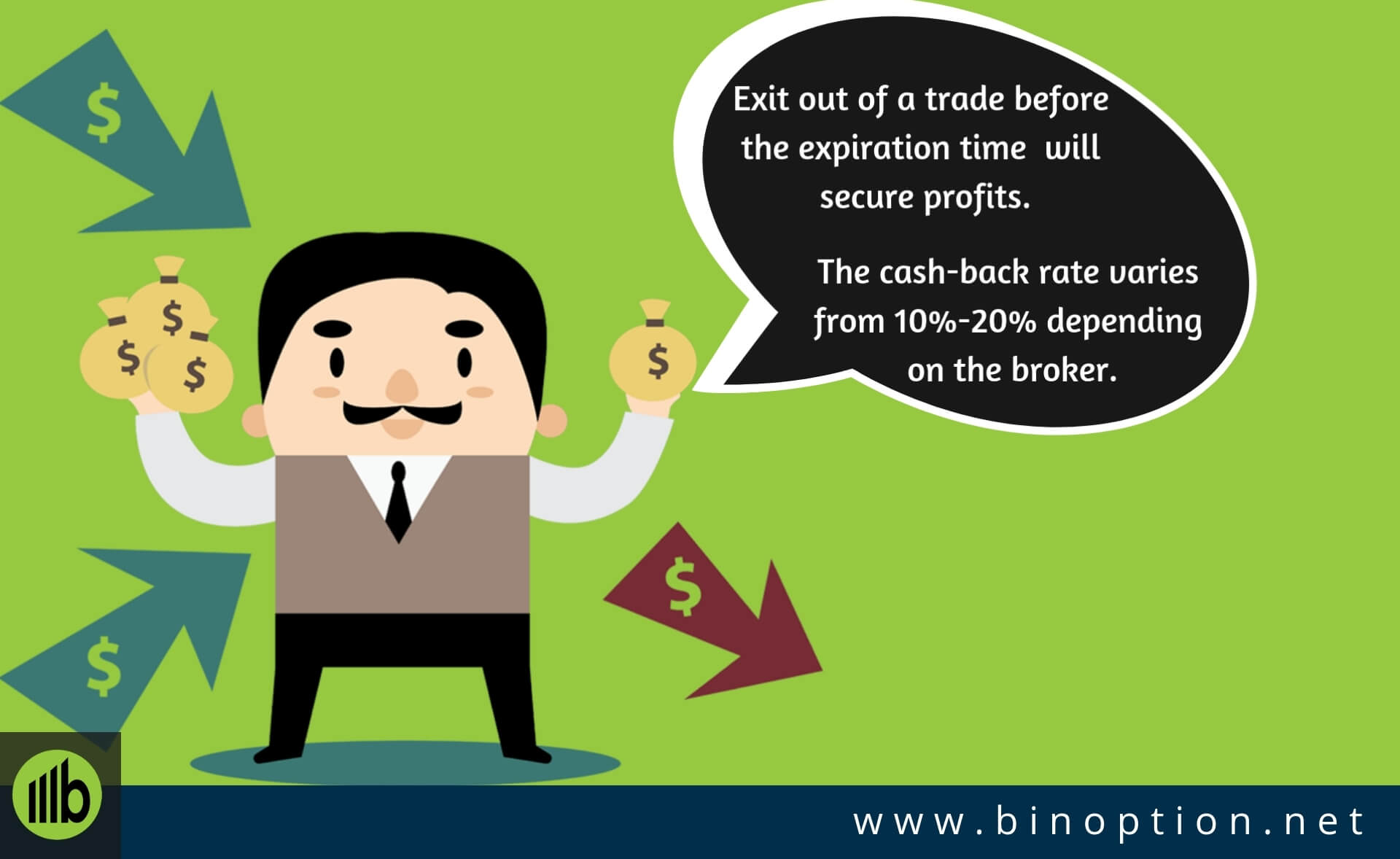 One of the best ways to reduce risks in binary options trading is to exit out of a trade before the expiration time ends.
In an active trade, when the market moves rapidly against you and you see no chance of recovery before the expiry.
In this case, you can exit out of a trade by contacting your broker and requesting an early exit.
You won't be fully able to recover all your profits this way, but you can at least minimize your loss and protect a portion of your profit.
Notice that not all brokers provide this feature. You might have to check with your broker before you decide to trade with them.
Exiting prior to expiration time serves the same purpose as 'stop-loss' and 'take profit'.
However, these features are not available with binary options trading.
Some brokers do offer cash back in case you are out the money (wrong prediction).
The cash-back rate varies from 10%-20% depending on the broker.
7.Over The Counter (OTC):
Binary options are traded as over the counter instruments meaning the trading is not carried out in formal exchanges such as NYSE, or the Toronto Stock Exchange.
It means trading via a dealer (broker) rather than a centralized exchange.
8.Variable payout percentages:
If you guess accurately on your trade, you get rewarded with a payout.
The payout amount depends on the broker and the underlying asset.
This percentage is usually in the range of 70%-95% in the case of high/low and boundary binary options and can exceed well beyond 500% in the case of touch/no touch and ladder binary options.
"RISK WARNING: YOUR CAPITAL MIGHT BE AT RISK"
Conclusion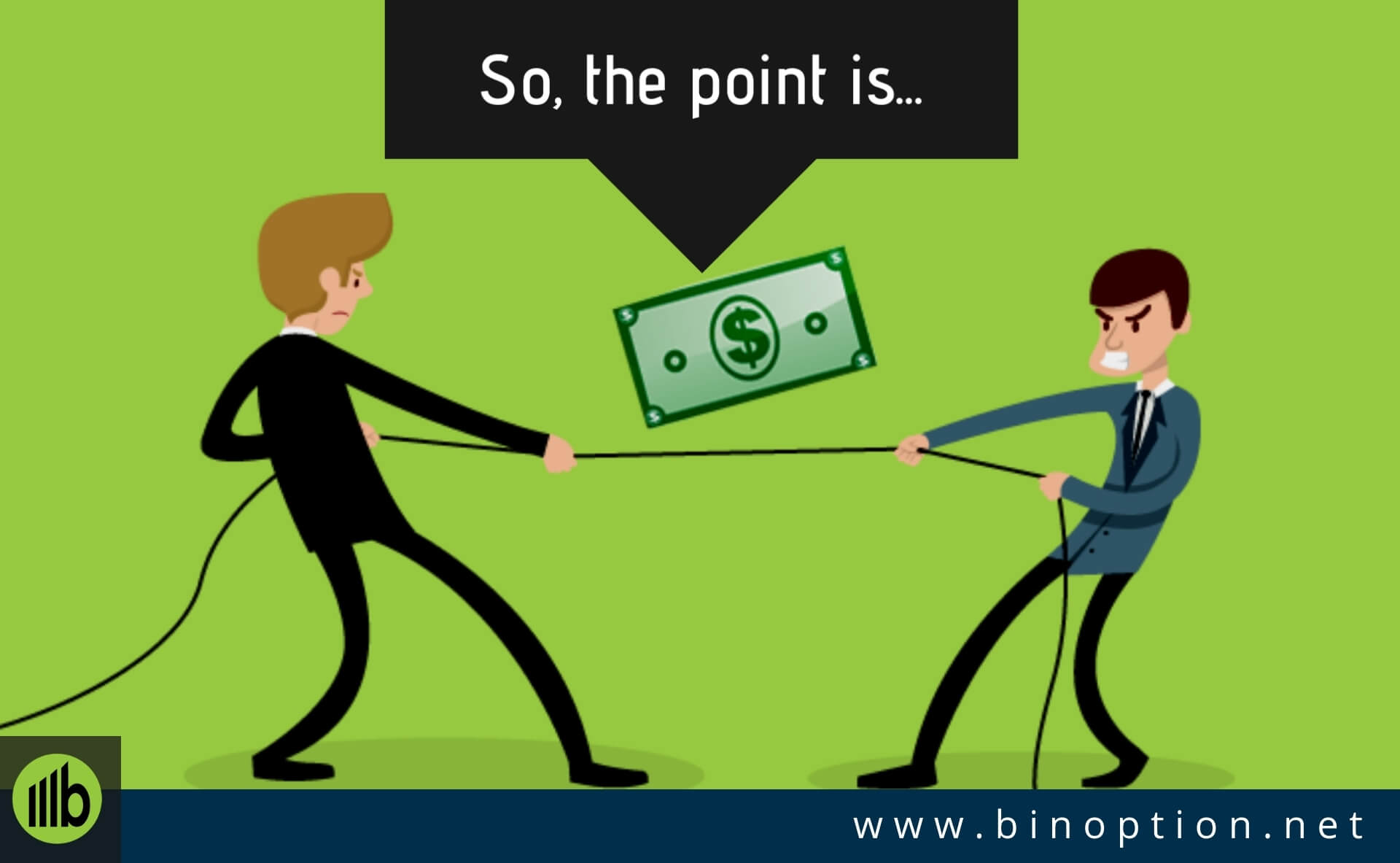 Binary options have earned a bad press due to the actions of many scam brokers.
However, there is no doubt about the legitimacy of binary options.
It is a proven method of trading that brings in profits in a short period of time.
It takes a lot of factors to be successful at binary trading.
The purpose of this article was to educate new traders on how they can maximize their profits in binary options trading.
In order to succeed in binary options trading, you need to learn how to trade binary options.
There is no alternative or shortcut. Put time and effort in educating and then practice what you have learned.
Binary options are comparatively new compared to other forms of trading such as trading forex or commodities.
However, it is quickly gaining popularity and mass adoption due to its simplistic nature, high payouts, a large variety of assets, flexibility in expiry time, and many other reasons.
Top 10 Broker