60 Seconds Binary Options Strategy: Know the Advantages
In this article, we will discuss about the 60 seconds binary options strategy and the advantage it offers. 
Before we delve into that, we need to realize the importance of having a solid strategy in our trading regimen. 
Without a strategy, we are like a sailor without a compass. You may have one or two lucky trades but that's about it. 
To be successful in the long run, you would need an effective money management system backed with a profitable strategy. 
Why Do You Need A Strategy For Binary Options?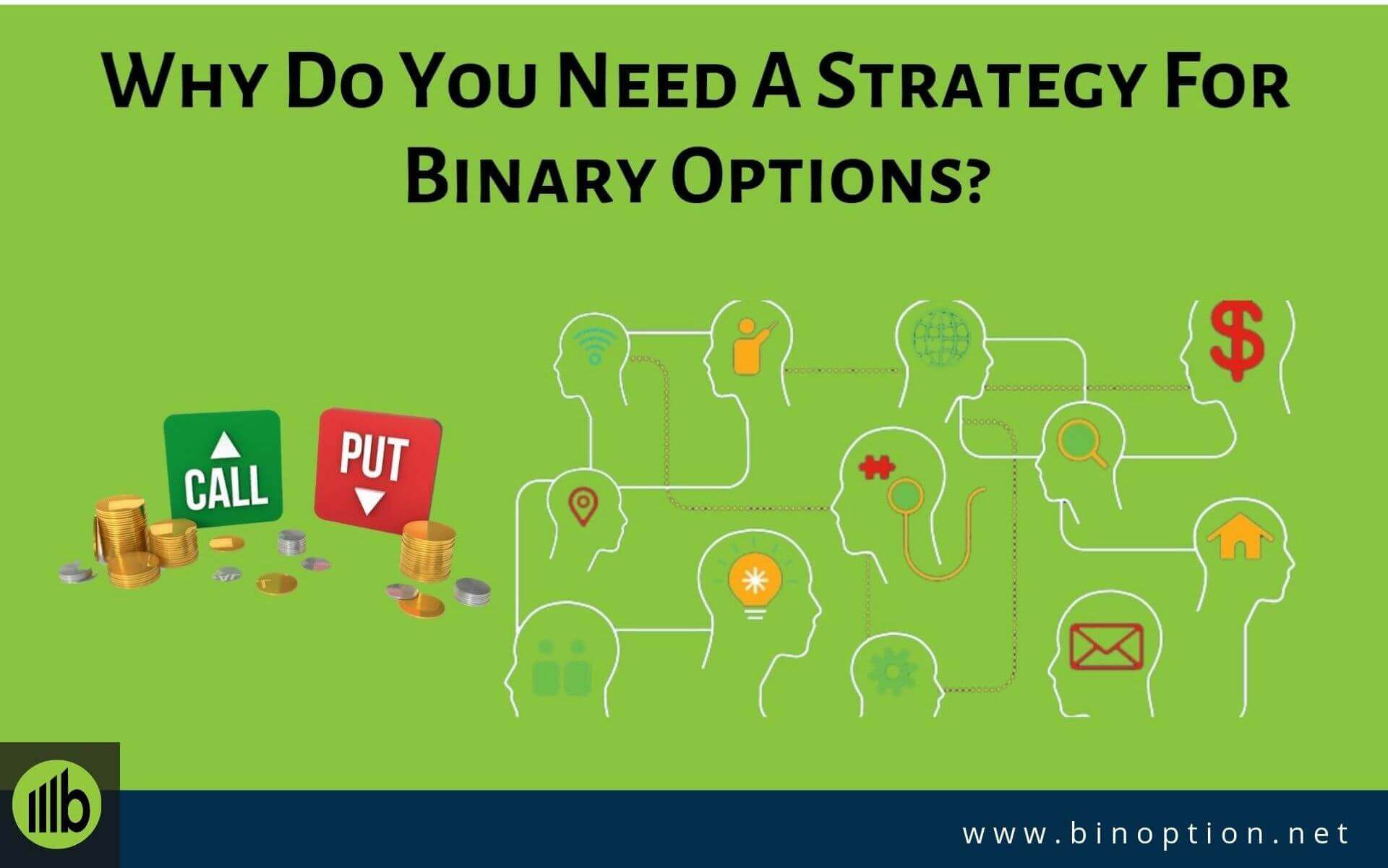 We've all heard how binary options are simple and easy to understand and execute. Then why do we need all these analysis and strategy formation?
The truth is binary options may be simple but they can be quite risky at the same time. If you understand the basics of binary options, then you will know if you lose a trade, you lose your initial investment.
There is no "in-between" in trading binary options. You either turn out profitable or you end up in a loss. The exception to this would some brokers allowing you to exit prematurely from a trade.
In any case, the difference between earning a payout, and losing all your investment is an effective strategy. 
Another reason for forming a strategy would be the variety that binary options offer. There are multiple assets in binary options such as forex pairs, crypto, commodities, shares, etc that are all unique in nature.
You cannot apply the same strategy for different assets and expect success from it. Hence, carefully choosing your strategy is crucial. 
Once you have a successful strategy in your arsenal, you will start to eliminate emotions from decision making and instead base it on logic. 
Your trading mindset will evolve as well and you will start realizing the role trading strategies play in your trading game. 
In our strategy section, you will multiple trading strategies for binary options. Our today's choice of strategy is the 60 seconds Binary options strategy. Let' see what it is. 
What Is The 60 Seconds Binary Option Strategy?
To explain in simple terms, forming a strategy with your expiry time set to 60 seconds is the 60 second binary options strategy. That's all there is to it really. 
Why choose such a specific expiry time when binary options offer expiry times ranging from 5 seconds to all the way to up to a few months?
Well, firstly, short-term trades are preferred by binary options traders. It is more prevalent than long term trades. Therefore, there is a demand for these strategies.
Other reason follows the previous point. Due to the high demand, you will find many effective 60 seconds binary options strategies that utilize a multitude of indicators. 
Now that we know the basics, let us see for whom is this strategy suitable.
Who Should Implement the 60 Seconds Strategy?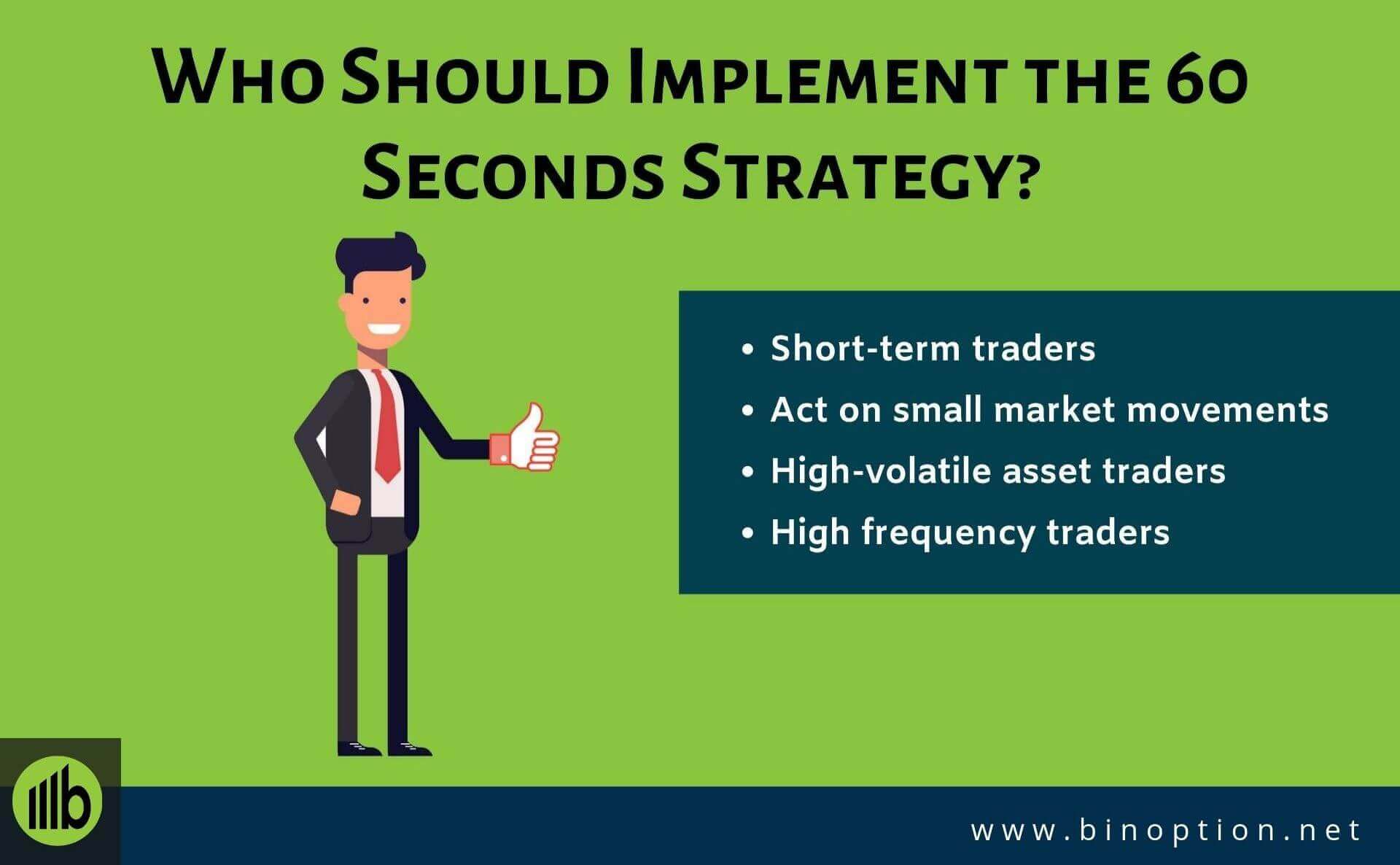 Irrespective of the popularity of this strategy, it is not for every trader. Let's analyze what kind of traders would prefer this way of trading:
Short-term traders
This is a no-brainer. Any trader that prefers short expiry times (< 5 minutes) will enjoy this way of trading. These kind of traders look to make short-term gains on the assets they trade
Act on small market movements
For these kind of traders, the 60 second strategy is perfect. They can make the most from these minor ups and downs and gain profit from either call or put options.
High-volatile asset traders
If you trade high volatile assets such as crypto, then this approach of trading is perfect you. Granted, it is a bit risky, but if you know your market and technical analysis, you will make money from trades others wont. 
Crypto like Bitcoin following the aftermath of major news, undergoes rapid price changes. Often, by a couple hundred dollars in the matter of a few hours! 60 second trades works great in such situations. 
High frequency traders
There are traders who perform multiple trades in a single day. For them, the 60 second time-frame works perfectly. 
With this time-frame, you could perform hundreds of trades or even more. It depends on your trading needs.
Who Should Avoid This Strategy?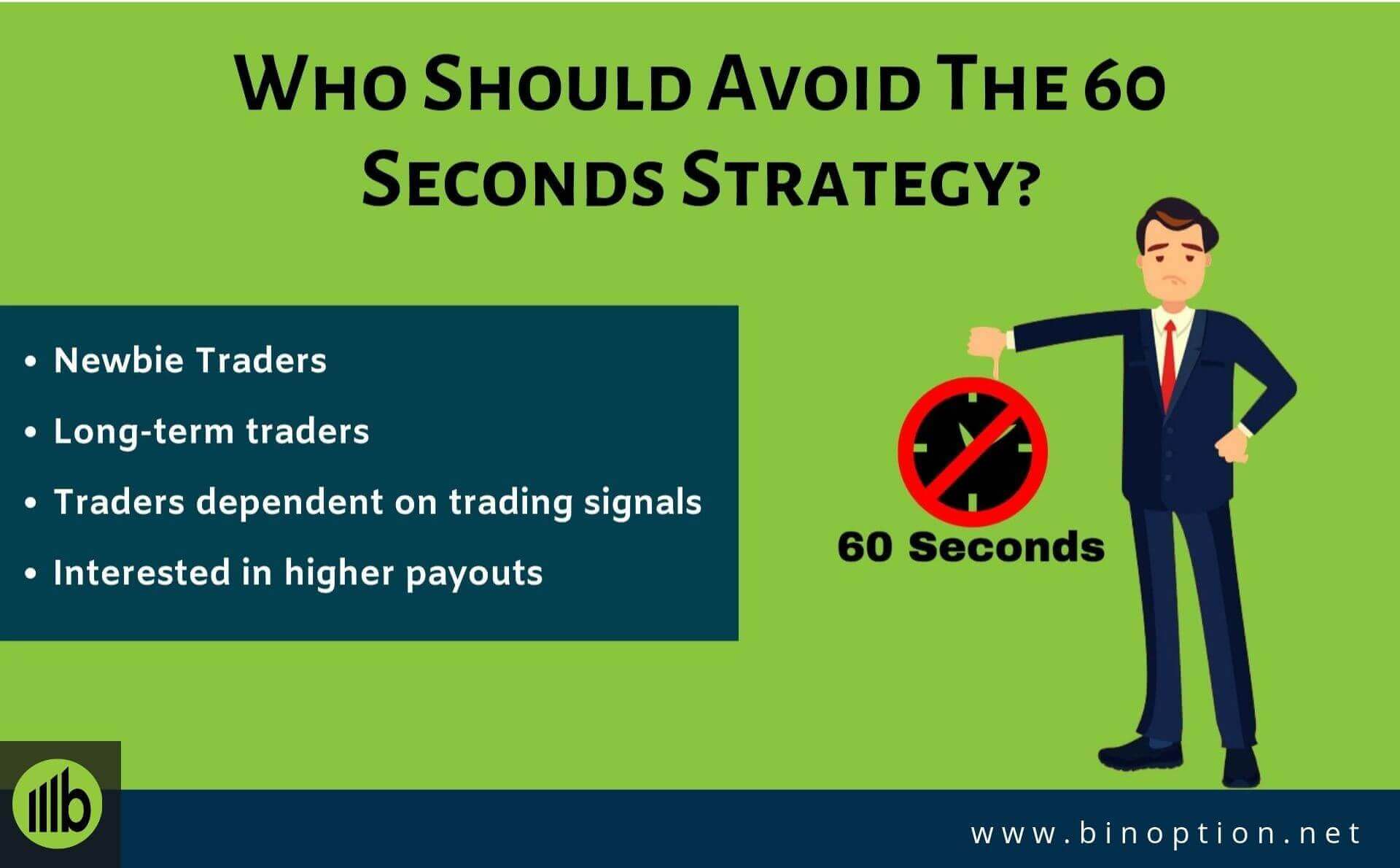 Not all traders should go for this strategy and expiry time. The kind of traders that should avoid this strategy includes:
Newbie Traders
It is wise for new traders to choose a bigger time-frame when starting out. One minute maybe too short of a time where he can analyze the trade.
There are a lot of things to consider and evaluate and in haste, they may make rash decisions. If they wish to trade short-term, they can first practice it in a demo account and then implement it in real trading. 
Long-term traders
For long-term traders, the 60 seconds strategy is of no value. They will never with such short expiry times, as they are in it for the long run. 
Traders dependent on trading signals
Traders who either subscribe to trading signals or follow any kind of trading signal service to know whether to buy or sell should  avoid this strategy. By the time you receive the signal and execute upon it, it might be too late. 

Interested in higher payouts
Traders who wish to receive high payouts should avoid this way of trading as the payouts are usually 10%-20% lower than trades with higher expiry times. 
This means, as a trader, your win-rate must be higher than a long-term trader. Again it proves the point that beginner traders are better off trading with higher expiry times. 
Advantages of The 60 Seconds Binary Options Strategy
With everything considered, the 60 seconds strategy has certain advantages to offer. They are listed here: 
In this article, we learned the requirement for a strategy in binary options. The 60 seconds strategy is a popular way of trading in binary options and we analyzed for whom is suitable and what kind of traders should avoid it. 
We then learned the advantages that this strategy has to offer. To summarize, if you are a short-term trader looking to perform multiple trades, you should try this form of trading. 
If you want to take advantage of tiny up trends and down trends, then this strategy is for you. Keep in mind that you need a decent win-rate to end up positive. And off course, just because you can execute hundreds of trade in a single day, don't engage in over trading. 
Popular indicators to use to form a strategy includes MACD, bollinger bands, RSI, etc. Form a strategy based on your trading style. 
Remember that 60 seconds is not any magical expiry time guaranteed to make you rich. You can explore other short periods such as 30 seconds or 5 minutes. 
At the end of the day, the goal is to stay in the money.