Raceoption Review - Ensure The Security Of Trading Deposit
Raceoption is a well-known trading platform even though it's a fairly new broker in this trading industry.
Nowadays, it's not hard to find a broker as they are prevailing all over the market. But it's really important to filter out the most suitable and trusted broker from all other fake and scam brokers to avoid unnecessary losses. Authentic reviews can be a perfect solution to this problem.
However, along with an authentic review, there are many factors that you need to check before selecting one.
This article will give you an honest review of the Raceoption broker. In this article, you are going to be provided with the detailed information of this broker, its features, account types, trading platform, and so on.
Let's start
Raceoption Review: What Is Raceoption
Raceoption is a Binary Option, CFDs, and Forex broker which is operated by Race Projects Ltd. The establishment date was in 2017 with a registration number of 114612.
Additionally, you will find the registered office at 306 Premier Building, Albert Street, Victoria, Mahe, Seychelles.
Unfortunately, you will not find any valid regulation information on their website. However, through research, we found that this company is owned by the Vanuatu based Finance Group Corp.
Thus Raceoption operated from the United Kingdom, but its operations go under the  Vanuatu Financial Services Commission.
Note that this broker does not provide any service in the USA territory.
Raceoption Special Bonus Offer
Super boost your trading session with Raceoption. Binoption is offering a "special bonus" for new and existing clients that deposit $1000 or more. This special offer is available for all real account holders who already verified their account.
We mentioned the code below inside a box. Besides, the following special offer is available around the world.
Fund your trading account with $1000 or more and instantly receive a 200% deposit bonus. The offer is available for a limited time. Hurry and take advantage of this lucrative bonus offer.
Promo Code: DKGR200

Promo Code: GALLEN200
How To Use This Bonus Offer
The bonus is automatically available for all clients who deposit $1000 or more into their funding accounts.
Through this special offer, we are giving you the ability to trade with even more power and more confidence.
Copy the bonus code
Go to the Account funding page
Enter the special bonus offering code and get your bonus!
Raceoption has some outstanding criteria that will help you to decide whether you should trade with it or not.
The following features of Raceoption can answer the question properly.
One-touch binary options.
Demo account facility.
Minimum deposit $250
Maximum return up to 90%
Leverage 1:100.
3 Available versions.
Over 100 of assets.
Withdrawal in 1 hour.
Wide range of deposit and withdrawal methods.
Website language: English.
Minimum withdrawal $50.
3 account types
Copy-trading facility.
Non-stop trading; over weekends.
First 3 risk-free trades.
Big bonus, giveaway, and prizes.
100% of data protection.
Variable spread
Sign-Up And Login Process For Raceoption
There is no need to download something before you can start trading with Raceoption. All you need to do is sign up and add funds into your account and you'll be ready to start trading.
One has to follow the following steps to complete the sign-up and login process.
Step 1:
Registering an account is completely free for traders. You can visit their website and find the registration form on the very first page.
Put all the personal information needed (Name, Surname, Phone number, Email, Password, Account currency, etc.)
Step 2:
Click next and you'll get an offer of 5 risk-free trades that expires for 1 hour as soon as you fund your account. Or you accept it if you want or simply ignore it.
After that, you can see the live trade.
Remember, please make sure the data you submit is correct and up to date. In the future, it will simplify the withdrawal process.
High Capital Risk Is Involved In Financial Trading
Account Verification: How To Verify An Account
To verify your account, Raceoption may want you to confirm your identity and information provided upon registration. At any time you can be asked to provide an electronic copy, certified copy or notarized copy of a passport (at the discretion of the Company).
If the Client has not received a request to provide the documents, then it's not mandatory to verify the account.
Customer is responsible for the authenticity of submitted documents. In case of doubt about their authenticity, to contact authorities of the issuer of the document to verify its authenticity. If it detects a falsification of the document, Raceoption may place an account on hold and conduct an investigation.
So, just follow the given procedures and go on.
Nowadays almost all brokers provide a demo account facility. Raceoption is just alike.
A Demo account enables traders to become used to with the particular trading platform. It also helps to gather trading experience.
Furthermore, a demo account helps traders to enhance their trading skills.
Unfortunately, to receive a demo account, you need to fund your trading account and contact customer support to get a demo account credentials.
To start trading with a demo-account needs the same procedures as starting with a normal account. So, just follow the procedures mentioned in the 4th point of this article.
High Capital Risk Is Involved In Financial Trading
Account Types Of Raceoption
This broker has combined the most demanded services into packages for the trader's convenience. Your accessibility depends on the amount of first trading deposit.
The minimum deposit starts from $250 and the maximum deposit is $50,000.
They have 3 types of classified account types:
Gold
Integrated Technical Analysis
Note that in case of a negative trading result, risk-free trades are compensated in the form of a trading bonus. In this phase, we will give a short brief on each trading account types.
The bronze account is applicable for traders who are new in this platform. As an initial deposit amount, traders have to fund their account by $250.
You can use different methods to withdraw your profits. As per their website information, the team will take 1 hour to permit traders for withdrawing money.
Furthermore, traders will get copy trading tools to copy expert traders. A demo account is applicable for all account types. Moreover,  24/7  Live video chat will assist you all the time.
Traders will get up to 20% bonus on their first deposit.
To be a silver account holder, you have to deposit a minimum of $1000. It is the most popular trading account among traders.
Traders will get all facilities similar to the bronze account holder. Along with this, the trader will also get a web-based master class.
This web-based class will help you to learn more about the trading market and the types of trading.
We already mentioned in the previous account type that for withdrawing profit, it will take 1 hour. Furthermore, an individual account manager will be always there to help you when you are in trouble.
On the other hand, trading bonus for silver traders is up to 50%. Traders will also get first 3 risk-free trades.
Note that risk-free trades are compensated in the form of a trading bonus when you are in negative trading results.
High Capital Risk Is Involved In Financial Trading
The minimum deposit for a gold account holder is $3000. Gold traders will enjoy the maximum trading features or benefits from Raceoption.
Integrated technical analysis tools help traders to analyze the market more precisely.
Along with this feature, a gold account trader will get a personal account manager, demo account, risk-free trades, copy trading tools and more.
The bonus amount is up to 100% depending on the deposit amount.
Raceoption offers two types of trading for traders. One is Binary Options and another one is CFD/ Forex trading. It provides facilities to trade on more than 100 trading assets from Forex, commodities, indices, stocks.
The broker provides leverage for their traders. However, the leverage ratio depends on trading assets. For example, 1:3 for cryptocurrency. However, the maximum leverage ratio is 1:100. There is no leverage for Binary options.
In trading, the spread us the difference between the lower and the higher price of a given CFD. So, there is no spread for binary options, only for CFD.
Raceoption Trading Platform Overview
Raceoption provides its customers with the most advanced and popular trading platform. It offers a desktop web version as well as mobile apps for iOS and Android.
Here is the detailed description of the trading platform of  Raceoption for your convenience.
As soon you log in to your Raceoption account you are going to see all the last bids on the "Last Bids" box where all the bids are continuously appearing before you in a running mode.
In the next row, you can easily find charting tools, fundamental analysis, trade pattern ideas, news, technical analysis, economic calendar. Besides, this row includes two eye-catching options- Trading contest and copy trading.
You can easily select the trading assets by clicking on the Forex/CFD or Binary options that are located in the next row.
All the currency pairs are included in the left sidebar while the right sidebar gives all the options of option types, time, Fixed time, amount, profit, call and put. And in between the live trading chart is located.
Option types include three options- turbo, Interday, Long term. You can choose your favourite one from there.
Time option gives you the chance to choose the timeframe you want for your trade. Or you can simply seta fixed time by turning on the fixed time option.
You can select your trading amount from the next amount option. And based on your amount, the profit option will show your maximum profit.
The last row has options like Status (open/close), Asset, choose the date that will help you to set your trading time and date.
High Capital Risk Is Involved In Financial Trading
Supported Automated Robots
Traders who are using Raceoption brokers can perform trading using automated binary options robot. Raceoption supports two trading bots.
BinBot Pro and CentoBot are two automated trading bots for options traders. These robots are popular for their unique trading features.
Traders can use Raceoption as their broker while using these robots. Moreover, you can open a free account from the below table:
CentoBot
Robot Profitability: 297%
Raceoption Mobile Trading
RaceOption provides mobile trading as well so that you can continue your trading by using your android or iPhone. Let's have a glance at their mobile trading platform.
Mobile trading allows for the instant execution of trades. This mobile app will show live charts of every CFD available on the platform. It also enables traders to view their entire trade history.
You don't have to follow any special procedures for the mobile app. One can log into the trading dashboard by using the same credentials.
And this application is free to download.
Raceoption provides outstanding bonus offers, giveaway, and prizes.
For example, if your trading deposit is 1000 USD, then you'll get a bonus of 50% that will make a total deposit of 1500%.
Deposit bonuses of different account types:
Bronze account: 50% deposit bonus
Silver account:  100% deposit bonus
Gold account: 150% deposit bonus
Raceoption Deposit And Withdrawal
Raceoption's payment procedure state that traders shall fund his trading account within 90 calendar days from the date of its opening in an amount not less than define terms for the type of account (minimum initial deposit).
The Company may close/cancel an account with a balance of less than 1 cent (one-hundredth of a US dollar) if the above account balance existed for more than 90 calendar days.
You can fund your account by credit cards (VISA/MasterCard), Bank wire transfer, Bitcoin, Ethereum, Litecoin, Altcoins, Neteller, Skrill, Perfect Money.
Moreover, the broker claims to have fast and reliable transfers supported by the most popular providers.
Their funding and withdrawal methods are:
You have to include your deposit amount according to your account type, your card number, Expiry date, name/surname, CVV2 number. Then click on fund your account.
Fill in the form to register a new account (First name, last name, email, password) and procced to your email to confirm and verify your registration.
A wide range of altcoins is there to use as a payment or withdrawal method. The available altcoins is [Bitcoin cash, Ethereum, Litecoin, Dash, Zcash, Tether USDT(Omni), Tether USDT (Erc20), TUSD (Erc20), USDC (Erc20), PAX (Erc20), HT (Erc20), LINK (Erc20), and other]
Put your Email address and the amount of your deposit. Then click on Fund the account.
RaceOption doesn't charge transfer fees. However third-party fee may be applied.
The funds will be available for trading immediately, once they receive a confirmation from the payment system.
During weekends and public holidays, funding time may be delayed.
Raceoption provides 24/7 customer service to its traders. This broker offers a good level of customer support contact, whether on the website or the mobile platform.
You simply have to fill up the form (your name, email, phone, message) and their support team will get in contact with you.
A live chat option with a pop-up chat box that appears as soon as you visit their site asking the visitor if they need any help.
Its support service is quite fast. You can easily clear out all your queries simply by a phone call, or via an email/live massage.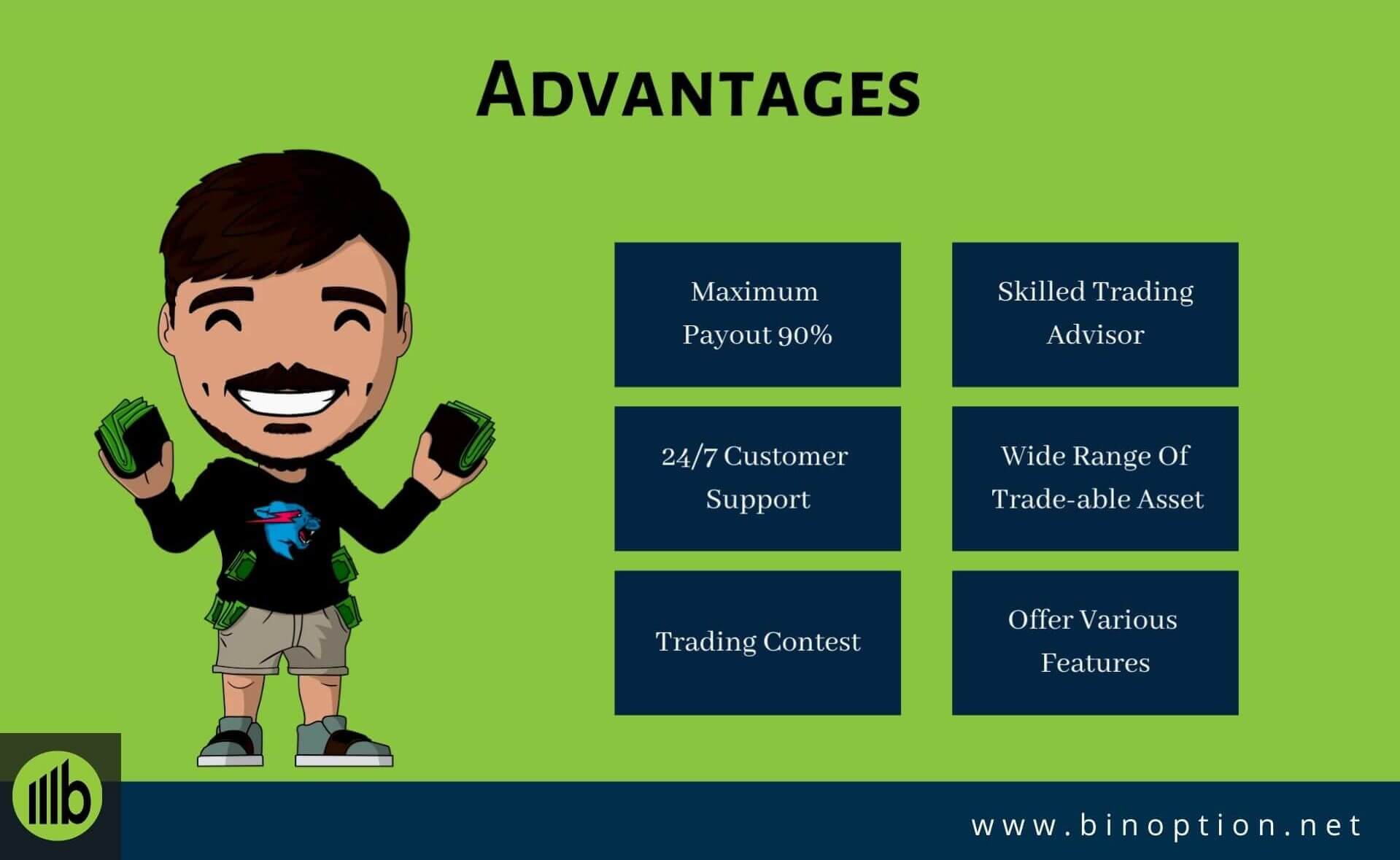 In this section, we include all the advantages of the Raceoption broker for your convenience. Have a careful look so that you can take a perfect trading decision.
This broker has a strong range of different trading formulas across both binary options and CFDs.
Guaranteed withdrawal processing within one hour. Possibilities to trade over weekends.
Wide range of funding and withdrawal methods. Offers a respectable choice of financial assets with access to over 100 different instruments from Forex, commodities, indices, and share markets.
Along with these, you will also get:
Maximum payout 90%.
100% of data protection
Skilled trading advisor
Customer support 24/7.
Served more than 10000 traders daily.
Easy to use trading platform.
A strong range of tradable assets
Variety of binary options trading formats & CFDs.
Deposit and withdrawal with cryptocurrencies.
Trading contest
Offer various features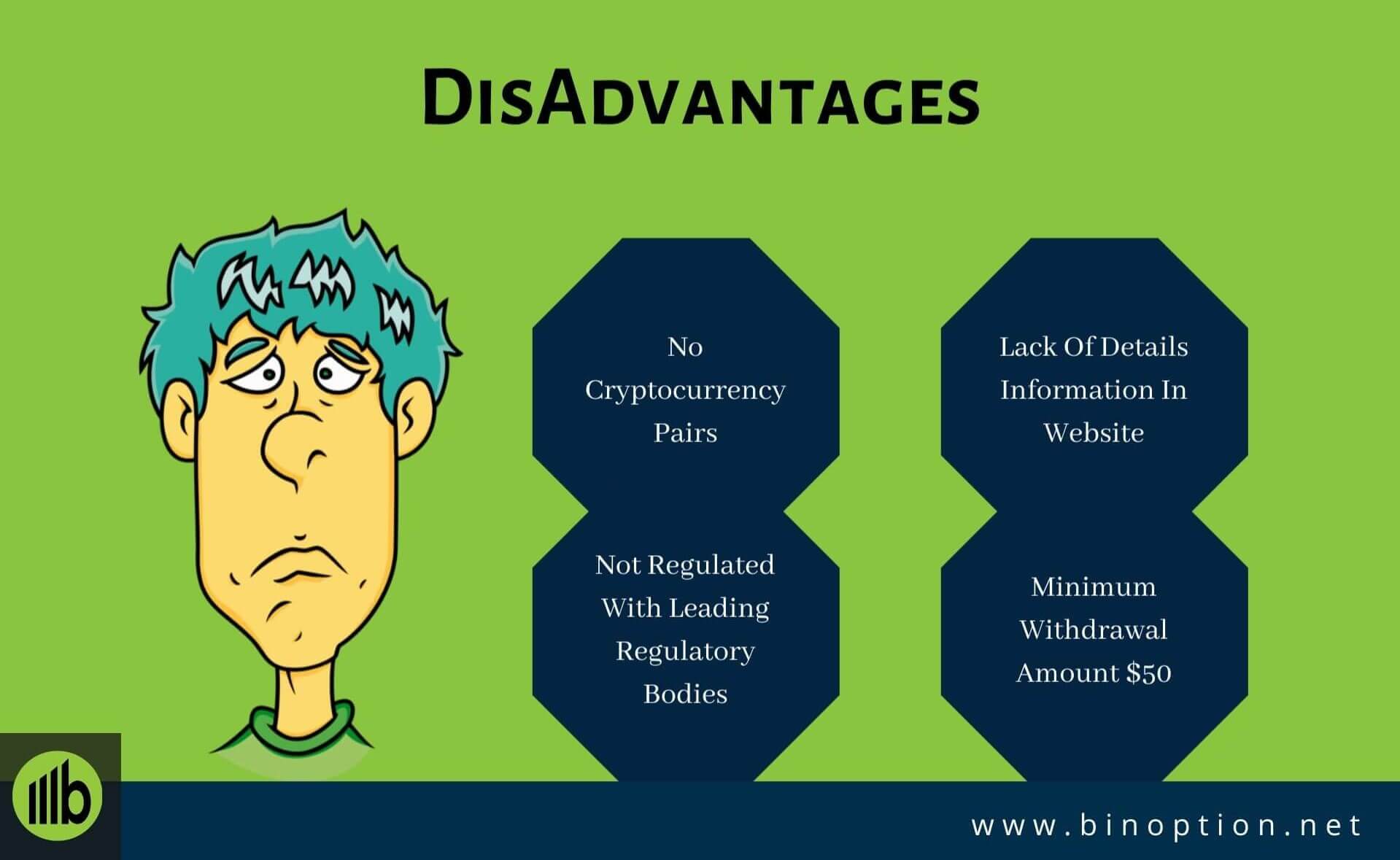 The main drawbacks of the Raceoption broker are given below as well. Have a look at points below before starting your trading.
Although they have good choices of assets, you might feel the absence of cryptocurrencies in the mix, as cryptocurrencies are one of the most popular categories in the Binary options market.
There is a possibility that you may sustain a partial or total loss of your investment funds when trading CFD as with any financial assets.
The website is sharp, simple, intuitive and user-friendly, yet sometimes you may face problems of finding detail information about the trading platform while doing an in-depth study before start trading.
You may find the website and content available in multiple languages.
This broker will not take responsibility for any erroneous, inadequate, or misleading translations from the original version into other languages as the English version is the original one.
So, to conclude, it's wise not to fall for any temptation and trade with a well-planned strategy for better trading experience.
Features of Raceoption are well enough to convince traders to trade with them.
But, RaceOption provides no guarantees of profit nor of avoiding losses when trading as they have already pointed it on their website disclaimer.
And likely no other brokers assure your win rate. It depends on your capability, strategy, and skills.
So, you must have to be prepared for any kind of situation while start trading.
Good Luck.