Olymp Trade Review: Seamless Trading With Olymp Trade App
Choosing a good broker that you can trust is key to making your trading career successful. Olymp Trade is a regulated and award-winning online investment platform that is specifically designed for beginners.
This Olymp Trade review will help you better understand the company and its platform. Initially, a binary broker, Olymp Trade, has grown into a high-tech IT product.
They have improved and made a seamless trading platform for their traders to help them achieve a high return.
The minimum deposit amount starts from $10, which will help you get a return of up to 80%. Moreover, they have received numerous trading awards for their transparency in the financial market.
Traders can share their trading experiences through the trading club. You can share your experience through the trading club, which we will discuss broadly later in this review article.
The broker offers over 70 trading instruments along with trading tools, indicators, trading signals, quotes list, trading news, analytics, and many more.
Olymp Trade Review- What is Olymp Trade?
High Capital Risk Is Involved In Financial Trading
Olymp Trade was founded in 2014. This international online trading platform has completed six years of its journey with many unique features.
The trading broker is continuously improving their trading platform based on the trader's needs and market trends.
It is owned and operated by Industries Ltd. The domain and all rights belong to this managing company. Smartex is a brokerage company that provides an options trading service.
The Olymp Trade principal goal is-
The Registration No. is  25161 IBC 2018. The company registered at James Street, Kingstown, First Floor, First St Vincent Bank Ltd Building, Saint Vincent, and the Grenadines.
You can also consider it a reliable broker because it is a Category "A" member of the International Financial Commission or FinaCom. They joined this commission on February 22, 2016.
So, the membership proves that Olymp Trade provides high-quality service to its traders.
The broker has its own proprietary trading platform, which is user-friendly and easy to use. Moreover, they have created a unique trading platform so that any trader can try their hand in trading.
Olymp Trade is operating their business worldwide except in a few countries like UK, USA, Europe, Japan, and Australia. They are providing their services in 19 different languages, where English is the primary language.
In order to be successful as a trader, you need to research a broker to discover their unique features, in addition to their regulation. You can use numerous tools to trade the most volatile asset classes, including forex, stocks, crypto, etc.
This section will mention the Olymp Trade unique features, which will give you a rational idea before investing money.
Regulated broker
Minimum deposit $10
Minimum investment is $1
Returns up to 92%
Minimum withdrawal amount is $10
Proprietary trading platform
Demo account facility
Trading forex with Zero spread
Multiplier up to 200x
Option execution time ranges from 1 min to 3 hours
Commission-free deposit and withdrawal
Maximum trade per instrument for a regular client $10,000
Maximum trade on all trading assets $20,000
70+ trading instruments
100% deposit bonus
Enriched learning center
Free webinars
Free trading signals
Traders club for sharing experience
Dedicated customer support team
Personal VIP consultant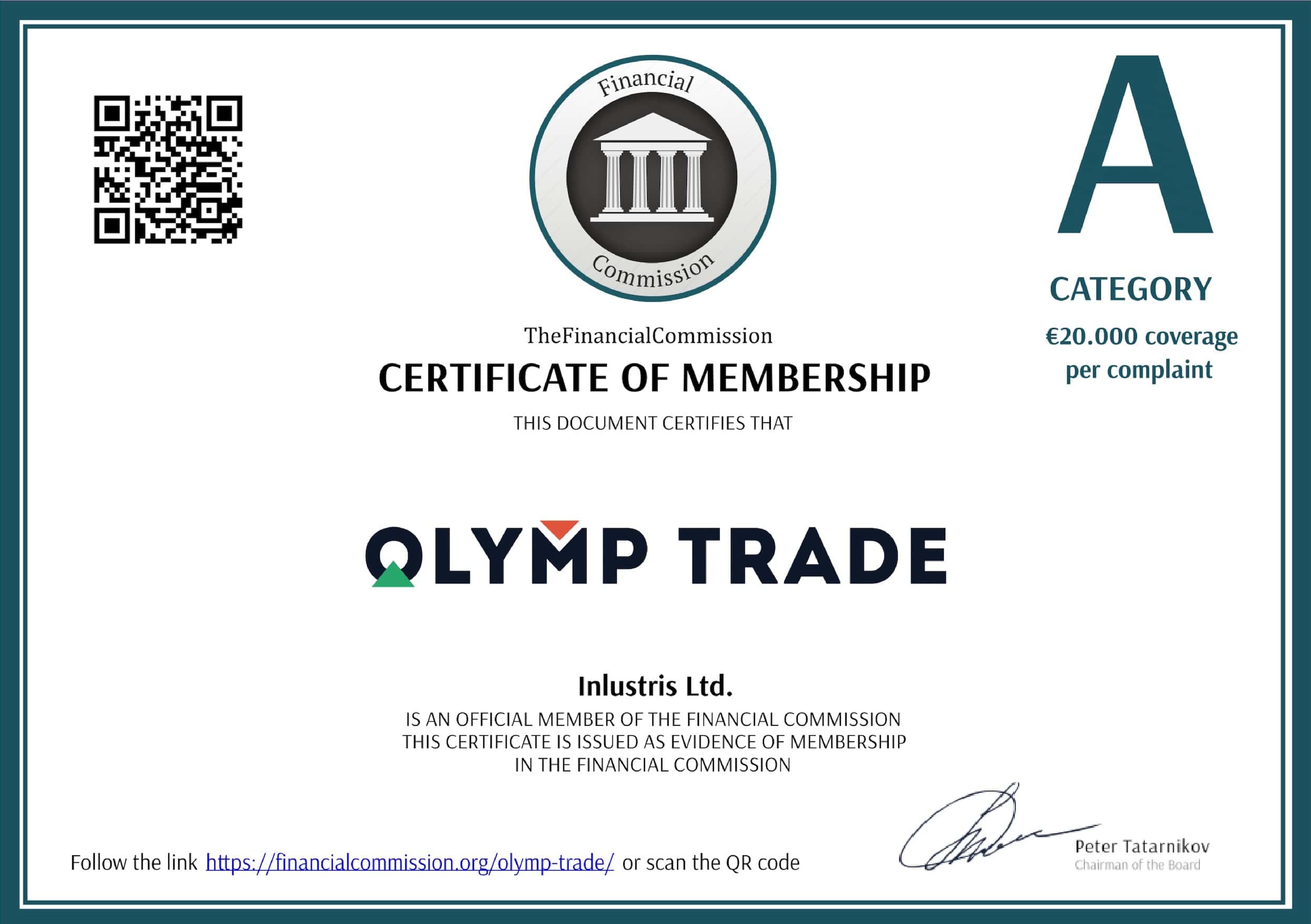 In 2016, Olymp Trade considered themselves a Category "A" member of the International Financial Commission.
Olymp Trade gives assurance to their traders that the platform is safe and secure to perform the trade. If the broker does any fraudulent activity with a trader, then he or she will get up to $20,000 from the Compensation Fund.
Olymp Trade ceased cooperation with CROFR in late November 2016. In September, it was certified as a quality broker by an independent service Verify My Trade.
The FMRRC (Financial Market Relations Regulation Center) also certified this trading broker, the main regulatory body in Russia.
Olymp Trade has been running its business for approximately over six years. They are growing and improving their services day by day. Moreover, they have won many awards for the Excellency in the trading service.
On their website, you will find a list of awards which includes the following:
Best Financial Broker CPA Life Awards 2017

 Best Options Trading Platform Le Fonti 2016

 The Fastest Growing Broker ShowFX World 2016

 Best Options Broker Forex Expo 2017

 Innovative Broker IAFT Awards 2017

 Best Options Trading Platform Le Fonti 2018

 Best Options Broker KROUFR Awards 2016
Olymp Trade Registration and Login Process
Olymp Trade Registration:
To sign-up for the trading platform, you have to fill a registration form with your personal data such as name, valid email, contact number, and password. You can also use your Google plus and Facebook ID to complete the sign-up process.
Choose a currency from the given list. You can choose between 2 currencies: EUR & USD. Read the terms and conditions carefully and then click on agree, and finally, click register.
Once you have registered, you will receive a confirmation email. You may either open a demo or real account to trade. To start a live account, you will need to deposit a minimum of $10.
High Capital Risk Is Involved In Financial Trading
After completing the sign-up process, you are ready to log into your account. Simply enter your email and password to sign in your account.

You can also use your Google Plus and Facebook valid ID to sign into the broker's platform from your desktop device.

To log in to the trading platform from the mobile device, you can use your Facebook, Google Plus, or using popular Russian social networks such as VK, OK, and MOI MIR.
Either you can directly Sign Up only with your email from the below
Especially for visitors to our sites can use a fresh promotional code for the Olymp Trade platform.
You will get a bonus of up to 50% of your deposit amount. So, to receive the bonus, log into the trading platform and deposit the amount.
Enter our promo code from the below list. After a successful deposit, the bonus will be credited automatically.
High Capital Risk Is Involved In Financial Trading
Olymp Trade Account Verification
Traders need to verify their accounts based on the company's rules or terms. The company will send a message if they need any account verification. It will take five business days to verify the client's account.
The authority will send a confirmation mail after completing the verification process. All necessary documents must be sent via email.
Note: It is mandatory to send via the same email address which you used during the time of registration.
The following documents are requested to verify a client:
A color scan or a photocopy of your passport or any photo ID card.

 A "selfie" where the client is holding an open passport in his/her hand and the face and passport data are visible.

 Confirmation of means of payment used in the trading account.
Olymp Trade offers a demo account with $10,000 virtual money. Trading with a demo account is free and specially designed for new traders.
So, you can practice your trading without any risk, fear, and rules. A demo account is available for both the Standard account and VIP account.
You will be able to come back to the practice account from the live trading account. In the demo account, you will get the same experience as real trading.
For the demo traders, trading signals are available as a real trading platform.
You can increase your confidence after practice through a demo account. Moreover, you can practice your trading strategies by using different tools and indicators.
High Capital Risk Is Involved In Financial Trading
Olymp Trade Account Types
Olymp trade is offering two types of accounts for traders. One is for general users, and another one is for VIP or professional traders. The standard account is for most traders.
We will mention all the features of each account one by one.
High Capital Risk Is Involved In Financial Trading
Traders can open a real account by depositing $10. You can start your first trade by investing only $1.
A deposit amount exceeding $2,000 will qualify you for a VIP account. You will enjoy the demo account facility to practice your trade.
For Standard account traders, all educational materials are available. All trading instruments and assets are available for you.
You will get FREE access to the trading Webinar. The maximum payout ratio is 82%. The maximum trading amount is $2,000 for standard account traders.
VIP account holders will always get guidance from an experienced trader. You will get a personal consultant who will always there for you.
By giving proper trading knowledge and suggestion, he will help you to improve your trading skills.
To get the VIP status, you need to deposit a minimum amount of $2,000. However, you can deposit $1,000 and $200 as well.
But depositing $1000 grants you 15 days of VIP, and $200 grants you two days of VIP. The maximum trade amount is $5,000.
Moreover, the maximum payout ratio is 92% for VIP traders. You will also get a facility to withdraw money within 24 hours. Traders will get ready-made trading signals and trading plans right on the platform.
Get a risk-free trading experience with an exclusive trading strategy that is only available for VIP traders.
You will also get the demo account facility. However, to get access to the private trading signals, deposit a minimum trading amount.
Private VIP webinars are conducted for account holders. According to their claims, these benefits will allow you to earn more.
There are over 70+ trading assets that you can trade with the help of the Olymp Trade app.
You can download the trading app on both desktop and mobile devices. Download the app for android and apple from iOS Store and Google play store, respectively, or browse directly from the website.
Olymp Trade App – Mobile:
The mobile app is unique for its interface and also ideal for any gadget. There are two trading platforms available for traders to trade on. One is for Options, and the other is for Forex.
As a result, for the options, you will find the app with the name of Olymp Trade online trading app, and for the Forex pairs, you will find the app with the name of Olymp Trade Forex.
Traders need to download both platforms separately on their mobile devices.
The mobile app is similar to the desktop trading platform, though we suggest traders use the mobile app only to check the market movement.
The app allows traders to manage their trading accounts, deposits, trading tools, indicators, education resources, and other facilities. Mobile App is available for both Android and iOS.
Olymp Trade App – Desktop:
Traders can download the Olymp Trade platform on their desktop. The platform works faster for Windows and Mac OS desktop devices.
Your windows need to be 32 or 64 Bit to download the trading app. If you want, you can avoid the download and perform trade via the web browser.
Olymp Trade Trading Assets
Olymp trade offers Options trade on currencies, cryptos, commodities, stocks, and indices. In the forex platform, you can trade on currencies, cryptos, and metals.
There are five types of trading classes available on the broker's platform. Under these classes, there are over 70 asset instruments are available.
Traders can place a trade that lasts from 60 seconds to 3 hours. The assets will open depending on the trading hours. The payout ratio depends on trading assets.
For standard traders, the highest payout ratio is 82%. You will find detailed information regarding each asset on their homepage.
Trading with a proper strategy will increase your rate of success. There are many strategies available for traders.
It would be best if you chose the strategy which suits your trading style. Market analysis is also essential to build a proper trading strategy for your trading.
It is our recommendation for all traders to control their emotions when performing trades. You will find many popular trading strategies by using different trading indicators and tools.
Strategy for trend market, candlestick patterns strategy are popular from among strategies.
There are a few strategies that you will find in the education section. Here, we are discussing some strategies in brief that you can implement in the Olymp Trade platform.
Olymp Trade Trading Platform
Olymp Trade has its trading platform. Anyone can trade with Olymp Trade FOREX and Olymp Trade OPTION accounts on the platform. These accounts are separated and have different interfaces.
The team designed the platform for thinking about new traders who have zero experience in the financial market.
Olymp Trade is a platform where you can trade and earn money and learn, compete with other users, take part in tournaments, and many more.
The broker uses the quotes of the major investment banks and proposes a weighted average price on the platform. Moreover, it supports 15 languages. After opening an account with Olymp Trade, a trading platform will open automatically.
The first thing you will see a moving chart. This is an asset chart. You can choose all assets from the asset list or select a few to trade.
By clicking on the bookmark, you can switch between the assets. You can switch between the Options platform and the Forex platform.
You can fund your account and make a profit by clicking the "Make Deposit" button. You will find a list of where you can select the necessary trading option on the left side.
The list is combined with all trading information such as deposit, withdrawal, trading transactions, trades, quotes, education, analytics, company information, regulation, additional information.
Traders can see the live quotes of each asset depending on the date, time, and time zone.
Olymp Trade is continuously developing its trading platform to fulfill the clients' needs and based on the latest industry standards.
As we mentioned before, Olymp Trade has two different platforms for Forex and Options. So, we wrote the platform features separately, so that you can understand them easily.
In both demo and real accounts, you will find charts and indicators. The trend indicators will help you to analyze the market correctly.
Trading Platform for Options:
An Olymp Trade OPTION account is used to make two types of option deals based on the trade duration (from 1 minute to several hours) and expiration time (from 1 minute).
The sentiment indicator will show you the ratio of all open trades for a particular asset in the options trading platform.
Red indicates that the trader is opening Down trades, and green indicates the Up trades. You will find a complete asset list from where you can select your desired asset.
There is a CALL and PUT button in the options platform, strike price, and expiry time. You can close your trade before the expiry time to cut the losses.
Choose the time frame that starts from 15 seconds to 1 month.
There is a Green Button and a Red Button. The green button will help you buy an asset, and the red button will help you go short. In options, there is no commission fee available for the broker.
Moreover, you can review all of your open trades in the trade menu from the bottom of the platform. Watch all your closing trade information as well. Traders can find out all their active positions and pending orders from the portfolio.
Trading Platform for Forex: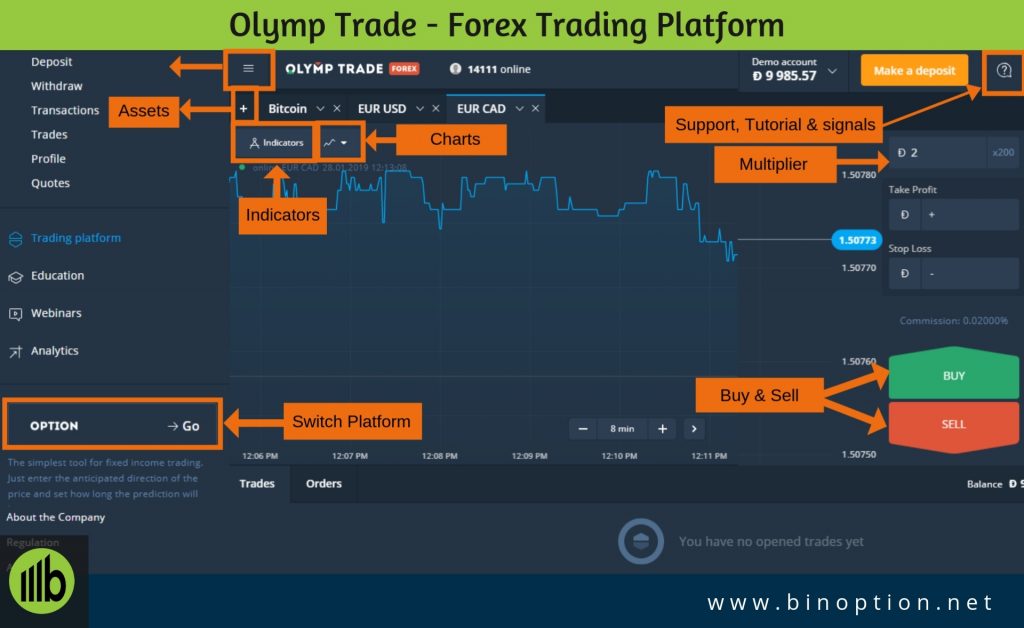 An Olymp Trade FOREX account is used to open long (hoping the price will go up) or short (hoping the price will go down) positions at the current price with an unlimited trade duration.
There is no spread (the difference between the buy and sell prices), but there is a brokerage fee that one has to pay when executing trades or holding them until the next day.
In the forex trading platform, the functions of the trading platform are almost the same as the options trading platform. However, the logic of trading is not the same.
You will not find any expiration time. Instead of this, you can select the multiplier to trade with your desired asset.
The take profit and stop loss will help you restrict your profit and minimize your loss.
You can choose the time frame from 5 minutes to 1 month. By clicking buy or sell, pay a commission to your broker. Some of the commission changes all the time, so be careful while trading any assets.
At the bottom of the platform, find information regarding your open and close trades. On the right side, in the support section, traders will find two options. One is knowledge-based, and the other is for an online consultant or live chat.
From the video tutorials, you will find introductory videos to educate traders about the platform.
A wide range of video courses available. You can learn about the world of finance, the basics of options trading, trading analysis, and so on.
Online assistance is there for you, who will guide you about the trend indicators, strategies, your profile, payments, and charts. You will also get online trading signals which will help you to trade in the market.
Olymp Trade Trading Indicators
You will find over 23 trading indicators on the Olymp Trade platform. We are going to mention the name of all major indicators one by one:
These are:
Zig Zag
MACD
RSI
Stochastic
DeMarker
Bulls Power
Bears Power
Williams %R
SMA
EMA
WMA
Parabolic SAR
Bollinger Bands
Ichimoku Cloud
Sentiment
Alligator
Aroon
CCI
Momentum
Gator
Rate of Change
Awesome Oscillator
Average Directional Index
Select and use any indicators as per the market demand and the market trend. Among these indicators, the first nine indicators will help you to trade following the trend analysis.
However, you cannot add over one sentiment indicator. Additionally, if you click on the name of each indicator, the trading platform assistant will make you understand the following indicator with the information.
The sentiment indicator requires no additional settings like others. You can set the time frame on each indicator, which will show you the high and low value of the asset.
Olymp Trade Trading Charts
There are four types of charts available on the Olymp Trade platform. These are:
Area Chart
Japanese Candlesticks
Heiken Ashi
Bars
The parabolic SAR indicator only works on the Japanese candlestick chart and the Bars chart. The time interval starts from 15 seconds to 1 month.
Olymp Trade Graphical Tools
Four graphical tools will help you to draw lines over the asset's chart. These tools are:
Horizontal Lines
Trend Line
Fibonacci Level
Fibonacci Fan
These are mostly used to conduct a technical analysis of a particular asset. These graphical tools are mainly different types of trend lines.
Olymp Trade Technical Analysis
Olymp Trade's platform offers traders the option of accessing technical analysis tools. You will get price types and time scales. The functionality of the VIP strategies is only available for VIP traders.
Also, you will have a chance to use numerous indicators within the technical analysis platform. These indicators can be added to your analysis, and their settings can be adjusted accordingly.
We strongly recommend you use these technical analysis tools to predict the future price correctly.
Olymp Trade Video Tutorial & Education
Olymp Trade has a full-featured trading educational section from where you can get all essential knowledge on trading.
The education center will help new traders learn about different trading strategies and trading indicators, which will help them learn how to trade and implement them properly.
Apart from 61 Webinars, we get ten strategies with video tutorials and ten indicators. In the same way, you will find a limited number of Forex education in the Forex Platform, including Introduction, technical analysis, trading styles, and strategies.
There is a virtual assistant linked to the education center. The assistant will guide you through a proper trading plan.
You will find a video tutorial where you can learn about the demo account, platform overview, deposit and withdrawal process, a guide for risk-free trading, and many more.
Enjoy the video course from a trade school. The video course is divided into four parts which are only available for Options traders.
Each course will deliver something essential to you. The beginner traders and experienced traders will enjoy free training on trading.
For beginners, they are offering strategy-based training, how to make money on economic news, and trader's psychology. For experienced traders, they offer original trading strategies, capital management, and webinars analysis.
Olymp Trade Withdrawal and Deposit
To start a trade with a real account, you need to fill your account with a minimum amount. The minimum deposit amount is $10 for the standard account and $2000 for a VIP account.
Select the desired payment option and the deposited amount. The amount will be converted automatically to your account currency depend on the bank rate.
It will take 3-5 minutes for the money to be deducted from your card/wallet, or sometimes as long as one hour to process the deposit.
Step-by-Step Guide- How to Deposit:
Choose the "Deposit" section from your trading dashboard

Select the right payment method from the list.

Fill in the desired deposit amount.

Click on the "Deposit" button.
You will be offered a deposit bonus. However, you can "Cancel" the bonus if you do not wish to receive it.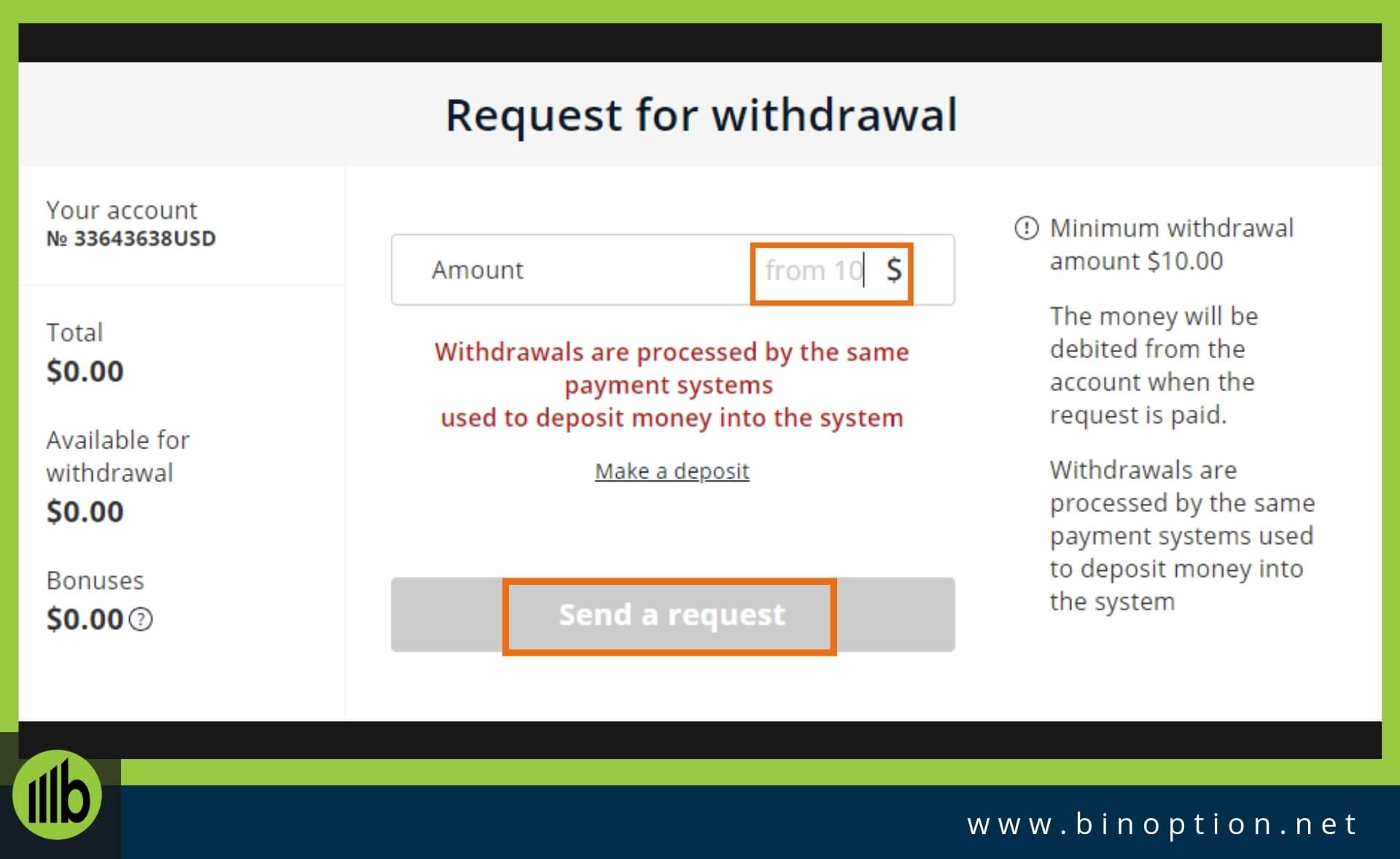 Withdrawals are processed by the same payment systems that you used at the time of depositing. The minimum amount of withdrawal is $10.
Olymp Trade offers an unlimited maximum withdrawal facility. To withdraw money, traders do not need to pay any fee or commission charge.
In the dashboard, you will find your available withdrawal amount. You cannot withdraw your bonuses. The maximum withdrawal period is five business days.
If you withdraw money from the e-wallet, you will receive the money immediately after sending the money through Olymp Trade. In the case of a bank card, receiving the money may take from 1 to 30 days.
However, they try to process the request as soon as possible.
As per this broker's claim, 90% of requests are usually processed within 2 to 5 working days. It depends on the queue at the processing center. The money will be debited from the account when the request is paid.
You don't need to provide any documents in advance. If needed, the authority will ask for the documents.
Step-by-Step Guide- How to Withdraw Money:
Choose the "Withdraw" section from the dashboard

Enter the amount in the relevant field on the fund's withdrawal page.

Press the "Send a request button".
Olymp Trade Bonus and Promotion
When you open a demo account in the Olymp Trade platform, you will get a welcome bonus notification from the authority. However, the pop-up welcome bonus alert will remain for 1 minute.
You can grab the bonus by depositing money within this time or later. Also, you can get the bonus by depositing $30 or more. The bonus percentage depends on the depositing amount.
$30-$99, 10% bonus
$100-$200, 20% bonus
$300-$4999, 30% bonus
More than $5000, 50% bonus.
Olymp Trade clients can use the additional cash bonuses from the company. Unfortunately, traders cannot withdraw bonuses from the account. But you can use them for opening a bigger trade. However, you can withdraw from gained profit at any time without any limits.
You can also ignore the bonus by ticking the "Decline a bonus" option. The tournament offer is now closed for all types of traders.
High Capital Risk Is Involved In Financial Trading
Olymp Trade Contact And Customer Support
You can reach the support team via e-mail, telephone, and live chat, which is available 24/7. You will get a response within 1 business day after sending them an e-mail.
It is important to have a quality full support team on a broker platform. Quick response is necessary for a new trader to resolve his or her problems.
Furthermore, you can also find them on social media like Facebook, YouTube, and Google plus. For demo testing, we contact through live chat with a few major issues.
We found that the customer support team is horrible and frustrating. They failed to answer simple questions and even gave wrong information regarding their platform. They had such poor knowledge of their own trading platform.
For example, we asked a question about their Company Awards and achievements. They kept sending us information regarding bonuses and promotions.
Customer Complaints Against Olymp Trade
We found many positive reviews on Olymp Trade.
However, our research is limited because many traders are from different countries, and they have used their native languages in the forums.
We managed to translate them. We also found the complaint against their support team and above in the "Contact and Customer Support Section," we already discussed our personal experience with their support team.
A trader from India placed a complaint about the withdrawal issue. He tried to withdraw money from the broker platform. The platform accepted the withdrawal request, but he did not get any payment to his bank account.
The issue was handled by the team of Olymp Trade smartly. Another complaint was regarding the account block.
The trader could not log in or access his funds. However, we could not be able to verify the validity of this claim.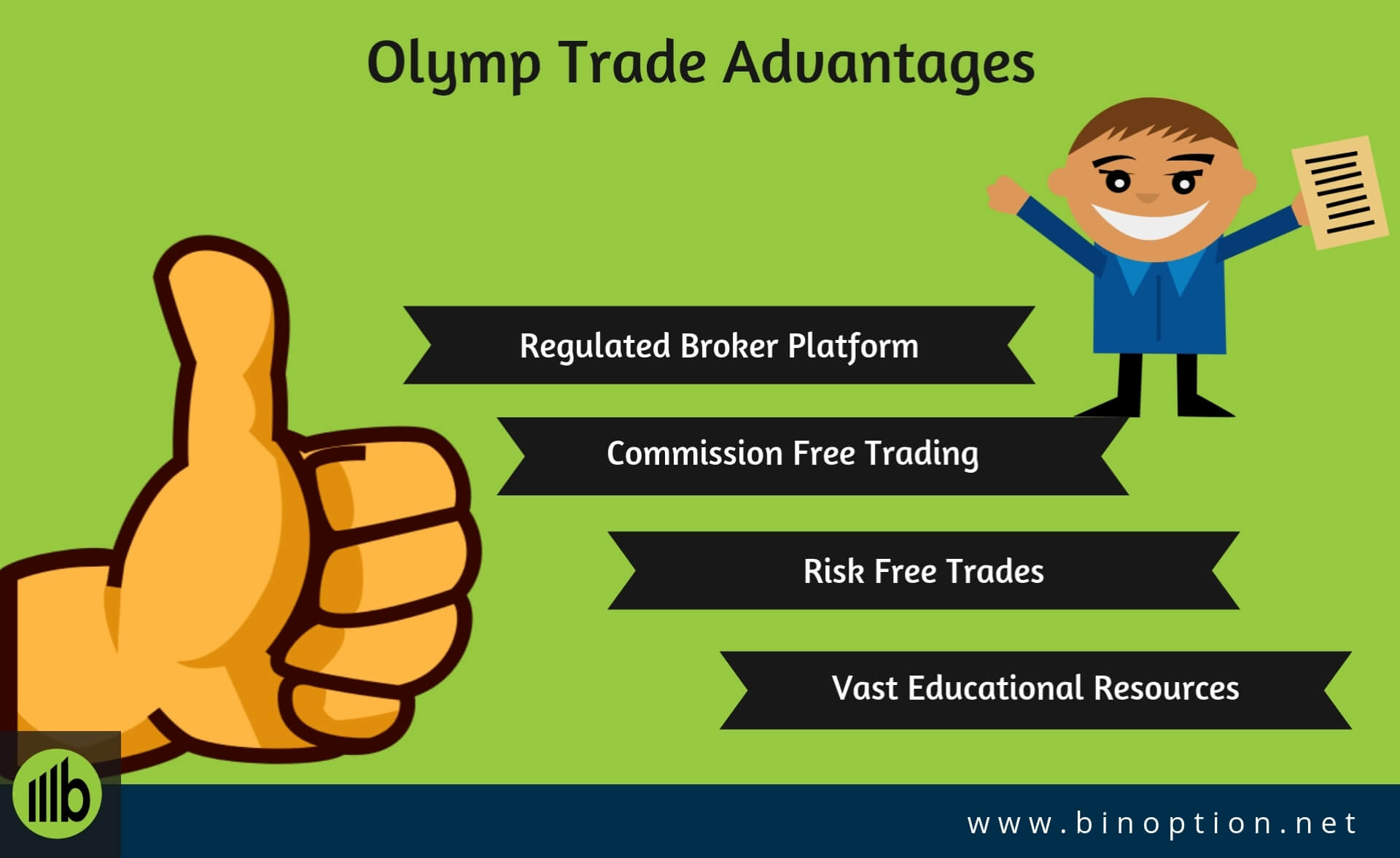 The main objective of Finacom is to protect the trader's investment and protect them from any broker's fraudulent activities. So, the membership is proof of the high quality of our services and guarantees each trader deposit insurance, comprehensive support, and prompt resolution of all issues.
As per the rule, the trader will get- "Indemnification Up to €20,000 from the Compensation Fund if you are a victim of broker fraud."
The trading platform is easy to use for all types of traders. Olymp trade broker offers commission-free trading to their clients. You can also enjoy risk-free trading in the real account.
Go to the platform and activate the Risk-Free trade to save money if the prediction goes wrong—in-depth educational resources for all types of traders.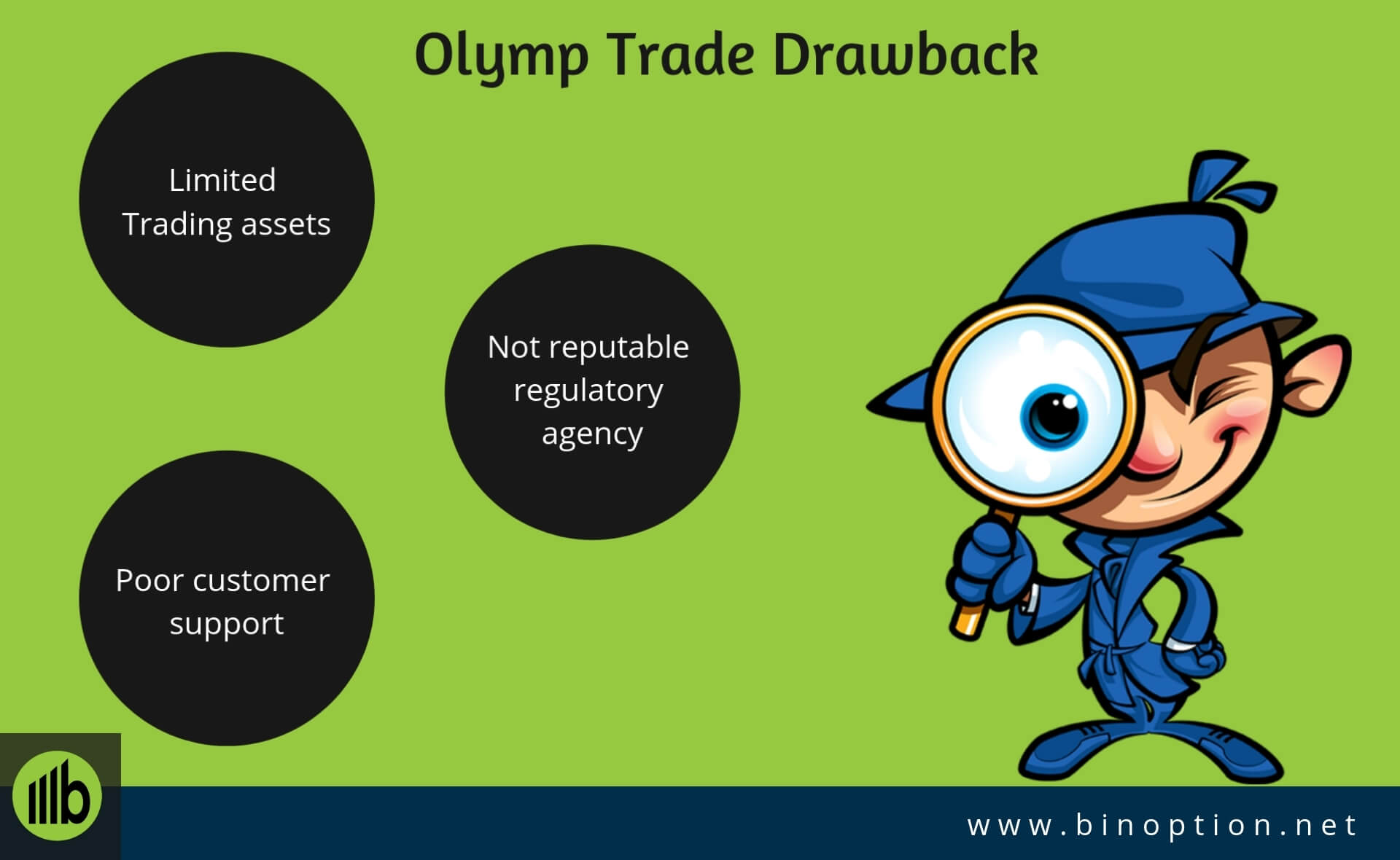 We found a few major drawbacks while testing the broker's platform. For us, the major drawback is their poor customer support team.
It is mandatory to have a strong support team to help traders when they are in a real problem. The support team is not well organized at all. As a result, they delivered an answer irrelevantly.
The regulatory agency is not as reputable and well known as some other agencies like CySEC, FCA, etc. However, it is better than being running the business without any regulation.
Another drawback is the limited number of trading assets. The website is lacking key information.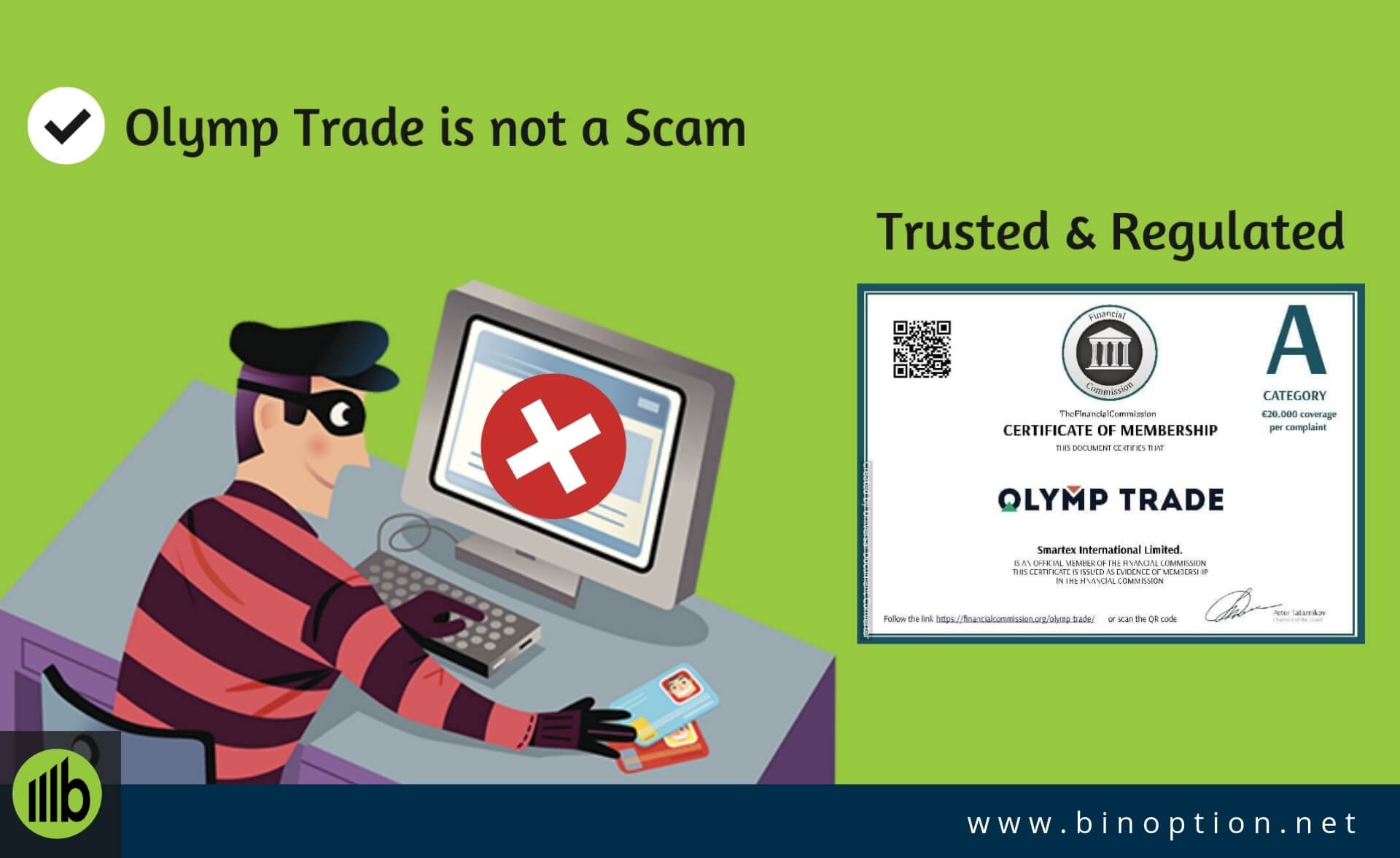 We found this question in numerous trading forums, and also this question is also logical to ask by new traders and experienced.
We believe Olymp trade is not a scam broker. Eventually, this is a reliable company that is offering a trading service to different traders.
This trading platform is a member of the FinaCom trading agency.
The regulatory body of the International Financial Commission maintains strict rules and guidelines for their brokers to follow, and the organization themselves holds strong values of transparency, swiftness, and education.
The broker platform has received many positive reviews from the traders. There are no hidden commissions incurred on the platform.
Eventually, finding a trustworthy options trading broker is now demanding. From that point of view, we will give a positive rating for this broker platform.
Olymp trade is a massive player in digital options. For being a legit broker, you need other unique features along with proper regulation. However, we got all the positive things in this broker platform.
Olymp Trade pays out over $9 million each month.
Previously, we mentioned Olymp Trade Scam. We were unable to find any scam activities done by this broker. Although, we reviewed many forums and websites to find any adverse scam reports against this broker.
Except for a few minor complaints, we mostly found positive comments. So, enjoy your trade with this seamless trading platform by investing as low as $1.