vfxAlert Review: Bring Accuracy On Your Trading
Today we are here with the review of vfxAlert, one of the topmost signal providers. The main objective of this software is to reduce the risk of wrong trading decisions.
Every trader is concerned about the importance of assuming the future price action more accurately to put a trade. 
In this aspect, some trading tools can be beneficial to help them come up with the right trading decision. vfxAlert is one such signal tool.
In this article, we are going to discuss every ins and outs of this software, and figure out if it's helpful for the traders or not in reality.
So, let's dive deep into it.
vfxAlert is a signal service that provides signals for binary options traders. A Russian expert named Aleksandr Mikolyuk is the founder of this bot. It generates more than 50 signals per day as per their website information.
They offer two types of accounts that we will mention below with a detailed overview. On the other hand, this trading signal works based on three strategies.  
To be more specific, this bot pulls triggers for action, to buy or to sell an asset based on market analysis.
Traders can use this tool in their trading strategies so that they can make a profitable trading decision.
Why Choose vfxAlert Signal
vfxAlert is a trading signal provider bot that allows traders to guess the potential price action more accurately.
Traders who are familiar with the basic principles of the trading market, technical analysis, and statistical methods choose to use these types of trading signal bots. 
Now let's look at the features of vfxAlert.
Full range of online analytical tools
Two account types: Free and Pro
$30/yearly for Pro account
75%-85% profit rate
Available strategies: trending, short-term, and reversal
Extended statistics, Heat Maps
Classic binary options signals
Convenient interface
Mailing signal service
Available for any binary options brokers
Provide signal powers
e-mail support team
Wide range of payment methods
Sign-Up And Log In Process
You will easily find the registration form by clicking the option "from" at the top right corner from the home page of the website.
Next, complete the three boxes with your email, login, and password. Click on the given box right below if you agree with the terms. After signing up to vfxAlert, you will get a confirmation mail with a short link. 
And all done. To enter the platform, just log in with your registered mail and password. 
After opening a new account, you will get a DEAL to save up to 50% for getting a PRO ACCOUNT.  The deal expiration time is 1 hour. 
Account Types Of vfxAlert
vfxAlert has two account types:
A FREE account will give you small opportunities. Through a free account, you can only test, how the signal runs.
On a free account you will get the following facilities:
FREE ACCOUNT
Signals for two random assets
On the other hand, the Pro account will give you a lot of additional facilities. Pro-Account signal power is extremely strong. 
On the other hand, you can add any broker by only putting the broker name and link. 
Let's see the features on a Pro account:
PRO ACCOUNT
Heat Maps & Signal Filters

Signal service via e-mail or SMS
Supported Trading Brokers
vfxAlert supports any binary options brokers. You have found only 4 brokers on their website:
But according to their recent video on Youtube, they have included other latest features, and binary options broker such as HighLow, IqOption etc. on this software.  
However, we are recommending below brokers in terms of trustworthiness, regulation, clients feedback, return percentage, etc.
vfxAlert provides service of signals and statistics based on the market price movement and technical analysis. But traders shouldn't solely depend on signals.
Traders usually trade based on their trading strategies and signals used only as confirmation. vfxAlert Signal toolbox contains Asset, Price, Time, Expiration, Power, Signal, Algorithm, and Heat map.
There are three available signals: Short-term, Reversal and Trending. You can determine the conditions of maximum probability signals.
By Heat maps, you can measure the favourable market situations. Here, all the signals are based on the successful trading strategies that are built in-house by vfxAlert team.
Each new signal has time, resource, data, directions, opening & closing price, countdown, expiry time and final result.
Besides, on the top toolbox, you will get Charts, Trends, Forecasts and Economic Calendar as well. You can control your account from a separate window. Also, you can see the exact number of earned/lost signals as they update all the results in real-time.
Unfortunately, vfxAlert does not offer trading strategies for traders. They only provide signals and statistics depending on the current indicator's value. So, you have to make strategies by using this signal.
vfxAlert Telegram Subscription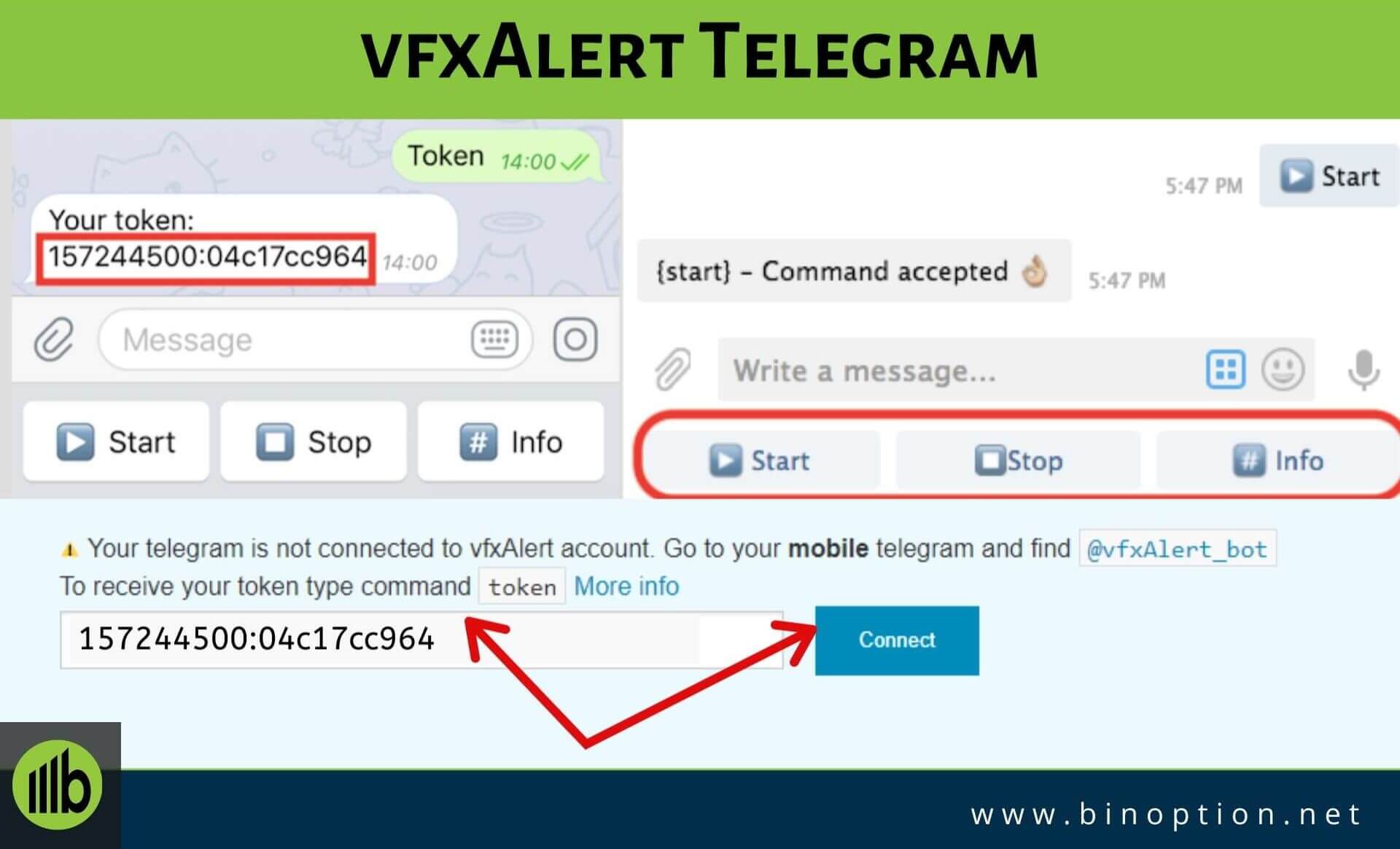 vfxAlert provides alert via Telegram. You need to follow the steps given below to start getting signals in your mobile.
First, you need to create an account with

vfxAlert

Open your mobile telegram and find @vfxAlert_bot
Type "Token" and send the command, and you will get a token number afterwards.
Now, copy the token no and paste it on the 'setting page' and click connect.
Select assets, algorithm, power, and assets before clicking on 'update setting'.
Note that you only get alert on your mobile only if you have a Pro account.
License Store With Subscription Fee
There are three subsections of pro accounts which are differentiated by the cost and validity time.

1. Pro account 1
         > validity-1 month
>

 costs $15
2. Pro account 2
>

 validity- 1 year
>

 costs $30
>

 additional 10 Alerts pack facility
3. Pro account 3
>

 validity- 1 year
>

 costs $45
>

Additional 1000 Alerts pack facility
Moreover, you can also buy unlimited alert pack. Alerts – are necessary only for sending signals to telegram bot. 1 Alert = 1 sent signal.
We have already discussed the ins and outs of vfxAlert. Now let's see how users react to it. 
We have got mix reactions from the users who used this bot. Most of the users got the best results in short time trading with this bot. They stated that
"short time frame trades such as 2 min have more winning rate than long term trades."
On top of that, traders must not depend only on signals. It also inscribed in vfxAlert website. If you trade based on a signal other than your trading strategy, you have to count losses.
No matter it's a short term trade or long term.
vfxAlert Customer Care & Support
vfxAlert provides e-mail support for its users. There is no online chat support option which is a bit more convenient for users to ask their queries.
However, you can send a simple e-mail to know anything about your confusion. You may have to wait a couple of hours or even more to get the reply. 
To be specific, we are not satisfied with their support system.
There are two payment methods in vfxAlert. You can pay either with debit/credit card or with Payeer.
As for debit/credit card, vfxAlert stated on their website,
"Payments by credit cards are accepted via the PayU payment service provider. You can use a card from any bank tied to an account in any currency, and your order amounts will be charged in rubles at a rate set by your bank. We only accept cards with 3-D secure technology (with confirmation of the transaction)."
To complete your payment through 'Payeer', you need to follow the instructions given below:
Register an account at Payeer.com
Deposit money into your Payeer wallet account. You can choose systems as per your convenience. The payment fee differs from the system you choose.
You can also select WebMoney, Skrill (temporarily unavailable), or other payment systems. In this case, you can fund your Payeer account using an exchanger.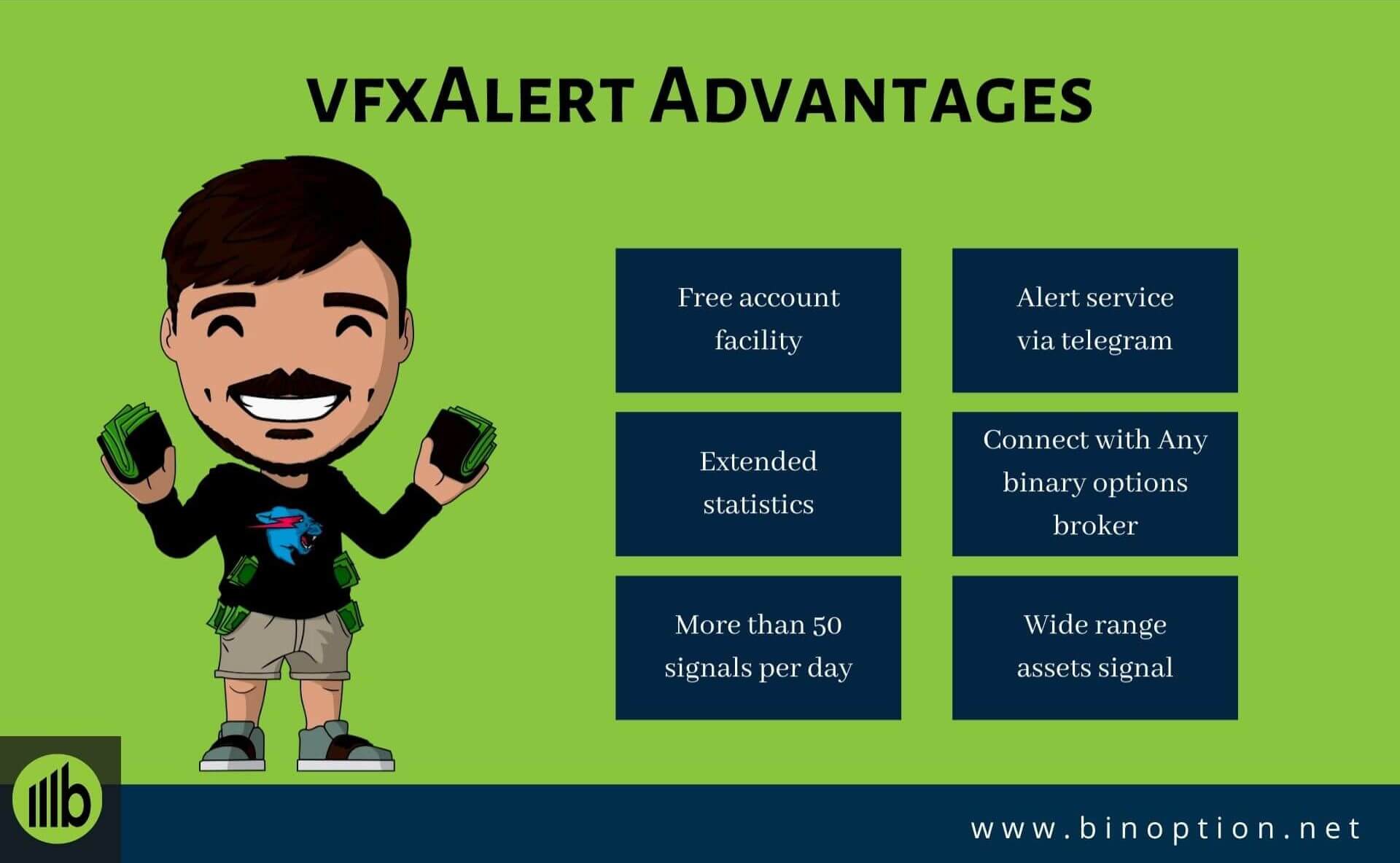 Signals are not a recommendation for action. Eventually, signals are the result of market analysis on a particular algorithm. Trades should understand how signals are formed, and current market tendencies to make the right decision.
So that they can get all the advantages by utilizing such trading tools.
Now, let's see what benefits we may get from this bot.
Convenient interface
Signal based on technical analysis and price actions
Alert service via Telegram
Necessary data to evaluate market movement correctly
Extended statistics
Free account facility
Any binary options broker 
wide range of asset signals
Generates more than 50 signals per day
Automatically clarified during volatility news events
There are some drawbacks that we have detected through in-depth analysis. They are
Less facility on free account
No live chat option
Don't work well on long time frame trades
Poor customer care service
No clear information about the authority
Lastly, we can't address vfxAlert as a scam though it has some crucial drawbacks. Because we have got so many satisfactory comments from the users of this bot. And it matters a lot.
Furthermore, they have included lots of trading advice for the beginners on their website that might be helpful for the newcomers. It also indicates their helping attitude towards the traders.