BinaryCent Review - Is It Trusted Or Scam? The Secret Of Successful Trading
Often we say an excellent offshore broker needs some exceptional features to be popular, and BinaryCent fits that description. The platform is relatively new, with extensive trading features. So anyone can steer the boat, whether an experienced trader or a newbie.
Additionally, the broker has almost everything that you need to start trading. From the options trading, Forex and CFDs trading is also noticeable here.
What else should one need to have a kickstart?
Well, many more are involved when we say a legit broker. And with our review, you'll learn about this broker's demo account, account types, trading platform, trader's review, and more.
Let's find out if this broker is real or a scam.
BinaryCent Review: What Is BinaryCent
High Capital Risk Is Involved In Financial Trading
A group of trading professionals founded Binarycent in 2016 with a clear mission. All you will find is that Finance Group Corp runs the company; there's not much else you'll find about this company.
On top of that, it is a licensed and registered broker in the Vanuatu Financial Services Commission. But it is unfortunate for USA traders that the broker does not provide any service there.
As it is a web-based platform, you don't need to download any software. Just deposit the initial amount and enjoy the colourful lines showing market movement.
On the other hand, Binarycent allows traders to perform trading with the help of an automated trading bot, including BinBot Pro and CentoBot.
So, the following points, including others, make this broker so distinctive.
A comprehensive list of trading instruments
Lucrative bonuses
100% data protection
Risk-free trading features, etc.
On the other hand, there are a variety of trading account types. You can select according to your investment capabilities and skills.
BinaryCent Special Offer For Traders
Are you planning something big for this summer? 
Binoption offers a "summer special code" for new and existing clients that deposits $1000 or more. To receive this special offer, hold a real Binarycent trading account.
We mentioned the code below inside a box. Besides, the following special offer is available around the world.  
Fund your trading account with $1000 or more and instantly receive a 200% deposit bonus. The offer is available until the end of summer!
Promo Code: DKGR200

Promo Code: GALLEN200
How To Receive The Bonus Offer
The bonus is automatically available for all clients who deposit $1000 or more into their funding accounts. 
Through this special offer, we are giving you the ability to trade with even more power and more confidence.
Copy the bonus code
Go to the Account funding page
Enter the special bonus offering code and get your bonus!
Features: Why Choose BinaryCent
'BinaryCent' is a global broker with diversified asset options. Moreover, it is one of the best online binary or options trading platforms. And about the return percentage, you will get the highest of 95%.
The broker is distinguished from others because of its valuable features and benefits.
Offshore Regulated Broker
Demo account facility
Minimum deposit amount of $250
Trades from 10 cents

Minimum spread 1.0 pip.

Trading assets of 150+
Maximum return up to 95%
Withdrawals in 1 hour
24/7 multilingual customer support
Weekend trading facility
100% bonus
Risk-free trading
Leverage up to 1:500
Copy-trading facility 

100% of data protection

Minimum Withdrawal $50
Sign-Up And Login Process
Binarycent has a simple registration process. It is free to open an account, though the demo facility is only available if you deposit the initial amount. To complete your registration, traders need to walk through some steps.
Note that opening an account using the same name and address is prohibited. The company has the right to cancel registration if they find any double registration from the same client. 
Not only the registration but also the team will cancel your opened position and withdrawal request. The account will be frozen until the team finishes the investigation.
Please check this article to know the details, registration process and verification. 
Sign Up Or Registration Process:
Click the "Signup" button on the Binarycent official website

Fill the

registration form with valid information
Choose the currency
Enter the "Promo Code" if you have one.
Please tick the box if you are not from the USA and agree with the terms and conditions.
Finally, click the "Next" toggle to complete your registration.
Just enter your registered e-mail address and password to log into the platform or trading dashboard.
High Capital Risk Is Involved In Financial Trading
Traders have to follow some steps to verify their accounts. First, go to the "settings" option. Then choose "personal data" from where you can upload valid documents to verify your account.
Choose your ID types from the list.
Binarycent offers three types of trading accounts with various trading features. You can choose the most demanded services in different packages. The minimum deposit starts at $250.
However, you can deposit a maximum of $50,000. So, the account types are:
BRONZE
24/7 live video chat support
SILVER
24/7 live video chat support

Master Class (web session)
GOLD
24/7 live video chat support

Master Class (web session)
High Capital Risk Is Involved In Financial Trading
Among these three accounts, the most popular account is Silver. Note that risk-free trades are compensated in the form of a trading bonus in case of negative trading results.
A demo account is the most effective way to evaluate the platform before trading. It will help to give a platform tour using different trading tools, just like the real account.
Binarycent offers a demo account for traders, but you can only get it after depositing $250 (initial amount). After that, contact customer support to get demo-account credentials. We have counted this as a disadvantage.
Apart from the risk, the practice account is similar to a real account. So, beginner traders can use a demo account to check the platform's functionality. On the flip side, the professional can use practice strategies before placing real money.
Trading Platform Of BinaryCent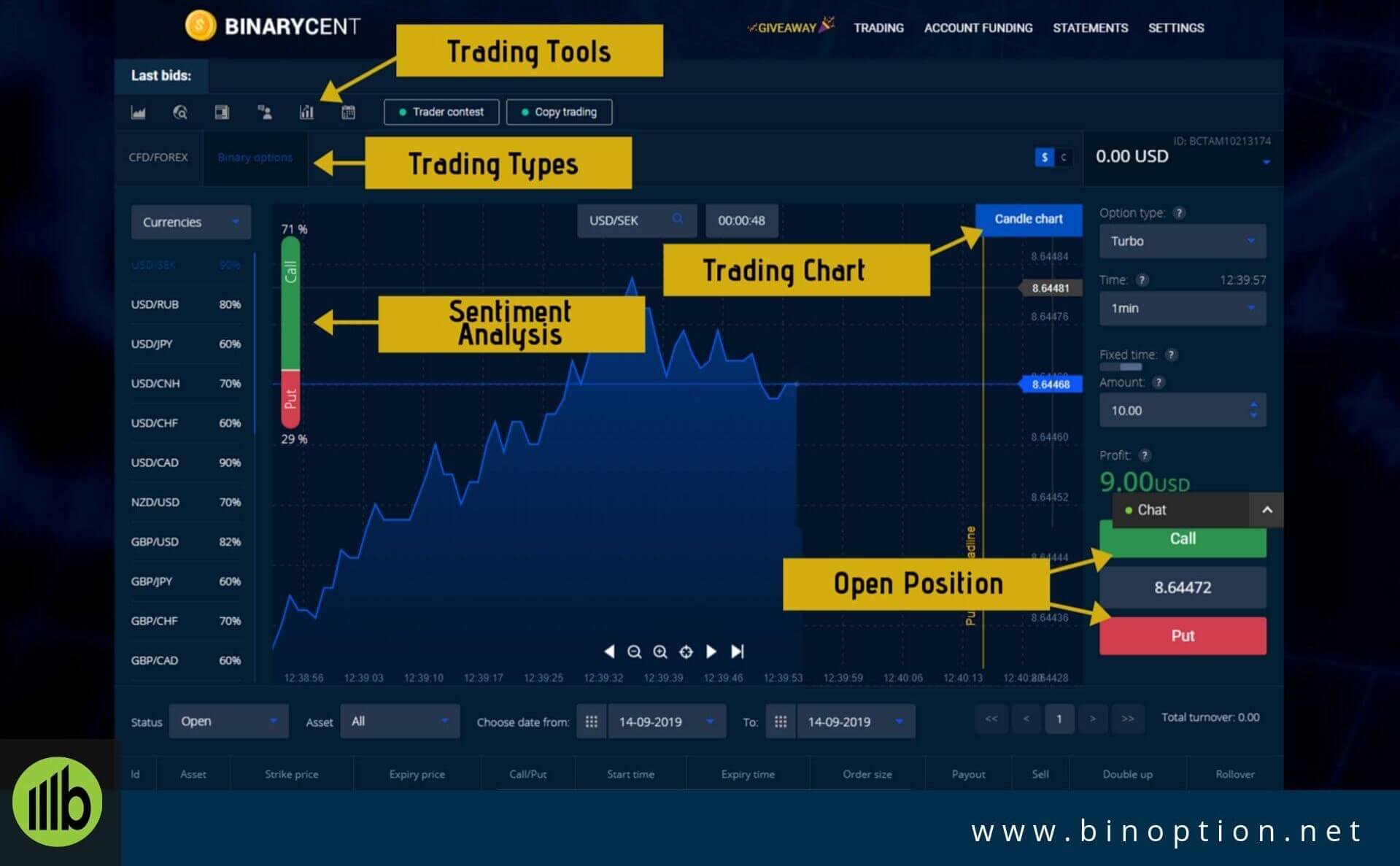 Binarycent has an intuitive trading platform to make your journey smooth. The trading platform is exceptionally organized and well-formed. On the left side, you will find two distinct trading types. One is Binary Options, and the other is CFD/Forex. 
You will also find different trading classes, currencies, crypto, commodities, indices, and stock under each type.
From the right side of the platform, you can select a few things depending on your trading choice. For binary options trading, traders must choose option types, time, and amount. 
At the same time, traders must select the only trading amount with a fixed leverage ratio for Forex and CFD trading.
Apart from these, there is a charting tool, fundamental analysis, trade pattern ideas, news, technical analysis, and an economic calendar. Use the above tools to make a complete market or asset price analysis.
Moreover, you can see two types of lines. One is the yellow line indicating the purchase deadline, and another is a white line indicating the expiration time. Traders can select a candle chart or a tick chart to see the display of the market movement.
On the other hand, you can see a leaderboard with all information like ranking, trader's name, total traders, and position from the trader contest. Moreover, you can follow and copy the top 10 traders from the copy trading option. 
The list will show you all information, including the trader's name, profit percentage, and trade size. You can follow a trader with a maximum trade size of $100. Moreover, the sentiment analysis tool will help you decide when to buy and sell a trading asset. You can also see your trading status, whether open, close, or pending. 
In short, you will get 
Diversified trading assets
Social trading facility
Boarder range of advanced trading tools
Transparent trading dashboard
BinaryCent offers two types of trading. One is Binary Options, and the other is CFD/ Forex trading. In addition, more than 150 trading instruments are available to trade.
So, the tradeable asset classes are:
Cryptocurrency
Forex
Stock
Indices
For binary options, traders can place a trade for 1 minute to 30 minutes. However, you don't need to set a trading time for CFD/Forex. On the other hand, leverage trading will allow you to earn more. However, the leverage amount will depend on the instruments.
You can find payouts for different trading assets on the platform. The maximum payout percentage is 95%. For example, the payout percentage means if you open a trade with $100 of investment, you will receive a $185 payout after winning the trade. 
So, the investment amount is $100, and the profit is $85.
Apart from the many, this feature will up your trading interest. Binarycents offers risk-free trading for silver and gold account holders. It will work as a fence. That means you can bet any amount; if you lose, you will get the amount back. 
For traders, Binarycent offers trading bonuses that depend on the deposit amount. The bonus percentage starts at 20% to 100%. These bonuses are limited-time offers. On all CFD trades, bonuses are eligible.
Moreover, the bonus will give you a margin to maintain a trading position or open a larger one. Remember, the profit and loss will always be related to the trader's net balance, not the bonus amount.
If you deposit $250, you will get a 20% bonus. So, the total trading deposit is $300. Similarly, for
$500, the deposit percentage is 50%
$3000, it's 100%.
Please note that the bonus will be paid in the base currency.
You cannot withdraw any bonus amount from your trading account.
Copy Trading Feature of Binarycent
Those who don't have previous experience trading on the financial markets can copy the most successful traders.
To copy traders, create an account with BinaryCent. After an account is created, it needs to be funded with an initial deposit. The deposit amount depends on the account type.
Moreover, you will find a list of the top 10 successful traders in the dashboard. So, choose one or more successful traders, start copying and follow the results.
Binarycent App - Mobile Trading
Mobile trading is a blessing. You can at least monitor your trades if you are on the road with thousands of tasks. Now trading is more manageable than before. Traders can trade from anywhere via mobile trading.
Unfortunately, Binarycent doesn't offer a mobile app.
Deposit or fund your account via Visa/MasterCard, Bitcoin, Altcoin, Tether, and perfect money. The process is quite easier for any trader. 
Perhaps, there are no deposit fees for traders. But, if you want to deposit via Visa/MasterCard, Binarycent will charge 5% deposit fees. 
Enter your amount according to the account types. You have to enter card information like card number, expiry date, surname, and CVV2 number along with the deposit amount. 
Moreover, you can save card information for further usage.
Funding through bitcoin will help you to get a 5% bonus. For completing this process, you have to create and fund your bitcoin Coinbase account.
Lastly, fund your account by scanning the QR code using the Coinbase mobile app or directly from your Coinbase account.
Traders can also deposit the amount by using Altcoins. You will find a list from where you can select your desired coin and amount. Similar to the bitcoin account, traders have to open a Coinbase account. 
Fund the account by using Tether. Choose the type of Tether from the list. You will find two types. One is Tether (Omni), and another is Tether (Erc20).
If you want to fund your account via perfect money, you just need to give your e-mail address and the amount you want to deposit.
Binarycent Withdrawal Process
Now, you can withdraw your profits via Bitcoin, Ethereum, Altcoins, and Perfect Money. It is essential to choose the same method you used to deposit your account. 
The minimum withdrawal is $50. Moreover, a withdrawal request will accept within 1 hour. However, during public holidays and weekends, funding time may be delayed.
But, before accepting the request, the broker will ask for proof of identity and the address of the requester. Moreover, fees will be applied based on account types and the withdrawal method. 
Note that the broker doesn't process withdrawal requests to e-wallets, bank, and credit card accounts not belonging to a trading account owner.
Especially from BinaryCent, it is recommended to withdraw your profit via Bitcoin because Bitcoin provides the fastest withdrawal with zero commission.
Concurrently, you must make at least one trading deposit using Ethereum, Altcoin, and Perfect Money if you want to withdraw funds via selected methods.
You will find a dedicated customer support team. Additionally, the live chat option will allow you to take help instantly from a customer support provider. Meanwhile, the multilingual thing lets you share problems in your own style and language.
At the same time, you can also contact them via their customer support phone number.
Lastly, you can send them a message by filling in a form with your name, e-mail, and phone number. The support team will contact you.  
People choose this broker after seeing many advantages. These offers are unique and make this platform different from other platforms.
They give a guarantee that the withdrawal process will complete within 1 hour.
You can continue trading over weekends without stopping it.
Trading via this broker is 100% secure, and your data will be fully protected.
For new traders, there is an opportunity to trade under experienced trader's guidelines.
Dedicated customer support 24/7 in six different languages.
Over 10000 daily processed transactions.
Finding negative notes will always keep you alert. Similar to other brokers, binarycent has also multiple drawbacks, though there is also a major drawback. As per the broker, they are regulated and a part of a Finance Group Corporation. However, you have to put a second thought on that.
Let's find out the disadvantages that you should keep in mind:
Not regulated by a famous regulatory body
Scam reviews
No free demo account for traders
High initial deposit
Is Binarycent Support USA Traders?
Trading binary options on the USA market is not open to everyone. They do have restrictions and rules that a broker must follow to offer their services.
But, if anyone wants to trade form there, you are always welcome to open and trade.
Final Words: Is Binarycent Platform Reliable?
Finally, we are about to end. The last words will be more pleasant; truly, Binarycent is a trusted broker. However, the platform is relatively young compared to popular trading platforms.
But the broker offers a wide range of trading instruments with other exclusive features. We strongly believe that it is where you will find everything you have been looking for.
So, it's better to open an account with them and start trading.