Deriv Review 2023: Is The Broker Scam or Profitable?
As a trader, it's important to choose a broker that you can trust. With so many options out there, it can be difficult to determine which ones are legitimate and which ones are scams.
For this reason, we are here to answer a question everyone wants to know: Is Deriv Legit or Scam?
Let us assure you that Deriv is a legitimate platform that has been in the market for over 20 years. It has a strong reputation in the industry and has won several awards for its services.
You remember, the most famous broker Binary.com is re-branded to the Deriv.com trading broker. The broker in question is highly professional and secure, and they truly care about their clients.
In this Deriv Review, we will explain why this platform is innovative compared to the older one. We will also cover specific features, unique DMT5 platform, minimum deposits, withdrawal procedures, etc.
So, keep reading to find out the truth.
Deriv.Com Broker Review: What Is Deriv?
High Capital Risk Is Involved In Financial Trading
When it comes to trading platforms, Deriv broker truly excels. As mentioned, Deriv is the rebranded version of Binary.com
In their 20th anniversary in 2020, they lunched a platform tailored needs. Also, the new trading platform ensure a seamless trading experience every step of the way.
We found that the broker platform is user-friendly and ideally suited to beginner and expert traders. 
Besides, the company has become a market leader because it delivers trusted leading products worldwide. You can trade the most significant financial market via multiple enhanced platforms. Diversified financial instruments under Forex, Options, Commodities, Indices, and Stocks.
It also provides an expanded range of products with different trading advantages. Anyone can customize the platform with different charts and software after opening an account.
Note that you can open an account minimums with zero amount.
The only way to select the best platform is to recognize the opportunities that would differ from others. We're not going to guarantee you a fixed profit ratio.
But we have amazing user experience with good return rate.
There are numerous compelling reasons to choose Deriv as your preferred broker.
But, according to our research and their promising words, the following features make them one of the leading online trading service providers.
Multiple regulations 
Minimum deposit $5 
Minimum trade 0.01 lot
100+ tradable assets
Demo account facility
Multiple trading platforms
Maximum payout ratio of 200%
Automated trading facility 
MT5 integration
Deposit bonus
24/7 available support team
SSL encryption 
Multiple payment methods
Fast withdrawal 
Tight spread 
Client money protection
Multiple powerful platforms
Available weekend trading
(Risk warning: You capital can be at risk)
A regulated platform provides peace of mind for you. Also ensures that you will not be defrauded and your money is safe.
On that note, Deriv is a multi-regulated platform. For the detailed information, you can visit the link.
Each of the regulatory body responsible for ensuring the integrity and reliability of a particular region. Besides, it is wise to check the regulation before selecting any binary options trading platform.
One of the biggest causes of frustration is signing up for an account – it's slow, inflexible and inconvenient.
Online brokers like Deriv usually try to make it simple and user-friendly. It's an innovative solution that lets traders sign in quickly. But for active traders who already have an account with binary.com can use the same credentials to log in.
New users follow the bellow steps:
Create a demo account by simply entering your valid email address and password.
A verification link will be sent to the provided email address.
Enter the main dashboard by clicking that link.
Select the country name and set a password
Start trading
Lastly, your account is ready to open up a position with a $10,000 virtual amount. Besides, traders can also sign up by using Google or Facebook login details.
How To Open Deriv Real Account
To research the platform, we started with a demo. But analyze the product and service deeply, we decided to open a real account.
Here, we're haring our experience step by steps. You will find this innovative thing that was missing in the old Binary.com platform.
The following will be discussed in a gradual manner.
Choose your currency
Complete details with first name, last name, date of birth, and mobile number
Enter your valid address details, which is the same as in your proof of address
Read carefully and agree with terms and conditions
To processed instantly, deposit a minimum amount of $5 to start trades with your favorite trading instruments. 
You don't need to verify your account unless the team contacts you via email. If necessary, the team will provide instructions on how to submit valid documents.
The demo account is a blessing for a novice trader. We also urge our readers to practice and learn the fundamentals of trading before playing with real money. Because online trading is exciting but involves risk factors.
A trader could learn about the dashboard. You can also learn how to position trades with a demo account by evaluating the market with numerous methods. Also, you can create strategies and tactics that make you more accountable than before.
Moreover, you can trade with virtual funds without endangering real money. Also, trading with a risk-free virtual account is possible as long as you want.
Multiple separate improved platforms are going to give you a fresh experience. The platforms are now relatively easy and more flexible to use. Therefore, the Deriv platform provides everything under one roof.
Here is the summary
A demo account
Over 100 tradable assets
Very tight spread
24/7 trading
Sharp prices
Instant execution
Below, we will give you an overall idea of each platform by sharing the core features.
DTrader is a simple trading platform with over 50 tradable assets such as Forex, Synthetic Indices, Stock Indices, and Commodities. 
You can also customize the chart with technical indicators and widgets to make it more user-friendly. In addition, it will also help you make a more intelligent trading decision.
Select the preferred trading instruments from the asset list. After that, analyze the market with the right tools, indicators, and trade.
The benefits that you will get from DTrader are: 
Minimum stake starts at $0.035
Flexible trade duration of 1 sec.-365 days
Potential payout of 200%
Maximum Ticks 10
There are four types of trades available to traders. These are the following: 
Ups & Downs 
High & Lows
Digits
Multipliers
You can check the open position and the profit table in the report section. Also, view all transactions on your account, including transactions, deposits, and withdrawals, from the statement section.
It is now possible for you to design a platform that meets your requirements. Deriv X is a customizable multi-asset trading platform. Moreover, Deriv X gives you a versatile trading experience in multiple markets. 
Having said that, let us take a closer look at what sets Deriv X apart from other trading dashboards.
Multiple markets on a single platform
24/7 trading
Drag and drop widgets
Intuitive tools
Even more, you can view multiple charts with over 90 indicators and 13 drawing tools.
If you are new to this platform, read how to trade on Deviv X to know more about this platform interface. 
You will find two types of accounts and choose one that benefits you. 
Trade CFDs on the popular market Synthetic indices that simulate real-world market movement using Synthetic account. And trade stocks, forex, basket indices, commodities, and crypto with high leverage via the Financial account. 
The SmartTrader platform is built in-house by Deriv.com and is preferred for its reliability and ease of use. For traders who trade digital options, SmartTrader is an ideal option. 
As a result, you get more functionalities and options for opening a trade. 
On the other hand, you will get multiple markets to trade-in. 
There are four types of trades available to traders. These are the following: 
Ups & Downs 
In/Out
Touch/No Touch
Digits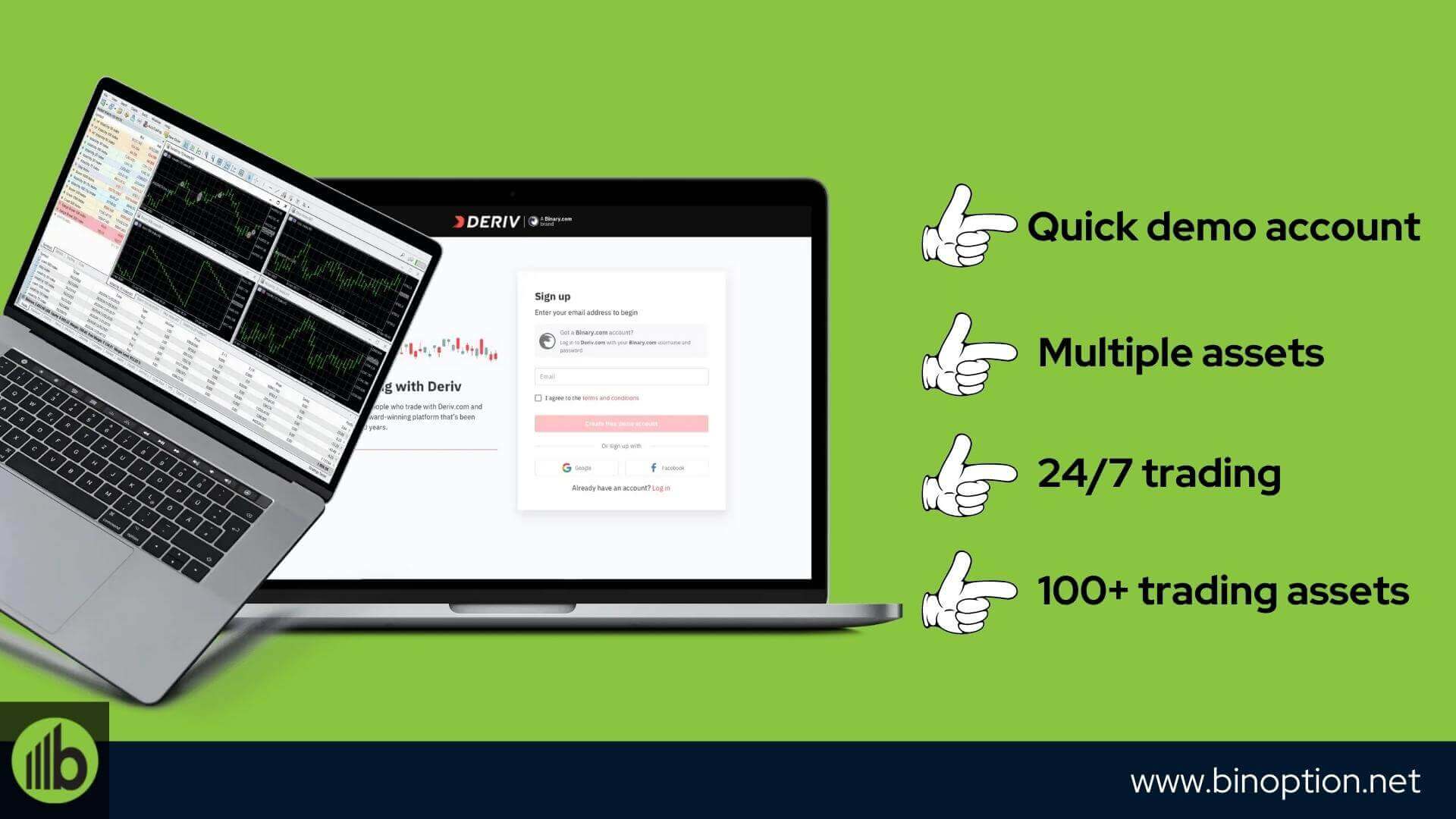 The DMT5 platform is best suited for expert traders. Traders will have access to the MT5 network. You can run the MT5 application both from your browser and trading device. From now, you can trade multiple asset classes from a single platform. 
Taking a closer look at DMT5, let's find out what makes it so popular with expert traders.
Quick demo account
Multiple assets
24/7 trading
100+ trading assets
Leverage up to 1:1000
On the other hand, traders will get a comprehensive platform with analytical and research tools. Traders of any skill level will get everything under one window. It's easy to open multiple trade panels simultaneously or to separate them and re-locate them.
- Deriv DBot (Build Your Customized Bot):
DBot or Deriv Bot is an automated trading robot that allows you to automate your trading without writing codes. You can just drag and drop the blocks to make a bot. 
The three advantages you're going to get with this bot are: 
Three pre-construction strategies 
Zero cost of building 
More than 50 tradable assets
Moreover, you can also create a customized bot using different popular strategies without being a coding master.
You can also maximize your profits and reduce losses by using analytics tools, indicators, and intelligent logic.
Those who have already used the binary.com bot know that traders can save strategies on their Google Drive and carry them anywhere. 
Traders can also use the same methods in DBot. The working process is simple. All you need to do is:
Select tradable asset
Set purchase conditions
Set restart conditions
Run bot 
Check the earnings
If you're stuck at the same point, please get integrated help by accessing tutorials, guides, and reference information.
Read the DBot review to know the details. 
(Risk warning: You capital can be at risk)
Introducing a platform that simplifies your day-to-day trading experience. That means you can now trade from anywhere and anytime without being present at home. 
Trading multipliers on the go is possible with a mobile trading apps called Deriv GO.
Moreover, you can trade forex, synthetic indices, and cryptocurrencies to maximize your profit potential while risking less than your initial investment.
Enjoy the enormous benefits of the app by downloading it.
Let's have a look at why traders love to download this app:
User-friendly platform
24/7 trading 
Up to x1000 profits
Minimum stake of $1
Better risk management
Especially for mobile traders, the broker has introduced the Deriv EZ platform. Now you can trade the CFD market without even carrying the whole system. 
There is no learning curve associated with the platform. Additionally, if you already have an account with Deriv, you do not need to create a new one.
Moreover, the benefits that you will get:
100+ trading instruments
Return up to 95%
50+ trading indicators and tools
24/7 dedicated customer support
Deriv Account Types & Features
There are three forms of accounts available, from which you can select yours. Besides, each account has unique features and advantages. On the other hand, account access will depend on your geolocation. 
The types of accounts you can access in the EU can be different from those in Singapore or South Africa. The reason for this is EU regulations and licensing.
The accounts are: 
Synthetic
Financial
Financial STP
Synthetic accounts allow traders to trade CFDs on our Synthetic indices that simulate real-world market movement. In our DMT5 Synthetic account article, we have included everything.
Here are a few things to consider.
The maximum leverage for this account is 1:1000. It's extremely convenient to be able to trade all week long. 
Account Features: 
Leverage                   1:1000
Margin call                 100%
Stop out level            50%
Minimum deposit      $5
Commissions             None
With the financial or standard account, you can trade majors and minors forex, stocks, stock indices, commodities, basket indices, and cryptos. This account is absolutely perfect for both novice and professional traders. 
If you are looking for some stunning features with high-level leverage, go for this account. Plus, you get maximum convenience with the changeable margins.
Account Features
Leverage                   1:1000
Margin call                100%
Stop out level           50%
Commissions            None
#3 Financial STP Account:
Trade popular currency pairs and cryptocurrencies with straight-through processing orders (STP) via a Financial STP account. The account will allow you to trade major, minor, and exotic currency pairs with tight spreads. 
Additionally, you will have a high trade volume with a 100% book account. Generally, the book account is something in which investors' trades are sent directly to the marketplace. So, the FX liquidity provider is now accessible directly to traders. 
Account Features
Leverage                    1:1000
Margin call                 100%
Stop out level            50%
Commissions             None
Number of Assets     150+
Trading Instruments And Market:
Over 100 trading instruments are available for trading on the Deriv platform. The increasing trading form will offer you separate benefits from the other.
Trade in the diversifying trading instruments is now available through margins, options, and multipliers. 
Margin trading is available on the MT5 platform that allows you to buy larger asset units. Both digital and call/put spread options are available on DTrader, SmartTrader, Deriv X, and DBot. The DTrader platform allows multiplier trading only.
Forex is the largest financial market you can trade on this platform with popular forex pairs. The advantages you would get from this broker are as follows: 
High-Leverage 
Tight spread 
Advantage chart widgets
With several years of experience, Deriv has brought together many unique and revolutionary idea for trading that provides you the opportunity. 
Synthetic indices are one of them. It is a famous market that gives you a secure trading experience. 
The form of trade is unique. You can trade whenever you want. Moreover, the best part is that the market is unaffected by regular market hours, global events, or market and liquidity risks. 
So, now your charts are protected against natural disasters and disturbances.
The other benefits you will get from the Synthetic Indices Market are: 
User-friendly dashboard 
Free from real-world market risk
Trading 24/7 
Innovative trade types
Get a feel for this outlandish market by registering for a demo account.
For those who like to trade the broad market without owning the underlying assets, stock indices are the best option. In addition, it will allow you to open a place outside the standard hours of major stock markets. 
Other benefits that suggest why traders need to invest in Deriv stock indices: 
The requirement for capital is minimal 
Limited Risk 
Extended trading time, up to 18 hours
There are large numbers of people throughout the world who are interested in crypto trading as a potential source of profit.
With the crypto world booming, it's hardly surprising that many people want to join the party. That's why platforms like Deriv allow traders to trade in the highly liquid market with 24/7 trading.
Benefits that you will receive 
1:1000 leverage
Tight spreads
Over 25 crypto pairs
Zero commissions
Market conditions are hot but are expected to get even hotter. Don't miss out on the opportunity to grab a slice of the pie.
Traders profit from market fluctuations in precious metals such as silver, gold, oil, etc. 
The key advantages that the trader would have are: 
Competitive fixed and variable spreads
Free from commissions 
Superior chart technology
Easy to use dashboard
24/7 trading experience
Trade your favorite currency against a basket of major currencies and benefit from reduced risk and volatility.
Let's see what more is waiting for you: 
Each currency weighted by 20%
High leverage
Tight spreads 
Advanced charting widgets
Deriv Trading Multipliers
Whenever we think of trading options, we immediately envision going through the stress of choosing a direction.
Identifying a trend or
Predicting a reversal
Deriv multipliers remove the element of direction. And giving you leverage without all the hassle.
It means that when the market moves in your favour, you'll multiply your potential profits. If the market moves against your prediction, your losses are limited only to your stake.
Spread, Commission & Leverage
In Deriv, you can enjoy the tight spread with a minimal fee. For the competitive spread, the broker has received a huge positive wave from traders. On the other hand, inactive accounts may be penalized after a year.
Traders can leverage up to 1:1000. Due to this, traders can open a big position with little money. However, the margin limit and leverage ratio will vary depending on the account type and country
Deriv is one of the most interactive brokers or brokerage firms that is easy to navigate.
The mobile trading platform is available in Deriv. Mobile trading is the best tool for traders who check their ticks' movement within a trading time frame.
Although, placing trades through mobile apps may not be the best choice.
Deriv does not provide a lucrative bonus for traders. The company is more likely to focus on quality rather than spamming people with bonuses. According to the company's main website, Deriv offers no welcome bonuses or promotional codes. 
So, in summary: 
Deposit Bonus – No
Welcome Bonus – No
Referral Bonus – No
However, the broker offers attractive trading conditions and the most impressive dashboard ever. Additionally, you'll get access to a comprehensive education section to learn about the trading market.
This can be regarded as an additional benefit.
The Deriv customer service Center is available 24/7 to address trading-related issues, including technical assistance. You can also visit the support page to answer your questions, which is the fastest way. 
In addition, you can either call them directly at their international support desk or send them an email.
Deriv Deposit And Withdrawal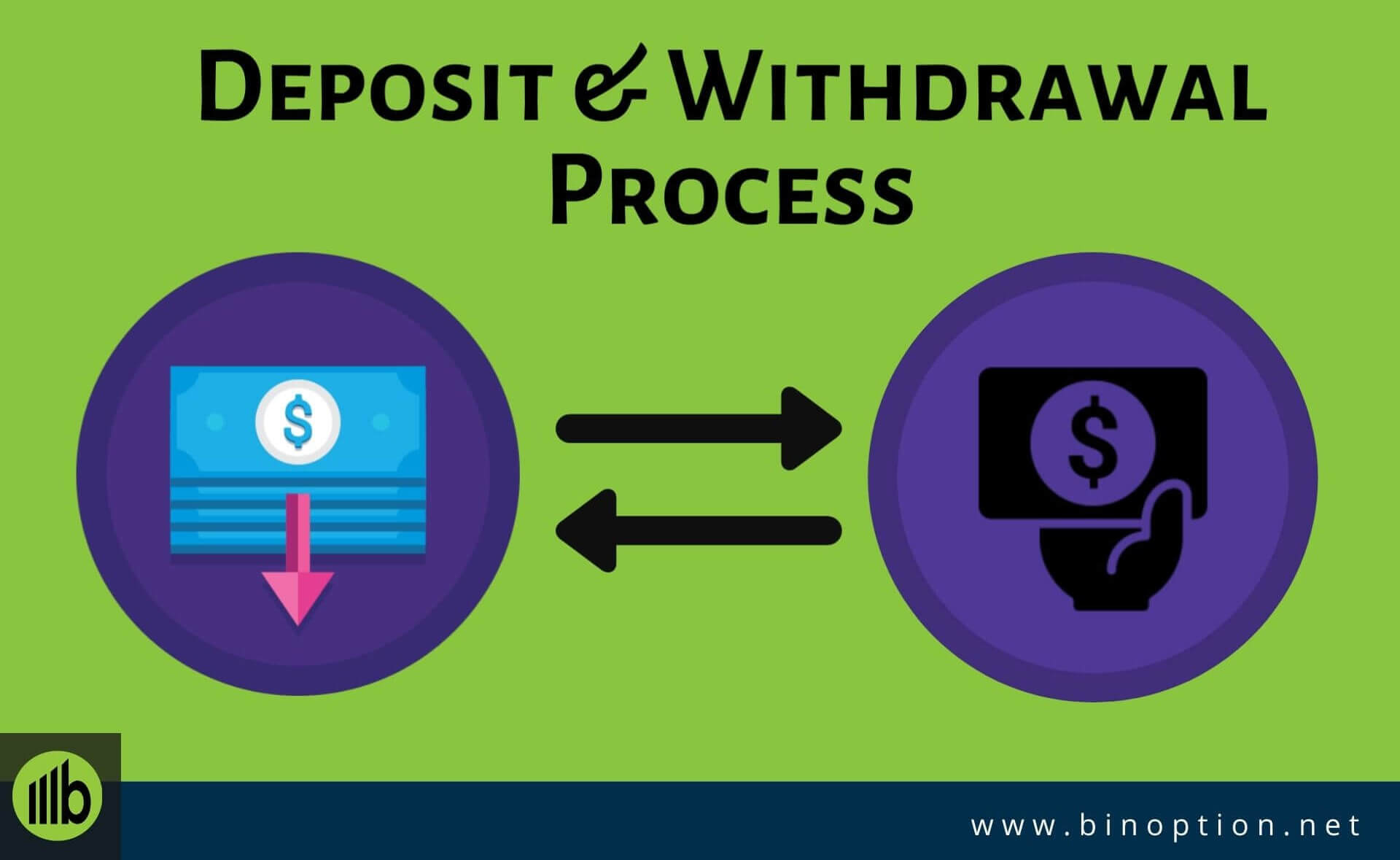 Deriv provides traders with multiple methods of depositing and withdrawing funds, including
wire transfers
credit and debit cards
e-wallets, and
cryptocurrencies.
Funding accounts through the payment manager is possible if your country supports the service. The deposit and withdrawal process only requires one business day, except for the bank or money transfer service.
Deriv minimum deposit amount is $5, but other forms of payment may have different minimum amounts. In addition, there is no minimum amount for crypto deposits.
Similarly, the minimum withdrawal amount is $5.
Bank wire transfer – minimum deposit begins at $5 and will take 1 or 2 business days. 
Credit/debit card– minimum deposit amount is $10 for credit or debit cardholders. Deposit processing time is instant; however, to withdraw money will take a business day. 
E-wallets–Skrill, Neteller, PaySafe, Fasapay, and WebMoney, are all accessible with a minimum amount of funding.
Cryptocurrency – No minimum deposit is required
Genuine Traders Review On Deriv
In this article, we'll look at what you need to know about customer comments and reviews about Deriv.
Apart from the positive feedback, we found some negative reviews of this broker. But in most cases, the feedback was not well-explained. Consequently, we believe that maybe it was just an unfortunate day.
And the deriv customer support team replied to all of the worried traders.  
Here are some negative words:
According to our experience, the broker has designed its platform for any type of trader. Because of that, you can trade even with limited knowledge.
However, trading is a riskier business, which is why we advise readers to gain a proper understanding of trading before investing. 
Yes, Deriv is a legitimate trading platform that operates under the strict guidelines of various regulatory bodies
If you are looking to trade with a reliable binary options broker, look no further. The reason is that Deriv offers everything that a trader needs to trade on the financial market.
In addition to being legitimate, they are also free of scams. So, you just need to put your effort into finding the best inside the platform.
On the other hand, there are many trading platforms for binary options, but none can surpass it.
Moreover, it enables every user to practice trading in a risk-free environment. The free demo trading accounts are ideal for allowing traders to learn about binary options.
The following advantages are why millions of traders choose this trading broker. Also, why people are giving it the highest priority over anything else.
A wide range of trading assets 
Available support for 24/7
Multipliers to increase potential profits
Three different trading platforms
Zero payment fees for both deposit and withdrawal methods
Trading timeframe starts from 1sec to 365 days
Disadvantages That They Can Resolve
The popularity of Deriv shaded the minor drawbacks strongly. However, we believe that the broker can find a solution to existing liabilities. 
Because overcoming these drawbacks, the platform could be more efficient than before. 
No Welcome Bonus 
Lack of a social or copy trade feature
Frequently Asked Question (FAQ)
New traders ask the same question repeatedly, but those questions get buried or missed. It would be far better to have a central place. 
In this article, we will explore 5 of the most frequent questions that traders look for. 
So if what you're really looking for is a complete list of all the starting questions,
I'll point you to these general Deriv FAQs (especially for new traders).
Deriv Dbot is an automated trading robot that uses reading algorithms to identify market movements. And then place orders without requiring the assistance of a human.
Using this tool, users can create their own indicators, analyze market trends, and test strategies before deploying them in the market.
It's a platform where you can build your own trading bot using drag-and-drop 'blocks'.
2. What is the minimum deposit?
The minimum deposit is $5. So, you can open a real account just by depositing this amount.
Deriv is a multiplatform trading broker that enables multiple doors for traders depending on their skill level. You just need to choose from the list and follow the steps.
The Deriv broker does offer the MT5 platform, which is named DMT5.
5. Can I have 2 Deriv accounts?
No, you can't open more than one account. The team reserves the right to block or withhold the funds and suspend or close the account without prior notice.
Is It Worthy To Trade With Deriv?
The broker seems to be a safe choice for traders of all kinds.
Moreover, the minimum funding amount is also part of the grant; everyone can start with a small amount.
In addition, user benefits, including multiple regulations, also ensure a secure trading environment. Deriv is a trusted and reliable broker in our testing.
If you are a novice looking for a safe and reliable service, this broker is pure gold for you.
We have covered the key points in this review. So why wait? Open an account with Deriv today and start trading with confidence.
Signing up is quick and easy, and you'll have access to all the tools and resources you need to succeed. Take advantage of this opportunity to take control of your financial future – sign up now!
Pros
A wide range of trading assets
Available support for 24/7
Multipliers to increase potential profits
Three different trading platforms
Zero payment fees for both deposit and withdrawal methods
Trading timeframe starts from 1sec to 365 days
Cons
No Welcome Bonus
Lack of a social or copy trade feature
Regulation

Demo Account

Platform

Withdrawal

Trust

SUMMARY

Deriv is a new broker established by the Deriv Group. The story begins in 1999 with BetOnMarkets, which was rebranded as Binary.com in 2013. Again, in 2020, they agreed to celebrate the 20th anniversary of innovation and development by launching a new trading platform called Deriv.