Binomo Review: Trade in Control With Binomo App
Binomo App is the best choice for traders who are looking for a secure investment. Behind every successful trades,  there is a combination of loss and profit. 
Moreover, a trader always cherishes the idea of minimum loss and a maximum profit.
If there is a chance of controlling loss, then it secures the investment and ensures gradual progress regarding profit. It is also true for a trader who is new in the online trading market.
In our Binomo Review, we will mention about this high-end-trading platform that offers different features. Since 2014, Binomo is providing brokerage service through this registered trading platform. 
Not only the brokerage service but also they provide strategy training for traders. In one sentence, Binomo is a perfect broker for both experienced and novice traders. 
Most importantly, it has high-quality customer service, market analysis support, quality training for beginners, and exclusive profitable trading condition.
All these will give you an unbeatable return up to 90% or more than that. So, let's start to reveal about Binomo where a trader should trust this broker or not.
Binomo Review – What Is Binomo?
High Capital Risk Is Involved In Financial Trading
In this phase, we will talk about the Binomo platform and its basic information. Binomo is owned and operated by Tiburon Corporation Limited.
Moreover, Binomo broker was established by the managing company Stagord Resources Ltd which registered in Nicosia, Cyprus (Address: 60 VasileosPavlou, AgiosDometios, CY 2360).
They came into the market with a clear mission of–
"An innovative trading platform with small investment".
For novice traders, compared to the other trading platforms, Binomo is unique, easy to use, and smooth. It conducts operation from different countries. At the same time, it serves customers from all over the world in major languages.
The platform offers 19 native languages. You will see the list on the right side of their homepage. So, traders can communicate through the live chat using their native tongue without any hesitation.
Furthermore, to secure the trader's fund, Binomo has been kept their money into the separated accounts. On the other hand, it also maintains a strict policy regarding customer's privacy.
Additionally, the platform is certified by the CROFR. This certification indicates that according to the current law, they ensure the trader's safety.
Moreover, CROFR certification makes them one of the safest brokers in the CIS. 
Binomo has few achievements and awards for their trusted service.
Here is the list of their awards –
2016 IAIR Award (This award was for the best broker of the year)

2015 Forex Expo Award (The best brokers for beginners)

Binomo is a Category "A" International Financial Commission Member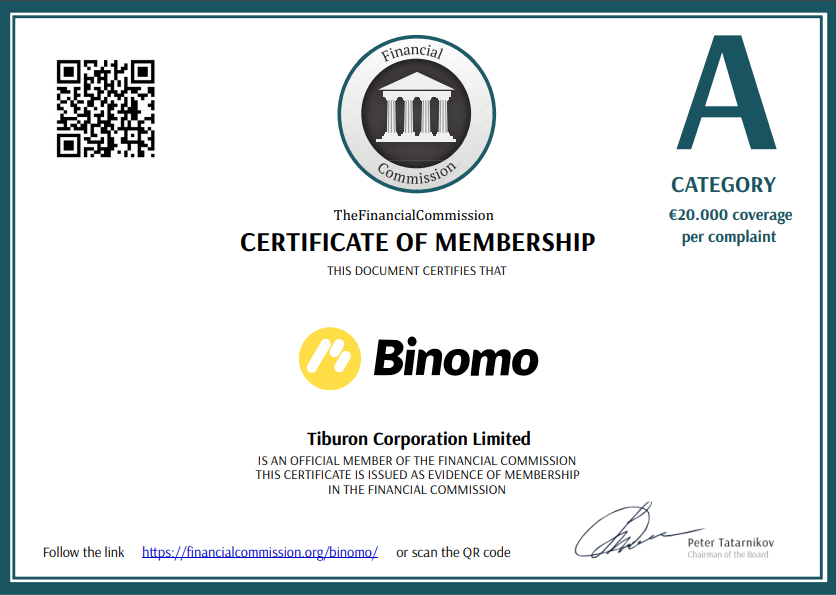 Since 2018, Binomo is a Category "A" member of the International Financial Commission.
Binomo is giving an assurance to their traders that the platform is safe and secure to perform trades. If the broker does any fraudulent activity, then the trader will get up to $20,000 from the Compensation Fund.
The complaint team will solve or find a proper solution with 72 hours if any trader file a complaint. 
The company is also abiding to deliver services, transparency, and protection of an independent professional organization. Moreover, by joining the Finance Commission in 2018, Binomo reaffirms its commitment to maintaining the highest standards of commercial honour and best business practices.
Furthermore, Binomo has been successfully passed the audit by Verify My Trade (VMT). This company usually certified the quality of trade execution. 
Thousands of online trading brokers are available online. Not all of them are safe and secure for traders. To ensure quality and transparency, we have researched Binomo platform very carefully. 
We have found some tremendous features which indulged us to choose Binomo as a broker among many. We recommend all of the new traders to consider these features before making any decision regarding broker.
These features are –
Regulated and Licensed by The Financial Commission
Minimum Deposit $10
Investment Minimum $1
Smallest Withdrawal $10
Three Account Types 
Demo Account facility upto $1,000
Quotes from Leading Agencies
Free Training
Mobile Trading facilities
Proprietary Trading Platform
Price movement history
Trade on the Weekend
Average Return 85% and Maximum Return 90% and more
Trading bonuses, Promotion, and Tournament
Over 70 Basic Assets
Non-stop trading mode
14 Technical indicators (Moving Average, MACD, Bollinger Bands, The Alligator, RSI etc)
Extended range of expiration periods – 1 second to 60 minutes
Trade control knowledge, Video Tutorial, and Expert's Guidance
Smooth and Problem-free Withdrawal
Quality Customer Service
Binomo Login and Sign Up Process:
Opening an account will cost you nothing. You can open a free trading account.
But, before login or sign in, you must sign up or register with Binomo trading broker.
Here, we are giving step by step instruction on how to open an account with Binomo platform.
At first, to begin the registration process, you need to click the "VISIT OFFICIAL WEBSITE" button below.
The Binomo official webpage will open.
High Capital Risk Is Involved In Financial Trading
After clicking on that, the below page will come where you have to register or sign up via valid email address and password. Along with these, you have to select the currency of the account. 
Note that it is also not possible to change the currency types after registering an account. However, you can create a new account after blocking the first one. 
A trader can also register using his or her existing Facebook and GooglePlus account.
To complete the whole registration process, it will take less than 2 minutes. Before you can log in to your trading account, you need to activate it first.
You will get an activation link through an email. Click that link to activate your account. Now, you have an active Binomo account.
Additionally, you will get $1,000 virtual money as a demo account holder. 
You can either start with your Demo Account or a Real Account by depositing only $10.
From the next, you just have to login by clicking the Sign In button from their website by the same method (Facebook, Google Plus, or Email) you used during registration.
Either you can directly Sign Up with your email from the below.
After opening an account, you have to verify your identity by submitting legal documents. The company will ask a copy of the client's passport open to the page(s) with their photo and personal data or a copy of the front and backside of their ID card.
For some case, the company will also ask for the utility bills, bank statements of their opening account, scanned copies of their bank cards, or other documents. 
To complete the whole process, the company will take 10-30 days depending on the situation. But if any client refuses to give documents, the company has the full right to suspend his or her account. 
Binomo has three types of account Apart from the Demo Account.
Depending on the trading experience and trading criteria, you can choose one of the accounts. 
These are –
Standard Account
Gold Account
VIP Account
Traders who choose the standard account can start trading by depositing $10. Moreover, traders from any experience level can open a standard account.
The minimum investment is $1. And a trader can trade with this minimum amount with real brokers.
Not only this but also traders will get analytical support. They can also participate in different tournaments and special offers. 
Furthermore, you can trade most of the financial assets with a fixed profit percentage of 85%. Customers will get a welcome bonus after opening an account.
Active traders will get top-up without limits. The most attractive feature is that you can easily withdraw profits up to 3 working days. Additionally, Technical support is mandatory for all types of traders.
To become a Gold Account trader, each one needs to deposit a minimum of $500. Unlike Standard trader, Gold Account trader is guided by a personal trade expert or a manager. Moreover, traders will get an expanded list of assets.
You will also get the fastest withdrawals within 24 hours. Similar to the standard account, traders will get analytical support from professional traders.
A trader will also get investment insurance bonus instruments. The Return up to 86% and you will also get a weekly 5% return on your losses.
A trader needs to minimum deposit $1,000 to become a VIP Account trader. Apart from the facilities of Gold Account, a trader will get bonuses up to 100%, and fixed trade profits up to 90%.
VIP Account will get a weekly cashback of 10%. 
For analytical support, a trader can also communicate with the personal account manager via Skype.  The special features entitled to the VIP trader are – withdrawal funds within 4 Hours, the widest list of available 49 assets. 
High Capital Risk Is Involved In Financial Trading
Before starting with a real account, a demo account helps you to test your trading skills. Moreover, via the Binomo Demo account, a trader will get a unique opportunity to test all the features of the platform. 
Furthermore, you can practice and improve your skills by trading with a Binomo Demo Account. You can apply trading rules to make your trade successful on the Binomo platform. 
Beginners can grant it as an opportunity to trade with a demo account without any monetary risk.
However, for an experienced trader, a Demo account is also helpful to create, and test various trading strategies. After opening a demo account to Binomo, you will get $1000 virtual money.
A Demo Account is 100% similar to the real account in terms of underlying assets. Therefore, you can switch to your real account when you are ready to take the risk.
To switch to the Real Account you need to select the Account type "Real". After that, deposit the initial amount according to the account types and start trading. It also can be done from the "Cashier" section on the trading platform.
From the Cashier page, you can select your payment method, deposit amount, and make your deposit.
High Capital Risk Is Involved In Financial Trading
To enter into the trading platform, you just need to open an account without any initial deposit. 
The trading platform is quite simple. Moreover, new traders can easily find out all the platform's features. At the right side of the platform, you will find two menu buttons. One is for changing the account types, and another one is for funding account. 
Additionally, from the left side, you can see your trading history, strategies, tournaments, bonus, news, trading tools, and indicators.
On the other hand, you will get to see the economic calendar from the trading dashboard. It will help traders to analyze the market. Because all-important past and upcoming economic events will appear in the list. 
To place a trade, select a particular asset with the amount and expiry time. As we mentioned before, the return percentage will appear in the trading asset's list. 
Binomo App – Mobile Trading
Along with the web-based platform, Binomo offers the mobile trading facility to traders. It helps traders to conduct and continue his trade from anywhere and at any time.
Trading apps is available for IOS, and Android device. The exciting part is that you can also get updated instantly about the closing transaction, tournament, and promotions via mobile application.
Not only the live update but also you can set a notification which you cannot set from the website. The mobile application is designed excellently with all the necessary features. 
There is only one type of trading contract available in Binomo. The name of the trade type is High/Low. These are the classic types of binary options trades and are otherwise known as the Call/Put options.
The aim is to predict whether the price of the asset will go up or down compared to the current price. The expiry time of this option type starts from 1 sec to 60 min.
Moreover, the payout percentage is about 70% to 90%. The quicker and simple up/down trading condition is also known as 60-sec trade.
The list of expiry times is given below: 
1 second, 5 seconds, 15 seconds, 30 seconds, 1 Minute, 5 Minutes, 15 Minutes, 30 Minutes and 60 Minutes.
For Indonesian trader, Binomo is a great platform to trade options and forex.
Binomo is widely running its business in Indonesia. There are no particular rules and government restriction for Indonesian traders.
In Indonesia, the Financial market is regulated by the Indonesia Financial Services Authority. The authority is locally known as Otoritas Jasa Keuangan (OJK).
All Binary Options trading falls under the remit of the Indonesian National Bank. So, trading binary options in Indonesia is not banned by Law.
The regulatory bodies are responsible for regulating the trading industry. Moreover, they are not only responsible for local brokers but also for offshore brokers that have permission to operate a business there.
Furthermore, Binomo does not provide a community just for this particular country. The trading platform is open for them.
There are more than 40 assets are available in Binomo including currency pairs, raw materials, cryptocurrency, and other over-the-counter assets.
There are also weekend assets. Each asset has its work schedule until it is posted on the site. Moreover, VIP traders can access the whole underlying asset.
From the underlying asset list, you can see the expiry time and return percentage. Furthermore, you can read this article which will help you to know which Cryptocurrency is more profitable to trade in the Binomo Platform. 
Binomo Trading Tools, Indicators, and Strategies
In Binomo platform, you will find a few trading tools and indicators. By using those indicators, you can make a strategy to trade a particular asset type. 
Even you can trade with those indicators from your Demo Account as well. Firstly, start with the indicators and their short description.
Except for these main indicators, there are more indicators available in Binomo Platform to perform Binary trading. These are ADX, ATR, CCI, Stochastic, Momentum, Parabolic SAR, Awesome Oscillator, Ichimoku Kinko Hyo.
By seeing a chart, a trader will predict the movement of a currency pair. The price will change depending on the news, interest rate, and others economic variables.
Charting tools and indicators will guide traders to take the trading decisions.
There are 4 types of charts and they are –
There are a few charting tools which will help traders to guide in their trading time and these are –
Segment
Continuous
Line
Ray
Horizontal
Vertical
Trend line
Doodle
Rectangle
Ellipse
Fibonacci
Channel
Pitchfork
Gartley
Shape
Crosshairs
Binomo Trading Strategies:
There are also a few strategies which are needed to perform an excellent trade. Some strategies are simple and some are complex.
On the other hand, some strategies are based on currency pairs and some are on Trend.
To complete a successful strategy you have to use some trading tools and also some indicators.
For example, we come up with some strategies name –
A Breakdown Strategy

Rise in Profits With The "Step" Strategy

The "Momentum + RSI" Strategy

ATR+FIBO Trading Strategy

Stochastic X2 Strategy

Bollinger Zigzag Strategy

"Minute Reversal" Strategy and so on.
Deposit and Withdrawal Method of Binomo Trade
As we mentioned earlier, the minimum deposit is $10, but it will vary according to your account types.
The minimum investment amount is $1. Deposit is available via Wire transfer Credit Card – UnionPay, MasterCard, and VISA, electronic purses – Bitcoin, Litecoin, Neteller, WebMoney, Moneygram, Perfect money SMS-banking (cash deposit in the account via the phone), and ePayments (South Africa, Nigeria, India).
On the other hand, the withdrawal process is very user-friendly.  You can withdraw the minimum amount of 10 EUR/USD.
Withdrawal through e-wallet will take 3-4 hours (maximum time specified by the broker – 24 hours).
A trader can withdraw his money through a process. It generally takes 3-5 days in a week depending on the account type.
However, we have already mentioned the minimum withdrawal time in our account type portion. Binomo doesn't charge any fees upon deposit, purchase options, and withdraw.
If you don't trade your deposited amount within a fixed time, then the broker will charge 10% of your amount.
Bonuses are available for Binomo traders. The bonus amount will vary on account types.
Any new trader will get a welcome bonus after opening an account with Binomo. Active traders will also get a bonus after depositing money each time.
Welcome bonuses start from 25% to 100%. For VIP traders, Binomo is offering a 100% bonus.
You can take part in different tournaments and promotions which will help you to get bonuses. 
Moreover, you will find both Free and Paid tournament. Even after achieving a higher rate you will also get a bonus.
Furthermore, traders will always get a bonus for replenishing your balance with an amount of over $50.
High Capital Risk Is Involved In Financial Trading
The Binomo platform is popular among all traders for their tournaments. Tournaments will never be the same.
For every tournament, there will be special accounts. You can sign up for the tournament before it starts.
The participation fee also depends on the tournament features. You can also join the daily Free tournament and can get a handsome amount of prize fund.
All participants of the tournament do not start with the same tournament balance. The winning rate also depends on trading skills.
 You can rebuy at any time when your tournament balance is less than the recommended amount. Each rebuy will cost a fixed fee or without a fee. 
How to participate in the tournament?
To sign up for the tournament, go to the their page with the list of tournaments, select the tournament, open the detailed information and click on the "Sign up" button.
To successfully sign up, you will need to have an amount in your real account that exceeds the cost of participation.
Binomo cares their traders. It is committed to helping traders at every step while conducting a trade. Binomo provides 24/7 customer supports. The service is available in 19 languages/world's major languages including English, French etc.
Besides, anyone can get help through e-mail. Moreover, traders can get analytical support from professional traders via Skype.
However, the live chat is the most effective support they provide.
Using this helping tool, a trader can get an instant solution, advice, and suggestion regarding market and trade.
To get updated about their recent news and promotions, you can apply for the newsletter as well via email.
Binomo is a client-oriented company which creating new possibilities in the market of leading trading technologies.
We found many advantages while researching on this broker.
The advantages are-
A high-end trading platform with a wide range of financial assets.
Some of the most advantageous trading terms and investment options on the market.
Analytical services for client trading.
Various trading strategies.
Convenience for both experienced and novice traders.
You can monitor all your Open Trades.
High-quality trading tutorials.
Efficient and highly professional client support staff.
Fast payout option.
Nothing is perfect in this world. To improve service, they have to overcome these below drawbacks. 
We faced a few problems while trading with this platform. 
These are –
Lack of High-yield options like Range or One-Touch.
Don't have precise information about Cryptocurrency, Stocks, and Commodities.
Assets are not well organized.
They disabled assets depending on their time frame. The time frame could be every alternative day or could be after more than 2 days.
Due to the regulation fact, they don't accept USA and EU traders.
Final Word – Is Binomo Scam?
We are about to finish this Binomo Review where it is a scam or not.
Before concluding, it is mandatory to mention that Binomo is the broker who works relentlessly to invent new ideas so that, it becomes easier for new traders. You can easily earn profits in Binomo with a proper strategy.
Follow this trading guide to learn how to make money consistently using Binomo trading app.
Where other broker's platforms are offering huge deposit amount, but here you can trade by depositing a small amount. The collaboration with traders is completely transparent.
As we all know, the broker's quality is important to have commercial success. On the other hand, a regulated broker can give you a secure trading environment. 
The highest level of mutual trust with every trader makes a pleasant investing climate at Binomo. From the analysis, we can conclude that Binomo is not Scam Broker.
Wish Binomo and all the traders a great trade with huge success.