DBot Review- An Wondrous Automated Trading Innovation Of Deriv Platform
Do you know why DBot is the most widespread automatic trading bot? Many of you have the experience of trading the volatile market using this bot. However, we are counting on you, who has limited experience.
We design the review of DBot in such a way where you will find the working process along with benefits. On the other hand, it is required to mention that traders can pick the trading robot with or without coding skills.
So, anyone can automate trading ideas without writing codes. Unquestionably, the feature is lucrative for beginner traders who want to generate maximum profits. But the journey should begin after a small introduction to the Deriv platform.
As an alternative, you can have a quick look at the review of the Deriv Platform. It will help you to gather information regarding the broker.
Things About Deriv Platform:
Mainly Binary.com has rebranded to Deriv in the middle of 2020. With a sharp vision, they designed this brand-new trading platform for everyone. So, you will get every unique feature that you have used before, but with some new spice.
Moreover, they are now allowing trading on the Binary.com platform. But they will move their operations to the new one, eventually.
However, on Deriv.com, accounts, assets, and everything you have on the previous broker will be unrestricted and accessible.
So, we request our readers to move into the new one to get more voluminous opportunities.
What Is DBot - Autotrading Bot Review
DBot is a binary trading bot that requires zero coding knowledge to build or operate. Anyone can create a bot with a simple drag-and-drop method.
Are you worried about legitimacy? 
A trader can safely execute trade because it is a regulated and trusted trading bot. 
Moreover, traders can create, modify, and refine any number of trading bots on Dbot. So, if you are planning to start with an uncomplicated algorithm, you are welcome.
Except for the drag-and-drop method, what more one can get?
Of course, the benefits are diverse. We will discuss it later. Before everything, you have to open an account using valid information. As the team has 20 years' experience in this trading field, they designed this bot to make things easy for traders.
Why DBot Autotrading Robot?
Before recommending any trading product or broker, our team always goes through every layer of their services. Moreover, we regularly updated our readers if platforms introduce any additional features.
Let's have a look at the following points that DBot offers to their valuable clients:
Regulated and trusted trading bot
Demo account worth of $10,000
Three pre-build strategies
Zero cost to build
50+ trading assets
80% accuracy
No programming skill required
Simplistic drag-and-drop method
Apart from these influential features, it has an intuitive software interface. Moreover, the bot helps traders to trade without monitoring the screen all day long.
DBot Signup And Login Process
Both sign-up and login process is accessible. You can either open a new account or use the previous login credential to enter the platform.
However, Binary.com traders need not register with a new credential. Also, there is no maintenance fee for traders to open an account with the DBot auto trading bot.
You can also log into your account by using social media account like Google and Facebook.
You will redirect to a trading page where you can manually adjust the setting to give trading volume limit and strength rate.
But it is not essential to open a live account to test this automated platform. Deriv allows traders to open a demo account. Even you can begin your trial with us by clicking the link below.
Platform Overview - How To Use?
We have already mentioned that the platform is easy to operate. Anyone can open a position with or with no trading knowledge. However, it is required to have a small understanding of the platform.
Moreover, tutorials, guides, and reference information will be there for you. These will help you in several ways to build your bot.
After login to the platform, you will find a workplace. A pre-designed bot will appear there. You can either use the pre-designed bot or can import it from the local device or Google Drive.
Also, from the search option, you can add blocks to build a customized trading bot.
Different analysis tools, indicators, and smart logic will help traders to maximize profits and limit losses. Take profit and stop loss is one kind of intelligent logics. See how your bot is performing as it executes each trade and receives notifications via Telegram.
The most exciting part is that one can store strategy into Google Drive to use it later.
How DBot Works – 5 Easy Steps To Build A Bot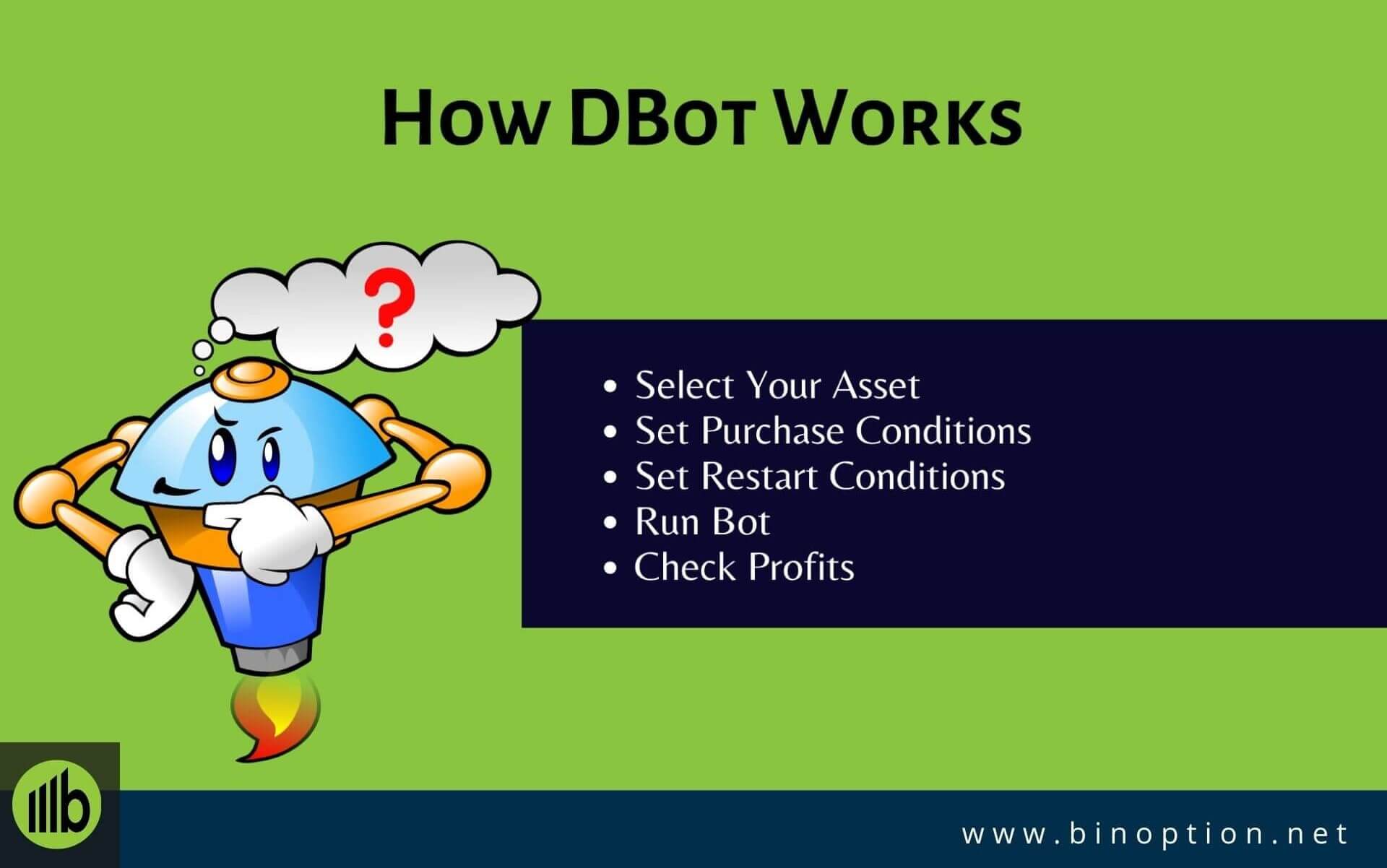 A common query from many of you: Do I need to deposit money to start trade with DBot? Surprisingly, no. DBot won't ask you to deposit any portion to create your first trade. However, it only applies to demo traders.
First, to start live trading, you need to deposit a small amount like $5.
As the trading bot uses an effortless drag-and-drop method, you can open positions using five simple & easy steps. Select your trading assets. The bot won't allow you to trade with over 50 assets.
Set the purchase conditions. You will find two types of DBot conditions. One is raised, and another is Fall. Select one depending on the pre-determined price movement.
Lastly, set restart conditions. The bot will get the last trading information and results to trade again. Click the "Run" button and let the bot work on your behalf.
After closing positions, DBot will show you the list of profits. You can check the profit balance from the transaction and the Journal menu.
If you want to know the details on how to build dbot, check this article. 
Which Strategy To Choose?
DBot had multiple trading strategies that are popular and profitable. You can select one from the list or can create your own from scratch.
These are the following strategies:
Martingale
D'Alembert
Oscar's Grind
Cutler's RSI
Bollinger Bands and
SMA Crossover
On the other hand, the platform will also allow you to customize strategies according to your preference. It is not required to have coding knowledge to build systems.
Drag, drop, and configure pre-built blocks and indicators onto a canvas to build your bot. 
How To Deposit & Withdrawal Money
Literally, let us ask you the same which method you prefer to deposit your account? As the Deriv platform supports verity of deposit and withdrawal options. 
These are: 
Bank Wire Transfer
Credit/Debit Card
E-Wallets
Cryptocurrency
Note that, Mastercard and Maestro withdrawals are only available for UK clients. Again, except cryptocurrency, other methods have a maximum and minimum deposit limit. 
Also, for withdrawal, check the minimum amount before processing. It is also applicable for crypto account holders. 
Moreover, for traders, who use crypto as a withdrawal method, the minimum amount will differ depending on the latest exchange rates. 
Lastly, they process all your deposits and withdrawals within 1 working day. However, sometimes it will delay depends on the situation. 
Benefits That You Can't Ignore
What makes you think twice? The automated platform is incredibly powerful for beginners. Even expert traders are also picking this trading bot to win profits from the most volatile market. 
Above, we have already presented a few benefits. However, these following advantages are also necessary to mention. 
No need to have programming knowledge
The platform is very accessible
Excellent customer support
Accurate information – real-time
Lastly, the revenue opportunity is transparent. So, you can purchase multiple contracts. 
We always try to introduce our readers with the best platform or trading robots. Also, we highly recommend our trusted traders to do manual trading.
However, in some cases, remarkably support traders to make money without having experience. 
In terms of the winning ratio, DBot is the best choice for both novice and professional traders. So, if you are ready to start then, it can be your one of the good friend.