Binary.com Review: One Stop Trading Solution For All Traders
Ever since the inception of Binary.com, people have been searching for an authentic Binary.com review. And we embellished this review with relevant details about this popular Binary Options and CFD broker. 
It is one of the leading platforms for trading binary options. Additionally, Binary.com is an incredible broker that makes Binary Options easy for beginner traders.
Trading has become much easier on multiple instruments like currencies, indices, commodities, and volatility indices. A trader only needs one account and can invest as much money as he wants through it.
The platform allows traders to trade round-the-clock, as well as on weekends. In summary, we have found a regulated and licensed Binary Options broker, a patron of easy trading.
Therefore, we designed this review to give you a comprehensive overview of the broker platform, asset types, deposit and withdrawal methods, and other features. 
Warning: Services of Binary.com are not made available in certain countries such as the USA, Canada, Hong Kong, or persons under age 18.
Binary.com Review - What is Binary.com
High Capital Risk Is Involved In Financial Trading
No wonder Binary.com is an international broker with hundreds of facilities. With over 1 million registered accounts worldwide, Binary.com has been operating successfully since 1999.  
Binary Group Ltd Group of Companies owns and operates it. Multi-platform trading makes it easy, simple, and user-friendly.
Also, this site uses SSL encryption to ensure that personal data and transactions are safe. As a result, you do not have to worry about losing your data or compromising your security.
Moreover, the interesting part is that their store lets you use different apps to create your own platform. Even the education section is also divided into several levels, including Primary, Advanced, etc. 
On your trading device, you do not need to download the platform. Trades are placed via a web-based platform requiring a strong internet connection. It also has a well-designed mobile application available to use.
Additionally, several effective tools (Trading View, Roll Over, Double Up, Developer tools, etc.) will decrease failures and increase success. 
The fact is, there are a lot of products for traders that cannot be covered here. Visit the shop section yourself to find out what's available. 
Binary.Com Broker Review - Video Explanation
Why Trade With Binary.com Broker - Facts
So, how does this broker differ from others? You might be interested in knowing more about the benefits of this platform after hearing some favorable things about it. 
Thus, to give you 100%, we have gathered some unique features that we believe will entice you to use Binary.com.
These are:
Regulated broker
Deposit minimum of $5
Payout up to 100%
Minimum trade $1
Maximum trade $50,000
Minimum withdrawal of $10
100+ tradable instruments
Demo account
Returns above 1000% (on selected trades.
Spreads starting 1.0 pips
Received Multiple Awards
Volatility Index (Available 24/7)
Enriched Education Center
Special tools (Web Trader, Trading View, etc.)
Easy and Simple withdrawal
24/7 help and support
Safety is one of the major concerns when it comes to online trading. As a result, it is recommended that every investor checks the platform regulations before investing. 
Regarding reputation, Binary.com is an old, regulated broker with multiple licenses to comply with regulations worldwide.
Moreover, Binary.com rebranded from BetOnMarkets.com in 2013 with new features and trading rules. Binary Limited is the holding company registered office at 47 Esplanade, St Helier, Jersey JE1 0BD, Channel Islands.
Aside from this, this debt-free company uses top-tier European banks for its money transactions.  
So, let's bring all the regulation parts under one shade. 
~ Binary Investments (Europe) Ltd
Binary Investments (Europe) Ltd is regulated as a Category 3 Investment Services provider, by the Malta Financial Services Authority, under license number IS/70156. 
Also, European Union residents who wish to trade the investment products will have their accounts opened with Binary Investments (Europe) Ltd.
Binary (C.R.) S.A. is registered in Costa Rica. Clients from the rest of the world (excluding certain countries such as the USA, Canada, Costa Rica, and Hong Kong) will have their accounts opened with Binary (C.R.) S.A.
Any regulatory body does not regulate or supervise this broker in the Costa Rican financial system.
Binary (V) Ltd is licensed and regulated by the Vanuatu Financial Services Commission. 
Clients from the rest of the world (excluding certain countries such as the USA, Canada, Costa Rica, and Hong Kong) will have their FX and CFD Meta trader 5 account opened with Binary (V) Ltd. Binary.com is not available in the Republic of Vanuatu.
Binary (BVI) Ltd is licensed and regulated by the British Virgin Islands Financial Services Commission. 
Clients from the rest of the world (excluding certain countries such as the USA, Canada, Costa Rica, and Hong Kong) will have their FX and CFD Metatrader 5 account opened with Binary (BVI) Ltd. However, Binary.com is not available in the British Virgin Islands.
Labuan Financial Services Authority licensed and regulated Binary (FX) Ltd. to carry on a money-broking business. 
The licensed number is MB/18/0024.
Clients from the rest of the world (excluding certain jurisdictions such as the USA, Canada, Japan, and the European Union) who wish to trade CFDs will have their MetaTrader 5 account opened with Binary (FX) Ltd. Binary.com is not available in Malaysia.
Binary KK is regulated in Japan by the Japanese Financial Services Agency and by The Financial Futures Association of Japan.
The UK Gambling Commission regulates binary IOM under reference number 39172. 
 Clients from the UK trade through Binary (IOM) Ltd
 On the other hand, EU residents who wish to trade with this broker should open their accounts with Binary (Europe) Limited. Binary Investments (Europe) Limited provides these services through EU passport rights. 
Binary.com is an award-winning broker. For their excellent client service, exclusive binary trading technology, and numerous works, they received an array of awards, including:
2007- 'Best Fixed-Odds Financial Trading Provider' award by Shares Magazine UK
2008 – 'Best Customer Communication Firm' award by Investors Chronicle
In 2008 – 'Best Fixed-Odds Financial Trading Provider' award by Shares Magazine UK
In 2008 – 'Best Fixed-Odds Financial Provider' award by Financial Times and Investors Chronicle UK
2009 – 'Best Fixed-Odds Financial Trading Provider' award by Shares Magazine UK
2009 – 'Financial Betting Operator of the Year' award by eGaming Review
2011 – 'Best Fixed-Odds Broker' silver award by Trade2Win
2012 – 'Best Fixed-Odds Firm 2012' award by Global Banking and Finance Review
In 2015 – "EGR Operator Award" & "MENA FFXPO Award"
2017 – "Personal Wealth Awards 2017" 
2018 – "Global Brands Awards 2018" & "Global Banking & Finance Awards 2018"
Sign Up and Login Process:
Binary.com sign-up process is simple, and anyone can do it without any video tutorial. Traders need to follow a few easy steps to complete the sign-up process. 
Sign up by entering your valid email address. You can also open a free account with your Google mail or Facebook account.   
Later on, the Binary.com team will send you a link via your email address to verify your account.
After that, you will be redirected to a new page where you must enter your password and country of residence after clicking the link.
So, your virtual account of $10,000 has been successfully created. Once a minimum deposit is made, you can switch to a real account.
High Capital Risk Is Involved In Financial Trading
Log in with your registered email address and password to access the trading platform. On the other hand, the Binary.com trading platform is accessible through your Facebook and Google+ accounts.
In our experience, most of the demo account features are quite similar to those of the actual account while trading. Beginners should practice using a virtual account for the most effective results. 
However, the only difference between a real account and a demo account is the trading risk.  
You can try it out for free here:
Unlimited 
Free
Filled with $10,000
Practice trading without risk
Adding more money to your virtual account is possible if it has a balance of less than $1,000.00.
As soon as traders sign up for a broker's platform, a virtual account will be created. So, by depositing money, you can switch to a real account. 
Binary.com does not offer specialized account types other than MetaTrader 5. To open an account, you must complete the sign-up process. So, to find out whether you are eligible for a bonus, contact the broker. 
In MetaTrader 5, traders can choose among 3 types of accounts depending on their needs. Free trades and deposit bonuses are not available with this broker.
However, each account has been designed to provide you with a unique opportunity to find financial instruments.
STANDARD
Spread Variable from 1.2 pips

Cryptocurrency Trading YES

ADVANCED
Spread Variable from 0.9 pips

Cryptocurrency Trading YES

VOLATILITY INDICES
Cryptocurrency Trading YES

High Capital Risk Is Involved In Financial Trading
Binary.com's shop used to be one of the largest trading showrooms for traders. From trading apps to academic courses, everything was available there.  
Products can only be purchased from the Binary.com shop if you have a PayPal account. Sadly, their shop section was closed after rebranding to Deriv. 
On the other hand, the binary trading bot was one of the most popular products in the shop. However, the product is still available separately.
The most efficient way to generate profits for beginner traders is to use auto trading. Automating these strategies is extremely helpful for newbie traders who might struggle with real trading. 
Additionally, automated trading allows traders to achieve consistency and discipline while earning. 
However, an automated system is both friendly and profitable simultaneously, and here is its Binary.Com Auto Trading Robot Review.
Both binary options and CFDs trading are available on the Binary.com platform. There are 100+ assets available that are divided into 4 categories –  
Under this category, you will find all Major and Minor pairs, including Smart FX indices.
There are the four Smart FX indices that you can trade:
AUD Index 
EUR Index
GBP Index 
USD Index
You can enjoy trading indices with the benefit of real-time charts and pricing.
However, the popular indices you can enjoy are the Australian Index, Bombay Index, Hong Kong Index, Singapore Index, Belgian Index, and many more.
Binary.com offers four types of precious metals and energy.
So, the popular commodities are Gold/USD, Palladium/USD, Platinum/USD, Silver/USD, and Oil/USD.
We have also known volatility indices as synthetic indices.
The popular instruments from this category are Volatility 10 Index, Volatility 100 Index, Volatility 25 Index, Volatility 50 Index, Volatility 75 Index, Bear Market Index, and Bull Market Index. 
Find the list of popular Cryptocurrency pairs, including Bitcoin, Ethereum, and Litecoin.
Binary.com Options Types:
A few options are available at Binary.com, depending on the payout ratio and trading method. 
These are –
Up/Down
Touch / No Touch
Ends In / Out
Asians
Digits
Reset Call/Reset Put
High Ticks/Low Ticks
Only Ups/Only Downs
So, the platform is open to trade Asians, Digits, Reset Call/Reset Put, High Ticks/Low Ticks, and Only Ups/Only Downs, which are only for Volatility Indices.
Binary.com offers a contract named lookbacks. The payout depends on the optimum high or low achieved by the market.
On the other hand, the option allows the trader or the holder to "look back" over time to determine the payout.
The broker offers three types of lookbacks. These are: 
High-Close
Close-Low
High-Low
Note that the lookbacks options are only available for Volatility Indices.
Return to player (RTP) % for lookbacks for a multiplier of 1 and 1m duration is around 87% on average.
Multiple platforms with unique features. Yes, the broker has different platforms for both beginners and advanced traders. Now, in this part, we will discuss the multiple trading platforms offered by Binary.com. 
So, they divided the trading platform into two categories, Basic and Advanced. 
Deriv.com
MetaTrader 5
Webtrader
SmartTrader
Binary Bot
Find one from the following list that suits your experience and preferred strategy. 
However, we will describe the platforms individually, including the trading tools and indicators. 
Introducing the next generation of online trading. Deriv is another window of binary.com. The main website refers to Deriv as a platform, but it is actually the rebranded version of binary.com.
Generally, Deriv is a comprehensive trading system with multiple advanced platforms.
So, they've created a new platform that is easy to use and rich in features. Even though it is new but more advanced than Binary.com, in Deriv, you will get multiple platforms that serve you according to your needs.
Especially beginners will discover all sorts of trading treasures inside this platform.
For more, you can also read the Deriv review, where we have discussed its features, advantages, and why traders should trade via this platform.
Binary.com is one of the few binary options brokers that offer automated trading. The binary bot is a platform that helps you to automate your trading strategies. The blocks are pre-made or you can customize them according to your market analysis.
In order to achieve outstanding results, we recommend traders use tools to predict market conditions. 
Automate your strategy:
Logic
Math
Text
Trade definitions for Binary Options
Tick Analysis
Implement indicators and analysis tools
It is one of the best-automated platforms, especially for day traders. You can read the
binary bot review
to know how to build a perfect trading bot at no cost. 
~ Web Trader Trading Platform:
WebTrader is an advanced binary options trading platform. Depending on your personal preferences, the interface can be fully customized.
At the same time, traders can keep track of their favorite assets and markets. Furthermore, you can monitor essential charts, the asset index, and historical data.
Aside from that, the platform offers a variety of unique and powerful trading features, such as
Full-screen trading interface
Various customizable features
Robust and secure platform
Accessible from any web browser in 13 languages
In the trading platform, you can see all trading assets from the "Trade" option.
From the "Resources" option, traders can choose an asset index, trading times, historical data, and chart themes.
Lastly, you can copy another trader's trade by entering a trader's API token.
~ Meta Trader 5 Trading Platform:
Introducing MetaTrader 5, the world's most advanced multi-asset trading platform. On its MT5 platform, Binary.com offers five types of binary options.
In order to increase your return percentage, it is highly recommended that you use MT5 because the platform will let you customize your interface.
Furthermore, a demo account will allow you to practice trading strategies with virtual money. Depending on your trading experience and preferences, choose an account type.
Through our Expert Advisors (EA), you can easily monitor your trades and access your trading history. Your desktop device and mobile device can be accessed directly through the web trading platform, or you can download the software to your computer and mobile device.
Don't pass up the chance to get the largest return percentage. To experience this remarkable platform, we recommend that you open a demo right now.
~ SmartTrader Trading Platform:
The SmartTrader platform is a user-friendly, simple, and premier binary trading platform. Among the types of binary options, you can trade those for forex, indexes, commodities, and volatility indices. 
We found that they allow five types of options, where the time interval starts from 1 minute to 1 day. 
There are 7 different charts, each with a wide range of indicators, to help you keep an eye on the price movement. 
Moreover, you can create comparisons between two trading instruments. You will find a vertical line and a horizontal line as drawing tools. 
Follow a few steps to perform your first trade. 
Select market and underlying asset. 
Select the trade type. 
Adjust trade parameters.
Predict the direction and buy. 
The trading platform explains each type of option. Based on the prediction, you can see an approximate net profit and return rate.
Even more, you can find out an asset's minimum and maximum contract durations based on its trade type by using an asset index.
Trading charts are the foundation of a successful trade. Traders mostly use charting tools to forecast market movements using financial data. On Binary.com, there are two charting platforms to choose from. These are:
TradingView is a powerful charting and technical analysis tool you can rely on. Utilize an extensive range of indicators, price bands, and overlays to analyze the markets.
On the other hand, SmartCharts is an interactive charting tool
Using a fast and intuitive interface, analyze the financial markets with beautiful visualizations and unique trading tools.
No matter which one you use, both charting tools are absolutely helpful for predicting price movement. 
Multiple Account Manager (MAM) For MT5:
Binary.com offers MAM for MT5.  The manager allows you to manage multiple sub-accounts effortlessly in one interface. 
Moreover, the tool is perfect for money managers who manage multiple client accounts. MAM works perfectly along with MT5. All the features and tools in MT5 work seamlessly with it. 
Binary.com offers a Tick Trade app, which is available for both web and mobile devices.
The tick trade app aims for fast trading, offering instant trade results. With the mobile application, you can place trades on the go conveniently.
A demo account with $10,000 virtual money can be used freely or without registration.
On the other hand, you can trade 7 types of underlying assets:
Bear Market Index
Bull Market Index
Volatility 10/25/50/100 Index
You can customize the pace of the trade ranging from 1 to 10 ticks.
Another feature of this app is that you can choose from 7 different trade types.
Adjust the stack and payout to control risk. The maximum payout is $50,000, with over 90% payout.
Furthermore, the application performs exceedingly well and meets traders' expectations.
Keep in mind that the Tick Trade app is not available in all countries.
Copy trading is one of the most popular trading forms. Using it, you can copy other people's trades without analyzing the market or financial situation.
And Binary.com has this incredible feature. To become a copy trader, follow the below steps.  
1. To do copy trading, click on Trade and select WebTrader
2. Select the account you want to set up copy trading for.
3. Under the account from the list, select "Copy Trading."
4. Click on "Copier", enter the trader's API token and click on "+" to add.
The interesting fact is that traders will get all features under one roof. Yes, the broker also offers free trading educational resources for traders. 
Now, the learning process is far easier for you than before. Get all the latest news and trends in financial trading, which is totally free. 
The academy offers
Interactive webinars
Daily market reports
Ebooks, videos, and more
From the video tutorial, you will get to learn about trading and trading software. Not only the video tutorial, but you will also get Expert analysis and learning resources.
The glossary part will help you to know about the technical terms of binary options before placing trades.
On Binary TV, you will get informed about the latest trading news and trends. It will keep you up-to-date, from stocks and commodities to global currencies, indices, and more.
Through webinars, professional traders provide free training sessions for both beginners and advanced traders. To access the webinar, you have to "Register" a webinar with your name, email, and country. 
Every kind of transaction method is safe, secure, fast, and problem-free at Binary.com. The minimum deposit is only $5, and the withdrawal is $10.
The broker supports hundreds of deposit, and withdrawal options, including Bitcoin.
Furthermore, this broker uses the most modern SSL encryption system that encrypts all customer data and protects it from any damage.
There are no fees for withdrawal. However, you'll have to pay fees depending on the payment method. 
Binary transaction info
Deposit methods

Bank Wire; Western Union; Visa/MasterCardClikandbuy; OK PAY; CashU, Bitcoin

Fasapay; PerfectMoeny; Skrill

Neteller; Monetaau; Webmoney

Ukash; Instadebit; QIWI; Paysafecard

Withdrawal methods

Bank Wire; Western Union; Visa/MasterCard

Clikandbuy; OK PAY; CashU

Fasapay; PerfectMoeny; Skrill

Neteller; Monetaau; Webmoney

Ukash; Instadebit; QIWI; Paysafecard

Fees
No withdrawal fees
Currencies
USD; GBP; EUR; AUD
If there are any bank fees during the money transaction, then Binary.com is not responsible for them.
Note: Binary.com processes all your deposits and withdrawals within 24 hours. However, the additional processing time is required by your bank or money transfer service.
Help and Support Service:
The Binary.com support team is very amiable, helpful, and quick to respond. Customer service is available in different languages and is available 24/7.
One can also ask for help via e-mail ([email protected]) or by calling them directly. 
The live chat button is available, but traders are advised to open a ticket or join their community. 
We have checked all the services and found them to be active. Another benefit is that one can seek expert advice through these channels and get it immediately.
That is why the broker scored 9 out of 10. And we strongly recommend all our young and enthusiastic traders to start their first trade using this platform. 
As of now, we found this broker to be one of the leading platforms for binary traders. We got several positive reviews from different websites. 
It's a pleasure to have a support team that's so fast. Apart from the support team, the platform is well designed for beginners. 
No market manipulation, no scams. Just make sure you read the terms and conditions carefully before opening an account. 
You might be thinking this review could be fake. But, need to mention that Trustpilots do not accept any reviews without proper proof. 
Here are some sneak peeks. 
Even though the rating is quite satisfactory, we haven't ignored the negative remarks. 
There are many reasons behind your loss. Sometimes, traders lose money for greed and sometimes for overtrading. However, ignoring the broker's rules can also cost you money. 
 Let's find out what do they think of Binary.com?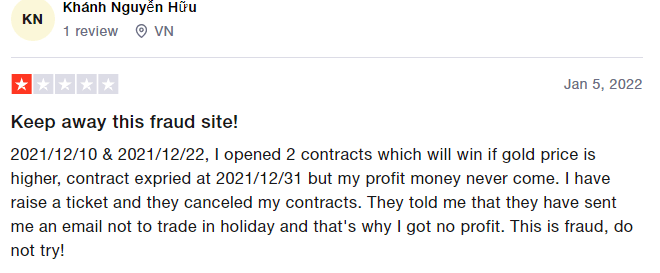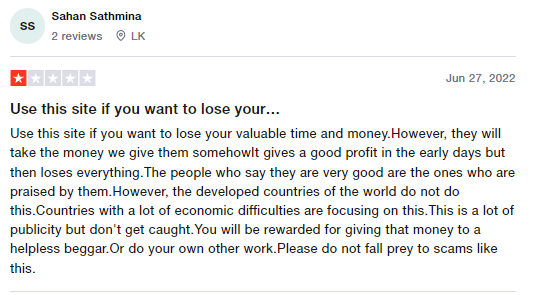 Can traders trust binary.com?
Yes, without a doubt. With Binary.com, your money is completely secure. If you were looking for a complete professional and trusted platform to trade, then definitely consider this broker. 
This broker has many advantages, and you can't ignore them. Additionally, both new and experienced traders can benefit from the platform. 
Opening an account is easy and you can start trading in minutes. Trading assets are available 24/7. This means you are free to trade whenever you want.
Also, the volatility indices are available even on weekends.
If it is about trading risk, then it is quite transparent. Before purchasing the contract, you will get to know how much you are going to win or lose. 
As we mentioned earlier, the trading platform is ideal for new traders. You can deposit as low as $5. Zero headaches to withdraw trading profits if you follow their instructions. 
The advantages of Binary.com:
Licensed and regulated
Serving the community since 1999
The best trading technology
Huge range of markets and options
Earn up to 100%
Small minimum deposit of 5$
No hidden fees
Support from professionals
It is more likely a restriction than a drawback that binary.com does not accept USA traders. They could include other payment methods for traders who want to buy resources from the shop section. 
Binary.com extremely needed a dedicated live chat support team to cover all queries without delay.
On the other hand, we had to pay for some auto trading applications to test, which is impossible for inexperienced traders.
FAQ - Frequently Asked Questions
1. Is it safe to trade Forex using binary.com?
Not even Forex, any type of trading is safe with binary.com. It is a legit platform and regulated by multiple regulatory bodies. 
2. Do I need to verify my account?
On the Authentication page, you can do that. Your account will only need to be authenticated when the team binary.com ask for it. You won't be able to access this page if you don't need to authenticate now.  
3. Binary.com website is legal in India?
Binary trading is not illegal in India. And the broker accepts traders from India. So, Binary options are available to Indian traders through offshore brokers.
4. Can I open more than one Binary.com account?
Absolutely prohibited. You can only open one account using a valid email address and mobile number. Your account will be banned if they find any duplication 
Binary.com is the patron of easy Binary Options, as we stated at the beginning of our Binary.com Review. Almost every arena was tested before this recommendation was made. 
Honestly, it is one of the most reputable binary options brokers in the industry. Lastly, Binary.com is a trustworthy broker with no scam activities. 
It is a forerunner of an easy Binary Options system.