Binary.Com Auto Trading Robot - Real Picture Of The Binary Bot Software
Binary.com is one of the fast-growing free binary options bot or auto trading robot software. It is the popular one that has been leading the market for over a decade. 
Apart from the trading robots, they offer a broker platform to perform trade manually. On the other hand, you can read the Binary.com broker review to learn about this authentic and regulated broker.
It is a profit-generated software for any trader who has passion and dedication in this field. 
So, in this review, you will get to know everything from opening an account to the benefits. 
Moreover, you can take your bot anywhere with the help of google drive. So, it is easy to use when you are traveling the world. 
Via our Binary.com auto-trading review, you will know the robot's function, benefits, demo account, and many useful materials related to trading.
Read the review till the end.
High Capital Risk Is Involved In Financial Trading
Binarycom bot is one of the oldest creations of the binary.com broker. In the beginning, we found this amazing piece of hope in the shop section of this broker. 
However, the shop is not currently available, and the platform is slowly transferring all the data to a new platform. So, Deriv binary bot is the new window of hope. 
Because the company is rebranded to Deriv, you won't find the old platform anymore. Though, we have tried to put the major part here. 
The interesting part is that the bot can generate almost 5000 trading signals in a day.
Binary .com bot allows you to customize the trading robot. So, you can automate your trading strategies using the "jigsaw puzzle-like" strategy creation tool. On the other hand, traders make an accurate and real signal to book winning trades. 
And all these to make profitable decisions.
Traders can also upload trading strategies built by other traders to execute the trade. 
Why Binary.Com Auto Trading Robot
We actually pick those products that will help us to generate the highest amount of profit. 
Here are some features of reputable and reliable binary.com auto-trading bot software.
Binary.com software features:
Regulated and Trusted
Demo account worth of $10,000
A professional website (100% FREE)
User friendly and informative platform for traders
No programming skill required
Over 90% winning and successful trades
Simplistic drag-and-drop method
Intuitive software interface 
Straightforward tutorial
Uncomplicated or advanced algorithms
Price Review Of Binary.com Auto Trading Robot
Traders mostly worried about the cost associated with Binary.Com Robot. Interestingly, the software is FREE for traders. 
Yes, they offer a demo account which is worth to avail. You can trade with a demo account worth $10,000 virtual money. According to your game plan, you can test your trading strategies.
But what about the pricing of a real account?
Well, to open a real account, you need to deposit $5. It is the initial amount that one trader deposits. However, you can deposit more than the initial amount but not less than that. 
How To Find Binary.com Bot On Deriv
As you already know, Deriv is the name of a new platform for Binary.com. It changed its name and rebranded itself with more powerful tools and features.
The first step is to open the Deriv site and select the sign-up button if you are new to this platform. If you are already a registered user, enter your login credentials to log in.
You will find a box on the left side. Click the box and select Binary.com bot. Later, you will be redirected to a new page.
Check the below point. We have mentioned the sign-up and login process there.
After logging in, you can create your own bot according to your market analysis and strategy. 
Binary.com Sign Up And Login Process
Both the signup and login process is easy for any type of trader. There is no maintenance fee for traders to open an account with the binary.com auto-trading bot. 
However, you must follow some steps to open and trade via this trading software. 
Binary.com Sign Up Process
Firstly, register to Binary.Com platform with the correct details. 
The whole signup process is so simple and attractive that anybody who tries it will cling to it. 
Let's follow the steps:
Put your personal information along with a valid e-mail.

Fund your trading account with the amount you desire

You will get a confirmation message in your mailbox

Find your personal software access information through e-mail. Check and start trading.
The platform is very easy to manage, and it simplifies the work for the traders through automated manners.
Once you have registered to this software, the use process is pretty simple.
Before directing to the dashboard, you must log into your account with a valid email and password. 
You can also log into your account using social media accounts like Google and Facebook. 
Later, you will redirect to a trading page where you can manually adjust the setting to give a trading volume limit and strength rate.
Now, time to open the position. 
How To Use Binary Bot - Demo Account
Binary.com robot allows traders to trade with a demo account. New traders can now learn how to make money without losing money. 
We have mentioned earlier the demo account value is $10,000.
Let's have a look at the demo benefits:
You can test the trading strategies

Understand the platform and how it works

Understand the tools

Learn how to control trading emotions
High Capital Risk Is Involved In Financial Trading
How To Create Binary Bot (Binary.com Dashboard, Settings & Result)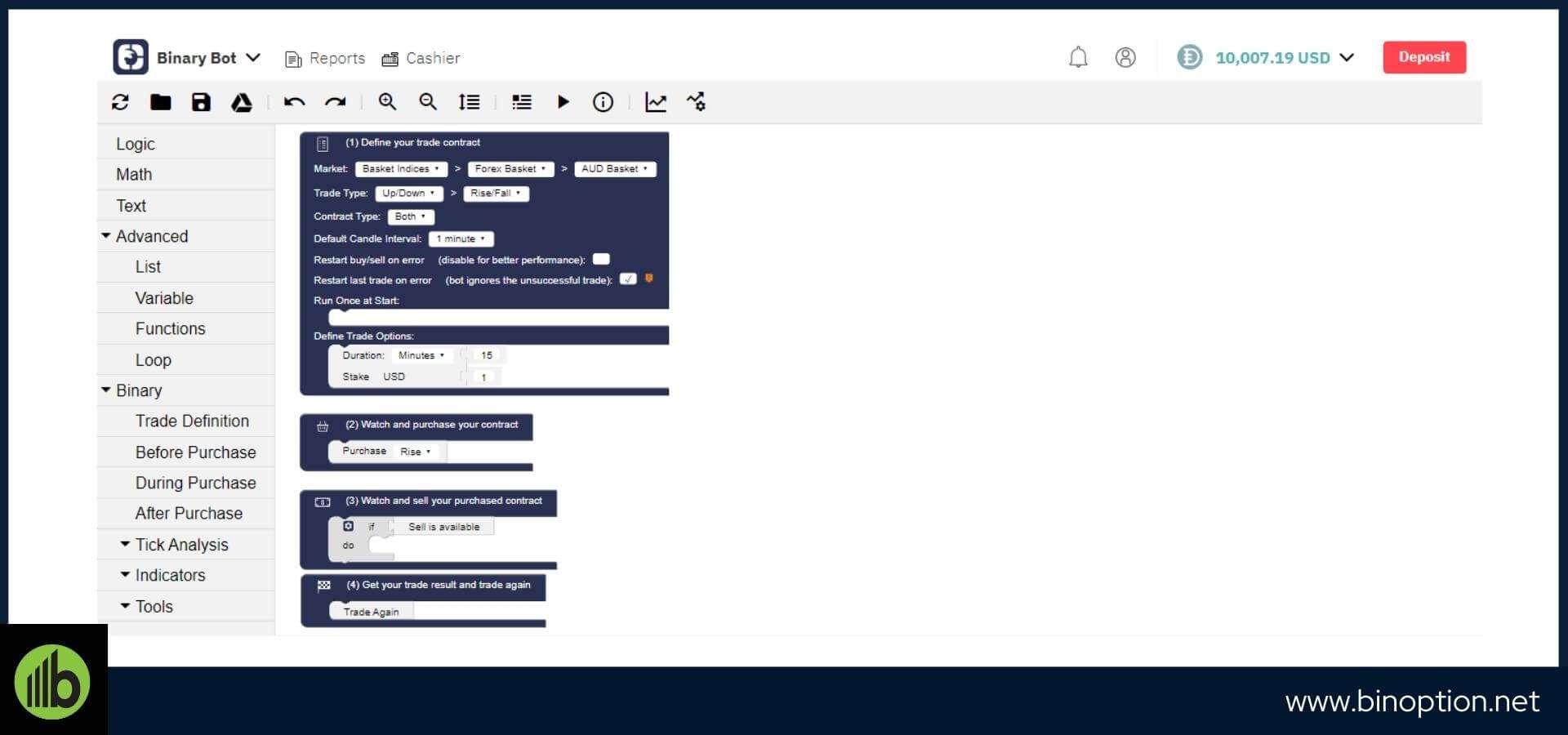 The creation of a binary bot depends on many factors. Some bots allow you to use pre-set robots, and some will enable you to create and customize. 
With the blessings of a demo account, you can test the trading bot dashboard without depositing the amount. 
You can also find the virtual amount on the right side of your main dashboard. 
On the left side of the dashboard, you will find a list with different elements. Using those elements, you can make a good trading bot to earn money. 
List of elements: 
Logic

Math 

Test

Advanced

Binary
Each category holds more than one element to create an auto-trading bot. 
On the other hand, to create a bot, you must play with a whole puzzle set. Note that you can work with those puzzles without registering on the binary.com platform. 
Moreover, it is possible to save your creation in a draft folder and can edit it later. Experienced and novice traders can create a bot, use it to earn, and sell it. 
At the same time, it is not necessary to be an excellent programmer to build a trading bot. As a result, it is possible to earn up to 80% of the sales revenue from the Binary.com bot. 
How Does Binary Bot Work? - Binary.Com Auto Trading Robot
Binary.Com Bot trading principles are similar to other trading software.
It collects relevant data from the market to analyze the asset price and shares the information with traders to help them with decision-making.
Furthermore, decision-making is crucial in every trader's life for profit earning.
You should know how to trade binary options before attempting to trade automatically or manually. 
The bot understands the need and has accordingly crafted the software to bring change in every trader's trading world.
All you need to do is just connect with your trading account and wait for the results. Undoubtedly, the robot trade when traders are in a deep sleep. 
The key points that you can't overlook: 
Binary.com works 24/7

The bot does not manipulate the market 
The software will do everything a trader needs to make profiting trading styles. Even if you are totally new to trading, making money is not rocket science.
It is advisable to use 80% strength to find the real value of money-making. The higher the strength rate, the lower the number of trades executed daily, and vice versa.
If you choose the strength rate of 90%, you can execute 1 or 2 trades. 
The signal can also be used in other binary services, but they expire within 10 minutes. The earlier to take the signal, the more accurate it will be.
Just push the 'Auto Trading' button after all preferences and see the magic happening right before you.
The Meta Trader 5, or MT5, is a trading platform famous for its enriched dashboard and analysis tools. It is a third-party platform, but you will get something more extraordinary than other playgrounds.
Most of the cases, pro traders are just in love with MT5. Yes, you can also automate your trade on this platform, but you can't use the binary bot on Meta trader 5.
How To Build Bot For Binary.com
You can create your bot from the dashboard. The robot creation process is simple, and anyone can initiate by following the below steps. However, the strategy section depends on your analysis. 
Follow the steps:
The panel on the left is the block library.

Library blocks represent bot actions, and functions categorize them.

Workspace canvas is next to the block library.

Draggable canvas lets you place your blocks anywhere.
To create a simple bot that will display the potential payout before purchasing a contract:
You have some blocks and the 'Payout' block to handle text.

It's time to connect these blocks. Finally, let's add these blocks to the "Watch and purchase your contract" block.

First, test it on a virtual account before running it on your real money account.

Now, you can run the bot.
Once you run your bot, it'll keep buying until you stop it. You can do it by clicking the Stop button. Make sure you save your bot locally after creating it because server-side storage doesn't work.
Traders will find various payment methods to make a deposit. Traders do not need to pay any commission while depositing money on the trading software.
The minimum deposit amount is $5. However, the minimum and maximum deposit amount depends on payment methods. 
To complete your payment, traders can use bank wire transfer, debit/credit card, and e-wallet. 
All deposits are processed by Binary.com within 1 working day. 
Withdrawing your money will depend on the method you choose.
They have multiple and wide numbers of methods in the platform.
They have Wire Transfer service like Western Union, Internet Banking, Credit/Debit Card service like Visa, Master Card, E-Cash service like Skrill, Neteller, Web Money, Ok Pay, Fast Pay, etc.
Whenever you want to avoid tax payments, you can use Neteller prepaid credit card.
The Master card flag is accepted worldwide. So that the payment method is popular among all brokers and traders.
No need to pay commission while withdrawing profits from binary.com.
The interesting fact is their minimum withdrawal starts from $5. Therefore, the minimum time for withdrawal is as little as withdrawal amount and it is only 1 working day.
Advantages Of Binary.com Auto Trading Bot
There are a few advantages of the Binary.com robot that we will mention one by one in this phase. 
The main advantage is that it is not required to have programming skills to build a bot. On the other hand, you can test your trading strategies by using a virtual amount. 
Additionally, the excellent support this platform provides is another main reason why traders like to be a part of this software. All queries are responded to within the shortest period and are very accessible. They understand it is a real-time service, and the actions should be quick.
Thus service providers are crafted in such a way that traders find it comfortable to reach out to them in case of any issues or queries.
Though there is a way to find information, getting accurate information on a real-time basis is the key for the trades.
Lastly, revenue opportunity is transparent, and you can purchase multiple contracts. 
Let's have a quick recap:
Small initial deposit amount

Excellent customer care service

Over 90% return percentage

Virtual account facility

User-friendly trading dashboard

Transparent

Regulated and legit trading robot
In conclusion, you can say that BinaryBot helps traders to earn money without a pro trader. It is a legitimate trading bot.
This platform can be termed high performing and has a high winning ratio.
So readers, after reading this Binary.com Auto Trading Robot Review, we think you already got the real picture of this auto trading binary options software.
If you think about auto trading software, it can be one of your good friends.