How to Make Money With Binary Options - 10 Step Guide
Make money with binary options is the most popular question among new traders. They want to know the process to fill their box with money.
Binary options trading is more about the decision between 'yes or no'.
The whole process is less complicated. Traders around the world can perform binary trading on different assets such as Forex, commodities, stocks, and shares.
Besides, this type of trading does not require the possession of the asset to trade.
The value of the trade is derived from the underlying asset. During trading, there is no need for possession.
For example, to place a trade on gold, there is no need to purchase gold bullion.
All you need to do is just to take a decision whether the price of gold is expected to shoot up or, go down within a certain period of time.
But before taking the decision, first of all, you need to know how to trade binary options successfully.
Especially it will help you to take the decision perfectly. 
Here are the 10 steps that you should know if you want to make money with binary options. 
How To Make Money With Binary Options - 10 Steps You Should Follow
It is possible to make money with binary options. Traders who are expert, as well as new, can earn money with options trading. 
Remember you have to work through a road where you will find many obstacles. As a trader, your best weapon is your knowledge. 
You have to make a reliable trading system that will help you to win each trade without investing a lot. 
At this point, the following steps will guide while trading the options marketplace. 
What Type Of Trades Should Be Executed:
The minute you set your mind to start getting into trading choose the type of trade you are willing to get involved in.
In general, it means to decide the asset class – stocks, forex, commodities or so on.
Each trade holds different methods. Similarly, the trading market is different.
For example, if you think the value of oil prices is going to crash soon, then your choice of the asset should be commodities.
Choose The Right Trading Broker:
Take some time to review the trading broker list and choose the top 5 that have a good rating.
Once you have this filtered list go through the features, services, and cost associated with each of these brokers.  Make a short list with names and unique trading features. 
This approach will help you to take the decision of choosing a right and reliable broker for all your trading activities.
At the same time, the broker regulation is a key factor for each trader. It is wise to open an account with more than one broker's platform. 
Via demo trade, you can educate yourself about the platform and its features. 
Choose The Right Expiry Time:
The term of binary options trades can be as less as 60 seconds to over a month.
It's important to choose the right expiry time considering the extreme conditions of uncertainty.
As a result, the expiry period will decide after considering the level of risk you are ready to take.
The financial market is volatile. So, things can change upside down overnight.
Make well research on your investment strategy until when you are expecting to keep the option live!
Understand Potential Gains:
The potential gain varies people to people. Just like how you will compare each product with another and buy the one at the best price while shopping.
Similarly, you have to do the same thing in trading. In trading, investors need to invest after calculating the proper potential gain. 
Each broker is different. So, what they offer also different from each other.
Compare each broker to check what would be the potential gains and what you will be missing if you do not make the right choice.
This comparison will help you to understand the potential gains that are expected to get and from which broker.
Try to gather knowledge on the latest and most used information. At the previous time, traders need to collect trading related news from different media. 
At this moment, most of the platforms are offering the latest updates or news. Some platform offers real-time data to make your task easy.
Daily trading information is crucial to understand the reason for any movement in the market.
Getting a specific strategy of trading and sticking to the same will not help you to reach anywhere. You trading life will be boring.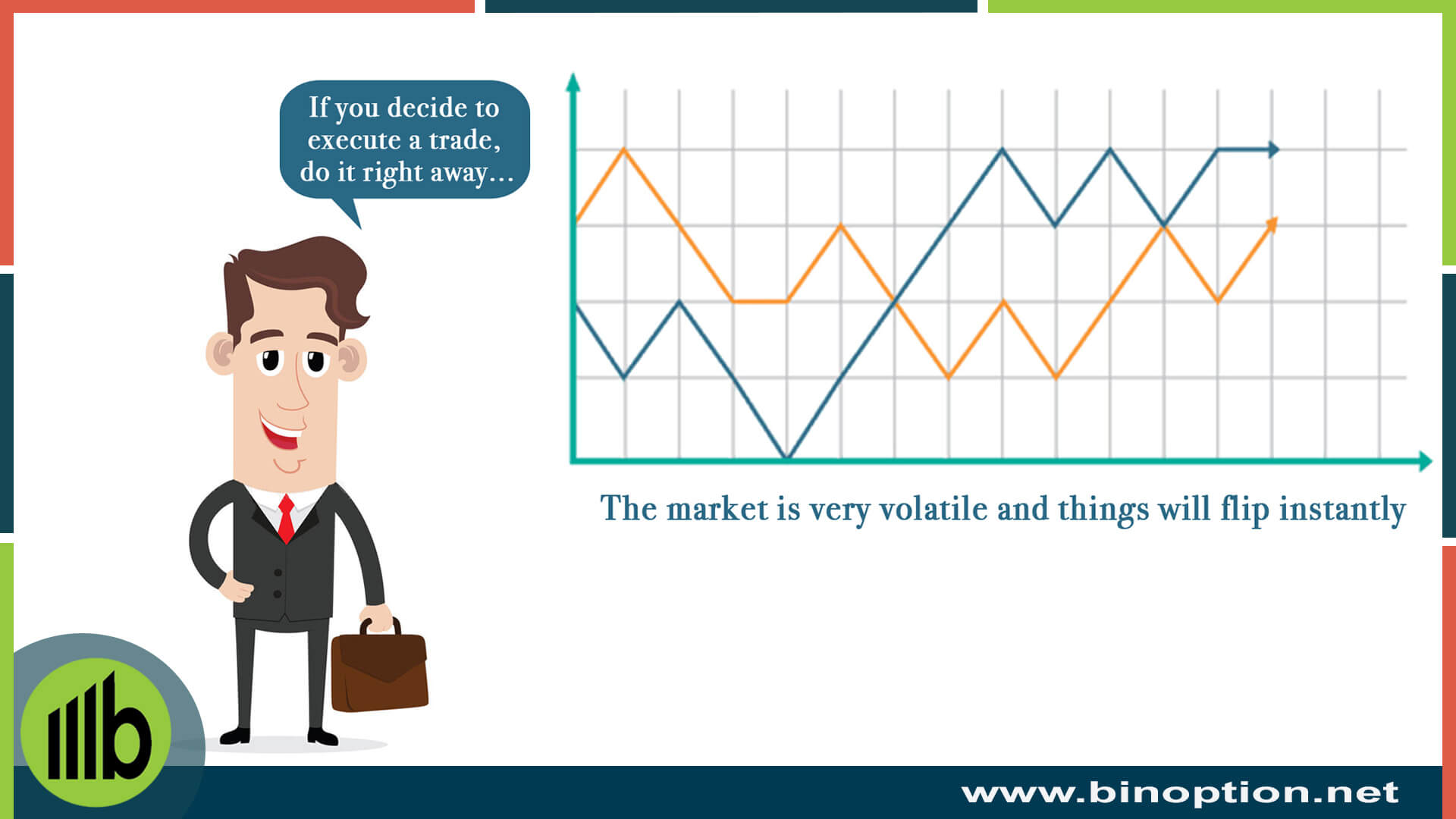 As you already know that the market is very volatile and things will flip instantly. If you decide to execute a trade, don't do it right away.
Research the market properly by using different trading tools and indicators. 
However, make use of the mobile app offered by most of the binary options trading brokers to book your trades.
The market will not have for anyone convenience. If you miss the opportunity, you cannot be taken back.
If you are sure that the market will move on your favor, then there is no reason to delay in executing the deal.
 Increase The Trading Budget:
As there is a lot of competition among binary options brokers, unique and attractive features are offered to gain customers.
These benefits should be used to increase your trading budget.
For example, some binary options trading brokers offer Welcome bonus during registration. (Example: Binomo).
Moreover, you will find a lot of brokers who are giving bonus after inviting friends. 
That means if you are introducing someone new to the platform, a certain percentage of their profit is shared with you for a certain period of time. 
The deposit bonus is also available for traders depending on the amount. 
Do not try to make money by exposing your risk to the market movement.
Being greedy will not get you anywhere.
Thus hedge your trades through off-setting positions and nullify your risk in the trade.
Though the profits you make through this are very marginal, it will help you to play a safe game especially when the market is very unstable.
This option is offered by a few brokers. It also offers only when you have a live trade in the market.
By extending the expiry time of existing trade, roll forward feature will help traders.  Moreover, traders will get the facility, if the market moves to them. 
You can apply this feature by extending the trade's expiration date.
This feature will help you to make money through binary options on an existing trade that is moving in your favor.
However, for this, a proper understanding of the financial market is very essential.
Some of the brokers who are offering this feature are:
Look For Early Exit Option:
Getting into a trade with a broker who offers this early exit option is very good and beneficial.
Suppose you fear about some uncertain event in the market that can take a loss on your investment.
Early Exit option will give you a chance to get out from the risky transaction with some minimal charges.
This charge will be acceptable by the trader, if he thinks he will face loss on his investment from the uncertain event(s).
Some of the brokers who are offering this feature are:
Make good use of all these tips and guidance to safeguard your investment and to make money with binary options which will increase your profit earning power!
Can You Really Make Money with Binary Options
Believe it or not, this is the most asked question regarding binary options.
This doubt arises mainly from new traders who are not completely familiar with how binary options work.
After getting asked this same question phrased in different ways, we have finally decided to address the elephant in the room for once and all.
If you want a quick answer, then Yes! You can definitely make money from binary options. There's a catch though.
If it were that simple, then we wouldn't have so many traders questioning the legitimacy and effectiveness of binary options.
Binary options are quite popular all over the globe.
They are known for their simplistic nature of trading where you predict the price movement of various assets such as commodities, forex, indices, crypto, and much more.
This trading is called binary because the outcome is either a winning payout or nothing. If you lose a trade, you gain nothing and your investment goes down the drain.
This is why most beginner traders are scared to trade options. That being said, there are traders who consistently make money from binary options trading.
This brings me to the main point, that is the difference between making and losing money in binary options is trading practices and mindset.
Newbie and inexperienced traders see binary options as a one-time opportunity to score a big payout.
They invest a large sum of money (usually a large percentage of their investment size) on a single trade without properly analyzing the market and researching on the asset.
When they lose the trade, they gain nothing and instead lose all their initial investment.
These traders, end up blaming the system instead of owning up to their faults.
I know while reading this, some of you have realized that I just described you and now you realize where the inherent fault lies in.
Let's summarize the common mistakes discussed in the above example that why traders lose money when trading binary options:
Lack of trading knowledge
Not researching on the assets to be traded
Lack of technical, fundamental, or market analysis
Investing a large portion of their investment in one trade.
Not using risk management.
The traders that make money from binary options don't gamble all in on a single trade.
They carry out small trades and aim for small gains. They work their way up the ladder. This method of trading has 2 benefits.
Firstly, it's easier to recover from losses in case you lose a trade. And the other reason it the more you trade, the more experience you gain.
And the more experienced you are, the more familiar you are with how the market behaves and the probability of you losing trades decreases.
So, now that you know what mistakes to avoid, how do you make money from trading options? 
Firstly, educate yourself on trading. Learn how to read charts, understand the consequences market news can have on an asset's price movement. 
No trader has a 100% win ratio. So don't be disheartened by losses and your emotions ruin it for you.
Now you've learned how to avoid common mistakes, and know how to trade successfully. But there is one more factor that determines whether you make money when trading binary options. 
That is the broker that you trade with or the trading robot service that you use for automated trading.
Let's talk about broker first. A binary broker facilitates binary trading for you. They act as middleman allowing you to trade binary assets through their platform. 
So all aspects of your trading depend on how well the broker and their trading platform is. The range of assets they offer, their regulation, minimum deposit all shapes your trading experience.
Choosing the perfect binary options broker is like finding treasure from the depths of the ocean. Luckily for you, we have done all the research and sorted out the best brokers for you. 
For binary options trading, the best brokers out there in the market are IQ Option, Binomo, and OlympTrade. 
These three brokers excel in every feature and provide a complete trading experience for their traders.
The same applies in the case of trading robots. Trading robots trade automatically for you by analyzing the market and predicting the market for you. 
Your best bet would be to trade using a combination of manual and auto-trading. 
The best auto-trading robots currently in the market are BinBot Pro and Crypto Robot. They offer multiple indicators and robots that adapt really well with the market.
After reading this article, I'm sure you won't complain about making money when trading binary ever again.  
Binary trading is far less complex than other forms of trading. You can quickly pile up money if you know what you are doing.
Though many people are involved with trading binary options around the world but try to understand the risk at the same time. 
You can make constantly profit if you trade from your head not from your heart.