Binary Options Demo Account - 7 Killer Tips To Make You Master In Trading
Binary options demo account is required to maintain by traders, whether he is professional or newbies. A demo account provides you space to practice, without risking genuine money to a live account.
Moreover, investors should collect the necessary experience from a demo account to increase skills. However, binary options are less complicated than other forms of trading. If you are still scratching the surface to know ins and out about binary options, then you can have a look at our what are binary trading article. 
Furthermore, there is a wide range of trading platforms that offer a FREE binary options demo account. 
Especially for new traders, it is a complete guideline where you will find all answers of the below queries.
Is a demo account necessary for traders?
How to use a demo account?
What are the best free binary options demo accounts?
Are there any rules that one should follow?
Apart from these, you will find 7 killer tips that help you to be a master on trading. So, start with a short introduction of the demo account trading.
What Is Binary Options Demo Account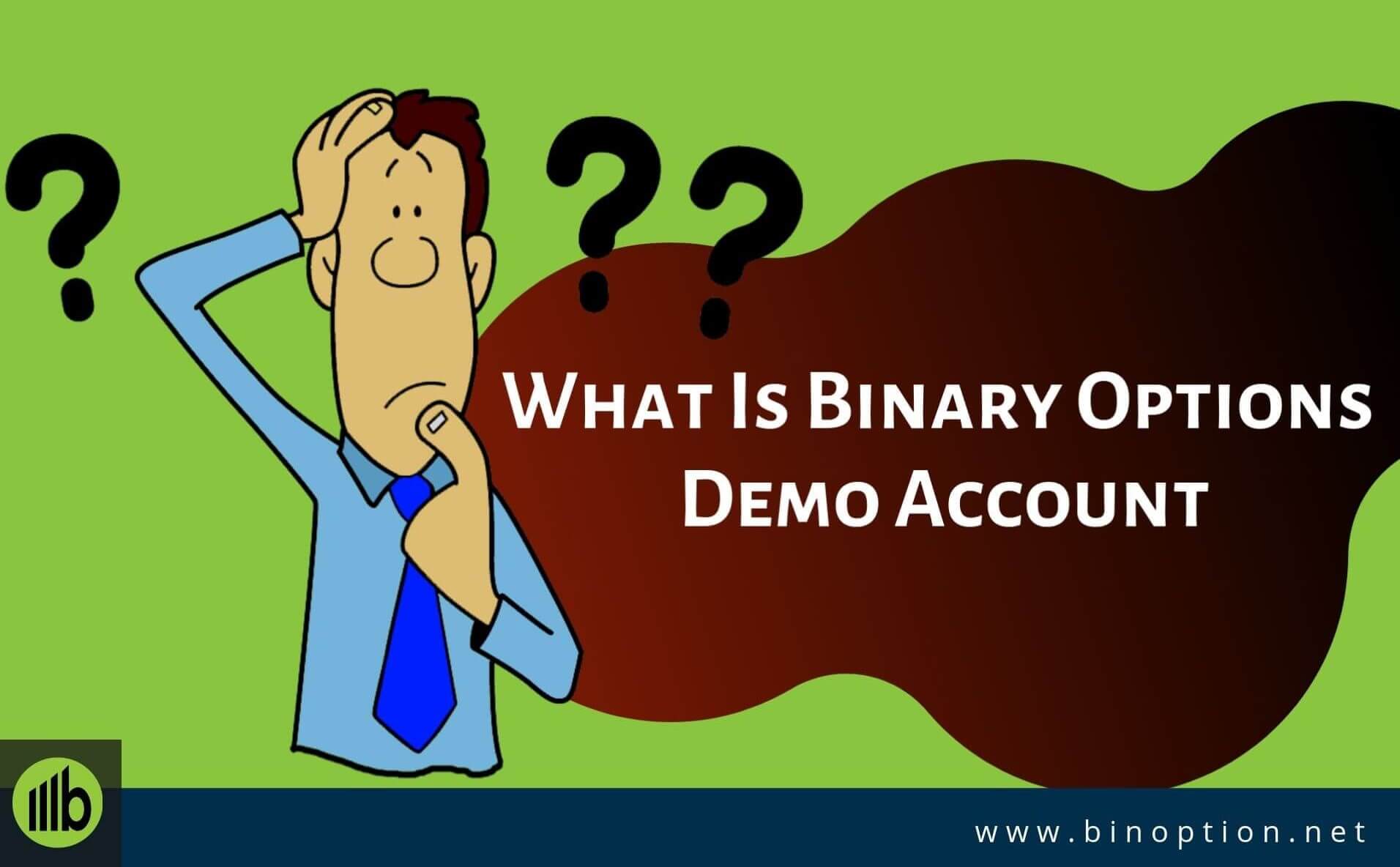 A way back to then in 2008, binary options trading was deregulated. In 2010, some brokers were started to offer demo accounts to attract, and gain trader's trust. 
At this moment, almost all trading broker's allows traders to open a practice account before an initial deposit. On the other hand, a lot of traders enter the market with a fixed vision.
Unfortunately, the vision is to make quick money by ignoring all other common factors, including a demo account. However, these factors support one to be a professional trader. 
A demo account is a practice platform where traders test their trading effectiveness. Moreover, you can explore the broker's platform by using virtual money.
Eventually, traders can open trades without using real money. However, you have to understand the demo account trading, which is very different from real account.
Moreover, traders can analyze market data by using indicators and trading charts. Also, you can test different strategies and see what works and what doesn't. On the other hand, there are three types of demo account available offered by brokers. These are: 
Demo account with an initial deposit
No deposit demo account
Limited demo account
Types of accounts vary broker to broker, though we suggest our readers and traders to select a no deposit unlimited demo account. 
Like a real trading account, you can buy or sell trading assets by analyzing the market condition. Remember, a virtual account is a sample account. So, you can not withdraw profits from a virtual account.
Furthermore, traders can test trading strategies to maximize their profits through a demo account.
How To Open A Options Demo Account
The demo account works as a gateway to enter the financial market. Not all brokers offer a demo account for traders. But top brokers offer lifetime practice account for traders.
It is a useful tool used by both less experienced and experienced traders. Some brokers allow you to open more than one trading account with refilled balance options. It is wise to choose those brokers who offer lifetime demo trading.
The opening process varies from broker to broker. Opening a binary options demo account is quite easy and straightforward.
You can register for a free account. Simply go the broker platform and fill a form with all your details. Account verification and payment gateway details are not necessary for demo traders.
After that, you can log in to the account by using a unique username and password. Traders can also switch to the real account anytime by depositing real money.
Why Traders Need To Open A Demo Account
Who doesn't want to lead the market with confidence? 
As we mentioned above, traders can evaluate their knowledge through a demo account. There are some advantages of using a demo account, still, it won't bring instant profits in your wallet. 
Unlimited usage 
Real market news with live data
Access with a mobile platform
Test the platform
Risk-free trade
Learn how to manage emotions
Traders, especially those with short time frames, should spend at least a month to fine-tune their trading skills. Though you can execute trades by analyzing the real market data, you can not withdraw money from a demo account.
Besides, you need to pretend that you are trading with a real account. Otherwise, you will fail to refine trading strategies.
Thousands of trading guides are available online, but you need practical knowledge on how brokerage platform works. On the flip side, using a binary options demo account allows you to experience everything related to the real trading market.
Additionally, you can afford to take the risk with proper risk management while investing in options.
How To Use A Demo Account (7 Tips To Be A Master In Trading)
Demo trading is strongly recommended to new traders. Though demo trading is an essential tool for traders, some rules you have to follow to execute a profitable trade on a real account.
Try not to trade for more than 30 days on a demo platform. Moreover, experts recommend traders to trade a maximum of 2 weeks on a demo platform.
Follow 7 amazing trading tips that help you to put experience on real-life trading, because you can not make mistakes with the real account. 
Select an unlimited demo account

Learn how to use trading tools

Make sure the platform accepts mobile demo trading 

Check the customer support team
Try different assets by using different trading strategies

Control your trading emotions and practice as much as you can

Learn how to invest money or select the right trading figure after analyzing the market date
Best Binary Options FREE Demo Account (Trading Platforms)
In our broker's section, you will find a list of best brokers for binary options, from where you can collect the broker's general information.
Here we will recommend you some brokers, that offer lifetime practice account which is free of charge.
Remember these below points while choosing no deposit best binary broker with a demo account.
Collect legal and authentic information regarding brokers from Forums.
Read a detailed brokers review
Read terms and conditions
Check regulation and regulatory bodies with address
Look for a broker that has a strong customer support
You can select from these to understand how the market behaves if they meet all the requirements
~ Binary.com Demo Account:
Binary.com is a popular binary options and CFD broker that has a premier platform to trade binary options. To open an account, you need to fill a form with your personal details. Moreover, you can easily switch to the real account when you need. 
Traders can trade with the broker without having any account variety. Binary.com is a regulated broker that established in 1999. 
Here, the minimum deposit amount is $10. Traders can enjoy the demo account facility that worth of $10,000. 
Not only that but also, you can top up your demo account if your balance is $1000 or less than this. 
~ IQ Option Demo Account:
IQ Option is a regulated trading broker which offers a demo account worth of $10,000. The demo account is free and refillable for options traders. 
The minimum deposit amount is $10 where the investment amount is $1. 
To open a demo account, you just need to fill a form with your name, e-mail, and password. An activation link will send to your e-mail address. 
Finally, your account is ready to trade with virtual money. By using the credential or social media account, you can log into the platform. 
The demo account platform is similar to the real account platform. Depending on the trading market hours, you can trade more than 300 trading instruments from the asset list. 
Moreover, via this trading account, you can practice different IQ Option trading strategies to trade options on different trading assets. 
~ Olymp Trade Demo Account:
Being a seamless regulated trading broker, Olymp trade offers a demo account for traders to trade more than 70 trading instruments. You can either fill a form with your details or can use social ID to complete the sign-up process. 
On the other hand, you can switch to the real account by depositing $10. 
Olymp Trade offers a demo account with $10,000 virtual money. You will get two account types. 
In the demo account, these account types are also available. Except trading risk, there is no differences between a real account and a demo account. 
Binomo is an award winning trading broker with a demo account of $1000. The virtual amount will help binary options trades to trade binary by using Binomo strategy and trading tools. 
In our Binomo review, we have mentioned all important factors related with this broker. You can easily switch to the real account after depositing money. 
Moreover, you can also perform trade by using binomo app in your mobile device. Trading app is available for the both Android and iOS device. 
Surprisingly, you can only trade one type of contract by using binomo trading platform. 
Auto Trading Robot Demo Account
It is really impossible to find out a demo account for automated trading software. You will find a virtual accounts offer by various trading brokers. 
However, we have found a trading software which is famous for binary options automated trading. 
Binary.com is a regulated trading broker for binary traders. Apart from this, you will find a lot of trading software, strategies, indicators, etc in their shop section. 
Surprisingly, the Binary.com trading bot offers demo account with $10,000 virtual money. Moreover, you can create your own bot and can make a profitable trade. 
There is not need to purchase a bot before testing the features. The major advantages of this bot is, you can make a profit more than 300% by using the software. 
In short, a demo trading account is a convenient tool for traders if they want to avoid trading risk. However, it is not compulsory to use. Anyone can start with a live account, but the investment amount should be as low as possible.
Additionally, we have already recommended you a few brokers which are offering a free demo account. And, also provides some names that accept demo trading after an initial deposit.
Use the demo account of all trading brokers and then choose the best platform for trading with real money.
So, it is high time to find your strengths and know your limitations. Don' be overconfident, as the demo doesn't provide real psychological training. Moreover, for new traders, it is the best way to enhance trading skills.