HighLow Review: Special Trading Assistant for Binary Options
HighLow is a popular Australian broker which provides world-class service and assistance to its clients. In a short span of time, they have managed to become one of the leading binary options broker.
HighLow is owned and operated by HighLow Markets Pty. Ltd.
They offer training through "Quick Demo" service.
A new trader who does not know how binary options trading works or how to place a trade, HighLow's demo trading can be a great help for him.
Besides, it has taken being regulated seriously which is the evidence of HighLow's willingness to be committed and fair in terms of conducting business and providing service. 
In this review, we will go through the various key elements of this broker so you can be well-informed about their features.
HighLow Review - What Is HighLow?
High Capital Risk Is Involved In Financial Trading
HighLow is an Australian based broker which offers its service across the world including Europe, Asia, Africa and the Middle East.
It is regulated by ASIC and the registration number is 364264. Also, it has got its license from the Australian Securities & Investment Commission (ASIC).
License (AFSL – 364264).
It is rather very strict to take initiative against any kind of scam activity to ensure the highest service to the traders.
In order to provide the best service, it uses MarketsPulse platform.
We will discuss this proprietary platform later in our review.
HighLow boasts over 11 million trades per month. Their payouts are one of the highest with a lot of variety in options for their traders.
HighLow is a broker that is dedicated to providing excellent service to their traders. 
In an industry that is full of competition, HighLow manages to pull ahead of the pack. 
We believe these features will help a trader to take a decision whether to choose HighLow or not as his broker. These specific features are – 
Min Deposit AU $10 (For $AU Accounts) and US $50 (For $US Accounts)
Min Trade Size is AU/US $10
ASIC regulated broker
Up to 200% payout
Mobile trading enabled
Demo trading facility
Hassle-free withdrawals
Min Withdrawal $50
Quick Access funds
Cashback for new accounts
Segregated funds
Feature rich trading platform
4 different types of options
Rich education section

Responsive customer support
HighLow is one of the few brokers that are fully licensed and regulated. 
You can feel confident trading with them knowing your funds are secure. 
As mentioned above, HighLow is regulated in Australia and hold an ASFL (No.364264).
Their regulation is provided by ASIC, a strong reulatory body with stringent policies. 
Another notable thing about HighLow is that all their clients money are held in segregated accounts in Client Money Trust Accounts with National Australia Bank (NAB), a regulated Australian bank.
This segregation ensures clients money are used for hedging purposes by HighLow. 
 HighLow does not initiate speculative positions in the market nor has any exposure to corporate debt.
HighLow Login and Sign-up
In this section, we will explain the sign-up and login process of HighLow broker.
The sign-up process of HighLow is quite simple and it takes only 3-5 minutes to get started.
These are the steps to sign-up for a real account: (No registration is required to use the demo account)
Once you have successfully completed the Sign-up process, you can login to your account.
You need to enter your userID or your email address and password to login to the platform.
In case you forget your password, you can retrieve it by providing your email.
High Capital Risk Is Involved In Financial Trading
HighLow offers 4 different types of options to their traders. 
This kind of versatility allows traders flexibility and choice.
Let's take a look at the different types of options.
Currently, HighLow offers 34 different assets.  You can trade these assets as binary options in HighLow's trading platform.
However, when you are trading turbo options and turbo spread, you only get to trade 7 currency pairs.
Let's take a look at the different assets offered by HighLow
17 Currency Pairs
AUD/JPY
AUD/NZD
AUD/USD
CAD/JPY
CHF/JPY
EUR/AUD
EUR/GBP
EUR/JPY
EUR/USD
GBP/AUD,
GBP/JPY
GBP/USD
NZD/JPY
NZD/USD
USD/CAD
USD/CHF
USD/JPY
AUS200
HKG33
JPN225
UK100
US30
CHN50
FRA40
GER30
NAS100
SPX500
4 Cryptocurrencies
Bitcoin
Ripple
Ethereum
Litecoin
HighLow offers quick demo to new traders.
You can try their demo account without even registering for an account. 
Anyone can try quick demo and learn binary options trading.
A trader will get the same taste, experience and thrill through this demo version.
Every demo account holder will be provided $10,000 virtual currency to place trade.
The demo platform is exactly similar to that of the real trading platform. Traders get access to all the trading assets as well as the features of the platform.
High Capital Risk Is Involved In Financial Trading
HighLow Trading Platform Overview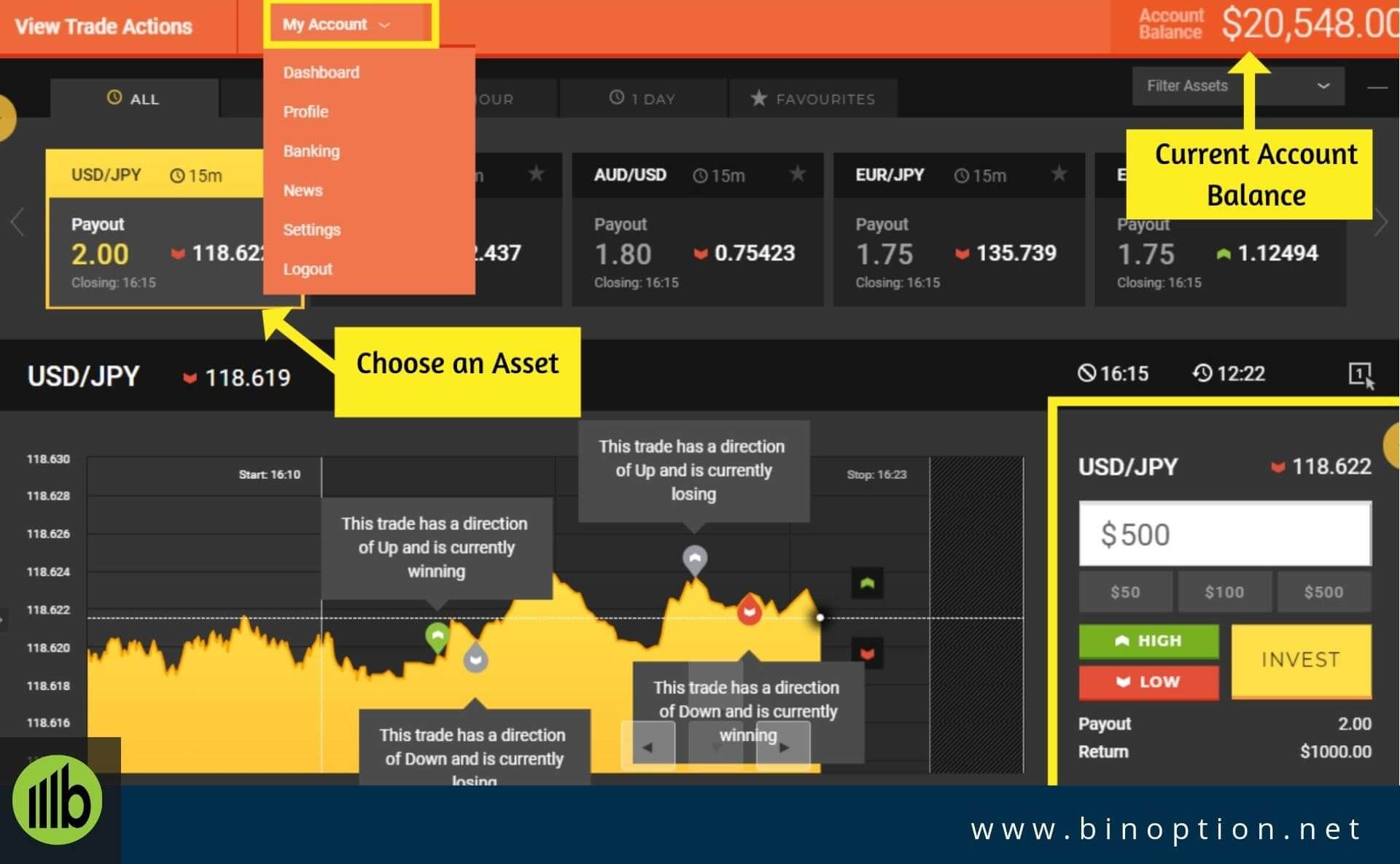 Let's discuss HighLow's trading platform now.  They offer their proprietary trading platform which is available for both desktop and mobile.
We will disucss about mobile trading in a later section. For now, let's take a look at the desktop app.
When you enter the web platform, you'll be greeted with a good looking user interface. 
On the top, your account balance and cashback balance are displayed. 
Just below that, you have the option to choose from any of the 4 option types. Depending on your selection, your asset list will be displayed. 
The assets are sorted on the basis of expiry times.
The trading hours are from Monday 9:00am – Saturday 8:00am AEDT.
The expiry times offered are: 15 min, 1 hour, and 1 day. 
You can also favorite an asset so as to find it easily.
HighLow trading is a satisfying experience.
If you want to view all assets at once, click on the all assets and select from currencies, cryptos, indices, and commodities.
Under that. you will find the trading chart for the asset that you have selected.  
The time interval in the chart adjusts to the expiry time that you have opted. 
Placing a trade is quite simple in HighLow's trading platform.
All you have to do is select your trade amount, click on the high or low button, and finally place your trade by clicking on the "Invest" button. 
The amount to be placed in the trade can be input manually or you can select the pre-defined values of $50, $100, and $500. 
Placing a trade has been made even easier with the help of one-click trading. You have to click on the green or red button to place your trade and that's it.
In the bottom section, there is the current activity section which shows all your active trades.  Unfortunately, there is no option to view your past trades.
HighLow App - Mobile Trading
HighLow offers mobile trading to their users through their proprietary mobile app. 
The app is available for both Android and iOS.
The HighLow app which has all the necessary functions to place a binary options trade.
Specially, the way it has been designed provides a trader smooth using experience.
For Android, the android version must be at least 4.0.3.
For the iOS, the iOS version must be at least iOS 8.0 or later.
iPhone, iPad, and iPod Touch are the iOS devices that are supported.
High Capital Risk Is Involved In Financial Trading
HighLow offers cashbacks to their traders and rewards traders for their loyalty through HighLow points.
Here is some information on their cashback and loyalty program:
Cashbacks are awards that are redeemed through trading. 
For new traders, HighLow offers $50 cashback to new traders who sign-up and make a deposit. 
The best thing about this system is that unlike most other brokers, you can withdraw the redeemed cashback amount. 
The cashback is not just limited to the sign-up process.  
You will be offered this cashback various times during trading such as during promotions or even depending on the volume. 

With the help of loyalty points, HighLow offer a loyalty program to their traders.
It doesn't matter if you win trades or not, you will get loyalty points depending on your trade volume. 
You can trade these points for cashbacks. There are four tiers of the HighLow points program. They are on the basis of your trading volume:
Tier 1 – Player:

Trade amount: $0 to $9,999.00 

Loyalty points: 0

 

Tier 2 – Trader:

Trade amount: $10,000.00 to $19,999.00

Loyalty points: 3 points for every $10.00 traded

 

Tier 3 – Pro

Trade amount: $20,000.00 to $49,999.00

Loyalty points: 5 points for every $10.00 traded.

 

Tier 4 – Elite

Trade amount: $50,000.00+

Loyalty points: 10 points for every $10.00 traded. Maximum 50,000 points.
The cashback amount is calculated by dividing your loyalty points by 100.
HighLow Deposit and Withdrawal
The minimum deposit is only $50 for global traders and $10 for Australian traders. and the minimum investment is only $10.
Maximum bonus is A$50 and  maximum return is 200%.
HighLow holds clients' money in segregated trust accounts with National Australia Bank (NAB), an AA-rated top-tier bank
It does not use clients' money for hedging.
The different methods of deposits are credit card, Neteller, Bank Transfers, and POLi bank transfer.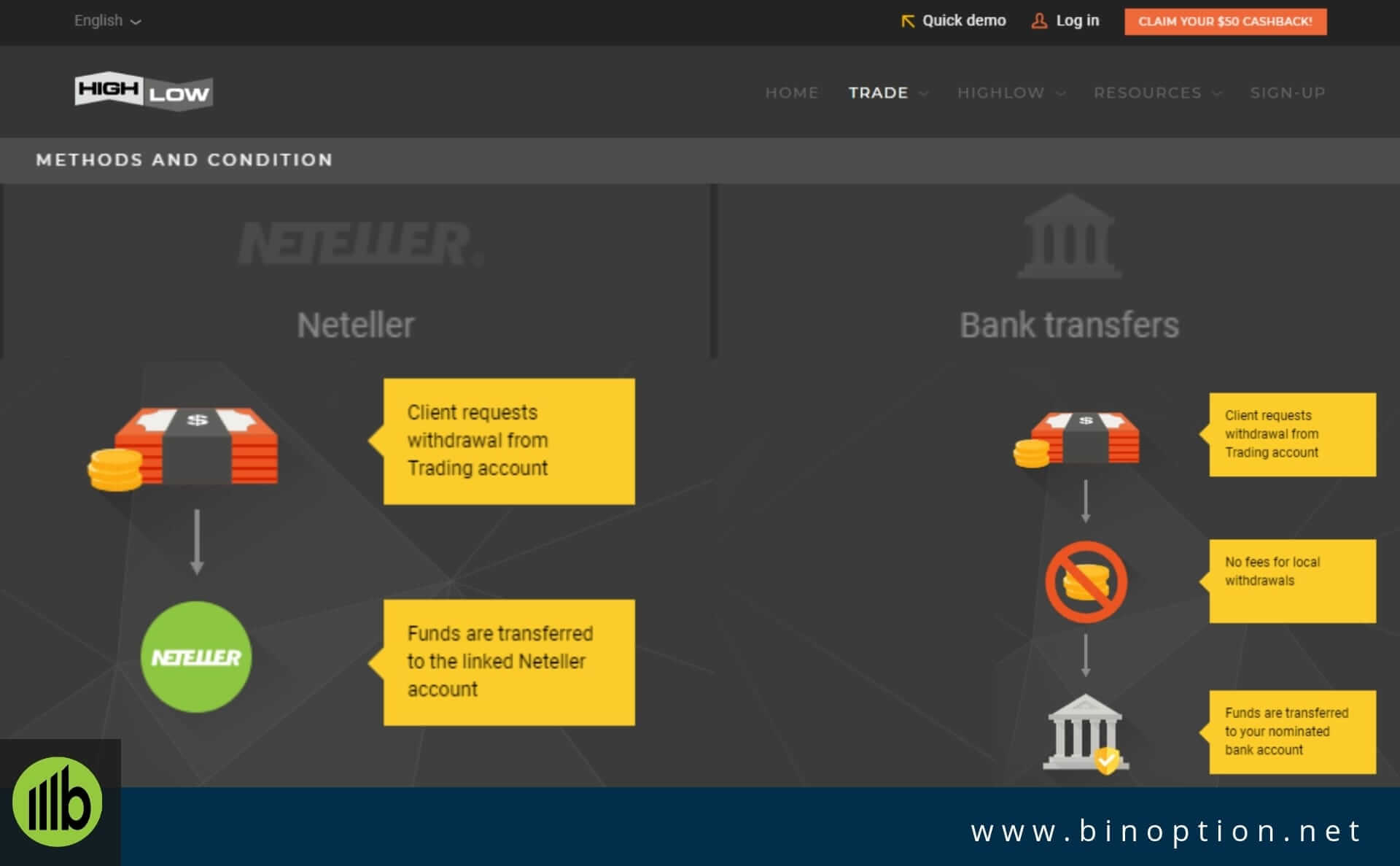 There is no condition, limitation or binding regarding withdrawal.
There is no minimum withdrawal limitation in the case of bank transfer but for all other payment methods the minimum withdrawal is $50.
If a trader wants to cancel his account and withdraw all his money, he can do it without facing any trouble.
But one has to pay 1.5% withdrawal fee in the case of Neteller and Bank Transfers. 
Fair and transparent transaction is the aim of HighLow.
Any financial issue is resolved within possible time.
As it is regulated by ASIC, it follows regulations strictly.
If there is a problem any one finds he can report it to ASIC and seek help.
So, we can say dealing with HighLow is safe and secured.
Both Mastercard and Visa are accepted. The minimum withdrawal amount is $50 and the maximum amount is $10,000. The turnaround time is 3-5 days.
The minimum withdrawal amount is $50 and the maximum amount is $10,000. Withdrawal requests will be processed within one business day.
The minimum withdrawal amount is $10 and the maximum amount is $10,000. Withdrawal requests will be processed within one business day. Cancellation requests must be submitted by 12PM (AEDT).
HighLow maintains and updates a blog named, "In The Money". 
Through this blog, they aim to provide educational knowledge to their traders and help them form a profitable HighLow Strategy. 
The blog also contains tips, market news, asset news, and much more. 
You will find specific advise on specific trading instruments.
Topics like price cycle, bearish, strategies, trading tips, etc. are covered.
High Capital Risk Is Involved In Financial Trading
As far as we know every broker is proactive regarding customer help and support.
HighLow is no exception.
It has a wide reputation in terms of support.
A trader can seek help through e-mail ([email protected]) and will get reply within possible time.
Anyone can ask for help through direct phone call.
Besides, website's FAQ section is rich in content.
Lots of question and answer are given there to meet traders' maximum query.
Honestly, we have not seen such richness in FAQ section earlier.
We think, a trader will know many things from reading FAQ.
The main advantages of using this broker are:
Strong Australian regulation
Segregated accounts for clients
Cashbacks can be withdrawn
Newbie-friendly trading platform
Highest payouts in the industry
Variety in trading options
Excellent customer service
HighLow is an exceptionally well-performing broker with an excellent trading platform. 
However, there are certain issues we faced when trading with broker. 
We would like them to improve on these areas and improve even more.
We present you few drawbacks of this broker:
Less than 40 trading assets
Trading Platform should have more features
Time chart is not variable
Final Word: Is HighLow Scam Or Not?
We are very pleased with HighLow broker's performance and results.
In our testing, we found the trading experience to be pleasurable and unique. 
This is a broker that performs well on all aspects.
Their payouts exceed over 200% and this is one of their strongest points.
Although, we felt a little underwhelmed by the asset index. We would love to see more assets to be added in the future.
The deposits are instant and the withdrawals are quick.
We are pleased with their demo account as it closely resembles that of the real account. 
To conclude, if you are looking for a reliable broker that offers excellent binary options trading, look no further than HighLow.