eToro Social Trading Review: To Connect With Right Traders & Brokers!
Introduction Video of eToro
eToro Social Trading Review
High Capital Risk Is Involved In Financial Trading
eToro Social Trading Review – eToro is a Social and Copy trading platform that connects one traders with millions of traders from various parts of the world.
Anyone can trade and invest in Stocks, Currencies, ETFs, Indices and Commodities (CFDs).
By making use of this trading platform, one can easily copy other trader's trading pattern, hunt for trading gurus, track other traders and also can upload comments.
The market-maker platform eToro requires a minimum initial deposit of $1000 for registration and to open an account and they also have minimum transaction size per order as 1,000 units.
Though the leverage ratios differs depending on where the trader is trading from, the U.S. limits for the same is 50:1, but at other countries, all traders can leverage upto 400:1 through eToro.
Another key highlight is eToro offers Islamic accounts and deposits are taken in EUR, USD and GBP.
This platform is controlled by a lot of regulating organizations in Germany, U.K., the United States, Australia and Denmark.
It even offers cross-border facilities to all members of the European Union.
eToro provides trading platform such as Web Trader, Open Book and Copy.Me.
The first one Open Book is just a social networking part of eToro, which can be used to copy trades of other traders and interact to interact with them.
Web Trader comes into line with Open Book and offers analysis and charting tools.
And Copy.Me will allow traders to simply copy the orders as is that is placed by other traders.
Some of the exciting features are:
It's a regulated platform.
The price is $200 which is actually the Minimum Deposit.
Customer support is offered through various communication channels.
Fully automated Trading platform with training academy.
Innovative and customizable platform.
Exclusive training programs are offered for novice traders.
eToro Wins Best of Show Award at Finovate Europe 2012
Innovation meets the needs
There is no need to doubt on the innovation aspect of eToro's; though there is no customization.
Its regular innovations will itself help traders to reap handful benefits and profits.
This is the very reason it is still a much demanded platform.
Here traders feel the whole experience more like a game and thus will enjoy the same at every moment as it is not about competition.
It's only about earning money by utilizing and sharing knowledge.
The Open Book platform of eToro is customized to fit the needs of inexperienced traders who are not very familiar with such platform.
There are clear instructions offered for each and every steps and actions to be taken.
There is very less chance of trader being lost from the action track.
In simple, this is more a platform for beginners and learners, if you are into just making money by hook or crook then this is not an ideal platform.
There are restriction and limitations to upkeep the interests of newbies.
The key for success of this platform is the simplicity and the interest embraced on the novices.
Irrespective of the learning curve and depth of knowledge, traders prefer to be a part of this platform to enhance the learning.
It handholds the traders at each step, gives opportunity to directly interacts with traders and experts.
Provide easy and fast access to financial markets by combining networking scalability and high level trading experience.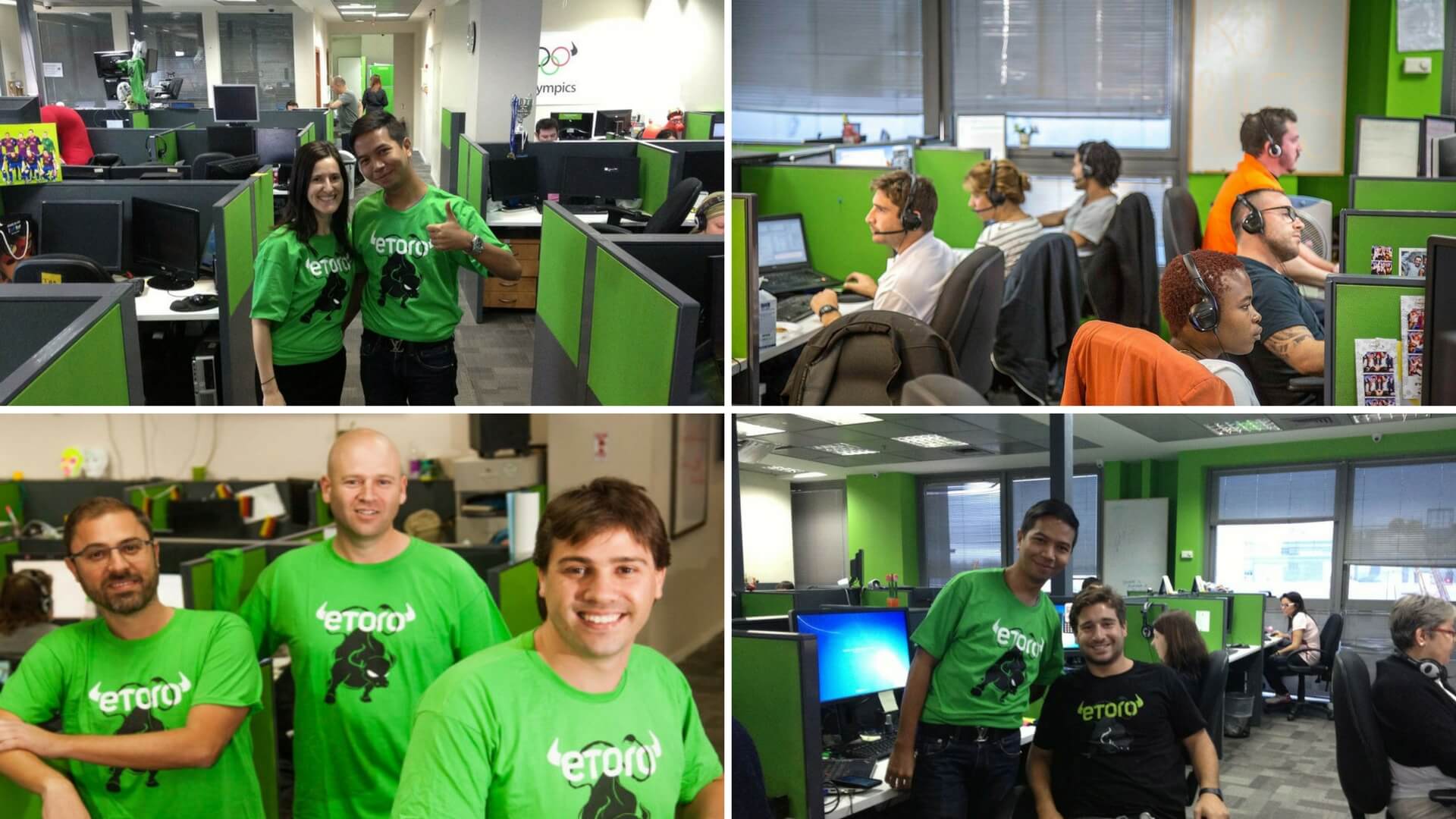 eToro is a leading trading platform with more than 4 million customers who can tap world's largest investment network.
The whole idea does not end with learning and being nurture, being able to copy the trades of experts is an equally interested and highly demanded service considered by most traders.
There are exclusive training programs for each trader out there who is willing to benefit from the personal service culture.
Whether it is some support on the financial investments or knowledge about the market that we survive it, personalized training are offered.
With the help of these training, information and courses each customer can be turned into a trader.
eToro Trade Markets Platform
eToro Copy Trading and Social Trading Platform
High Capital Risk Is Involved In Financial Trading
The customer support of eToro is quite impressive and services are offered through telephone, instant chat and email.
As compared to other binary option trading platform this has more accessibility and has offices located in Virgin Islands, Cyprus, New York and also at New South Wales.
Those who are in hunt of an interactive platform which offers good opportunity to directly interact with other trades and to learn from them, this is ideal.
Apart from offering great testing grounds for novice, it is an excellent platform for experienced trades and researchers but not a great option for trader who are looking to exploit tiny spreads to make money.
Few interesting uniqueness about eToro are it is an Automated Trading platform and is a comprehensive Training Academy.
It has ground breaking Social Trading Platform with multiple choices of trading platforms for each type of traders.
It offers regular attractive promotional for those who have registered and are an active user in this platform.
However on the flip side the disadvantages are trading should be of high spread, there are limited choices of Forex pairs.
The trading platform is not customizable and flexibility is limited.
And most important the trading charts lack sophisticated tools.
Are you in a thrust to start practicing all that you have learnt and worried about the initial money?
eToro credits $ 10,000 to each traders practice account to practice and to gain confidence.
This helps learners to test the knowledge that they have gained before being a part of the competitive live market.
In simple, if you want to start your investment through a safe zone-
eToro is the ideal platform!
Read to know "What are Social Trading and Copy Trading?"