HYCM (Henyep Markets) Review: A Smart Forex & CFD Broker
HYCM (Henyep Capital Markets) is a smart broker and in our HYCM Review, we are going to explain why. It stands for Henyep Capital Markets. HYCM stands out from all other brokers due to their salient features.
This broker is an all-rounder that performs exceptionally well. In our review, you will find information about their platform, demo account, sign-up process, deposits and withdrawals, educational tools, and more.
The company started its trading journey by providing Forex and CFD trading. Their intention was to make trading easy and profitable for traders, especially new ones.
Currently, they offer forex, stocks, indices, cryptocurrencies, and commodities. Moreover, it takes great pride in having over 40 years of trading experience.
They have regulation from 3 top regulatory bodies. Let's delve right into the broker and explore their features.
In the end, you'll also get to know if the broker is a scam or not.
HYCM (Henyep Capital Markets) Review: What Is HYCM?
High Capital Risk Is Involved In Financial Trading
HYCM is the trading name of Henyep Capital Markets (UK) Limited and HYCM (Europe) Ltd.
It is a division of The Henyep Group, who are running their operation over 40 years.
HYCM has multiple international offices and they are in the United Kingdom, Hong Kong, Cyprus and Dubai.
Their headquarter is located in 3rd Floor, 28 Throgmorton Street, London EC2N 2AN, United Kingdom. Taking a look at their timeline, HYMC was established in 1977.
They joined the Hong Kong Gold and Silver Exchange Society and since then have been providing trading service to their clients. The Company grew rapidly and in 1981, they established their 25th overseas office.
They received their UK regulation in 1998 by being licensed by the FCA.
Fast forward to 2007, HYCM launched the HY Markets online trading platform. In 2014, they got licensed by CySEC and in 2018, they got set up and licensed by CIMA.
HYCM believes in heritage. They believe,
"Our 40 year Group heritage in the financial markets has positioned us as one of the most trusted and transparent brokers in the Forex industry serving both institutional and retail clients across the globe."
They aim to provide a trustworthy and reliable service to their global client base. Also, they have offices set up in 5 of the world's leading financial centres. In total, they provide services to over 140 countries.
They provide MT5/MT4 as trading platforms.
MetaTrader 4 is easy to use and place the trade. MetaTrader 5 is also available where 300+ assets are available.
Its website is well designed, informative and eye-soothing. Every section is detailed and elaborated. The education section is highly enriched filled with articles, video tutorials and e-books.
Demo trade is available for lifetime. It is a great opportunity to earn trading experience before placing trade formally.
For securing clients data and transaction, it has been using SSL encryption technology.
Mobile trade is possible here. The mobile application supports all the devices and gives the web-based trading taste.
Besides, this broker offers Islamic Account. It is a great opportunity for them who want to invest money in Forex and CFD according to Islamic Law.
Here, we have compiled a list of features that stands out for this broker.
These are the reasons why you should choose HYCM:
Fully regulated broker by 3 regulatory bodies.
Over 300+ assets with 5 different asset classes.
Max Leverage of 1:200
Over 40+ years trading experience
24/5 customer support
Minimum deposit $100
Spreads as low as 0.2 pips
Demo Account with $50000 virtual cash
Fast trade execution
Multi-award winning broker
MT4/MT5 platform supported
Min Withdrawal of $20
Mobile trading offered
3 different account types
Vast educational resources
Easy registration process
No withdrawal fees
Swap-free Islamic trading
Suitable for all traders
MiFID Compliant
Phone verification and First deposit bonus.
Segregated funds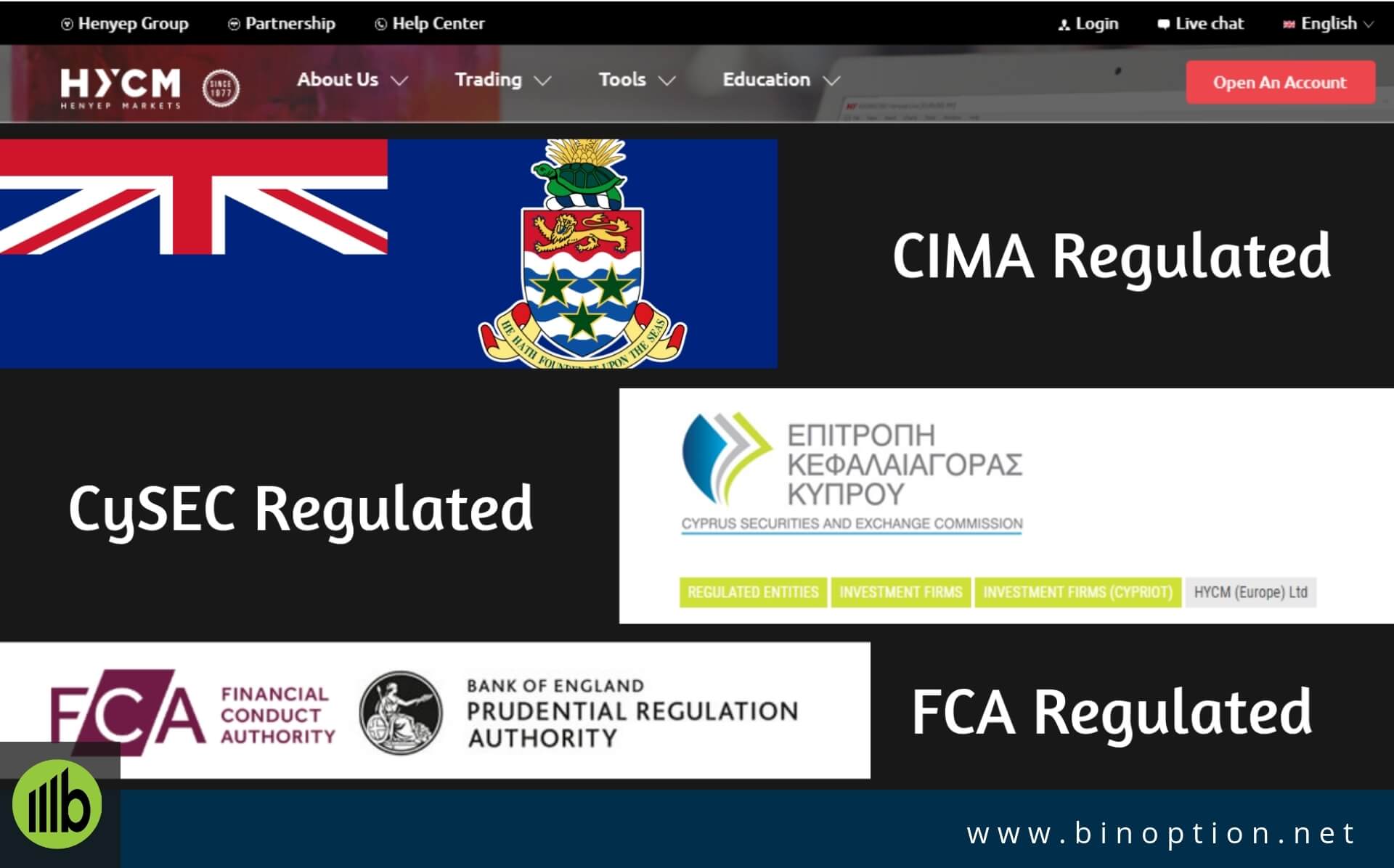 HYCM is regulated by 3 regulatory bodies: FCA, CySEC, and CIMA. Henyep Capital Markets (UK) Limited ('HYCM') is authorized and regulated by the Financial Conduct Authority (FCA) under Company reference number 186171.
HYCM (Europe) Ltd ('HYCM') is authorized and regulated by the Cyprus Securities and Exchange Commission (CySEC) under license number 259/14.
This online trading platform is authorized and regulated under the Cayman Islands Monetary Authority under reference number 1442313.
They are also licensed in Dubai.
Henyep Capital Markets (DIFC) Limited is authorized and regulated by the Dubai Financial Services Authority with license number F000048.
In accordance with the European Market Infrastructure Regulation (EMIR), all firms operating in the EU are legally obliged to report all derivatives to trade repositories, including CFDs.
HYCM is the proud winner of multiple awards. Their list of awards is shown here:
2018 | Europe Best Forex Broker
2017 | UAE Best Forex Broker
2017 | Dubai Best Trading Platform
2017 | Europe Best Forex Broker
2015 | Northern Europe Best Broker
2015 | In Southern Europe Best Broker
2015 | Best Retail Platform
2014 | Europe Best Forex Broker
2014 | Eastern Asia Best Broker
2014 | Best Retail Trading Platform
2014 | Best Global Professional Trading Platform
2013 | Best Mobile Trading Platform
2013 | Middle East Best Broker
2012 | Best FX Mini Account Provider
2012 | Best Customer Service Provider
2012 | Best Global Broker Award
2012 | Northern Europe Best FX Broker
2011 | Middle East Best Forex Broker
2011 | Best Global Broker Award
HYCM Signup And Login Process
You can create your HYCM easily by following these steps:
Your account creation is complete.
Provide your financial profile and submit required documents to verify your account.
After this, you can deposit money to start trading.
High Capital Risk Is Involved In Financial Trading
HYCM Account Verification
There are two steps involved in verifying your HYCM account. Providing your financial profile and providing necessary documents.
Under financial profile, you need to provide financial details and information on trading knowledge and experience.
Under financial details, you need to provide your estimated annual income in USD, your estimated net worth in USD, and your employment status.
Under trading knowledge, you need to confirm if you have traded Forex or CFDs in the last 2 years.
There are certain declarations and acknowledgement of risks that you need to agree with and finally click the submit button.
There are 3 documents that you need to provide:
Identification copy: You need to provide your valid passport/national ID card/Driver's license.
Proof of residence: Provide any utility bill or a bank statement or a letter issued by any recognized public authority. These documents must show your full name, residential address, and the date of issue.
Credit card copy: provide a picture of your credit card.
You can try out the HYCM demo account from either the HYCM MetaTrader desktop app or the webtrader app.
After making your preferred choice, you need to select the demo button where you need to setup your demo account by providing your email and other details and selecting any of the two (MetaTrader 4/ MetaTrader 5).
You will be provided with a demo account worth $50000. You can run this demo for as long you desire.
All the features of MetaTrader are provided here so trading will feel similar and easy to perform.
You can try out the automated strategies available in MetraTrader platform and choose your preferred one
We will discuss about the platform later in the review.
There are 3 account types offered by HYCM: Fixed, Classic, and Raw.
For beginner traders who are unsure about which account type to choose, HYCM has prepared a 5 question survey where depending on your answers to certain questions, they will recommend you an account type.
VIP account is also offered to traders where they can get a dedicated account manager, better spreads, and market analytics.
Let's take a look at the features of the 3 account types.
Fixed
Fixed Spreads from 1.8 pips
Classic
Variable Spreads from 1.2 pips
Raw
Raw Spreads from 0.2 pips + $4/round
High Capital Risk Is Involved In Financial Trading
HYCM offers trading through MetaTrader 4 and MetaTrader 5.
You can trade on any of these platforms but not both using the same account.
You will be asked to choose your preferred trading platform during account creation.
There isn't much to say about these trading platforms as they are the world's most popular.
With MT4's live chart, you can perform technical analysis directly.
The technical analysis from Trading Central shows key levels of support, resistance, targets, and stop pivots.
MT5, the widely acclaimed successor of MT4, features more functions, assets, and advanced technical analysis tools.
MT5 has more compatibility with automated trading systems.
Other features that are upgrade from MT4 include additional timeframes (21), 6 types of pending orders, and an economic calendar.
There are 38 technical indicators, 44 analytical objects, and unlimited charts.
You can also install the Trading Central plug-in for more technical analysis.
HYCM App - Mobile Trading

Both MT4 and MT5 provide mobile trading on both Android and iOS.
You can trade on the go using these mobile apps.
The mobile interface is similar to that of the desktop version and trade execution is fast and reliable without any noticeable delays.
Opening, managing and closing positions has never been easier thanks to the MT4/MT5 mobile app.
HYCM offers 5 different asset classes for trading: forex pairs, stocks, indices, cryptocurrencies, and commodities.
In total there are 200+ trading assets available for trading.
We'll take a look the different asset classes now.
The major advantage of trading with HYCM is using MT4/MT5 as trading platform. There are multiple indicators available in these platforms that will allow you to form your perfect strategy.
A working strategy is crucial for profitable trading.
There are certain strategies recommended by HYCM that we have listed here.
Trend Signal Strategy
In this strategy you are looking for a shift in the current trend to a previous trend.
Tunnel Strategy
With this strategy you are looking for a break in a uniform trend.
Fractal Strategy
In this Forex strategy you are looking for averages and fractals which indicate the possibility of a future trend.
Fishing Strip Strategy
With this strategy you are looking for turning points which indicate the possibility of a change in trend direction.
Zigzag Strategy
The purpose of this strategy is to take advantage of the momentum that is created following a breakout.
Wave Tracker Strategy
In this strategy you need to identify, using indicators, a change in rate direction, and join the new trend.
T-Chaser Strategy
The goal with this strategy is to identify the start of a new trend.
Fibo Trap Strategy
The goal of this reverse trading strategy is to identify the end of a correction and enter when a new trend begins.
Zoom In Strategy
The purpose of this strategy is to identify a new minor trend, and properly time your entry.
Semi-Automatic Strategies
This Exclusive Indicator on screen display will announce the current automatic analysis which is developed by HYCM experts.
HYCM provides several tools to make trading easy for their traders. The trading tools that they provide are:
There are 3 calculators available in HYCM:
Pip calculator: This calculator calculates the pip value.  Input the account currency, currency pair, trade size, and conversion price, and your pip value will be calculated.
Currency convertor: This is a simple currency to currency converter that converts the value of one currency to other in terms of the exchange rate
Margin calculator: The margin required in a trade can be calculated using this tool. Simply input currency pair, leverage, trade size, and conversion price and you will get the margin required.
Economic calendar contains all the forex related news events organized on day-today basis.
These news events will help you stay ahead of the curve and increase your chances of winning a trade.
The latest breaking news on forex pairs are presented here.
These news events will increase your trading knowledge and help you trade comfortably.
News trading is popular way of trading and it also has a high success rate. 
Here you will find daily market review, top market movers, commentary on current events, upcoming events, recent news, and more.
The daily commentary is available on their youtube channel.
Video Tutorial & Education
HYCM's education section is one of the largest and contains comprehensive educational material on forex trading.
They have sorted their videos and articles in very organized way where the beginners can learn how to trade and how to be an expert in Forex trading.
In the education section, first of all they will introduce you with trading tools, and then you will get the course for beginners.
After that, you'll get step by step tutorials, trading strategies and e-books.
Here is a list of the educational materials that they provide:
The World of Global Trading: An overview of the trading market, different financial instruments explained and the main factors that drives the market.
Trading Psychology: Most important lesson in the course where topics covered: Understanding the importance of emotional intelligence while trading, how to deal with the hatred of loss, psychological tools to improve mental behavior as a trader.
Capital Management: One of the biggest mistakes traders do is mishandling their capital and you'll learn in this lesson: Why capital management is a must, the most important rules of capital management, how does individual can tailor the best capital management for himself?
Market Analysis: This lesson explain you what is market analysis and how to do Technical and Fundamental Analysis?
Basic Technical Analysis: Most common price patterns, Trends types, Support and resistance has been discussed in this lesson.
Advanced Technical Analysis: This is a practice session for pattern recognition and advanced technical analysis techniques: Japanese candle stick charts, how to recognize a pattern, different type of price patterns, pattern risks, and how to trade when a pattern is recognized.
Forex Advantage: The advantages of Forex Trading, one of the fastest growing markets, why trading is rapidly becoming a favorite among Stock Market investors.
Basic Forex Terms: Introduction with the basics of Forex, many important trading terms, how to do the first step in trading.
Types of Orders: You'll learn the different types of orders, how to use the right order type at the right time and the information in this lesson is part of the trading foundations every trader should know.
Winning Tactic: You'll start learning how to combine all the information and use the professional trader's winning strategies and how to choose the strategy that works for you.
Glossary of Concepts: Increase the Forex Knowledge by getting familiar with important trading and market terminology in this wide Forex Glossary.
MT4 Installation and Basics: Learn how to setup the platform and use the main features: Installation, sign up, login, Market Watch Window, new charts, chart properties and time frames.
Orders and the Terminal Window: Opening, Closing and modifying orders, the Terminal Window, account history, reports, alerts and additional options.
Using Types of Orders: Pending orders, trailing stop and changing the profit display.
Adding Indicators to the Graphs: Using objects, adding indicators, help lines, editing and deleting objects.
Properties: Some very important configuration features: Display definitions, Patterns, Profiles.
Forex Ebook
Advanced Ebook
Commodities and Futures Ebook
CFDs and Stocks Ebook
You'll get a list of tutorial videos on the MT4 trading platform.
It covers the basic features of the trading platform such as the chart window, market watch, navigator window, and much more.
HYCM Deposits and Withdrawals
HYCM deposits are swift and hassle-free.
There are zero fees on deposits.
However, if you choose bank transfer as your deposit method, your bank might charge you.
The deposited funds are kept in segregated accounts.
Deposit processing takes only 1 hour except in the case of bank transfer, it takes 1-7 working days.
The accepted currencies for deposits include USD, EUR, GPB, RUB, and AED.
There are 5 different deposit methods available in HYCM.
Bank Wire transfer, Credit card, WebMoney, Neteller, and Skrill are the deposit methods.
The minimum deposit is $20 except in the case of bank wire; the minimum deposit is $250.
Note: The first time deposit is $100 and after that, you can deposit the minimum amount of $20.
To deposit funds, access your client portal, select Banking, and then Deposit Funds to start your deposit process.
Just like deposits, you can withdraw your funds using any of the five methods listed above.
HYCM are known for their fast processing and it takes 1 hour to process your request..
In the case of bank wire transfer, it will take 1-5 days.
The minimum withdrawal  amount is $20.
In the case of bank wire transfer, the minimum withdrawal amount is $300. 
Withdrawals over $5000 using Neteller and Skrill will be subjected to 1% processing fee.
To withdraw funds from your accounts, access your client portal.
Then click on banking and then withdraw funds.
You can now withdraw using your preferred method.
Henyep Capital Markets (HYCM) broker does not charge fees for account withdrawals except wire transfers where traders may be charged a fee of $30 If the withdrawal amount is under $300.
This broker uses SSL encrypted technology to secure its clients personal data, trade history and any kind of transaction.
There are regular promotions offered by HYCM. Currently, there is a deposit bonus offered.
Traders will receive a 10% bonus on their first deposit. Upon verifying your phone number, you get a $20 trading bonus.
Keep in touch with us as we will update you on the latest bonus news.
High Capital Risk Is Involved In Financial Trading
HYCM Contact and Customer Support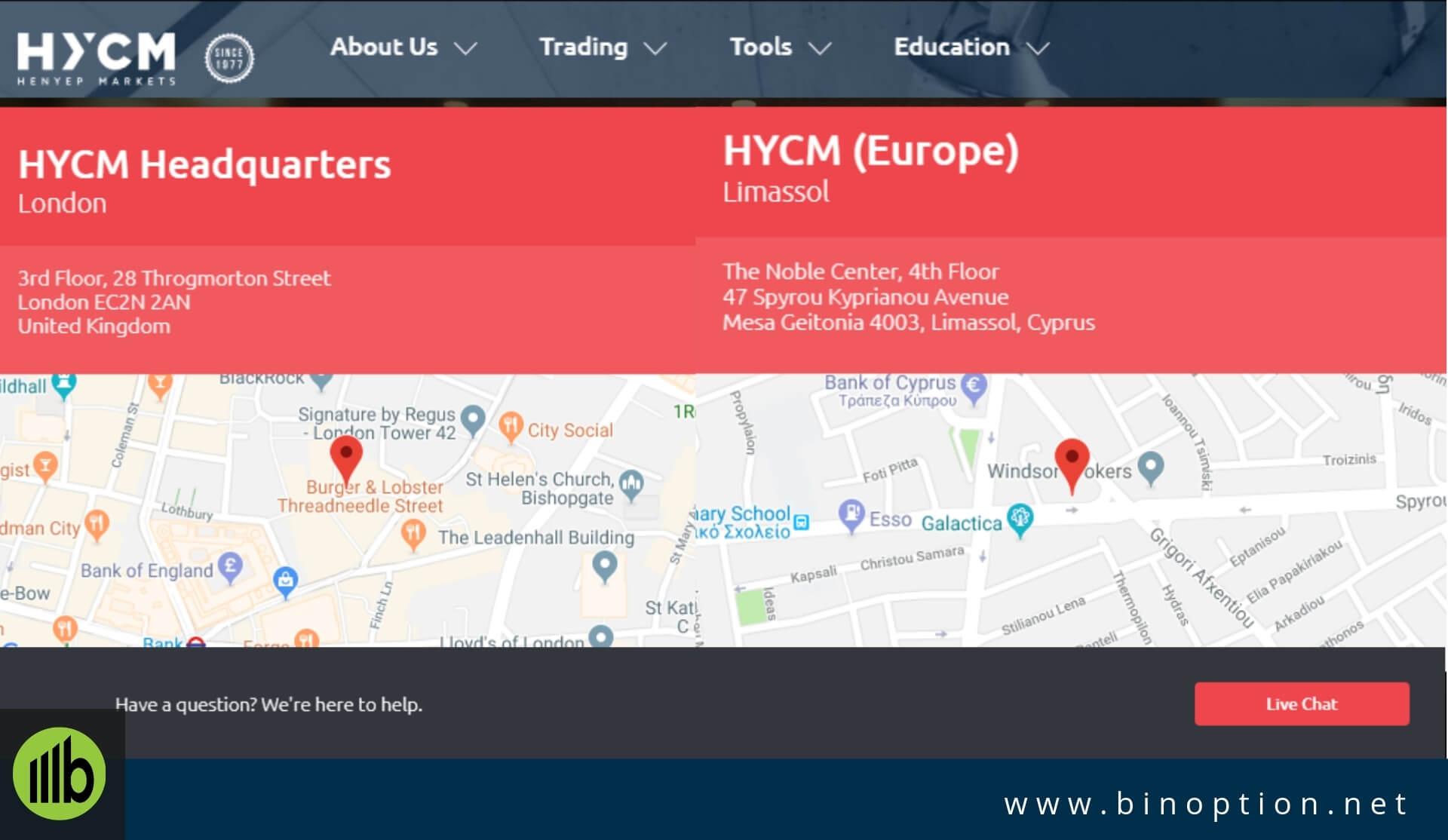 One of the strong points of HYCM is its responsive and cordial support team.
The customer support team is available 24/5 and can be reached via live chat. Their average response time as per their claim is 5 minutes. 
Traders can also contact them via social media using Viber, Whatsapp, Skype, Messenger, and Telegram.  You can find the contact information on their website.
You will find dedicated emails for client support, account opening, general inquiries, and complaints.
Everything has given on the website. We have found multiple phone numbers and email addresses. There is also given an office address.
So, now it is up to you how you want to contact them and seek help. Except for these media, live chat is also available there.
If you need immediate help, feel free to knock over the chat window and they are very active in live chat.
A group of financial and trade experts are available to give any kind of trading suggestions. The customer support is available for 24/5 to assist you.
HYCM offers several advantages to their traders. We will discuss the key features that separate them from other brokers in this section.
Providing trading services for more than 40 years
Wide range of trading assets
Rich education sector
Strong encryption technology ensuring client security
MT4/MT5 trading platform is feature rich
High Leverage and Low Spreads
Bonus on deposit
Multiple Regulations from top regulatory bodies.    
Investments protected under the Financial Services Compensation Scheme.
HYCM is a well-rounded broker excelling in every department.
However, the broker needs to improve in certain aspects 
Traders from US are not accepted
Customer support can be slow sometimes
Competitor brokers offer proprietary trading platform.
Final Word: Is HYCM Scam Or Not?
This question pops up with every broker that you come across. Can I trust this broker? Will my funds be safe?
In the case of HYCM, we can confidently say that HYCM is not a scam broker. They are regulated by FCA, CySEC, and CIMA. These are top regulatory bodies that have strict policies.
Moreover, HYCM has been in the trading industry for more than 40 years, making them of the most trusted and experienced in this field.
Their deposits and withdrawals are quick and safe.
Their customer support is responsive and tries to solve any issue immediately. 
They offer MT4/MT5 trading, which is the preferred choice of many traders. We have seen positive reviews online and hardly any complaints.
For all your forex and CFD needs, you can choose HYCM as your trading partner.