Options Pop Review: Your Trusted Trade Alert. Does It Work?
Do not deposit without reading our clear review on Options Pop, where we covered up almost everything about this options alert. This Binary Options signal provider is a famous name among the options trader. 
Buying options contain high-risk and high-reward at the same time. So, owing Call or Put options bring the highest profits in the market.
Furthermore, it is an assistant tool that can reduce the risk and increase the winning rate. You might be thinking, whether you can use it from any region or not. On the positive side, including USA traders, you can use this signal from all over the world.
In this article, you will get all the information regarding the features, working process, Advantages, disadvantages of this bot, and after all, whether it's a scam or a real signal provider.
So, let's dive right in and follow my lead…!
What Is Options Pop Options Alert
Options Pop is a Binary Options Signal provider that helps traders by providing buy alerts along with the excellent trading guide and training.
It also helps traders by giving alerts of the most potential options so that traders can buy the highest odds of moving within 2-9 days.
Additionally, you don't need to be an expert to use this signal. On the other hand, traders need not download the program.
Everything is "web-based", so you can log into the member area from your desktop or other devices. The signal provider will send 3 trade alerts every Wednesday.
Depending on the alert, you can buy an option. Remember that for day traders, Option Pop will not work like a magic wand.
Options alerts are designed to get in and out in 1 to 5 days or sometimes longer. However, in some cases, it may end up being a day trade.
Finally, it is urgent to mention that Option Pop is not a contract. You can cancel anytime you want.
Why Choose Options Pop Signals
Who doesn't want to get the massive profits in trading?
It's a common thing that everyone chooses the best thing for them. So, let's have a look at the outstanding features that Options pop brings for its users.
Subscription fee $79/month
Provide highly accurate options alert
3 Alerts/Week
Winning rate up to 100-300%
Options training update
12 complete advanced options trading training module
Private membership group
Email support
2 free 'member's only' bonuses
30-60 days' money-back guarantee
Sign Up And Login Process
Click the Subscription option from the top menu bar. A form will appear in a new window. You have to fill it with your E-mail address along with additional information like billing and others. 
To open an account, you need to pay $79 instantly. And each month traders need to pay the same amount to get the Options pop signals and all other services from it.
After that, you have to click the small box to ensure that you agree with all payment terms and conditions. Click on "Pay Now" toggle to complete the process.
Finally, you will be a member of the Private Membership Group as soon as you log in to your account.
How Does Options Pop Work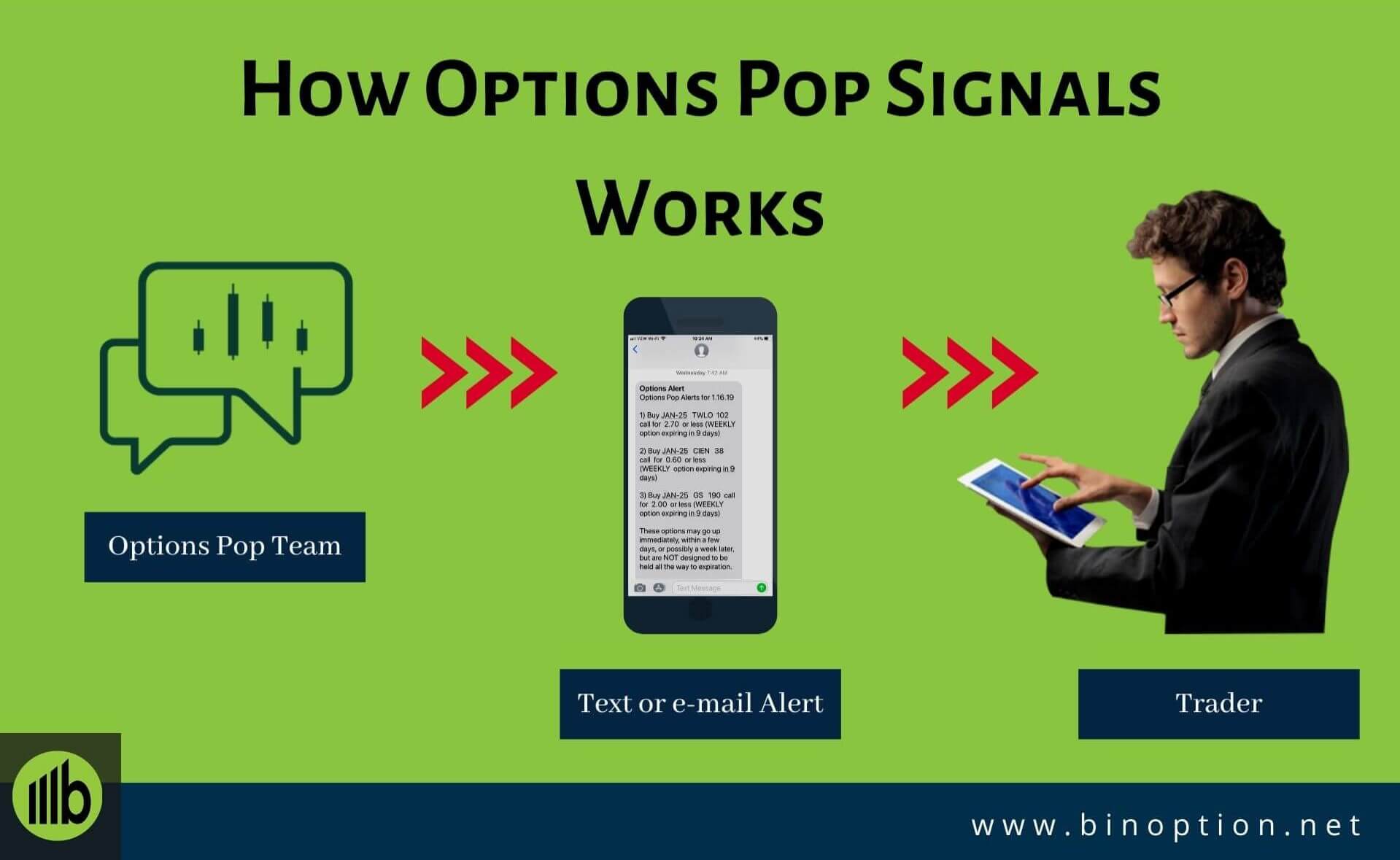 Options Pop uses high tech technology to give options alerts for highly potential gains. For this, it uses technical analysis to find stocks that have a high probability of moving up or down in the next 2-9 days.
As soon as the software finds a stock, it selects the call or put options at the exact strike prices, that can go up in price.
Based on the analysis, they will send you an email or text alert. The alert includes the stock symbol, which options and strike prices to buy and at what price.
After that, they post the alert at once on the website's private member's area. The goal is to make 100%-500% in 2 to 9 days. 
We mentioned earlier that every Wednesday, traders will get three trade alerts. There is plenty of time to buy the options before it starts to move. So, stay calm and make the best decision.
Note that Options pop doesn't provide any sell alerts, so you have to choose the time to sell your weekly options. But they will indeed guide you to sort out this issue.
For billing information, you can pay your bill via credit cards or PayPal. Options Pop also supports Visa, MasterCard, American Express, Discover Network etc.
Amazingly, options pop allows for the return or replacement of any product within 60 days, from the date of purchase. But that doesn't mean one can abuse the facility mischievously.
Those who will pay through the credit card, have to input the cardholder name, card number with expiry date and security code. 
For PayPal holders, complete your payment process by just adding the country name and zip code.
Options Pop has email support and customer care service. You will get 24/7 dedicated support service. 
Unfortunately, there is no live chat option, which is more convenient and helpful for traders to clarify all their queries. Moreover, it's less time consuming than mailing.
So, we can hope that the authority will consider this matter in future.
Is It Worthy To Buy - Legit Or Scam
Options trading has a high risk and not suitable for all investors. You may lose all or some of your money on any trade. So, you can check our amazing 7 tips that will help you to minimize loss.
The signal provider offers a 30days "no question asked" refund to ensure user's satisfaction. If you are unhappy with your Options pop membership, you can request for a refund. They will issue you a refund within 30 days.
Furthermore, there are no strict contracts so you can cancel it anytime. So we can say that Options Pop alert is a real and trusted signal service provider in this industry.
Moreover, they have encrypted all the risk and every sensitive trading related issues on their website.
Options Pop have some fantastic advantages. Let's see what we like about this amazing software.
Easy & simple program to understand
Offers everything that it promises
Maintain transparency
Provides straightforward options buy alerts
Trading training and guide
Money-back guarantee
Email support
Private membership group 
However, it is a trusted software but there are some minor drawbacks that we found during research. Even though, let's see if there exist any serious cons in this bot.
Do not provide sell alerts
No broker support
Do not have live chat support
No mobile app
It's now clear that one can easily trust this signal service with two eyes close. Traders use options because they want a huge return in exchange for a little investment.
In this case, Options pop can help you to fill your wallet by giving high probable trade alerts.
Wish you Happy trading…!