Binoption Invited To Deriv Partnership Conference Dubai #DerivDXB2023
Binoption is thrilled to be invited to the Deriv Partnership Conference Dubai. One of the popular online trading platforms Deriv, recently hosted a South Asian-based affiliate conference from 24th February to 27th February at the Radisson Blu Hotel, Dubai Canal View. 
Binoption is proudly announcing that the team had a remarkable experience with the Deriv Team. We had the chance to meet and greet over 150 people.
It was the biggest event that brought together some of the hottest names in the online trading industry from India, Pakistan, Bangladesh, Sri Lanka, and Nepal. We had the opportunity to share our knowledge and experience, discuss the latest trends with market leaders, and explore upcoming opportunities for growth and innovation by participating in this conference.
On the other hand, the focus was on how traders could improve their experience with Deriv and how the platform ensures the fastest and safest withdrawals.
Also, there were opportunities for attendees to showcase their success and learn from others in the industry doing innovative things.
Let's share our experience with you and how our team enjoyed the moment with joy.
Deriv Conference - What Was In The Mystery Box?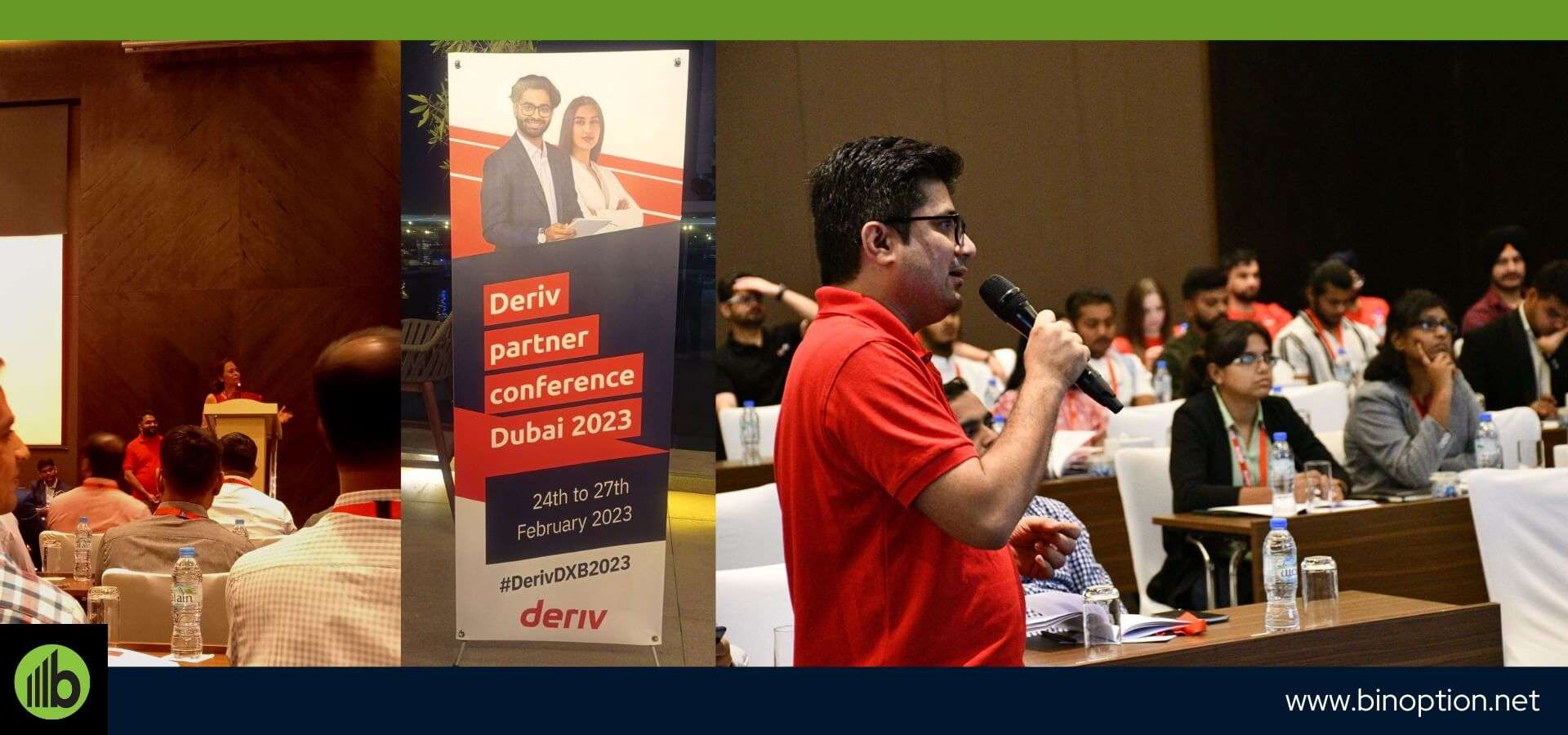 It wasn't the first time but it was the only time they had arranged it this bigger. Ms. Seema Hallon, Head of Dubai Office and Global People Management, glistened at the beginning with her passionate words towards all of us.
Mr. Dhanraj Dhanak, Manager of Global Partnership Asia, including the others on the team, worked tirelessly to make it successful and spectacular.
A lot of top traders from South Asia are there too. They shared their real-time experience with Deriv and also gave suggestions on how the team could improve. One of our team members also shared her experience, especially with the customer support team.
She highlighted the positive parts and pointed out the flaws, so our readers and traders get the highest quality service from Binoption.
Moreover, the conference is known for its amazing hospitality and vibrant work culture, which creates an atmosphere of collaboration and learning that is second to none. From the moment attendees arrive, they are greeted with warmth and hospitality that is extremely difficult to find elsewhere.
The conference organizers go out of their way to ensure that everyone is comfortable and that their needs are met. Whether providing transportation to and from the airport, arranging hotel accommodations, or providing meals and snacks throughout the day, the team was dedicated to creating a welcoming and inclusive environment for all attendees.
We had a pretty streamlined agenda. Among the topics discussed were:
Introduction of Deriv
Instruments and

platforms

overview
Deriv P2P

Deriv

API

Deriv

X
Apart from the brief introduction, there was a space to ask questions, and also some do/don't sessions, especially for Affiliate partners. Also, we had the opportunity to explore partners' success stories and their testimonials.  
Also, the conference is designed to be interactive and engaging, with attendees encouraged to ask questions, share their experiences, and contribute to the conversation in meaningful ways.
The keynote speakers are some of the most influential and innovative minds in the affiliate marketing industry. They bring a wealth of knowledge and expertise to the table and are always eager to share their insights and experiences with others.
Top traders got on the board to share their experiences and how they succeeded in life with Deriv. One of the traders shared –
I had a small job to do and which was not enough to support my family. Somehow I got to know about Deriv and started with a small amount. I had no idea what and how to do. The overtrading and psychological game led me to lose money. I took time and gathered knowledge and started again. And after 10 years, I am in front of you and proudly introducing the reborn me who has hundreds of students. As a professional trader, I can only recommend you Deriv for their excellent service, zero market manipulation, and fastest withdrawal. 
It's like he's not the only one who shares their good and bad phases.
Meanwhile, we had a one-to-one session with the country manager and other path viewers, where we discussed our limitations. Besides that, we talked about how to grow with Deriv. 
The discussions were always lively and engaging. In addition, Binoption also built strong connections with people from different countries.
How Traders Get Benefited From Deriv?
As we mentioned above, there are several ways to get benefited from the multi-platform broker. One of the most lucrative sources is the Deriv API which helps traders to build their own kingdoms.
It will help you build a custom platform. Moreover, you can personalize the trading app to meet your needs.
So, the features that you will get from the Deriv API :
Trade digital options and multipliers
Monitor real-time pricing
Buy/sell contracts
Monitor your trading history
Apart from this, there are many things that you can't ignore. The broker left no choice but to amaze you when it came to trading benefits and withdrawals.
And all the traders who presented at the conference shared the same knowledge and experience with everyone. According to their statement,
Deriv is one of the best platforms that understand the traders' needs.
Deriv Surprising Announcement
Traders who are Muslim believers usually prefer not to pay any swap while holding the position overnight. It is one of the most significant disadvantages of them not having a SWAP-FREE account in Deriv.
Swap rates are applicable when:
Your trading position are kept open overnight
At the end of a trading day or at 00:00 GMT+0
Trade CFDs
So, along with other benefits and features, Deriv will introduce a new account type for Muslim believers. The account is open to everyone but designed specifically for Muslim traders.
Moreover, it is also a perfect choice for them who who do not wish to receive or pay interest or swap rates. 
Benefits that you will get: 
Zero interest
No limit on positions
No extra commissions
Compliant with religious faiths
Real time market 
Soon, Deriv will declare on their website.
Night Light In Dubai - Deriv Gala Dinner & Safari Ride
The conference starting part was great indeed.
There was a magician who charmed us with his incredible magic. He was so impressive that we all started to think he was a real wizard!
It's not all about work and stress. The weekend was packed with experiences and exploring Dubai. Everything went perfectly, from a buffet breakfast to a glam Bollywood gala dinner. The Gala dinner was on a rooftop terrace overlooking the downtown skyline so we could end the conference on a high note!
At the same time, they ensured that we spent a memorable time on the Desert Safari, including various activities and delicious Emirati cuisine.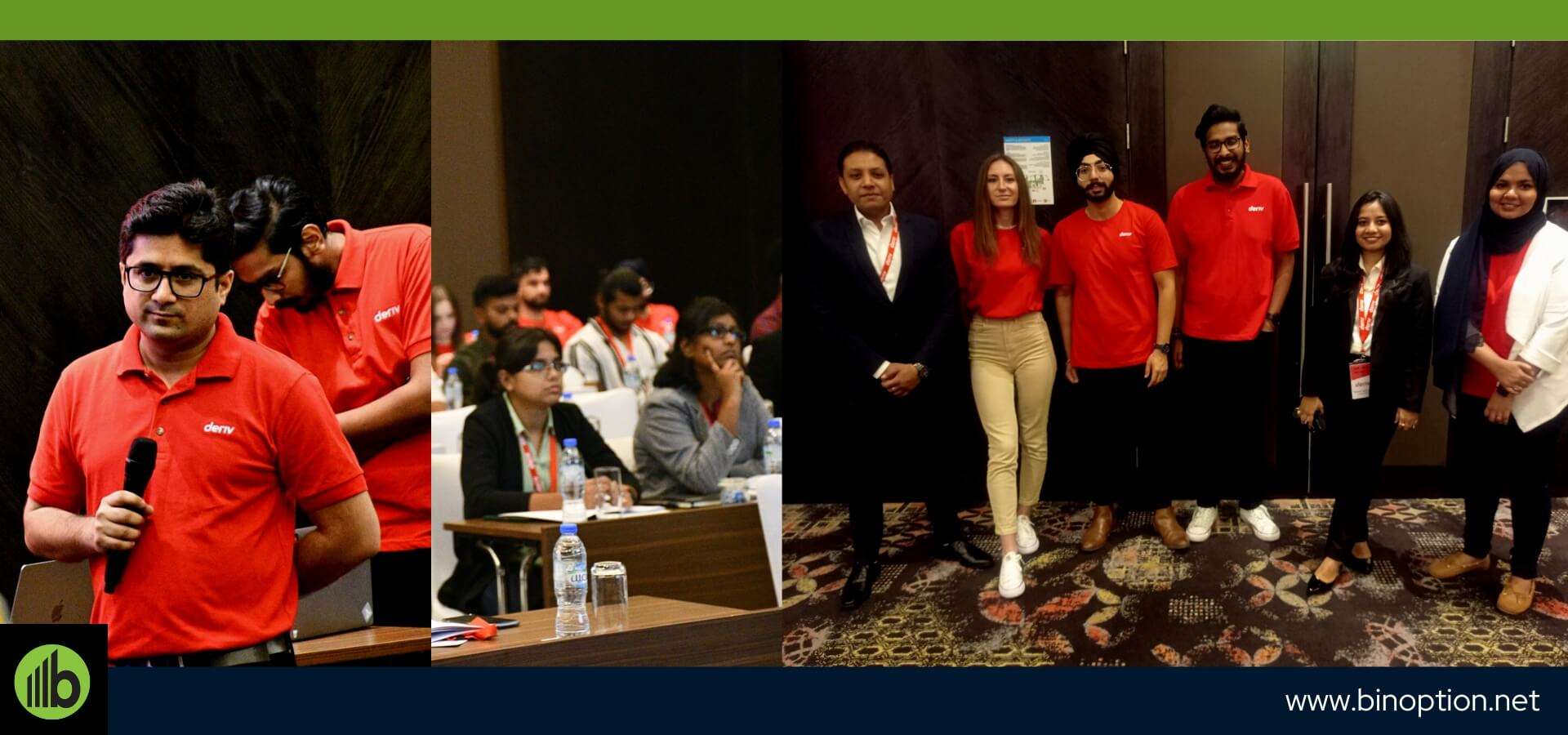 Everything from the beginning to the end. The amazing hospitality with the ability to understand the individual's words amazed us. The team was also incredibly knowledgeable and could answer any questions we had. Their level of service and understanding of our needs was truly impressive.
They encouraged traders to share their problems and were willing to help with the solution. Swap-free accounts had been requested by some Muslim believers. The function will be implemented as soon as possible, according to Deriv.
We got the profitable mantras from the team and also got to know traders' perspectives from different zone.
It is hard to explain in words how perfect those days were! Binoption had an amazing time with industry leaders and innovative minds from Deriv. Also, this conference motivated us to do better in the near future and also with the knowledge to come up with something creative and exciting.
We are happy to share our experience with you. Thank you so much for your support! Without you, we would not be where we are today!
This conference also opened the curtain to prove the broker's desperation to stay in this competitive market by providing the best service.
We encourage our readers to read once again about Deriv, and it is high time for you to become a part of it.