Deriv DMT5 : Deriv MetaTrader 5 Trading Platform Introduction Guide
If you're new to trading, you may be wondering what DMT5, or Deriv MT5, is and how it works. While most Meta Trader 5 users are new to Deriv MT5, most traders who have used Deriv Meta Trader 5 for a long time are unaware of all of its features.
When it comes to investment or trade, the market environment is ever-changing and can be complex. And, when you use DMT5, you will have access to several advanced features. It will save your time and money simultaneously.
To help you avoid all that…
We will show you how DMT5 works and some of the key features so you can decide whether or not it is the right trading platform for you.
Sounds good?
Let's dive in…
What Is DMT5 or Deriv MetaTrader 5?
It has been said that a trading platform is like a Ferrari — the more you spend, the better it is.
The general MT5, or MetaTrader 5, is one of the most popular CFD platforms. Many platforms out there are too expensive and complex to use, making it difficult for investors to adapt to changes in market conditions. However, the platform should be easy to use and provide traders with the tools to trade profitably.
And with the Meta Trader 5 account will change your overall trading experience. It provides the simplest and most intuitive interface, helping you trade on the best market for your favorite instrument.
Also, numerous tools are there to help anyone on their investment journey. And the one Deriv offers is the Deriv DMT5 or Deriv MetaTrader 5 account. Additionally, the platform has a clear plan of action that is easy to understand and follow.
Apart from this, the trader will get various tools and services, including risk management, portfolio management, strategy analysis, market research, and news feed integration. These tools also allow traders to execute their own strategies and optimize their trading decisions based on a wide range of information.
The platform offers the most competitive deals that help traders achieve the highest results. Though most cases, the outcome depends on how traders plan the strategy. But a reliable platform or a regulated trading broker could make your trading journey smooth.
And Deriv Meta Trader 5 does exactly the same. It will make each trading day more profitable with different account types, and we will discuss this later in this article.
If you are looking for the benefits of an MT5 account, here are these:
Demo account facility
Multiple assets on a single platform
24/7 trading
Regulated platform
You can use the demo account to get a feel for the interface. Even professionals use demo accounts to test out strategies before implementing them.  Using the single platform, taste the multiple assets with a 24/7 trading experience.
Deriv MT5 offers CFD trading on multiple financial markets with 3 different accounts. It includes a trading terminal where you can trade real CFDs and a demo version to try out the platform before buying.
Here is the list
This account is the most popular one among the three. Traders trade CFDs on synthetic indices that simulate real-world market movement. We have discussed the whole process in our Deriv MT5 Synthetic account. From opening an account to the benefits, everything you will get to know if you go through the article.
Some basic information needs to be pointed out here as well. The maximum leverage is about 1:1000. That means you will get the opportunity to trade a maximum of $1000 without paying the full value of your position.
Except this,
Margin call 100%
Stop-out level 50%
Number of assets 20+
With a financial account, you can trade major (standard & micro-lots), minor forex, stocks & stock indices, commodities, basket indices, and crypto with high leverage. Additionally, this trading account is beneficial for both beginners and advanced traders.
The features that you will get 
Maximum leverage 1:1000
Margin call 100%
Stop-out level 50%
Number of assets 150+
The financial STP account is ideally suited for traders who want to trade more directly with the market. This account will allow you to trade popular currency pairs and cryptocurrencies with straight-through processing order (STP).
Moreover, more advanced traders, like news traders, can choose this account.
The features that you will get 
Maximum leverage 1:100
Margin call 100%
Stop-out level 50%
Number of assets 70+
Note that both Financial and Financial STP accounts offer forex and cryptocurrency trading. The main differences between these accounts are the maximum allowed leverage and the trade size – Financial STP lets you place larger trades but with smaller leverage.
How To Use Deriv DMT5 Account?
Basically, DMT5 is a trading platform that works as a bridge between a trader and the financial market. You can see the price movement via the dashboard.
But, there are 3 different ways the DMT5 platform can be used.
On a web terminal
Desktop App
Mobile Application
In order to start getting insights from Deriv, you'll need to sign up for a deriv account. After that, open a separate DMT5 account and create your own customized dashboard.
It is mandatory to inform you that if you want to use the desktop or mobile app, you first need to download it here and then log into your account on Deriv.
To connect your MT5 desktop app to the Deriv server, follow these instructions:
The "File" tab will appear in the upper left corner of your screen.
Go to the 'Open an account' section by clicking the 'Open an account button.
Click the 'Deriv Limited' menu.
Go to the box marked "Connect with an existing trading account" and enter the DMT5 login information there.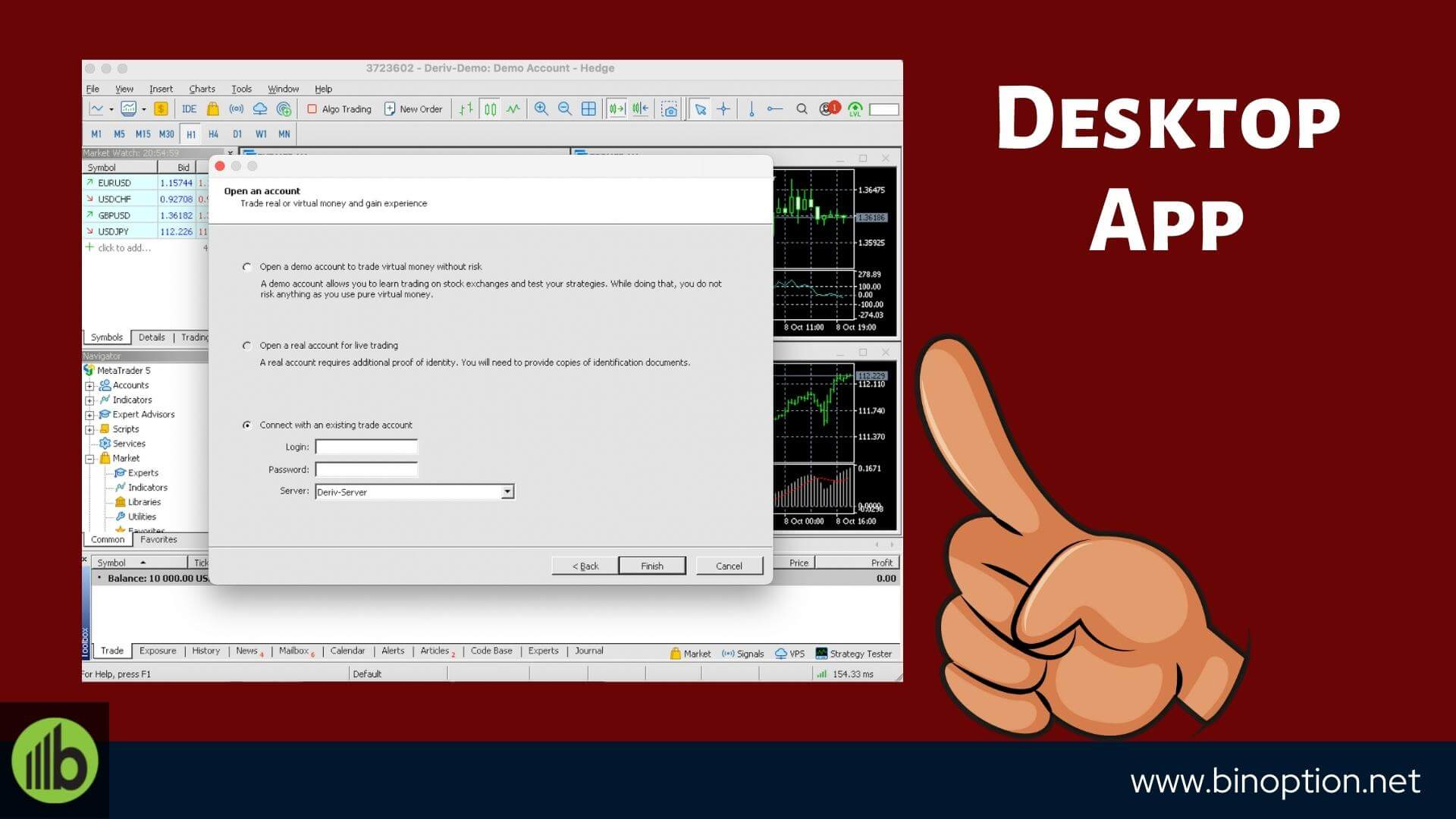 To connect your MT5 mobile application to the Deriv server, follow these instructions:
Tap 'Setting' in the bottom right corner on iOS or 3 lines in the top left corner on Android devices.

Select 'New account' on iOS or tap '+' on Android devices.

Select or type in 'Deriv Limited' from the broker's list.

Enter your DMT5 credentials.
If you want a demo account, select the Deriv-Demo server on the desktop and mobile apps. On the other hand, if you want a regular account, select Deriv-Server.
In case you're having login issues, use the same login ID and password as your MT5 dashboard on your mobile browser, or reset it.
You can trade on our web terminal by signing into your Deriv account and selecting DMT5 from the drop-down menu in the top left corner. Finally, fill out your Deriv MT5 credentials before trading.
Features Of Deriv Meta Trader 5
Well, if you are a web trader, then you will enjoy the platform fullest. The web app or desktop application provides the richest functionality in terms of features and tools. That does not mean you can do nothing with a mobile app.
Of course, you can, but the healthiest option is to use the desktop app to analyze the market without any barriers. Additionally, the screen size is a lot bigger than mobile. 
So, let's have a look at what is inside the platform.
Upon logging into your DMT5 account, you'll be presented with a comprehensive toolbar and a workspace in the platform interface.
For example, there is a list of all accessible assets (referred to as "symbols"), multiple chart formats and a drawing tool in the toolbar of MetaTrader 5. In order to make changes to your toolbar, simply pick the 'Customize' tab by right-clicking on an icon.
You will find a chart panel. The biggest difference between a normal platform and MT5 is that you can have 4 separate charts of different assets at once.
Amazing, right?
The market watch section will give you access to all assets available for trading and their live quotes. The trading panel may be found at the bottom of the platform. It will help you to keep track of your trades with this essential feature. Using this feature, you can maintain an organized and powerful trading journal. 
The Deriv meta trader 5 is a great platform with advanced tools and features. We almost covered all in this article though words are limited to showcase the benefits. You will feel the necessity to use this platform once you try it. 
But, before spending your money, do not throw strategies without practicing them. So, use the demo to get the best result. 
Learn the reasons that make one a loser in trading.
Later, avoid those and make a good plan. Note that Deriv offers a demo account of $10,000.