How To Choose Binary Options Broker - 13 Facts Before Picking The Right Broker
How to choose a binary options broker? Is it necessary to choose the right broker before placing an order? 
The straight answer, Yes. There is a need for a lot of comparisons before picking the right binary options broker. Out of the huge list of scam brokers, finding a reliable and trustworthy one is not an easy task. 
Besides, you will spend your initial few days to investigate, compare, and choose the best binary options trading platform. There are even some excellent brokers available, who instruct you by suggesting trades and right moves. 
Through this article, we will reveal 13 essential facts that help novice traders to pick the right broker wisely. Before that, let's have a short introduction on a binary options broker.
What Is Binary Option Broker
The broker is a platform where you can place a trading order by selecting assets to earn maximum profits. It is necessary to mention that for entering into the trading world, a broker platform will work as a bridge. 
A broker can be a company or a separate soul. Similar to the other trading class brokers, binary options brokers are also there to help you. If you are still searching for detailed information on options, read our article on what is binary trading.
Moreover, a broker allows you to connect with them via the trading platform. Through the platform, you can choose trading instruments from the underlying list along with important indicators, charts, tools, and others. 
Either you can download the platform in your trading device, or can execute a trade from a web browser. 
Apart from the basics, the binary options broker follows some rolls. These are: 
Help traders to choose the right trading assets by giving trading world's update
Via broker, traders can deposit money and can execute a trade
Can practice trade by using a practice account
How To Choose A Binary Options Broker - 13 Facts To Remember
Picking the right broker is necessary for all traders to make a safe and secure transaction. On the other hand, the right broker will help you to trade by providing real-time financial market information.
It is also vital to check the regulation before picking up a proper and good broker. Moreover, a good broker will increase the chance of earning money.
Below, we will mention some of the factors that need to consider while choosing the right binary options broker.
The first and foremost work for traders is to check the broker's regulation. Traders can consider it as an important part. The renown regulatory bodies like CySEC, ASIC, FSA, etc. supervise brokers and maintain the safety of trader's capital.
However, binary options itself is not regulated in many countries. So, traders from those countries are not able to trade classic or binary options. 
So, working with a regulated broker is more secure than a non-regulated broker. At the same time, your capital will not be at risk. Additionally, the legitimate broker will offer you a fair price without any market manipulation.
Another key point is that trading binary options in the USA does not recommend traders to trade with offs-shore brokers. You have to trade with those brokers who are regulated by the USA financial bodies.
Based on these factors, we will recommend you the following brokers: Deriv, IQ Option, and BinaryCent.
Most of the brokers offer a deposit or welcome bonus, though it is not a good practice in trading. If your selected broker offers any bonus, compare this amount with others.
On the flip side, some brokers offer a low initial deposit, as they don't have option for bonuses. Especially, if you are new in binary options, it is good to use the low initial deposit, until you get comfortable with the trading activities.
Keep in mind, following some terms and conditions is mandatory to enjoy the deposit bonus. So, before pursuing a bonus, read the terms and condition carefully.
Payout percentage means an expected return that a trader will receive after completing a successful trade. The payout percentage will depend on trading instruments. 
Based on the asset price, expiry time, and options type, the broker will set the percentage of winning rate. Surprisingly, the maximum payout percentage can be more than 90%. 
Brokers like IQ Option, Binomo, Expert Options, and Olymp Trade are offering payout more than 85%. So, find out which broker is offering the highest payout while selecting a broker. 
4. Initial Deposit Amount
A minimum deposit amount is required to open a real account with a broker. However, The amount is not the same for all brokers. The minimum deposit amount can start from $5, such as Binary.com. 
Try to start with a broker, who offers a low initial deposit amount. But you can also open a live trading account by depositing a high amount if the features and benefits are exceptionally great.
At the same time, a low deposit amount is good for those traders who don't want to take a huge risk. So, start with a small amount and increase day by day depending on your trading skills.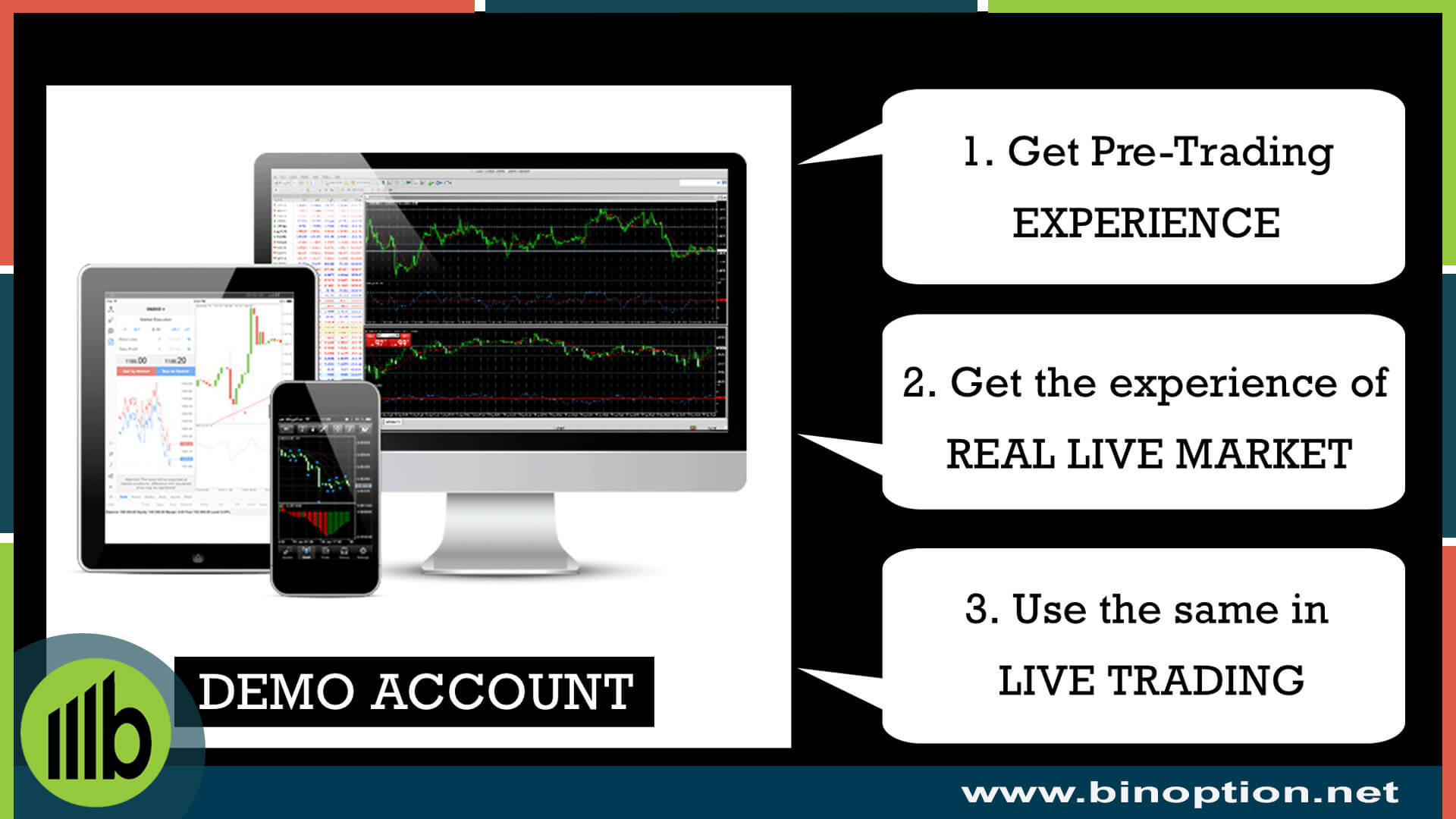 With the help of demo classes, a trader can pre-gain trading experience and can implement better trading styles in live trading accounts.
You can also increase your experience in a real trading market through a demo account. However, there will be no exposure to market risk.
Having said that the practice and service level offered will be as same as the live-market. Some brokers offer demo accounts for a limited time where some are for a lifetime
So, always choose a lifetime demo account so that you can practice your trading style and strategies.
6. Deposit And Withdrawal Options
Traders have to verify the account before withdrawing profits. So, try to read terms and conditions before opening an account with any broker. It is wise to open an account with valid information.
Furthermore, the verification process is different from brokers to brokers. Also, deposit and withdrawal procedures are not the same for all countries. Find out the best way according to your country rules.
On the other hand, some brokers charge fees, while depositing and withdrawing money. Fees will also depend on both brokers and client's residence.
There are plenty of methods available including e-wallet, debit/credit card, wire transfer, etc. As we mentioned above, you can choose any of them depending on your country.
7. Multiple Assets Investing
After opening an account with a broker. you will get a list of underlying trading assets. In binary options, traders will get an opportunity to trade on diversify trading instruments.
Use the platform that offers a wide range of assets. A good number of instruments will help you to trade at different market scenarios.
To increase the profit margin, investing in more than one asset is a wise decision. It is also the best factor of investing by having a balanced portfolio and not putting all risk into a single basket.
8. Trading Tools And AutoTrading Robots
Trading tools are necessary for traders to analyze the market. Almost all trading platforms have different trading tools, indicators, automatic trading signals, etc. to analyze the market movement. 
However, every broker doesn't provide auto trading facility directly. Many of them partnered with different binary options trading software. 
We have mentioned a few software names such as BinBot Pro, Binary.com Auto trading Bot, and DaxRobot depending on the results and trader's testimonial. 
DaxRobot
Returns depends on trader
To know the level of customer service offered any platform is to go through the reviews and feedbacks from other customers and users.
Understand the rating by collecting testimonials from forums of a selected broker's platform, services, and legitimacy. Customer support team mainly make a bridge between a trader and a broker.
You can contact the support team via online live chat or email. Moreover, the customer support team are available for traders 24/5 days. However, 24hours customer support is not applicable for all platforms.
So select a broker where the dedicated multi-lingual support team is always there to solve your problems regarding trading. We will discuss more in the next phase.
10. Simple User Interface With Multi-lingual Facility
A user-friendly platform is well accepted by all types of traders. It will save time for the traders to navigate through the system and also needs less effort. Moreover, for novice traders, it is effortless to execute a trade on an easy trading interface.
On the other hand, some brokers allow customizing the interface, according to the users choice. So, you can place your trading tools as per your need.
Sometimes, traders get trading news and alerts from the platform according to the market movement. So, you don't have to search for important news and events in other places.
Besides, binary options brokers now offer different languages to communicate with traders. So, the communication process will uncomplicate for traders.
11. Trade Expiration Time
Some brokers will let you execute trades that can expiry within few minutes or days, while some are very strict on the expiration time.
Consider all factors before deciding the broker. Go through their terms and conditions before finalizing whether you are ready to pick that broker or not. Our advice not to pick a short expiry time because it carries a high risk.
n the other hand, some broker offers early exits options, while others are very particular that one should stick to the trade until expiry.
You will find many brokers that offer different tournament for traders. Traders can test their trading skills in those tournaments. However, traders need to select the best suit, depending on their skills and experience.
Moreover, it is the best way to earn a huge real money cash prizes from a minimum entry fee. But if you are not confident enough, it is not a thoughtful decision for you.
Each tournament has a fixed duration. Anyone can participate in tournaments having a small trading knowledge.
13. Trading App - Mobile Application
Mobile trading apps are convenient to trade from anywhere in the world. You can download the trading app into your Android or iOS device. Make sure, your broker platform is offering a trading application for your device.
The interface of a trading platform is similar to your desktop device or web browser. In some cases, some broker does not allow traders to trade on full asset's list.
Apart from the advantages, we also found some disadvantages. Via a mobile app, you can not analyze the trading market, by using proper indicators, and charts. Expert traders generally use a mobile app to check their trading results, but they execute final trades from a desktop.
Unless you have clear guidance for choosing the right trading broker, it is will difficult to compare and make any decision. This guide will help those who are keen to choose the right broker to avoid capital loss.
Even if the features are less or not up to the mark, do not settle with an unreliable platform. Choosing a bad broker will lead you to lose the whole amount that was invested in trading.