Binary Options Vs Forex: Which One Is Your Way To Success
Binary options vs Forex trading, which one is more profitable for traders? In reality, both trading forms are equally effective. However, in terms of characteristics, both are different. The differences are major that we will describe in this article.
To be an expert trader, you have to know both the advantages and drawbacks of options trading and Forex. One trading type will allow you to earn within a short time.
And, another one will take a longer time to make the same profits. Additionally, they may not serve the same needs.

In this article, you will find the necessary information on two different trading types. At first, we will start with a short introduction of binary and forex trading. Then one by one, we will describe the trading process of each type.
So, let's start with the definition of forex trading and Binary options.
What Are The Binary Options: Binary Option (Explanation)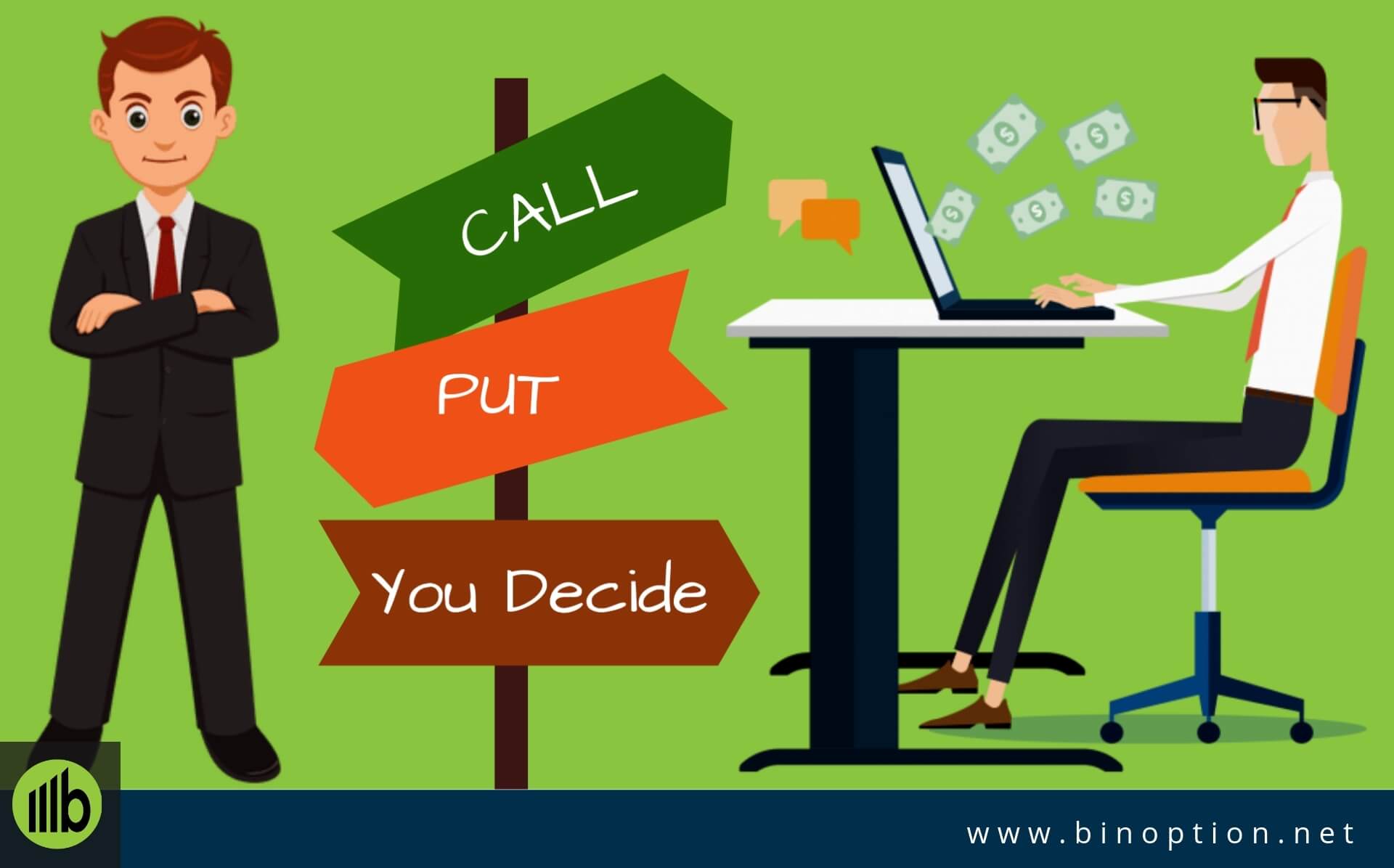 Prediction of future asset prices is the fundamental of binary options trading. In binary options trading, traders get profit from the increasing value of the particular trading assets.
It is an old trading type that has experienced significant growth over the fast few years. Whether you have to predict the right asset's value to get a fixed payout, or will lose 100% of your initial investment. 
Moreover, you can trade options on different trading instruments. We will discuss the trading process later in this article.
Before jumping to the phase of how it works, our recommendation is to read what are binary options trading article. This article is a guideline for new traders with specific information.
Besides, binary trading is popular among low-skilled traders, because it is an uncomplicated financial instrument that helps traders to earn within a very short time.
Those who are completely new can open a binary options demo trading account to practice trading.  
You will find different types of binary options trading available for traders depending on the expiry time. Not only that but also sometimes brokers offer different types of binary option. 
Each type is different from the other. Moreover, you will find diversify profit ratio including some unique features.
Here is the list of popular binary options. 
High/Low

Touch/No Touch

Ladder

Short-term

In/Out
Advantages Of Binary Option Trading
Binary Options hold numerous advantages. Additionally, it will make your trading life simpler. These advantages mainly encourage people to get involved with options trading.
Besides, having a good knowledge of the trading market will help you to make the right decision.
We are going to bullet some advantages below: 
Simple trading process 

Possible to start with a low investment

High return percentage

You can trade without depending on the market condition

Fixed risk and reward

A wide range of trading instruments available
Forex trading is popular among traders for its decentralized marketplace. It is the most liquid marketplace, where currencies are traded.
In forex trading, traders exchange one currency in terms of another. Also, there are some commonly traded major forex pairs along with minor pairs.
Moreover, you will get an opportunity to trade forex using leverage. Traders around the world can trade the forex market at any given time. The forex market is open all day long including business hours.
As we all know, the forex market is the largest financial market in the world. Traders from around the globe join the currency trading market to earn money.
However, you will not find any specific types in forex trading. But based on the experience level, trading time, and strategies, you will find various types of traders.
The list of forex traders is below:
Day trader

Swing trader

Scalper

Position trader
Advantages Of Forex Trading
Anyone can get involved with forex trading to earn money. But you need some knowledge to avoid trading risk. Only because of the improper trading strategies, more than 90% of traders walk away with empty-handed. 
So, it will add an extra benefit to your trading life if you learn the basics of forex trading.
Here are some advantages of the forex market:
The forex market is flexible for traders. So, you can trade anytime you want
The trading market is transparent 
It allows you to use Leverage trading
High liquidity
No involvement of Central Exchange
Most volatile trading market
Weekend trading 
Binary Options Vs. Forex Trading
We mentioned at the beginning of the article that the differences are noticeable between forex trading and binary options. But, in terms of profitability, it is hard as nails to illustrate.
However, along with the trading terms, you will get many more differences between these two trading types. We will describe all differences one by one in this article. 
Binary Options: 
Traders compare binary trading with gambling because of the time frame and future prediction. Suppose you are going to open a position of $30. If everything goes right, then you will win the trade with an extra $24, excluding your actual investment. 
Here, the return percentage is 80%. On the other side, if the value of the asset goes down, the trader will lose 100% of the money that they invested in. To make the trade profitable, you have to win the maximum trade. There is no opportunity to avoid the loss after opening a trade position. 
However, you can not consider binary trading as a full form of gambling. Because at this moment, most of the brokers have regulation by different Financial Institutions. Traders now can trade with different types of options, offered by different trading platforms. 
Forex Trading:
In forex trading, you don't have to predict the future asset price to win a trade. Here, traders analyze the market by using different trading tools and strategies. Moreover, the trading time is longer than Binary options. 
In forex, you have to predict a target area instead of asset price prediction. So, you can close your deal anytime you want. 
2. Potential Gain From Trading: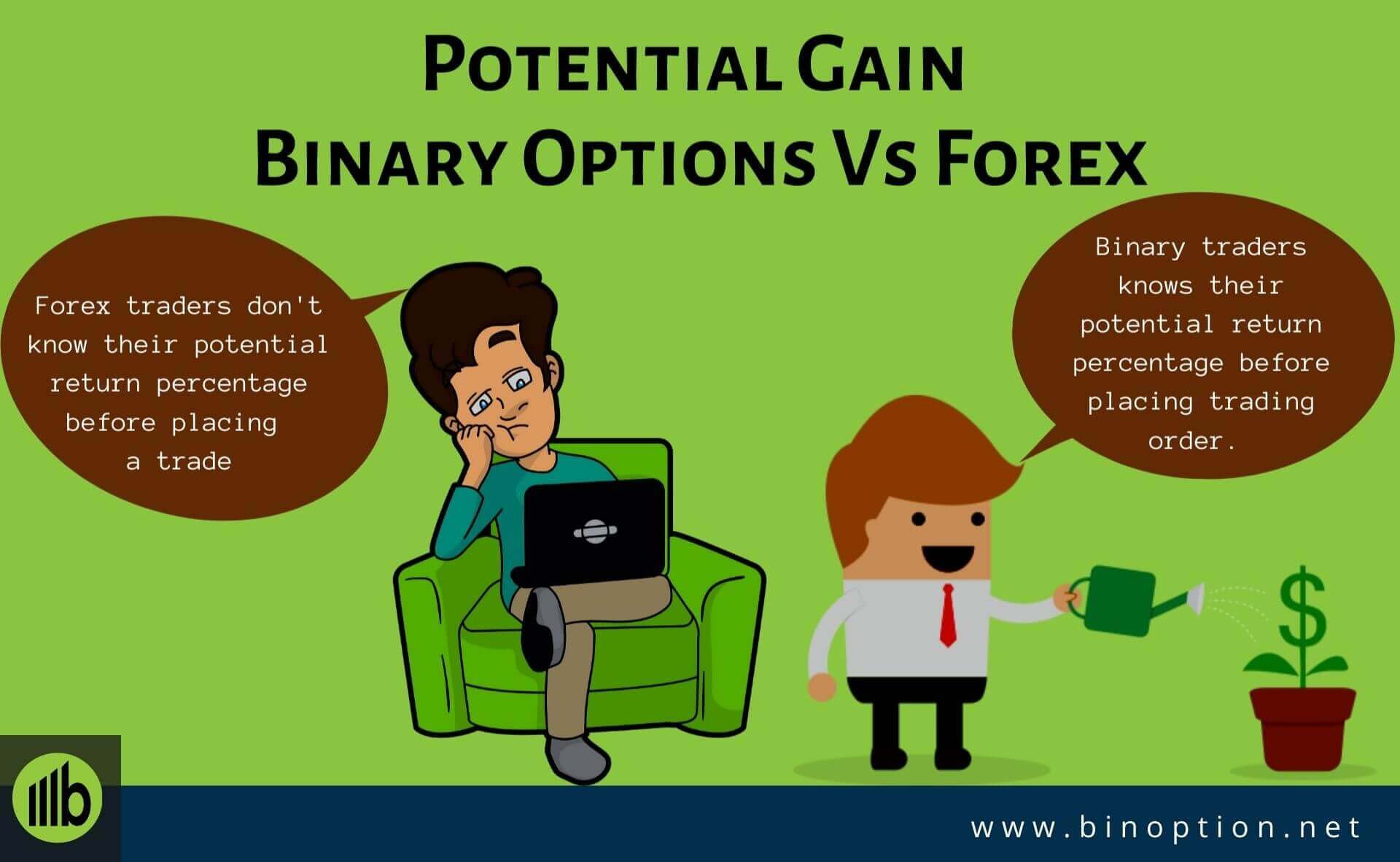 Forex Trading:
Forex markets are known to have a higher variability with a greater risk for traders. Sometimes in the currency market, traders must decide both the direction in which the asset will go and predict how high or low that particular asset will go. 
So, traders don't know for sure the final status of the risk and profit. In forex trading, unless using some tools to control trading, there are no definite limits on how much money a trader can make or lose. 
One such tool is stop-loss, which restricts traders from losing money more than the limits. In other words, if a trader has lost a certain amount of cash, he/she won't be allowed to trade. Moreover, the trade will automatically shut down.
Similarly, the potential profit might also be determined beforehand. Forex traders have the option to close the trading, once a certain amount of profit has been realized. 
On the other hand, both the profits and losses can be managed by implementing the limit/stop orders. In forex trading, users can set the stop-loss, and take-profit. As a result, traders are still able to make a profit despite if they're unsuccessful in winning the majority of their trades.
Binary Options:
In Binary Options, traders always know the exact risk before placing any trade order. The minimum return percentage is approximately 60% if your prediction goes right.
Remember, the risk amount will always higher than your potential gain. There is no opportunity to stop your loss after opening a trade position.
However, you can minimize your trading by apply rollover trading strategy. Unfortunately, not every broker will allow you to apply this strategy on their platform. 
Binary Options: 
Binary trading operates on specific timelines. In binary trading, the trader has no control after placing a trade. 
The expiry time starts from 60 sec. In some cases, we found expiry times that are lower than 60 sec. Before the commencement of trade, users must select when the order expires. 
Some brokers give traders the option to close early. But it is recommended to exit the trade when you receive a percentage of the expected return. However, not all brokers offer this facility. 
Similarly, few brokers will allow traders to delay the expiry time until the next expiry time. Known as "rollover," this option is only available if traders can increase their investment by a pre-determined percentage.
Forex Trading:
Things are a little different in forex trading. In forex trading, users can perform trades that last to one second to a few weeks or months. They can open and close the trade whenever they like. The actual point is that traders have full control over trading time. 
However, keep in mind that this flexibility has its version of advantages and disadvantages.
Binary Options: 
In Binary Options, traders will get a wide range of trading instruments. You can trade binary on stocks, commodities, currencies, etc. Additionally, traders can select trading instruments depending on the payout ratio.  
Forex Trading: 
You are allowed to trade with a very limited number of trading instruments. However, more than 70 currency pairs are available in the forex market. But traders widely place traders with a few major pairs. Unfortunately, you can only trade those pairs which are available in your broker's platform. 
Forex Trading:
In forex trading, margins are available for traders. Here, brokers fix the maximum margin ratio. Margins facilitate traders to increase the amount of their investment capital. As a result, there is an opportunity to make a sizable profit if the trade is successful. 
Leverage also does a similar thing. It will increase your profit potential. However, the ratio will vary from broker to broker. 
Binary Options:
Binary Options does not offer any margin and leverage to traders.  
Forex Trading:
If you are a forex trader, then you can place trades 24 hours in 5 days a week. Even, the market is available for weekend trading. However, weekend trading is not recommended for all types of traders. Because you will get a limited opportunity from the weekend market. 
Binary Options:
You can only trade binary options when the underlying marketplace is open for you. If you choose to trade binary options on currency pairs, then the market is open 24hours per day, 5 days per week. 
Finally, we are at the bottom of this article. We have mentioned above the most important differences between forex and options trading. But, the investment decision will depend on your expertise.
In terms of market analysis, binary options is a simpler process, than Forex trading. However, both the forex and binary options market will give you profits.
Just you have to find out the best opportunity depending on your trading goals.