Binary Options vs Forex Trading - What Is The Difference And Which Is Better?
Binary options vs Forex trading, which one is a better gateway into the golden cage? Well, this is one of the most hyped questions we often get from traders, especially beginners.
Since they do not know much, they are hesitant to choose one. In reality, both trading forms are equally effective. However, in terms of characteristics, both are different.
To be an expert trader, you must know both the advantages and drawbacks of options trading and Forex.
One trading type will allow you to earn in a short time. And, another one will take a longer time to make the same profits.
Additionally, they may not serve the exact needs. Besides, the differences are significant, which we will describe in this article.
We will kick things off with a short introduction, and moving down the road; you will get to know which form is just the best fit for you.
Let's start with a dessert.
What Are Binary Option (Explanation)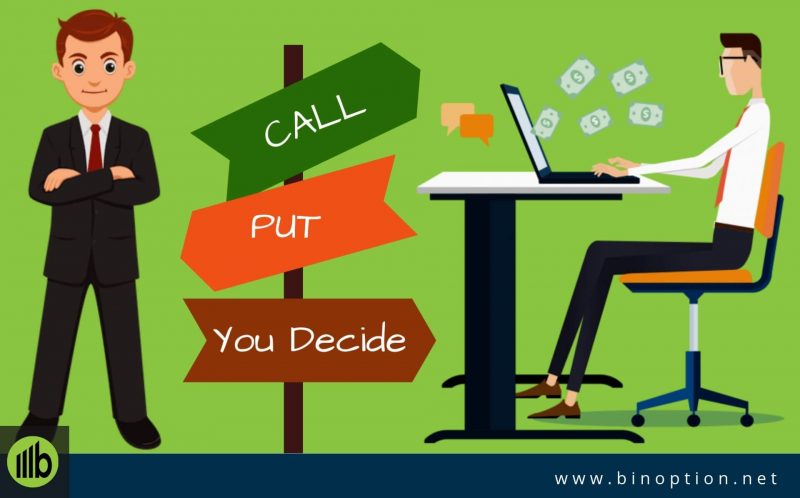 The moral of binary trading is to predict how and when the market will change the wind. That means predicting future asset prices is fundamental to binary options trading. 
A trader will get a certain payout percentage if they win the trade. But if the prediction goes wrong, you will get nothing. 
Heartbreaking!
On the other hand, it is an old trading type that has experienced significant growth over the past few years. 
Besides, you can trade options on different trading instruments. We will discuss the trading process later in this article. Except for some risk factors, this trading form is just an excellent piece. 
We encourage you to read the article on what is binary options trading before jumping to the phase of how it works. The information in this article is intended as a guide for upcoming traders.
Also, you will learn how trading tips can help one to succeed. 
Besides, binary trading is popular among low-skilled traders because it is an uncomplicated financial instrument that helps traders earn quickly.
If you pay close attention, you will find that the options market combines a few elements that are worth mentioning. Like,
– Underlying assets/market
– Call/Put options
– Strike price
– Expiration date and time
However, binary options aren't like traditional options at all. The differences are pretty visible. And the following article will discuss this in more detail.
Traders who are new to trading can introduce themselves by opening a demo trading account.
Learning with earning – just an excellent combination. 
Depending on the expiration time, traders can trade different types of binary options. Besides that, some brokers also offer different types of binary options.
Each type is different from the others. You will also find diversified profit ratios and some unique features.
Here is the list of popular binary options. 
High/Low

Touch/No Touch

Ladder

Short-term

In/Out
Key Features Of Binary Option Trading
Traders from any age group are familiar with binary trading. The trading form offers numerous advantages along with some unique and profitable points. 
Additionally, it will make your trading life simpler. However, it's not like you don't need to gather knowledge to open a position. 
It would help if you had because trading is riskier than you expected. No matter what you pull, it would be best to clear your ground before showing the yes card. 
Here, we will point out a few key features that motivate people to get involved with options trading. 
Simple trading process 

Possible to start with a low investment

High return percentage

You can trade without depending on the market condition

Fixed risk and reward

A wide range of trading instruments is available
The shortcut answer is based on prediction. However, there are calculations and strategies to predict the right market movement. If the direction turns right, you will win the trade.
Take USD/JPY, for example. After 60 seconds, you believe the price of the currency will be higher, so you select "up," "high," or "call" (they all mean the same thing). You are paid for your investment after one min if the price increases with a certain payout percentage.
And if it goes wrong, you will lose the entire investment amount.
What Is Forex Trading (Explanation)
The one we will explain now is the most liquid marketplace. Yes, we called it forex. The trading form is popular among traders for its decentralized marketplace.
Regarding turnover, forex is one of the world's largest and most profitable markets. So, it's no surprise that bees are always looking for honey.
However, the forex trading market is not the sugarcane field.
You need to practice and create lots of strategies to make a successful trade. Additionally, forex trading carries the maximum risks with a high return. In currency trading, traders exchange one currency for another. Also, there are some commonly traded major forex pairs and minor ones.
Moreover, you will get an opportunity to trade using leverage. Traders around the world can trade at any given time. The forex market is open all day long, including business hours.
As we all know, the forex market is the largest financial market in the world. Traders from around the globe join the currency trading market to earn money.
However, you will not find any specific types in forex trading. But based on the experience level, trading time, and strategies, you will find various types of traders.
The list of forex traders is below:
Day trader

Swing trader

Scalper

Position trader
Key Features Of Forex Trading
What makes this trading type lucrative to traders? Of course, the features. 
Anyone can get involved with currency trading to earn money. But you need some knowledge to avoid trading risk. As a result of improper trading strategies, more than 90% of traders walk away empty-handed. 
So, it will add an extra benefit to your trading life if you learn the basics of forex trading.
Additionally, when comparing binary options with forex, the key features are entirely different. Here are these,
The forex market is flexible for traders. So, you can trade anytime you want

The trading market is transparent 

It allows you to use leverage trading

High liquidity

No involvement of Central Exchange

Most volatile trading market

Weekend trading 
One of the most appealing things about binary options is that you can trade on a wide range of different assets.
Unfortunately, forex only comes in one form: trading in pairs.
Let's say you think GBP/JPY will move up. You buy a lot and count down the lucky hours.
Here, you can apply leverage and risk management features to boost your trade and secure your investment.
On the other hand, you can exit the trade whenever you want.
To make a profit, the price must move for you. Note that you can set take profit and stop loss to minimize your trading loss.
Is Forex Better Than Binary Options - Regulation
Forex is a decentralised trading type different from binary options or options trading. The industry is more reputable than binary options. So, in terms of regulation, you will find that out of 10, 9 forex brokers are entirely regulated by multiple regulatory bodies. 
That's the power of forex trading!
On the other hand, binary brokers are now changing their practices and movements. Additionally, they have begun to pursue regulation. Here is a list where we have put the names of the leading
Binary Options brokers
who have earned a trusted reputation among traders over the years. We recommend you check this list.
Because of their extra precaution, more and more people are trusting them. However, a few scam brokers are still there. Just waiting for the right time to make you fool. 
Sad, but true instead.
Why Binary Options Is Better Than Forex
It is not easy to conclude why one trading form is better than others. However, people usually search for two questions:
Is binary options better than forex?
Is binary options easier than forex?
In this paragraph, we will explain why binary options are better and more accessible than forex and who should trade options instead of forex.
Based on the number, binary traders' conversion rates are approximately 34% higher than forex traders due to the lower initial investment. Quickly, small traders can jump!
Mostly, the initial deposit amount starts from $10.
However, people have generally trusted the forex market regarding survival rates, even though people still perceive binary options as scams.
On the other hand, you will get a fixed risk and reward ratio that brokers decide.
But those who prefer to make small moves can entirely rely on options trading since it has a lot of advantages for day traders. Trading is often done as a passive income for day traders. So, for a small investment, binary is one of the most advantageous choices if you know how to make money profitably.
Oh, yes, we forgot the most crucial point. Trading options give you a chance to diversify your portfolio.
For a quick note :
– Binary is an easy trading form
– Best for small investments
– Fixed risk and reward ratio
– Low initial amount
– Diversify trading assets
In the end, there are no safer options. If you understand the market well enough, both trading forms will be effective.
What Is The Major Difference Between Forex and Binary Options?
If you put a blindfold on, both trading types appear profitable for you. However, it ultimately depends on how the person interprets their needs and goal. 
Time is money!
For high-risk traders, forex trading is the most suitable for you. But for the small move, you can trade binary options. However, both trading forms carry risks. 
On the other hand, about simplicity, binary options is way simpler than currency trading. In order to set your trade, you do not need to put any additional parameters while trading options. 
Though, these parameters are best for avoiding loss. 
The main differences between forex and binary options are:
Binary options are fictive assets; forex is real.

 Binary options are limited by time; forex doesn't have profit or loss limits.

Leverage is available with forex but not with binary options.

Binary options expire, but forex trades can last forever.
Now, it's your call which one to dial. 
Binary Options Vs Forex - Which is Better?
We mentioned at the article's beginning that the differences between forex trading and binary options are noticeable. But, in terms of profitability, it isn't easy to illustrate.
However, along with the trading terms, you will get many more differences between these two trading types. We will describe all differences one by one in this article.
Binary Options: 
Traders compare binary trading with gambling because of the time frame and future prediction. Suppose you are going to open a position of $30. If everything goes right, then you will win the trade with an extra $24, excluding your actual investment. 
Here, the return percentage is 80%. On the other side, if the value of the asset goes down, the trader will lose 100% of the money that they invested in. To make the trade profitable, you have to win the maximum trade. There is no opportunity to avoid the loss after opening a trade position. 
However, you can not consider binary trading as a full form of gambling. Because at this moment, most of the brokers have regulation by different Financial Institutions. Traders now can trade with different types of options, offered by different trading platforms. 
Forex Trading:
In forex trading, you don't have to predict the future asset price to win a trade. Here, traders analyze the market by using different trading tools and strategies. Moreover, the trading time is longer than Binary options. 
In forex, you have to predict a target area instead of asset price prediction. So, you can close your deal anytime you want. 
2. Potential Gain From Trading: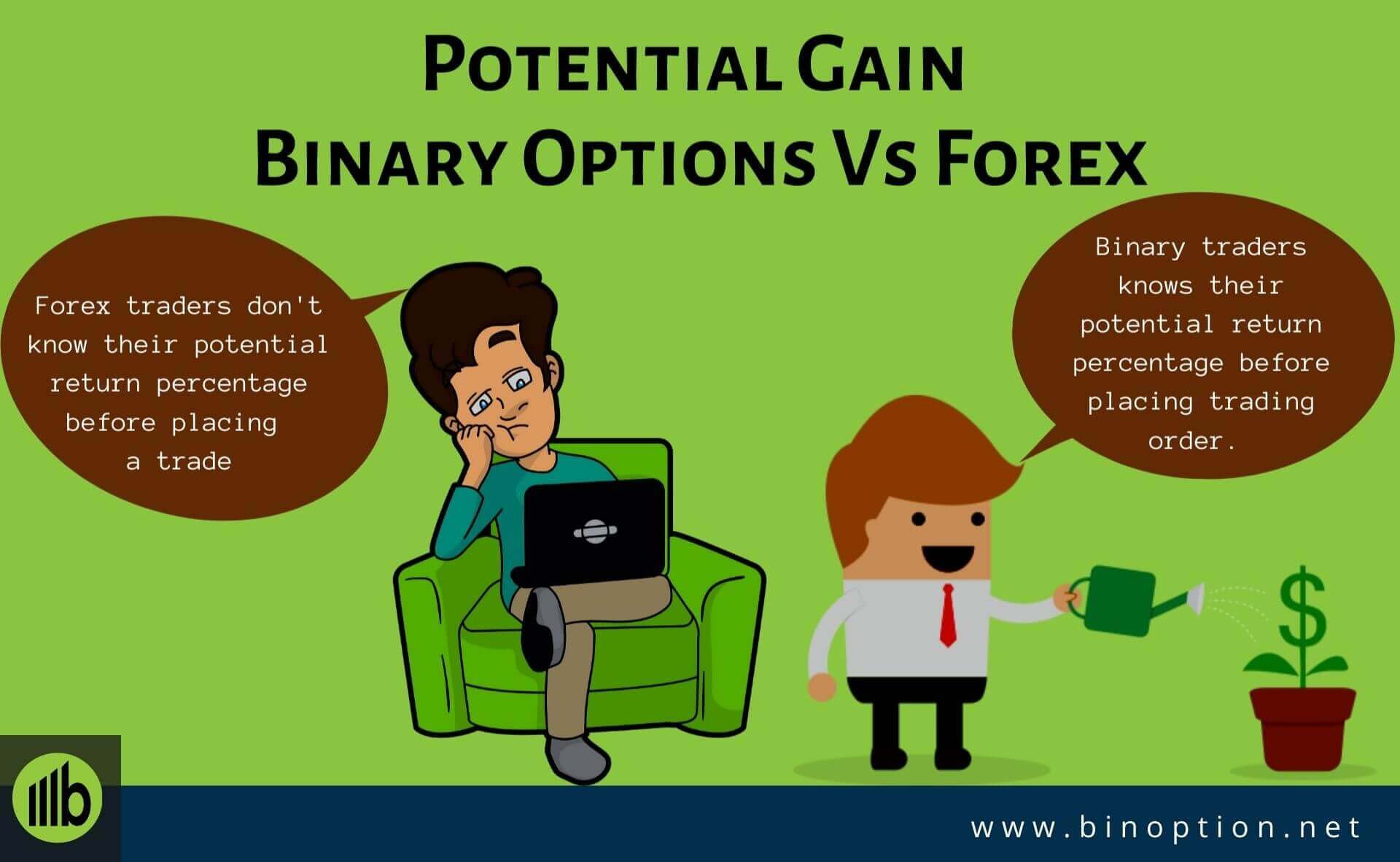 Forex Trading:
Forex markets are known to have a higher variability with a greater risk for traders. Sometimes in the currency market, traders must decide both the direction in which the asset will go and predict how high or low that particular asset will go. 
So, traders don't know for sure the final status of the risk and profit. In forex trading, unless using some tools to control trading, there are no definite limits on how much money a trader can make or lose. 
One such tool is stop-loss, which restricts traders from losing money more than the limits. In other words, if a trader has lost a certain amount of cash, he/she won't be allowed to trade. Moreover, the trade will automatically shut down.
Similarly, the potential profit might also be determined beforehand. Forex traders have the option to close the trading, once a certain amount of profit has been realized. 
On the other hand, both the profits and losses can be managed by implementing the limit/stop orders. In forex trading, users can set the stop-loss, and take-profit. As a result, traders are still able to make a profit despite if they're unsuccessful in winning the majority of their trades.
Binary Options:
In Binary Options, traders always know the exact risk before placing any trade order. The minimum return percentage is approximately 60% if your prediction goes right.
Remember, the risk amount will always higher than your potential gain. There is no opportunity to stop your loss after opening a trade position.
However, you can minimize your trading by apply rollover trading strategy. Unfortunately, not every broker will allow you to apply this strategy on their platform. 
Binary Options: 
Binary trading operates on specific timelines. In binary trading, the trader has no control after placing a trade. 
The expiry time starts from 60 sec. In some cases, we found expiry times that are lower than 60 sec. Before the commencement of trade, users must select when the order expires. 
Some brokers give traders the option to close early. But it is recommended to exit the trade when you receive a percentage of the expected return. However, not all brokers offer this facility. 
Similarly, few brokers will allow traders to delay the expiry time until the next expiry time. Known as "rollover," this option is only available if traders can increase their investment by a pre-determined percentage.
Forex Trading:
Things are a little different in forex trading. In forex trading, users can perform trades that last to one second to a few weeks or months. They can open and close the trade whenever they like. The actual point is that traders have full control over trading time. 
However, keep in mind that this flexibility has its version of advantages and disadvantages.
Binary Options: 
In Binary Options, traders will get a wide range of trading instruments. You can trade binary on stocks, commodities, currencies, etc. Additionally, traders can select trading instruments depending on the payout ratio.  
Forex Trading: 
You are allowed to trade with a very limited number of trading instruments. However, more than 70 currency pairs are available in the forex market. But traders widely place traders with a few major pairs. Unfortunately, you can only trade those pairs which are available in your broker's platform. 
Forex Trading:
In forex trading, margins are available for traders. Here, brokers fix the maximum margin ratio. Margins facilitate traders to increase the amount of their investment capital. As a result, there is an opportunity to make a sizable profit if the trade is successful. 
Leverage also does a similar thing. It will increase your profit potential. However, the ratio will vary from broker to broker. 
Binary Options:
Binary Options does not offer any margin and leverage to traders.  
Forex Trading:
If you are a forex trader, then you can place trades 24 hours in 5 days a week. Even, the market is available for weekend trading. However, weekend trading is not recommended for all types of traders. Because you will get a limited opportunity from the weekend market. 
Binary Options:
You can only trade binary options when the underlying marketplace is open for you. If you choose to trade binary options on currency pairs, then the market is open 24hours per day, 5 days per week. 
FAQ - Frequently Asked Questions
Traders often seek help in different forums to find out the correct answer. 
Their hope is to get everything; from the ground to the aether. But, hey, nobody is gonna pat your shoulder and give you the blessings. People in the different forums simply share their views based on their own experiences.  
Let's talk about some common questions and answers. 
- Which is more profitable and less risky?

Both trading forms have some advantages and limitations. Neither forex can beat binary options, nor can options trading be superior to forex.

The risk and reward depend upon the trader. If the trader picks the right slot to trade in an organized manner, he or she will definitely get benefits from both.

- Is Forex easier than Options?

Trading binary options is the simplest form of trading compared to currency trading. So, yes, you can consider it an easy path to making money. However, you should have strong market analysis knowledge. 

- Is binary options trading a scam?

No, binary options trading is not a scam. It is a trading form that is based on two outcomes, yes and no. 
Finally, we are at the bottom of this article. We have mentioned above the most critical differences between forex and options trading. But, the investment decision will depend on your expertise.
In terms of market analysis, binary options are a more straightforward process than Forex trading. However, both the forex and binary options market will give you profits.
You just have to find out the best opportunity depending on your trading goals.