Anticipating Bitcoin Price For 2021: Will There Be Another Giant Gear Up Move?
Predicting the Bitcoin price for 2021 is essential for every BTC holder. Browsing through the internet, you can see thousands of such BTC price forecasts for the upcoming years.
Some show kind of the wildest spike-up figures, whereas some others are in opposite directions.
Indeed, Bitcoin holds the largest market cap (currently over $350 million) in terms of other cryptocurrencies. It's also real that this digital currency has faced many notable rallies and equally sharp price declining since its very birth.
However, today we will strive to picture the Bitcoin price movements for 2021. The principal base of our analysis will be the experts' views as well as all the significant price movements of the past few years.
BTC Roller Coaster's Rides Throughout 2016-2019
Bitcoin started its journey as almost valueless, yet surprisingly enough, years later, it got the value over $1000 per BTC.
Here, we will examine BTC's price movement from 2016 as it is the pick point from where the revolution started to begin. Indeed, we, too, have an ulterior motive to project future speculation based on the inspection result.
The year 2016 level up the price at $774 in the middle, which was about $423 at the starting. And we have seen a clear uptrend that reaches the point of $780 at the end of the year.
It continued the uptrend till the next year, 2017. At the end of the year, Bitcoin reached it's All-Time High (ATH), which was nearly $20,000. It was the hottest move that made many BTC holders rich beyond their wildest imagination. Almost all the top mainstream media covered this historical incident. 
Thus, many retail investors who showed indifference to this digital asset started to rush towards it.
However, the roller coaster that reaches a peak fell downward in the next year, 2018. It literally retraced down to $3000, leaving many investors in utter regret and suspension. 
That's when the million-dollar question arose. 
Will Bitcoin reach the same level in value in the future?
At that point, some retreated from this roller coaster ride immediately. However, keen investors opened long-term positions at that bear market bottom point and kept trust and patience in their decisions. 
In 2019 offered them small up and down rides around the year. The price range of $3000 1st reached above $11000 in the middle of the year and then bounced back towards $7300 at the end.
Yearly Rides Of Bitcoin: 2020
Now, as for the global pandemic affected the year 2020, we have seen a trend that is pretty much an uptrend, except the significant price declining on 11th March to the level of $4,819.
This year, from January to June, the movement range was between $10,500–$6,000. Then, in July, the price rose to the level of 11,000 that reached 11 627 in July.
Again, there was a downward move towards $10,764 in September. However, from October, the down wave rose and reached 19,374 on 25th Nov.
Unfortunately, it surged down toward $16,743 and stayed around the range till 29th. Then, again jumped high to another new All-Time High of $19,864 on 1st Dec that broke the previous one of 2017.
So, those who had expected a substantial down move during the situation finally release a breath of relief.
Yes, the believers finally got another firm base for their previous decisions.
Bitcoin Price For 2021 - Where Will Bitcoin Reach?
Experts believe that this long-awaited record will affirm the macroeconomic view of crypto assets in the finance industry. Also, it will assist positively in boosting bitcoin price movements in 2021. 
Predicting the price of BTC is indeed a tough task. But if we analyze all the important factors that might affect the price movement in the next year, it will become easier.
Let's see how!
1. The Most Waited Halving Event:
If you have already observed the lifelong chart of BTC, you will easily understand the words below. 
We can see every positive breakthrough of BTC price is followed by the halving events that took place after every four years. Though it's not an immediate effect, it happens within 1/2 years. 
And after the 2020 halving event, the price is going higher again. Well, this trend is pretty much similar to the previous of 2012 and 2016. Isn't it?
Here, we can easily read the indications that the price will reach another milestone of $50,000-$100000 within the end of 2021. 
And if it happens in real-time, then it will reaffirm Bitcoin's historic parameter. Of course, for such a long-term analysis, the chance of opposite price movement is very little
2. Demand And Supply Chain:
Another crucial factor that has a direct connection with BTC pricing. We all know that the supply of this digital coin was limited to 21 million by Satoshi Nakamoto. 
According to Blockchain.info, the 1st ever BTC was mined in Jan 2009. And it took 200 days to achieve the 1st One million coins. Now in 2020, more than 18 million Bitcoin have mined. That is 85% of the total supply chain. 
However, due to the halving of BTC reward, over time, the process of bitcoin production is slowing down. Thus, the remaining 15% will take over 120 years to be mined. In contrast, the early 80% took only 12 years. 
Besides, we also have to consider people's demand. If people show more and more interest in BTC, the future price will climb higher. And if not, then the price will decline. 
Now, do people are getting more and more interested in it? Or not? What do you think?
The recent price hike of BTC made it a topic of circular arguments. It's worth more than people think it's worth more. This type of discussion can attract more and more investors. However, it can also be risky, as it may cause reversals in market sentiment. 
3. The Global Pandemic Issue:
Thanks to the Creator of all. We have survived an extremely panicky situation this year. And it's easy to guess that Covid-19 will influence the BTC price movement directly or indirectly, just like all other trading assets.
Fortunately enough, the pandemic after effect situation is supporting the BTC price rise. You may ask how?
Well, many retail investors feel pressured as there exists a chance of inflation attack on the global economy. So, they are showing a keen focus on BTC investment, observing its positive potentials.
4. The Suspenseful Presidential Election Result:
Also, the current US presidential election result has a significant influence here. After Trump's shock waves throughout the Bitcoin and crypto world, the community is now eagerly waiting for some positive vibes from Joe Biden.
However, BTC is already hovering after Biden, and it's an encouraging sign indeed. 
Not only these issues, but there are also a lot more technical and fundamental aspects responsible for the price fluctuations. 
And by taking all these aspects into account, our beliefs are pretty optimistic about the price rise up in the next year. 
 The range might reach $25,000- $50,000 after all the possible ups and downs.
What Experts Think About Bitcoin Future?
You can easily find tons of financial institutions, investors, and well-known analysts who have shared their opinions and views on BTC 2021.
However, we are sharing some of the most famous expert future predictions in this section.
The Famous chartist and Bitcoin analyst Peter Brandth says
Bitcoin has held important support. It will go straight up to $50k.
New York Times bestselling author Robert Kiyosaki calls for Bitcoin to reach $75,000 within the next three years. He has been recommending his followers buy gold and Bitcoin. 
He has warned,
Real estate and gold guys are being phased out and the bitcoin world is coming into view right now.
Cameron and Tyler Winklevoss, who have more than $1 million net wealth by Bitcoin, are the twin stars in the cryptocurrency market.
If you look at a $100 billion market cap and now more like $200 billion, there is a growth potential of 300 to 400%.
Plan B's Stock To Flow Model shows a peak of $288,000 in the next cycle peak that might occur over the next couple of years. The chart is below from where you can check the price prediction flow.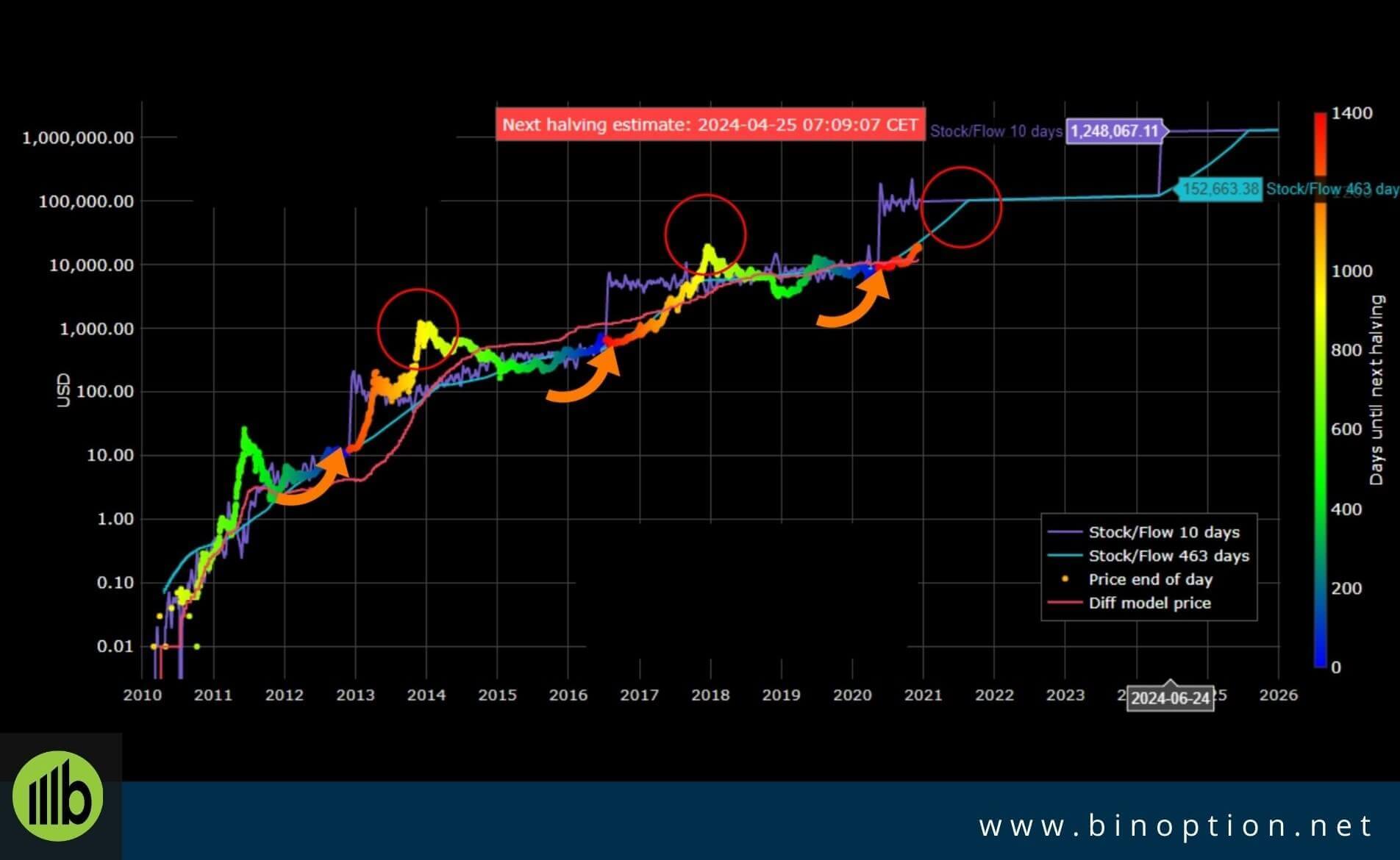 Early Bitcoin developer, Adam Back, who many believe to be the man behind the Satoshi Nakamoto pseudonym, has predicted that Bitcoin will surpass a valuation of $300,000 per coin within the next five years. The crisis will push it to that high level.
Eric Emerson Schmidt, the former CEO of Google, said
Bitcoin is indeed remarkable cryptographic achievements, and the ability to create something that is not duplicable in the digital world has enormous value.
The potentiality of Bitcoin encourages more and more investors. With manual traders, automated traders are also focusing on BTC trading. According to the expert EA traders, 
BINBOT PRO is the best choice to trade the most popular digital coin in these years. 
However, we must say all these predictions are only the views of expert analysts and investors. You should not strictly follow them as there always exists a high risk in financial investments.
Instead, study them and try to recalculate your views. It will help you to a greater extent.