Be an Expert in Binary Options in Your Own Style - Binoption
Binary Options may seem  effortless for an expert binary options trader. They are those who are aware of what they are doing. Binary Options is no different to other forms of trading.
Success in trading doesn't happen randomly. You need to follow a systematic routine of well-thought-out actions that will lead to profitable trading.
Becoming an expert in binary options is no ordinary task. It will take years of trading and perfecting your trading system to make consistent profits.
An expert binary options trader has the right trading mindset, proper risk management, and a solid strategy. By solid strategy, we mean knowing exactly when to enter and exit a trade, the exact time frame, trading the right assets, and performing accurate technical and fundamental analysis.
However, oftentimes traders keep losing even after ensuring the above prerequisites. What could possibly go wrong then?
It's because traders go against their trading style in order to fit in with a strategy they are trying to follow. Novice and intermediate traders try to mimic top traders to get the same results as they do.
The problem is there is no guarantee that you will get the same result as them. If you are wondering why, it's because their trading style doesn't match with yours.
We're not condemning you to follow top traders and their strategies. In fact, the very concept of social and copy trading is based on this premise.
What you need to do, is trade solely based on a trading style that suits with you. This will sustain in the long-term and bring you continuous profits.
In this article, we show you exactly how to just that: be an expert binary options trader in your own style.
Different Styles Of Trading – Find Out The Best One For You
By different trading styles, we basically mean the differences in trading duration. Everything is centered around this single metric. The frequency of trades, the strategy deployed, and the investment amount.
Binary Options are mostly traded short-term but that doesn't mean you have to do it as well. If you are someone who prefers to hold on to positions then you may very well do so.
Based on trading duration, there are five different styles of trading. They are: 
Day trading is basically opening and closing a trading position within the same day. In this style of trading, multiple trades are carried out in a single often aiming for small profits.
It involves trading with expiry times as low as 15 seconds or 60 seconds to a few hours. Day traders aim to find the smallest opportunities in the market and exploit them.
Who should go for it? Traders looking to make multiple trades a day targeting small gains.
Swing trading works similar to day trading except the fact that the trade duration is not limited to one day. It may last anywhere from two-six days depending on how long the trend lasts.
If it is an uptrend, traders would buy a call option and if there a downtrend, traders would buy a put option.
Who should go for it? Traders who can analyze trends well, and can identify support and resistance levels early.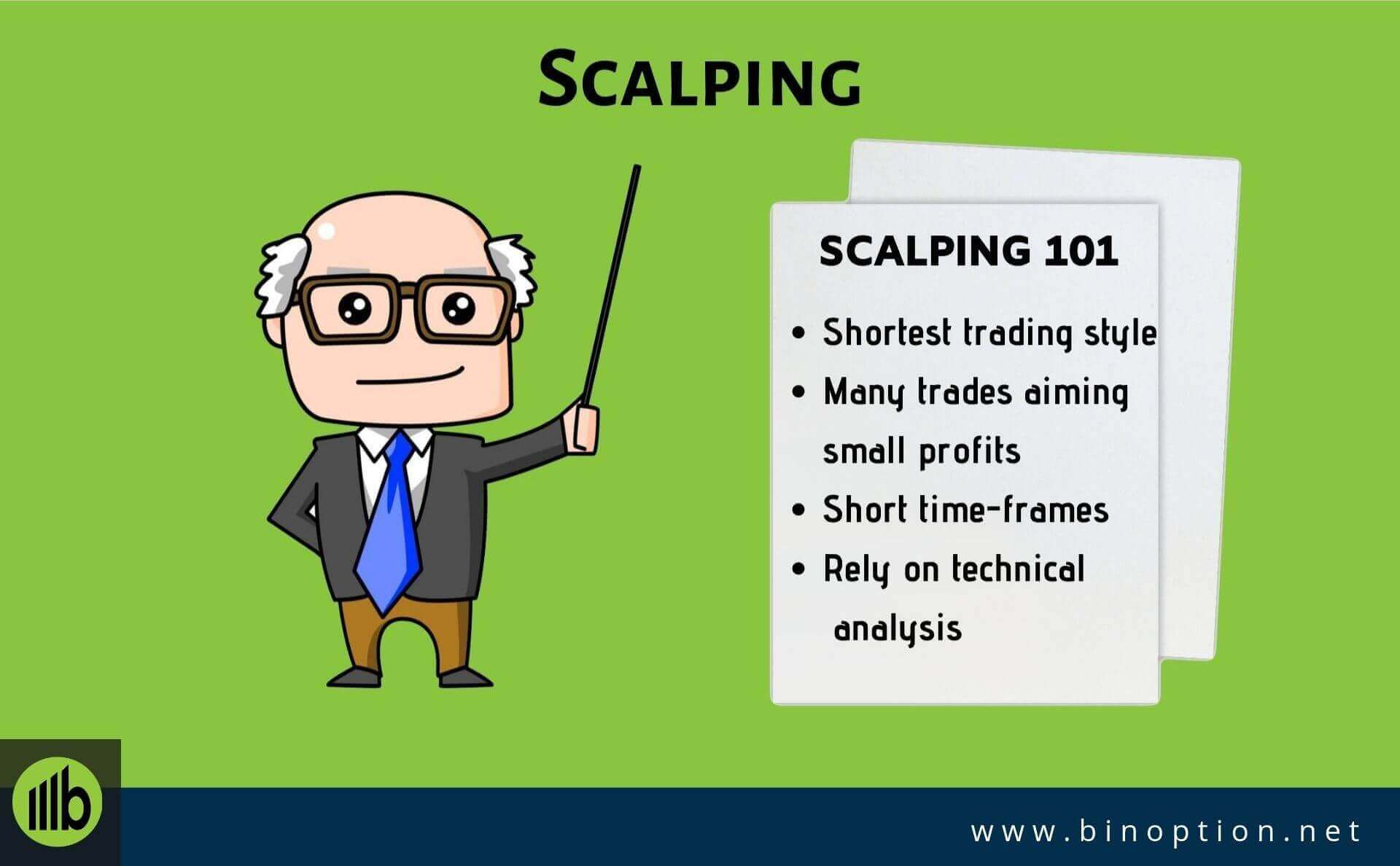 Scalping is the shortest form of trading among all styles of trading. It is even shorter than day trading. Many experts argue scalping and binary options go hand in hand as binary options are generally traded with short expiry times.
Scalpers make multiple trades per day with the hope that the small profits add up considerably at the end of day.
Scalpers perform technical analysis mostly. They generally avoid fundamental analysis except in cases where there is a major announcement of a company that would cause a huge price fluctuation.
Scalpers use the smallest time-frames such as a five second chart to observe the smallest price deviations.
Who should go for it? Traders who are willing to undertake risks making hundreds of trades per day. 
Trend traders are long term traders that open positions lasting a series of uptrend or downtrends.
They open positions with the belief that trends will continue to go in that particular direction resulting in larger profits. Such trades may last for a few months or even a few years.
Who should go for it? Traders with immense patience and confidence that their trend should continue.
Position trading is the exact opposite of scalping. Where scalpers capitalize on the smallest price fluctuations, position traders ignore such minor changes and focus on the long term price movement.
Their positions usually last for a few years where both fundamental and technical analysis is involved.
Who should go for it? Long-term traders with mountain of patience ignoring minor price changes.
Now that you know the different styles of trading and which is one suitable for whom, you know to pick your own trading style.
Tips To Become An Expert With Your Own Trading Style
By now we have established that maintain your own trading style is quite important to achieve success in trading. 
Other than your concept on binary options must be concrete. Read our definitive guide on binary options and learn all the features of binary trading
We can now move to the next phase of becoming an expert binary options trader while maintaining our own unique way of trading:
Pick your trading style according to your convenience
"I like day trading because  X top trader is also a day trader"
This should never be your approach to trading.
If you are someone who can't spend a lot of time trading, then avoid short-term trading.
If you are someone who's very impatient, then don't consider long-term trading. Pick your trading style based on your strengths and weaknesses.
Adjust your trading strategy based on your style
If you are a scalper, it would be counter-productive to trade with a  long time-frame. You also need the right mindset to go with your trading.
If you were a position trader, you would need to think long term and develop the patience to hold on to your position. 
This would result in you developing your habits and personality to go along with your trading style.
Stick to your selected style of trading
Often times, traders get frustrated when they don't see the results that they expect. This results in them changing their trading style altogether.
Instead of analyzing what they did wrong, they keep switching up to see changes. Only sticking to your suitable trading style, you will become an expert binary options trader.
However, if you see strongly believe changing your trading style will bring in improvements, try the changes first on a demo account and then switch if it works.
The aim of this article was to help traders become an expert in binary options while maintaining their trading style.
As a trader, you should strive to maintain your 'trading personality' to make the act of trading natural and effortless.
Whether it be swing, scalp, day, position, or trend trading, choose the one that you are the most comfortable with and stick to it.
Failure to develop a signature style trading style results in traders failing to sustain profitability.
Persistence and endurance will ensure you will slowly transition from an average trader to an expert in no time.