ForexClub Libertex Review: An Experienced Leader For Forex
Experience is precious.
We believe experienced people can do better.
Because an experienced person knows what to do and how to do, in a proper and best suited way.
That is why we employ those who have experience.
It is also applicable for a business institution like broker which you'll find in our ForexClub Libertex Review for trading Forex, CFD, Cryptocurrencies, Indices, share and many more.
Forex Club Libertex is such an experienced Forex and CFD broker, working since 1997.
We can say, this broker is one of leading.
Thus we find it regulated, transparent in operation, inventive in creating products and tools, cordial in customer service and extensive in offering (Leverage 1:500).
Let us read the whole review to get a clear idea about Libertex Forex and CFD Broker.
Warning: Country Restriction (Do Not Accept Traders)
Warning: Please note that, Libertex Broker does not accept traders from the following countries –
USA
Australia
New Zealand
Belgium
British Virgin Islands
Guam
Lebanon
United States Minor
Outlying Islands
Northern Mariana Islands
Uganda
Philippines
Sri Lanka
Kuwait
South Africa
Azerbaijan
ForexClub Libertex Review
High Capital Risk Is Involved In Financial Trading
Libertex is one of the oldest broker to trade forex, stocks, cryptocurrencies, indices, commodities, gold, oil, gas etc.
It is a part of Forex Club group, a multinational award winning brand since 1997.
Indication Investments Ltd. is the owner of this broker.
The head office is at Gladstonos and Karaiskaki Street, off 31, Limassol 3032, Cyprus.
This broker is regulated by CySEC and the registration number is 164/12.
It uses own unique web based platform to provide best service and this platform is smooth and easy to use.
A new trader will find it fun to use.
There is no need to download any extra software to use this platform.
Libertex uses web based technology.
Therefore, it is easy and flexible to use from PC or mobile.
All the data are secured here.
For ensuring security, SSL encryption technology has been used by this broker.
So, there is no reason to fear of losing data.
There are comprehensive trading tools (such as – Zig Zag, Alligator, Aroon and many more) available to use.
It has a group of experts and financials who have extensive knowledge and trading experience.
These experts are ready to help Libertex's clients in order to achieve highest success in Forex and CFD.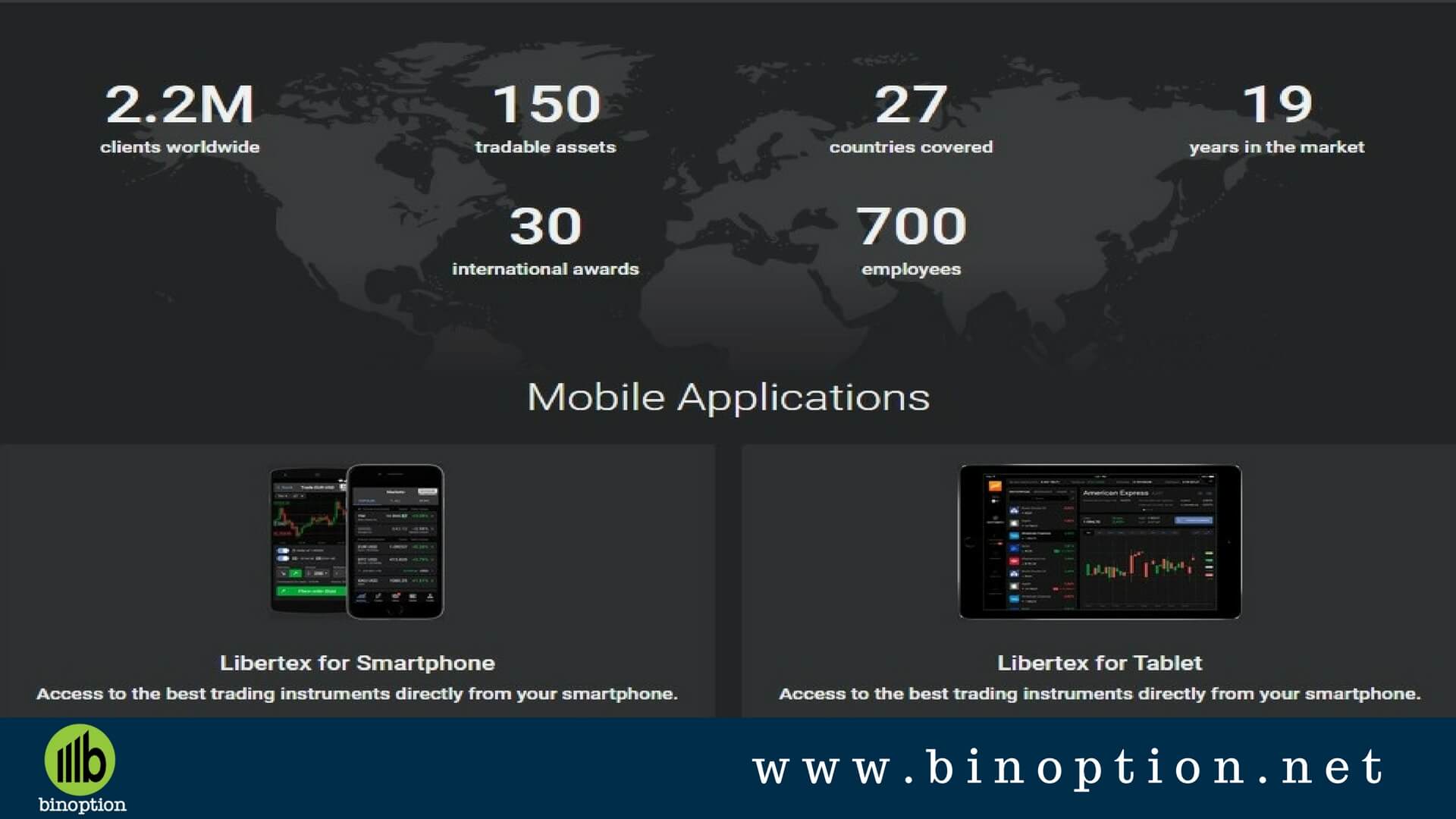 Libertex is the leading broker in Forex and CFD for trading currencies, indices, cryptocurrencies, oil, gas, share, metals and agriculture.
There are many reasons to choose it first than others.
Through our scrutinized search and research, we have gathered some features which have kept Libertex one step ahead than others.
Let us check out those special features.
These are –
Broker Type: Forex / CFD / Cryptocurrency / Indices / Shares
Regulation: Cyprus Securities and Exchange Commission (CySEC)
Head Office: Gladstonos and Karaiskaki Street, off 31, Limassol 3032, Cyprus.
Founded: 1997
Employees: 700
Countries Covered: 27
Minimum Deposit: $100
Minimum Bid: $1
Maximum Leverage: 1:500
Minimum Lot Trade Size: 0.01
Minimum Spread: As low as 0.5 for EURUSD
Bonus: YES (100% on First Deposit)
Margin Call: 20%
Stop Out: 0 (for shares 20%)
Product for Trade: More than 150
Account Types: Only one Basic Account
Deposit: Free of Charge
Withdrawal: Free of Charge
Payment Method: Skrill, Wire Transfer, Visa, Master Card
Mini Account: YES
Demo Account: YES
Premium Account: NO
ECN Account: NO
Managed Accounts: YES
SWAP Free Accounts: NO
Fixed Spread: NO
Trading Platform: Proprietary (Own Web Based Platform)
Trading Signals: YES
Commission on Trades: YES (Minimum 0.011%)
Trading Education: YES (Videos, Ebooks)
Guaranteed Stop Loss: YES
Guaranteed Limit Orders: YES
Guaranteed Fills/Liquidity: YES
Negative Balance Protection: YES
Hedging: YES
Scalping: YES
Email Alerts: YES
Mobile Alerts: NO
Economic Calendar: YES
Weekly Report: YES
Daily Market Outlook: YES
OCO Orders: NO
Margin Call Level: NO
Technical Analysis: YES
Fundamental Analysis: YES
Automated Trading: NO
API Trading: NO
Social and Copy Trading: NO
Chart Trading: YES
Market Analysis: YES
Pending Orders: YES
Trailing STOP: NO
Trading Strategy: YES
Guarantee Execution: NO
Charting Package: NO
One Click Execution: YES
Interest on Margin: NO
Web Based Trading: YES
Mobile Trading: YES
Forex: YES
CFDs: YES
Binary Options: NO
Crypto Currency: YES
Commodities: YES
Indices: YES
Stocks: YES
Metals: YES
Oil / Gas: YES
ETFs: NO
Bonds: NO
Shares: YES
Agriculture: YES
Beginners: YES
Professionals: YES
Scalping: YES
Day Trading: YES
Weekly Trading: YES
Swing Trading: YES
Social Trading: NO
Home Based Investors: YES
Part Time Earner: YES
Libertex are offering a Free Demo Account that allows you to trade with all instruments they have available.
They will provide you with minimum $5000 to play with and learn the trading craft on this virtual tool.
You can fund maximum $50,000 virtual money in your demo account.
The demo account allows you to perform all types of trades that are available on the real account, testing your trading strategies and getting used to the platform without investing real money.
For having the demo account for unlimited time, you'll be required to deposit a minimal amount of $10 on your real account.
Then you'll have the possibility to always ask for reload of the virtual money into the demo account.
High Capital Risk Is Involved In Financial Trading
Forex Club Libertex Trading Platform
By using own unique platform, Libeterex provides cutting edge trading platforms to meet clients' needs and improve the trading experience.
Libertex achieved the Best Trading Application for 2016 in the EEU.
The platform is user friendly, intuitive, and accessible, providing you with expert trading tools to lift your trading experience whether you're at the office, at home or on the go using your tablet or smart phone.
They are innovating and improving their platforms, releasing MetaTrader 5 on September 2018.
MetaTrader 5 is one of the most advanced trading platforms for professional and novice traders, allowing them to enhance trading experience.
Libertex App - Mobile Trading
Libertex also offers trading applications for tablets and smart phones users, both for iOS and Android.
It allows you to trade anywhere anytime, even on the go while waiting to your ride to work.
Their mobile applications are also innovative, user friendly and allowing you to keep up to date with your trading assets all time.
You can download the mobile apps free of charge, from Google Play and the App Store.
Libertex Charting and Technical Analysis Tools
Along with traditional charts in Libertex, there are 3 trading indicators available for technical analysis.
The charts are –
Bars
Candles
Hollow Candles
Line
Area
Heiken Ashi
It is up to you which one you like.
However, these 3 trading indicators are divided into sub categories.
We are going to give the list of their indicators below –
Arnaud Legoux Moving Average
Aroon
Choppiness Index
Coppock Curve
Directional Movement Index
Double Exponential Moving Average
Envelope
Hull MA
Ichimoku Cloud
Least Squares Moving Average
Linear Regression Curve
MA Cross
MACD
Mass Index
Moving Average
Moving Average Exponential
Moving Average Weighted
Parabolic SAR
Price Oscillator
Triple EMA
Williams Alligator
ZigZag
Awesome Oscillator
Balance Of Power
Chande Momentum Oscillator
Commodity Momentum Index
Know Sure Thing
Relative Strength Index
Relative Vigor Index
SMI Ergodic Indicator / Oscillator
Stochastic
Stochastic RSI
TRIX
True Strength Indicator
Willium %R
Average True Range
Bollinger Bands
Bollinger Bands %B
Bollinger Bands Width
Chande Kroll Stop
Donchian Channels
Keltner Channels
Relative Volatility Index
Several expiry times are available at Libertex and these are –
1 minute
5 minutes
15 minutes
30 minutes
1 Hour
4 Hours
1 Day
1 Week
1 month
High Capital Risk Is Involved In Financial Trading
Libertex Trading Platform Overview
Libertex arranges training and education for their traders but from our view it is very limited for traders.
Many brokers are providing large variety of educational and training resources and webinars for their traders but in the case of Libertex, it is not satisfactory.
Check the below brokers, who are providing great and extensive educational and training resources and webinars for their traders –
1) IQ Option
2) HYCM
3) BDSWISS
In Libertex trading broker, they arrange the training through video and ebook in their 1 on 1 training session.
This training session is based on below lessons and they are –
General introduction to financial markets
Technical analysis
Fundamental analysis
Indicators
Trading strategies
Multiplier, Stop Loss
Chart
Trends
Support and Resistance levels
Money Management
Case Study etc
In their educational free training videos, they described couple of topics for beginner's level.
Their educational tools are aimed to inform traders on all different market trends and analytics.
Moreover, they are providing glossary section on their trading platform such as market analysis, candle stick chart, technical analysis, trend trading, pending order etc.
Libertex has more than 150 assets in different categories including –.
Such a variety of assets enhance the trader's scope to choose assets according to his own will and wish.
We appreciate such a variety.
Libertex: Deposit & Withdrawal
Banking is fast, safe and secured at Libertex.
Some security measures have been taken to make transaction more safe.
Thus there is no chance of leaking or losing any personal data, trade history or transaction.
Minimum deposit is only $100.
On the other, there has no minimum withdrawal requirement which is a benefit for traders.
Both can be done via Visa, Master Card, Bank Wire, Skrill, Neteller etc.
There is no fee on deposit and withdrawal.
Let us explain on withdrawal process.
Traders can withdrawal his funds using any of the above mentioned payment methods used for depositing.
In order to start the withdrawal process, simply navigate to the banking page on your account once you have logged in.
At the banking page you can select the withdrawal that you wish to make and click submit.
After verification process of your account, they strive to process your withdrawal request as soon as possible so that you can receive your funds as fast as possible.
The withdrawal process takes 2-5 business working days.
They don't charge any fees for withdrawal.
During withdrawal, a trader has to submit his ID and other documents to confirm his identity as well as to secure the transaction.
The identity verification process of Libertex is meant to ensure that no false claims are made against your account.
Note that, the withdrawal in favor of third parties is prohibited.
Regarding customer support, we are little bit disappointed on Libertex and it is somehow okay.
It is because we saw that only one phone number and one email id is available in their website for customer support.
Most of the brokers provide country based, language based and department based multiple phone numbers and email id for the support.
So, it is somehow disappointing to have customer service in minimal way.
There is contact form on the website where you can ask any questions directly through the website.
Besides, live chat is an effective way to get instant help and luckily they have live chat option.
But in their live chat service flash player software is required in your system which can be another drawback for Libertex.
Because at present, web technology has been advanced and for live chat flash player is not required in latest web technology.
Libertex has a group of experts who are ready to help.
So, don't be hesitant to seek customer support.
The major advantages of Libertex broker are –
Long-standing history as a forex broker
Well-regulated, part of international group – Forex Club
No Spread, only commission
Progressive Trading Tools
Personal & Professional Support
Variety of tradable assets
Unique & simple proprietary web-based platform
Limited risk exposure
As Libertex is a regulated broker then there is no major drawback.
Yet, it has some.
For example –
No choice of trading accounts and platforms
No MetaTrader 4 or MetaTrader 5
Website is not informative and user friendly
Scope of products/services varies across entities
Bid/ask spreads not transparent on Libertex (only midpoint shown)
Bonus varies on countries
Very few education materials
Only one customer support number and email
Moreover we don't like their FAQ section.
It should be more resourceful and precise.
Warning: Country Restriction (Do Not Accept Traders)
Warning: Please note that, Libertex Broker does not accept traders from the following countries –
USA
Australia
New Zealand
Belgium
British Virgin Islands
Guam
Lebanon
United States Minor
Outlying Islands
Northern Mariana Islands
Uganda
Philippines
Sri Lanka
Kuwait
South Africa
Azerbaijan
There is no doubt that Libertex is one of the most experienced broker.
As an experienced, this broker knows how to satisfy clients from different walks of life.
Thus, it has designed each and every offer, tool, product and service to fulfill client's demand.
For these above reasons we titled them An Experienced Leader in our OptionBit Broker Review.
We believe new trader should choose this broker to secure investment and to ensure highest success.
Then, why delay, let's play!