Price: FREE
|
Trusted:

Open Account
High Capital Risk Is Involved In Financial Trading
FXMasterBot Review: Forex Auto Trading Robot For Newbies
FXMasterBot Review – Trusted Forex Robot: FXMasterBot is a free WEB-based trading software powering a user-friendly trading platform for both Binary Options and Forex currency pairs in 13 European languages.
To use FXMasterBot on mobile devices and desktop computers, traders don't need to download apps or software.
The 'robot' software collects financial market data and sends signals that are recommendations to trade, directly to the dashboard of the trading platform.
Traders can decide whether to implement the signals, automatically or manually, on the trading platform available only to FXMasterBot clients.


FXMasterBot Review: Forex Auto Trading Robot
High Capital Risk Is Involved In Financial Trading
The 'brainchild' of several experienced Forex traders, FXMasterBot provides a progressive trading experience from the 'newbie' level right up to the trading pro.
The evolving nature of the software sets the FXMasterBot apart from other Forex trading Robots reviewed by us.
For 'Novice' customers, the trading software 'package' is limited to a basic platform set-up with free binary signals for just a few currency pairs where advanced settings are disabled.
Upgrades to the intermediary and ultimately to the 'flagship' trading platform, can be done at the trader's own pace.
The outstanding feature of FXMasterBot is that it's not provided through a single broker.
In fact, FX Master Bot is an independent, free software giving customers who register a trading account on its website, a choice of 10+ brokers to deposit with.
A key point to remember is that the brokers are a 'mixed bag' of licensed Forex or Binary Options brokers and unlicensed brokers.
And it's left up to the customers to decide which broker suits their individual requirements.


Why FXMaster Bot
Here are some reasons you can choose FX Master Bot for Forex auto trading –
Minimum Deposit $250
Professional Trading Algorithm
FREE Demo Account
5500+ Winning Trades
Advanced Trade Settings
Multiple Trading Account (Novice, Expert, Master)
Monthly Leader-board Program
No Download Required
Multiple Device Supported (Desktop, Laptop, Mobile)
VIP Support
FXMaster Bot – Free Demo Account
A 5-day Demo account is available for individuals who want to try out the FXMasterBot with simulated trades on the authentic trading platform.
A name and email address will get you up and running without any obligation to set up a live trading account when the Demo period expires.


Leader Board Reward Program Of "FX Master Bot"
A cash rewards program operates through an automatic monthly leader board at FXMasterBot.
Every trader earns points determined by the value of their trades and a multiplier ranging from X1 for the Novice account, X2 for the Expert and X3 for the Master account, gives the point totals a boost.


FXMasterBot – Live Trading Account
High Capital Risk Is Involved In Financial Trading

FX Master Bot offers 3 distinct trading accounts for customers with varying degrees of trading experience, where each account operates with specific parameters.
Individuals without any prior trading experience can opt for the simplest Novice Account where all the advanced settings are disabled and only the most basic tools and financial instruments are available for trading.
The innovative concept is to give traders a platform with limited parameters, while they gain confidence and experience.
Once traders feel ready for an upgrade to the intermediary Expert Account, they simply increase their deposit and get access to a more complex trading environment.
However, it's only with the final upgrade to the Master Account, that traders have access to all the advanced settings and currency pairs on the trading platform.
Of course, customers registering with FX Master Bot can decide for themselves at what level they want to begin.
Importantly, there's no obligation to start at the lowest level and work up.

Novice Account:
Getting started with a Novice account requires customers to register with FX Master Bot and choose a broker from the list indicated on the registration page.
Following a minimum $250 deposit, traders gain access to the trading platform where just 3 Forex currency pairs are available and none of the advanced settings are active, including automated trading.
This means that the free binary signals sent to the trading dashboard can only be used for manual trading.
It's important to realize that just three positions can be opened simultaneously, making the trading experience very basic indeed.

Expert Account:
To register an Expert account with FX Master Bot, an initial deposit of $500 is required, with a broker selected from the list indicated on the registration page.
Clients can trade 9 currency pairs with partially enabled advanced settings and may have an unlimited number of positions open at any time.
Notably, the auto-trade mode is enabled in the Expert account and free signals can be used for automated or manual trading.

Master Account:
A $1,000 deposit with one or two brokers chosen from the list indicated by FX Master Bot on the Master account registration form, gets traders access to the 'top of the range' Master account.
All the advanced settings are enabled along with 27 currency pairs, free signals and the automated trading option.
Because Master account traders are the VIPs at FX Master Bot, they get an extended customer service through several media options.
Customer Support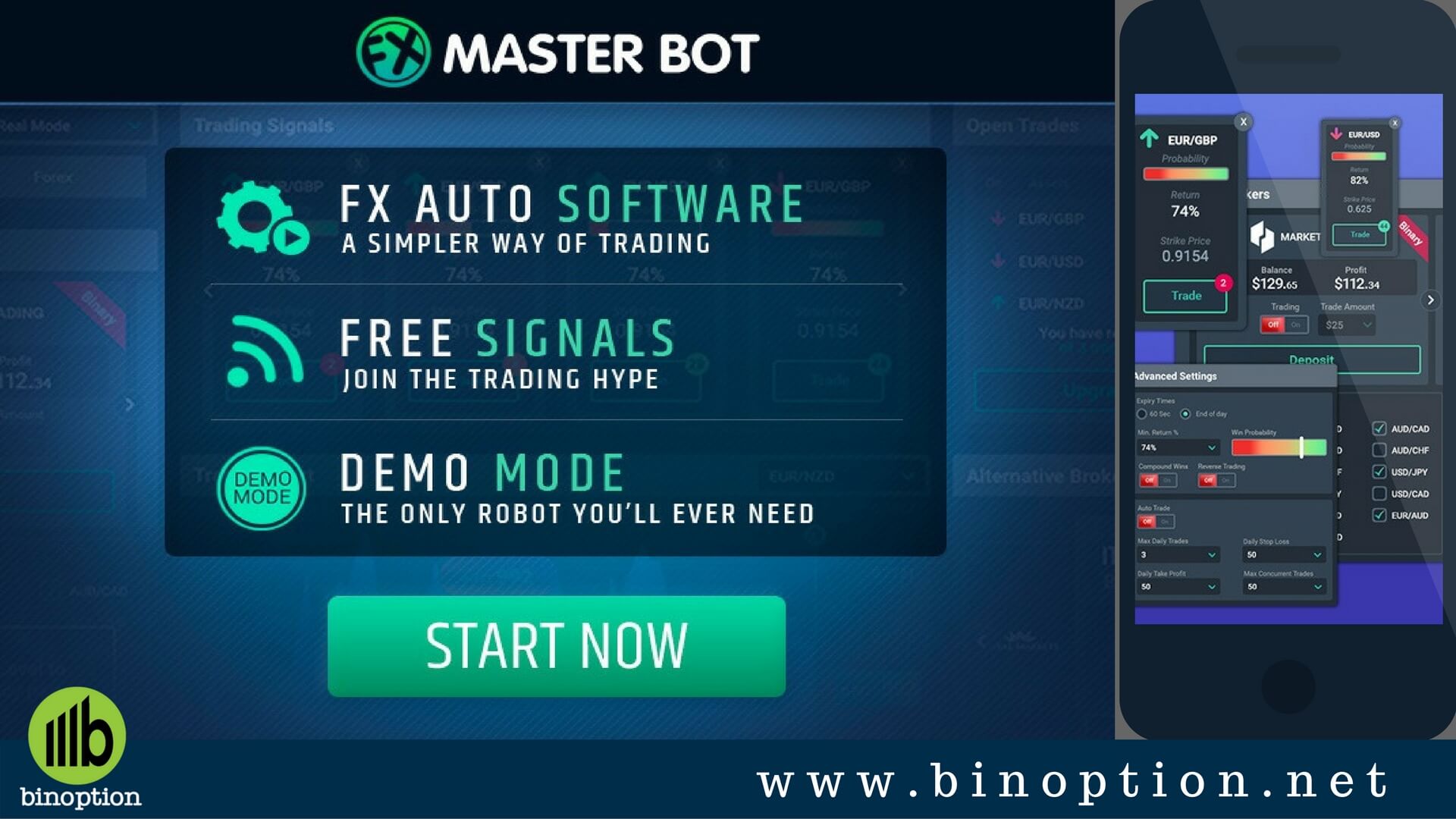 High Capital Risk Is Involved In Financial Trading
As a registered trader at FX Master Bot you can count on customer support during trading hours whatever your account type.
Live chat is available directly on the interface of the trading platform.
Beside this when the agents are absent you are asked to leave a message, so they can send an email with a response to your query when they return.
We did see that FXMasterBot claims to provide an improved support service to Expert account holders.
However, we couldn't determine what the improvements are.
As for Master account holders, they get VIP support through live chat as well as assistance through Skype and the secure messaging service for mobile phones, WhatsApp.


Payment Methods
We were not able to access the details of payment methods offered to customers at FX Master Bot, by the multiple brokers partnering with the free software provider.
However, FXMasterBot states that all payment methods are 100% secure, irrespective of the broker selected and it gives a few examples of the payment methods traders can expect to find when they sign up.
These include the credit cards Visa, Mastercard, American Express and Discover as well as the globally renowned digital payment provider PayPal.
Based on our extensive experience of reviewing online brokers, we can say with confidence that online brokers typically offer customers the possibility of bank wire transfer, multiple digital payment methods as well as the option of using globally recognized debit/credit cards.

So traders, after reading our FX Master Bot Review, hopefully you already understand why this Forex Robot is reliable, specially for beginners.
Those who are seeking for trusted Forex robot as their trading partner, can try this FX Maser Bot.
Open Account
High Capital Risk Is Involved In Financial Trading
Top 10 Broker