Winning Strategy For Binomo Platform Using Alligator Indicator
Alligator indicator is commonly used by traders to make a trading strategy. However, it is a great tool for Forex Traders. But, as options traders, you can use this indicator to make a successful trading strategy that helps you to win a trade.
Moreover, Binomo is a trading platform that allows you to trade options and forex. You can perform trade using different winning strategies.
You can use this strategy on different broker's platform. We choose here Binomo, as we have a noticeable number of traders who trade through this platform. 
So, this blog post will help you to know how to use the Alligator strategy on the Binomo platform.
As we already mentioned that binomo is a trading platform where you can place a trade to earn money.  To make your every trade successful with binomo platform, it is mandatory to follow some trading tips and guidelines.
The platform is user-friendly for all types of traders. You will get a limited number of assets. Moreover, the trading platform is specially designed for binary options traders. 
Traders can trade options on forex, cryptocurrency, indices, and commodities. The return percentage depends on the asset types. However, the maximum return is up to 87%. 
What Is Alligator Indicator
Alligator is an indicator invented by Bill Williams. Through this indicator, you can make a strategy. In that strategy, you have to trade after getting signals from 3 lines, which are moving average with a spin.
These 3 lines will help traders to predict the future movement of an asset.
Additionally, along with this indicator, the moving average is also a popular indicator for traders. By using this indicator, traders can make winning trading strategies. 
Settings Of Alligator Indicator
Open the Binomo trading platform and select the chart preferences. From the list, select "The Alligator" indicator.
The green moving average is the lips of the Alligator and is set to 5 periods and offset into the future by 3 periods.
The red moving average is the Alligator teeth and is set to 8 periods and offset 5 periods into the future.
Blue represents the jaws of the Alligator and is set to 13 periods and offset 8 periods into the future. 
Note that you don't need to change or modify the existing settings. Keep it as usual and start trading after setting your investment amount and expiry time. Binomo is a place from where you can earn easy profits on binary options.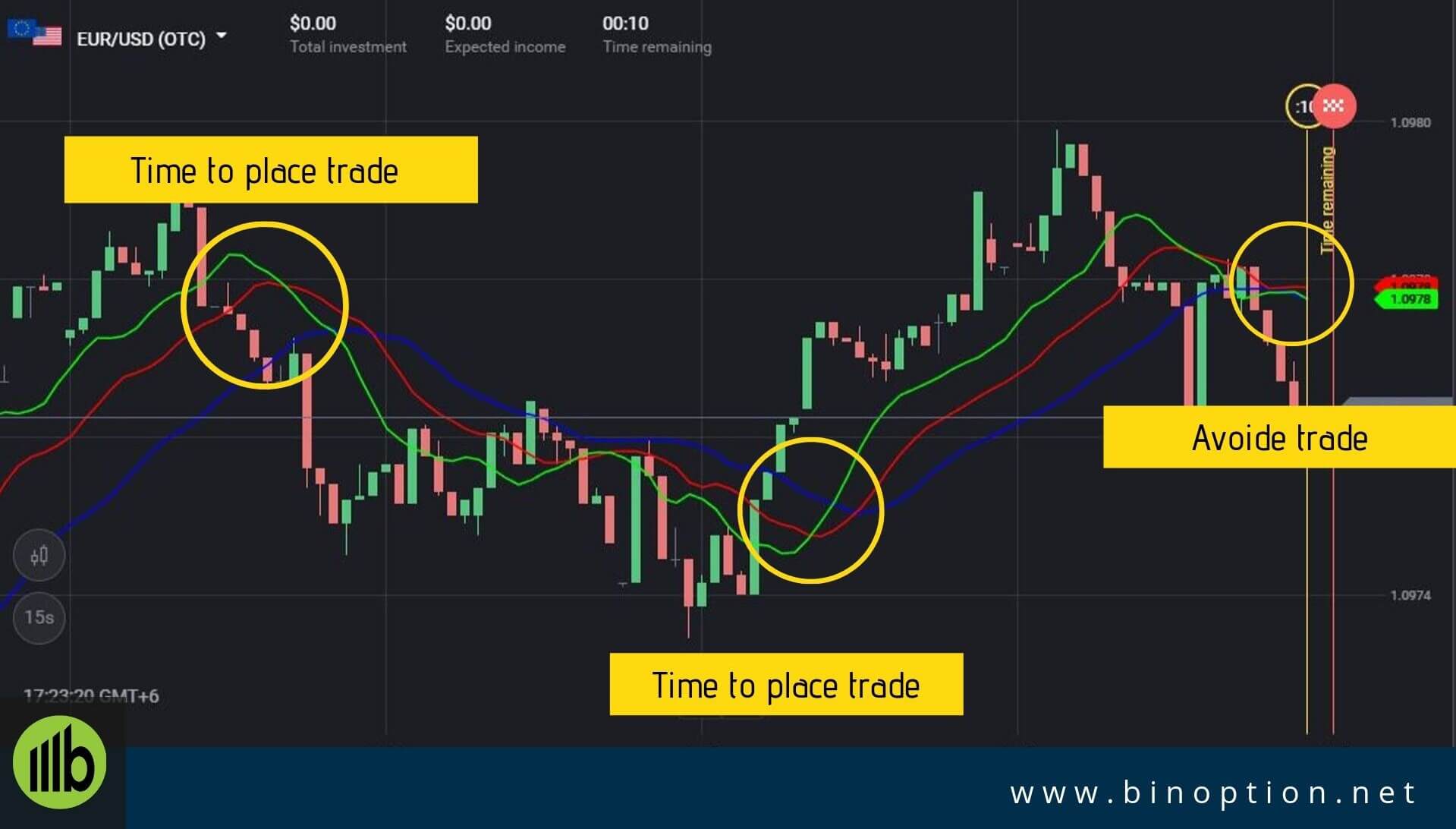 Firstly, change the chart type to "candle". After that, set the trading period in 15 sec.
Now choose the trading amount according to your risk preference. The investment amount should be 1% or 2%, according to the money management rules.
If you want to follow the alligator strategy, then keep the expiry time a maximum of 2 min.
Mostly, these 3 lines are known as trend followers. You have to follow 3 confirmation from these lines. If these 3 lines are upward, then you can place a trade.
Similarly, you can execute a trade, if these lines are simultaneously downward.
Placing trade is strongly prohibited if these 3 lines go horizontally. Because at the mentioned time, the market becomes volatile. It is difficult to predict the market duration, when it is not stable. So, placing a trade is not safe.
But, you can place a trade or should be in the market only when a candle closes above or below all 3 lines.
Note that you have to wait for the period. Sometimes, it takes more than an hour to build this in a graph. So, patience is mandatory while trading with the Alligator indicator. 
High Capital Risk Is Involved In Financial Trading
Make Money From Binary Trading
Making money with binary options trading is possible if you follow particular rules. It is our all-time recommendation to start trade with a demo account.
However, you can't withdraw your profit amount from a demo account. The account is only for practicing a trade. After starting with a practice account, when you have confidence that you can win trade, only then start investing real amount.
But, invest a very little amount and try to withdraw your profit. Moreover, try to follow the proper strategy with a clear vision.
In the strategy, the most important part is, when these 3 lines are mixed. As we informed you earlier, no trade is possible when Alligator sleeping.
At this time, no trading signal is present. You should follow the above instructions if you want to make money by using the Alligator strategy. It is important to stick on your trading plan and ensure risk management.
High Capital Risk Is Involved In Financial Trading